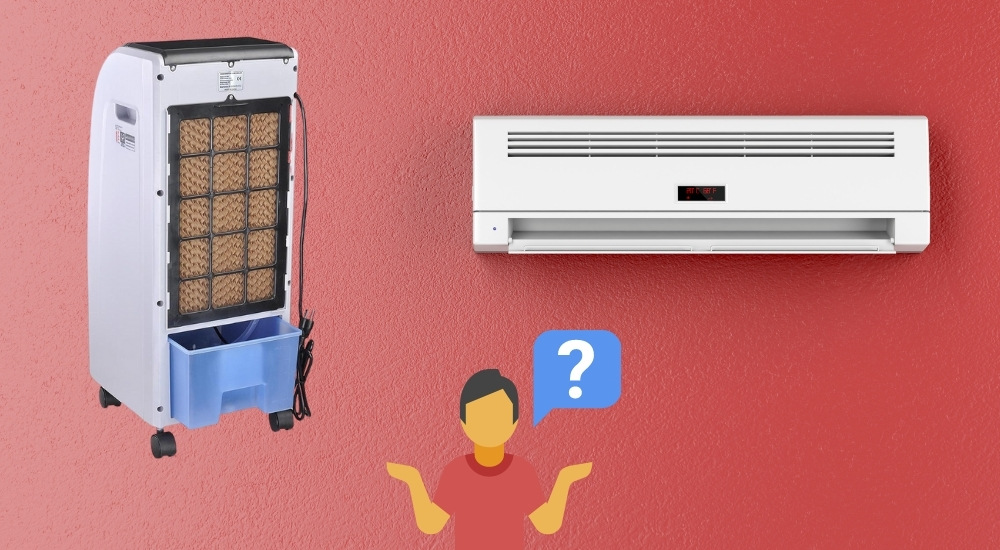 In the long battle for supremacy between air conditioners (ACs) and air coolers, it is not always easy to discern which one should come out on top. ACs and air coolers have many benefits and drawbacks, depending on your needs and preferences. Moreover, there are quite a few factors that must be taken into consideration when attempting to make this often challenging decision. In this article, we will look at these issues in-depth to determine which option is ultimately the better choice when attempting to keep your home or office cool and comfortable.
Understanding the Pros and Cons of ACs and Air Coolers
The two main technical differences between an air conditioning for room with no windows and an Air Cooler are their heating/cooling characteristics. ACs use refrigerant gas and compressors to remove warm air from a room to reduce its temperature, in a process called air conditioning. At the same time, Air Coolers add moisture and sometimes fans to circulate the air and cause evaporative cooling. Each method has advantages and drawbacks, which must be weighed when choosing.
ACs are generally considered the most efficient way to maintain desired temperature levels in an enclosed space. An AC unit with the help of air conditioning coils can bring temperatures down quickly and hold them at a desired level for extended periods. The downside is that they are significantly more expensive to install than air coolers and can require steep amounts of power to run them, leading to high electricity bills. Additionally, regular maintenance is required for AC units to ensure efficient performance.
Air coolers are much less expensive to purchase and install than ACs, and offer a greener alternative in terms of environmental impact. However, they are not as effective in cool, humid climates since the inefficient moisture exchange processes mean it takes longer to lower the room temperature. Moreover, you must regularly fill these with water to keep them functioning. They are best choice for small spaces, because it will take no time to cool the place.
How to Select the Ideal AC or Air Cooler
The decision of which type of cooling device is best for a particular situation can depend on several criteria. Specifically, one should consider how large the room is, how much direct sunlight it receives throughout the day, the cost implications, how often it will need to be serviced or maintained, and how important it is to prevent allergens. The type of climate one life in. By carefully weighing each of these factors, one should be able to make an informed decision.
Factors to Consider When Choosing Between an AC and an Air Cooler
Size of room:

 Generally, an air cooler might be the better option for small rooms such as bedrooms, as it covers a smaller area than an AC. An AC is usually better for larger rooms, such as living or dining rooms, due to its superior air conditioning ability.

Amount of sunlight:

 An AC unit might not properly maintain a desired temperature in direct sunlight. An air cooler might be the better choice in such cases due to its simple yet effective evaporative cooling process.

Cost:

 For those on a tight budget, an air cooler is usually much less expensive when compared to an AC unit due to its significantly lower installation costs.

Maintenance:

 Depending on the type of unit chosen, servicing costs can vary drastically. ACs require regular maintenance to be kept in good condition, while air coolers require significantly less maintenance since they are generally simpler machines.

Preventing allergens: Air coolers perform better when preventing allergies since they filter the blow while cooling it relatively efficiently. Comparatively, ACs provide the same level of filtration but are not as efficient at cooling the air as air coolers.

Climate type:

ACs perform better in dry climates such as deserts. Whereas air coolers perform better in humid climates such as rainforests.
Cost Comparison of AC vs. Air Cooler
When broken down into parts, an AC unit costs substantially more than an air cooler. The actual purchase price of an cooler tends to be cheaper than an AC unit. Still, the latter tends to be a more economical long-term investment because it only needs servicing once a year. Whereas coolers require more frequent refilling and maintenance.
How to Properly Care for Your AC or Air Cooler
Proper care for an AC unit tends to involve regular servicing twice per year. This kind of maintenance helps ensure optimal performance from the unit and can greatly reduce repair costs caused by preventable damage or breakdowns. Most places that sell or install AC units will also provide this service for a fee. For proper care of AC you need to buy air conditioning covers for your ACs.
Air coolers require less regular servicing than their AC counterparts but still require some maintenance to keep them running effectively. Specifically, regularly changing out the water tanks on these units is important. It is because stale water can cause bacterial growth, ultimately leading to breakdowns. Additionally, filters should be replaced when they become overly worn or dirty.
Final Thoughts
You can choose an AC unit or a cooler for your cooling needs but following some factors described above. You should ensure that you understand all of their respective advantages and disadvantages. Also know that how they will finally interact with your home's environment before making any decisions. With this knowledge base in place, you should be able to make the best decision. It will help keep you comfortable no matter your climate.