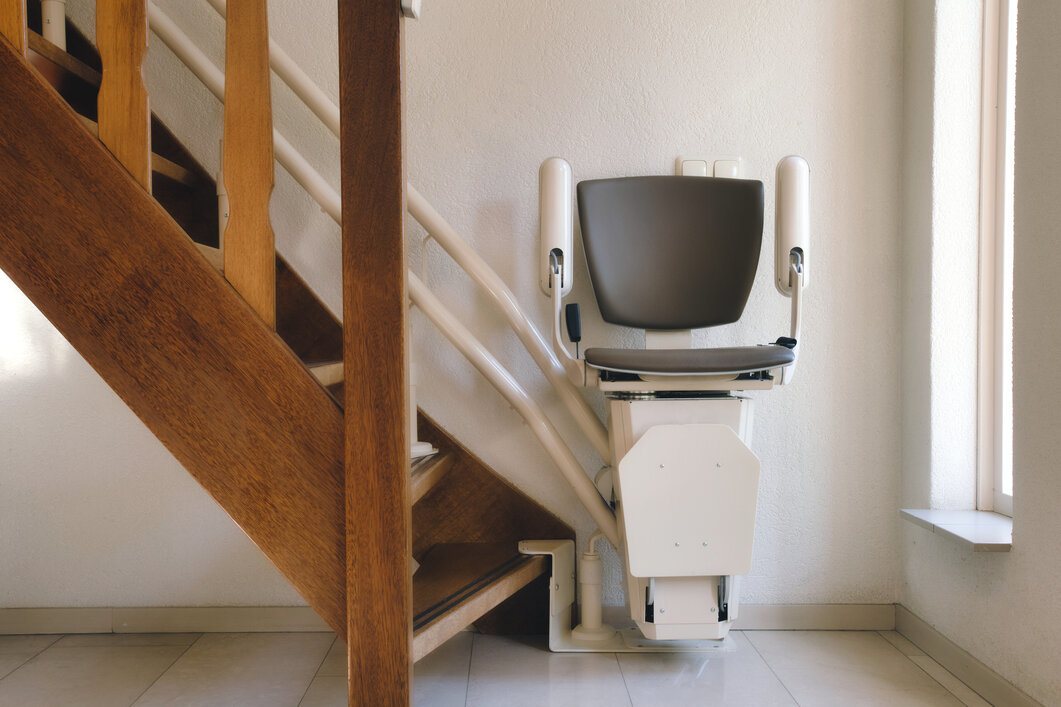 A stair lift helps persons with mobility impairments safely climb and descend stairs. For people who choose to age in place rather than relocate to a house with no stairs or a nursing facility, stairlift installation is a great option. Straight, curved, and elevator stairlift versions are just a few of the many available. They are adaptable to the specifics of every stairway in any house.
How Does a Stairlift Connect to the Stairs?
Installing a stair lift typically raises concerns about stair stability. For stairlift installation, brackets attach a track to the wall. This keeps the rails of the stairlift off the stairs. No harm is done to the railing or walls by attaching the brackets to the stairs' steps with 2 to 5 screws per bracket. The people who put in your stairlift will always ensure it is safe from the wall or railing to avoid scratches and scrapes. Professionals know how to install any stairlift securely, so always use them.
Things to Consider Before Stairlift Installation
Several considerations must be examined before installing a home stairlift to ensure that the equipment meets your requirements and that the stairlift installation procedure is as easy as possible. When installing a stair lift, what do you need to consider? The top five are listed below:
"Safety first" is a well-known phrase. Well, it's not a cliché, and it's not a sales pitch. It's correct. It's one of the most important things to do. It is very important for our clients' safety that stairwells don't have anything that could cause them to trip. As mentioned in our previous blog, we inform our customers about our stair lifts' obstacle sensors. They make it such that stair lifts cease working if there is anything in their path.
Accessibility and ease of use
On a stair lift, ascending and descending a flight of steps is more challenging than doing so in a chair at the top or bottom of the staircase. It's important to think about how you'll get on and off the chair. It's also important to consider how people will look at the foot of the stairs and if many people in the house will be utilizing the stair lift. At the top of the stairs, it should be easy for everyone to get off.
Your stairwell may wind its way around in a spiral configuration or climb vertically in a single direction. Is there a level landing before the top of the steps, or is it just one series of stairs? What is the length, width, and also pitch of a flat landing? An important step in choosing the right stair lift is figuring out exactly what stairs you need. This is also important know because you must know how to manually move a stairlift.
Handrails, walls, doors, and openings
Not every top of a staircase is the same. Some have clear entrances to hallways, while others lead straight to closets, bathrooms, or bedrooms. Also, some handrails are different. When deciding where to put a stair lift, you need to consider where the handrail is, how wide it is, and how big it is. Which side of the staircase would the railing be on if a stair lift were installed there?
What kind of floor is right under the stair lift and all around it? Do you have carpet or wood floors? Is the floor consisting of wood, concrete, or ceramic tiles? Answers to these questions often help us figure out which stair lifts are easiest for our team to install and also safest for our clients to get on and off. However, we anticipate that you will have many more questions.
Will My Stairs Be Damaged by a Stairlift?
In most cases, the stairs won't even notice the stairlift was there if it was built by a competent stairlift business, since the stairlift is simply linked to the stairs with minimum brackets. As was already said, the only sign that a stairlift used to be there will be screw holes, possible indentations, or a slight change in color from natural fading.