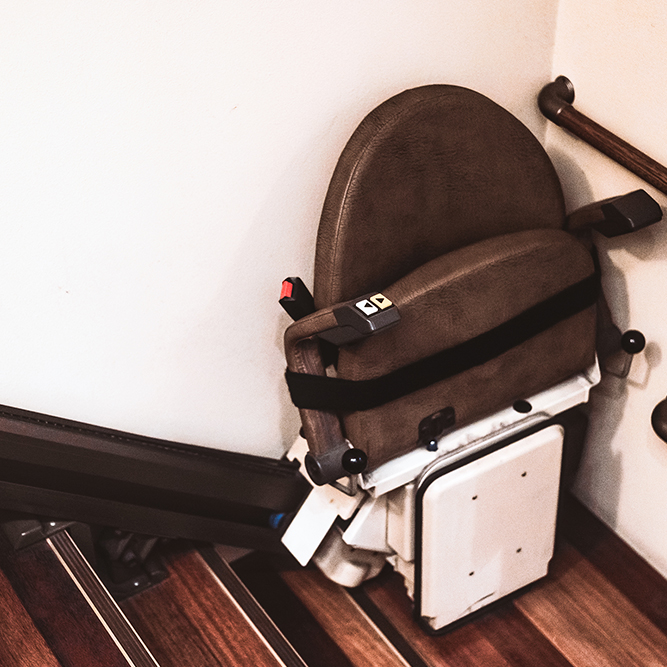 Stairlifts can provide safe and convenient access between levels of your home without costly construction projects. Many homeowners depend on stairlifts to maintain their independence at home; however, like any other machine, stairlifts have a finite lifespan and will eventually require replacement.
Replacing a stairlift may seem daunting, especially considering the cost involved. But don't worry – we've got you covered. Here's everything you need to know about stairlift replacement costs and how to find the right solution for your needs. We'll cover the factors that influence cost, tips for finding the right product, and a few surprises that might save you money in the long run.
Basics of Stairlifts & Replacement Costs
Chances are, if you're researching stairlifts, you've already experienced the benefit of having a staircase with easy access. For most homeowners, stairlifts are an invaluable addition to their homes as they make moving around the house easier for elderly family members or those with disabilities. Caring for your stairlift and understanding replacement costs is the key to getting more from your investment.
So, let's start by getting a quick overview of stairlifts: they are composed of two main parts: a motorized chair attached to a track along the stairs that allow users to travel up the stairs with ease and safety. Depending on where they're installed — inside or outside — stairlifts may require additional protection from weather changes, which could affect their performance.
Regarding replacement costs, there are several factors to consider, including the cost of new and used stairlifts, installation costs, and additional features like ramps, outdoor covers, and more. Stairlift replacement costs can range from $2,000 for used models up to $15,000 for newly installed ones with extra features. The best way to get an accurate estimate is by working with a professional installer who can assess your specific circumstances and provide tailored advice for your budget.
Buy or Rent? Which Option Is Best for You?
Not sure what to do whenever it comes to stairlift replacement cost? One solution is to buy a new one, while the other option is to rent the equipment. Figuring out whether you should rent or buy is integral to this process.
Renting a stairlift can be more affordable and convenient, as professional installation may be included in the price. However, this option involves a long-term commitment and may not provide enough support for people who need to use it daily.
Alternatively, buying a new stairlift is often the best choice for those who don't want to rent one or expect to use it daily. This can get expensive quickly, though—the cost of a new one will vary depending on the lift's features and your situation. Installation costs can also add up, so factor them into your budget.
Ultimately, choosing between buying or renting depends on your needs and budget. Make sure you weigh all of your options before committing to either one!
Factors Affecting Stairlift Replacement Cost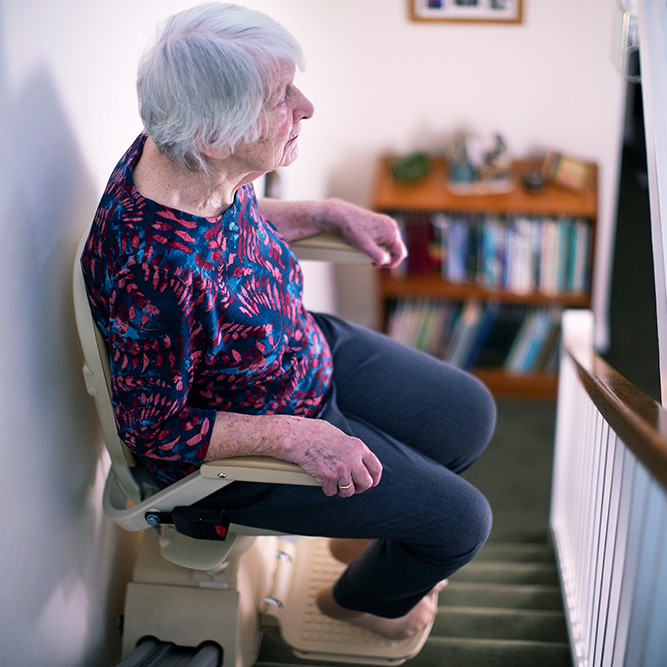 The cost of replacing a stairlift varies widely and depends on a few key factors, so it's essential to understand the different elements that may affect the total cost.
Age of your Current Stairlift
The age of your existing stairlift plays a vital role in the estimated replacement cost. Generally, older stairlifts experience more issues, requiring more maintenance and increased repair costs. As newer models become available, you may want to consider replacing the entire unit instead of spending money on repairs.
Type of Staircase
The type of staircase also plays a role in how much it will cost to replace your stairlift. If you're working with straight stairs—not curved or narrow—then you'll likely face fewer challenges and associated costs than if you're dealing with a curved or angled staircase.
Type and Manufacture Quality of Replacement Parts
The type and quality of replacement parts can also affect the final bill. Before investing in replacement parts, you should research and compare different manufacturers' reputations, quality ratings, and warranties. Additionally, check if any labor charges are included in the purchase price.
When Is the Best Time to Replace Your Stairlift?
Knowing when the best time to replace your stairlift is is tough. Generally, you can expect a stairlift to last between 10 – 15 years, but a few factors can cause it to need more frequent replacement. Here are some factors you should know about replacing your stairlift:
Natural Wear and Tear
Like anything else in your home, wear and tear is inevitable. With regular use, the motor or electronic components of your stairlift might start having issues with age, like short-circuiting or being unable to travel as smoothly as they used to. If you feel like the performance of your lift has deteriorated significantly, then it might be time for an upgrade.
Safety
As much attention as you may pay to regularly cleaning and maintaining your stairlift, there will come the point where the safety features will have to be updated. This is particularly true for older models that aren't engineered with the latest safety features in mind. So, you'll have to ensure that any new lift meets these safety standards if you decide to replace it.
Technology
The technology in modern stairlifts can enhance convenience and performance. With technological advances, such as sensors that detect obstacles or stops if something blocks its path coming up more frequently in modern models, you may also want to consider investing in a new model if yours doesn't come with these features.
Tips for Lowering Your Replacement Cost
Replacing a stairlift is no small cost, but there are a few tips you can keep in mind to help lower your replacement cost.
Buy generic parts
If the manufacturer does not offer discounts, you can use generic parts instead to save money. While they might not be as good quality as the official parts, it's better than nothing, and they could get the job done.
Look for discounts from manufacturers.
Many manufacturers offer packages and discounts when replacing a stairlift or adding an extra one to your home. So, research and see if any suppliers provide special deals.
Personalize the size and shape of your lift.
Stairlifts come in all sizes and shapes, so try to tailor yours to fit your stairs' size. It could cost you more if it's too long or wide for your staircase. It would be best to consider how the stairlift will look in the hallway, so feel how discreet you want it to be.
Install your stairlift.
If you're more of a DIY-type person, you can always opt to install stairlifts yourself. Remember that any resulting repairs will come out of pocket if something goes wrong during installation. That said, installing it yourself could significantly reduce replacement costs.
Finding the Best Stairlift Provider for You
Finding the best provider is the last step in determining the stairlift replacement cost. While there may be some price differences between different providers, you also want to ensure they have the experience, tools, and customer service to fit your needs. That's why it's essential to consider what other customers have said about their experiences with stairlift providers.
When searching for the right provider, make sure you do your due diligence on the following:
Quality of installation: How did the contractor come across during installation? Was the job done well?
After-sales service: What type of customer service do they provide? Do they offer maintenance checks and repairs? Do they have good ratings and reviews?
Pricing: Does their pricing fit within your budget? Can you get a good discount when you purchase more than one stairlift from them?
Warranty: How long does the contract last, and what does it cover?
Considering these factors will help you find the best provider for your project. So, do your research before committing to one particular provider.
Alternatives to stairlifts
You might be wondering if there are any alternatives to stairlifts. Stairlifts can be expensive, so you must consider all your options when deciding what's best for you and your home.
While there are many different types of accessibility solutions, here are a few alternatives to stairlifts:
Installing a wheelchair lift or platform lift: This is an excellent option if you have an existing staircase and want to keep it and make it easier to use. The wheelchair or platform lift will carry you up and down the stairs. You can do it by giving you total access without costly renovations or remodeling.
Invest in a home elevator: Home elevators can add convenience and mobility for those who can't use stairs. They come in all forms and sizes, so depending on your budget, you can find something that fits your needs.
Ramps: Ramps provide an easier way to enter your home than climbing stairs. Depending on the ramp size, they can be installed indoors or outdoors. However, they typically require more space than a traditional staircase, so consider this when considering this option.
Stairlifts covered by Medicare
Did you know that Medicare generally covers stairlift replacements? Yes, it's true, but you should understand a few things.
Generally speaking, Medicare will cover the stairlift replacement or repair cost if considered "medically necessary." This means that you must have an illness, injury, or condition that requires you to use a stairlift to be eligible for coverage. Medicare will cover 80% of the cost of the stairlift and installation.
In addition, Medicare Part B typically covers 80% of the cost of mobility aids—including a stairlift—and some related costs associated with installing the device. To be eligible for coverage, you must be enrolled in Part B and obtain prior authorization from your doctor for a new device or repair.
It's important to note that not all stairlifts qualify for Medicare coverage—specific models must meet certain criteria to be considered medically necessary by Medicare. Checking with your provider before purchasing medical equipment or devices is always best.
how to manually move a stairlift
If your stairlift ever needs replacing, one factor you'll need to consider is how to move the stairlift out of the house. Fortunately, it's not as complicated as you might think – though you need to be careful not to injure yourself.
Planning ahead
Before removing the lift, make sure you plan. Check that your insurance covers the removal of charges before you attempt it. Some manufacturers will expect the amount to be removed by their technicians rather than a third party.
Step-by-Step Guide
Here's a step-by-step guide on how to manually move the stairlift:
Start by disconnecting the batteries and power cable from the power socket. This safety measure would ensure no one gets electrocuted when moving it.
Slide out each armrest and remove all cushions from the chair. These are lightweight and portable, but if they don't come off quickly, wipe them down with warm water and dish soap until they slide off without resistance.
With help from another person, tilt the seat towards them at an angle until it can be lifted off its track safely without dangerously hitting the walls or decks of stairs. The good idea is to place a blanket underneath so that nothing gets scratched or broken if there are any bumps or falls during removal.
Gently move backward, curving each seat around your body while holding it securely until it is ultimately out of its track system and down any stairs necessary for safely transporting outside your home. Then take it to your local recycling center for disposal according to their instructions for proper removal of electronic equipment and
Conclusion
All in all, when it comes to stairlift replacement cost, the final price will depend heavily on your specific stairlift system. What additional features are you looking for—Are any other labor and installation costs you may incur?
Replacing or updating a stairlift system often brings new functionalities to the setup, better components, and improved safety. A thorough estimate is the best way to ensure you make the right financial decision. You can quickly get the best stairlift system for your home and budget with the correct information.