Are you considering transforming your basement into an extra bedroom or adding a home theater? Many homeowners are turning to the basement as an opportunity to add some extra space while potentially increasing the value of their homes. Finishing a basement is one of the more economical ways to add living space, but knowing the associated costs is essential before you get started.
The basement's finishing cost can vary greatly depending on the size, materials, and other factors. We'll help you understand what goes into the cost so you can confidently start your project. This article will look at average prices for different scenarios and provide tips for staying on budget when finishing your basement. So if you're ready to take you to remodel from dream to reality, read on!
What Factors Affect Basement Finishing Costs?
If you're a homeowner looking to finish your basement, there's no one-size-fits-all answer regarding cost. It all depends on a variety of factors, such as:
The size of the basement and any pre-existing features, such as plumbing or framing
The type of Flooring, walls, and ceilings you choose
The type of electrical and lighting fixtures you install
Whether you need to install new ductwork or an HVAC system
Whether you need a professional designer or installer
Each factor can increase costs—but they can also decrease them. For instance, if your basement already has Wiring and piping, that could save labor and materials money. And if you opt for a more budget-friendly flooring option, such as laminate instead of hardwood, that could keep costs lower too.
How Much May It Cost to Finish a Basement Per Square Foot?
When it comes to the cost of finishing a basement, there is no one-size-fits-all answer. The total cost varies depending on the size and scope of your project and the quality of materials you choose to use. Generally, you can expect to pay between $20 – $30 per square foot for a full basement finish.
This means that for a 1,000-square-foot basement, you can expect to pay anywhere between $20,000 and $30,000. Of course, this will vary depending on your needs—a 1,000-square-foot basement with complex engineering needs and high-end finishes might come with a higher price tag than one with primary paint and Flooring.
Before investing in any project, consider every part—from insulation to Wiring to plumbing—as this will help you understand the costs of finishing your basement. That way, you can make an informed decision on how much you want to invest.
What Materials Do I Need to Finish My Basement?
When you're looking to finish your basement, there are a few essential materials to keep in mind. Many of these materials — including drywall, carpeting, and tile — are the same materials you'd use for any other home renovation project. But there are a few special considerations when finishing a basement that you should keep in mind.
First, you want to ensure your basement has proper drainage and ventilation so that moisture doesn't become trapped and cause mold or mildew growth. For example, if you plan to use floor tiles, ensure an effective waterproofing system is installed underneath, such as a plastic vapor barrier.
You may also want to consider installing flooring tiles with specific features designed for basements, such as cork underlayment and interlocking ridges, that help ensure a tight fit. When choosing wall finishings such as paint or wallpaper, make sure your choices can withstand any potential moisture buildup.
Finally, don't forget about insulation — this is especially important if you use the basement for heating or cooling! At an average cost of $2-$5 per sq ft., insulation can help minimize drafts and control noise levels.
What Is the Average Cost of Tools and Supplies for Finishing a Basement?
Another essential factor to consider when estimating the cost of finishing a basement is the necessary tools and supplies. Depending on the scope of your project, you'll probably need a few essential items like wood cutting tools, fasteners, tile suitable for wet areas, and a cement mixer.
The average cost of these tools and supplies will vary by location, but they usually aren't inexpensive. For example, a circular saw costs around $119, and tile suitable for wet areas generally costs at least $3 per square foot. You can save money by renting tools, like a cement mixer, for around $50 per day in some areas.
It's also important to factor in additional costs for things like insulation (around $1 per square foot), wall coverings (usually between $10-20 per square foot), paint ($30-60 per gallon), and power tools (e.g., grinders cost around $100).
You should budget at least several hundred dollars to cover the additional supplies needed for your basement finishing the project.
What Are the Pros and Cons of DIY Basement Finishing?
Considering a DIY project to finish your basement, it's good to weigh the pros and cons. DIY basement finishing can save you a lot of money if you are confident you can do the entire project yourself. The average cost for professional basement finishing is around $30,000 – $50,000, whereas a DIY project may cost as little as $5,000-$10,000, depending on the size of your space and what materials you use.
Pros of DIY Basement Finishing
Cost savings
Create a space that may reflect your style and tastes
Have complete control over every detail from start to finish
Learn a new skill or hone existing ones
Recruit family and friends to help and make it fun!
Cons of DIY Basement Finishing
Increases the risk of damaging your home if done carelessly.
It is time-consuming, so if you only have weekends or vacation days to work on it, progress may be slow.
Not always up-to-code, so be sure when doing anything more than cosmetic changes to check with local authorities as they may require permits or inspections during certain phases of the remodel
How Can I Save Money on Basement Finishing Costs?
It's not just about the money you put into the project but how you do it. If you want to save money on basement finishing costs, here are a few suggestions.
DIY
Doing some of the work yourself can save you money, but it can also make your project take longer and cost more in the long run if done incorrectly. Suppose you decide to tackle any of the work yourself. In that case, you should do your research—or better yet, consult a professional — and ensure you are adequately equipped with the right tools and materials before starting.
Don't Overdo It
It might be tempting to splurge on custom elements and high-end finishes but try not to let this drive up costs too much. Instead of buying custom furniture, repurpose what you already have or buy it used instead. You can even rent furnishings for an even better price! If insulation worries you, there are ways to insulate your basement without breaking the bank. Consider foam board insulation an affordable option that can still give good results — ensure that a vapor barrier is installed.
Prioritize What Matters Most
Focus on getting the basics done first—electrical Wiring, plumbing, insulation — before diving into big projects like Flooring or finishing up walls. It helps to plan a budget for these items separately from decorative items later down the line so that everything is in order before making everything look pretty. This approach will help handle all essential elements while keeping costs low.
Basement Remodeling Costs (per room)
You might wonder what it costs to finish a basement room-by-room. It all depends on the project's scope and what materials you want to use. Generally, here's what you can expect for each type of room:
Bathroom:
Remodeling a bathroom in your basement costs an average of $8,000–$10,000. This will include installing a shower and bathtub, vanity with sink, and tile flooring.
Bedroom:
A bedroom in your basement can cost anywhere from $4,000–$6,000 to finish. This includes flooring installation (carpet or luxury vinyl tile are popular choices), insulation work, rough plumbing, and a closet or wardrobe.
Media Room:
If you plan on turning your basement into a media room (perhaps to watch movies and sports as a family or entertain guests), the average cost is around $5,000–$7,000. This includes installing drywall or paneling on the walls to give it a finished look and soundproofing the area with specialized materials like soundproof foam boards and acoustic sealant. You may also want to install built-in cabinets that can work as media storage or seating — those can add another couple thousand dollars to the total cost.
How to finish a basement (Per Room)
So, what are the average costs associated with each type of basement room? Let's break it down.
Basement Bar
Creating a bar in the basement can be relatively inexpensive if you're willing to do some of the work yourself. You'll need approximately $325 to create a simple wet bar. This would include items such as: installing shelves for glasses, Wiring for appliances, and old-fashioned beer lights. However, you could spend much more if you want elaborate setups with bells and whistles.
Basement Game Room
Making a game room in the basement can cost anywhere from $500 – $2,500. It all depends on the type of games you select and the features that come with them. If you choose to install a pool table or foosball, it could cost around $1,000-$1,500 alone, depending on the quality of those items.
Basement Living Room
Finishing your basement living room is an ideal way to add extra space, and it can cost anywhere from $5,000 – $20,000, depending on what type of furniture or pieces you choose for your area. If you want something minimalistic, these prices will be lower than something at a larger scale with custom pieces added in.
Basement Wine Cellar
Creating a wine cellar in your basement can be fun but expensive due to specific components that need to be added or installed to maintain an optimal temperature and humidity level for your wines (humidifier & dehumidifier). This project will likely range between $5k – $25k so
Basement Remodeling Costs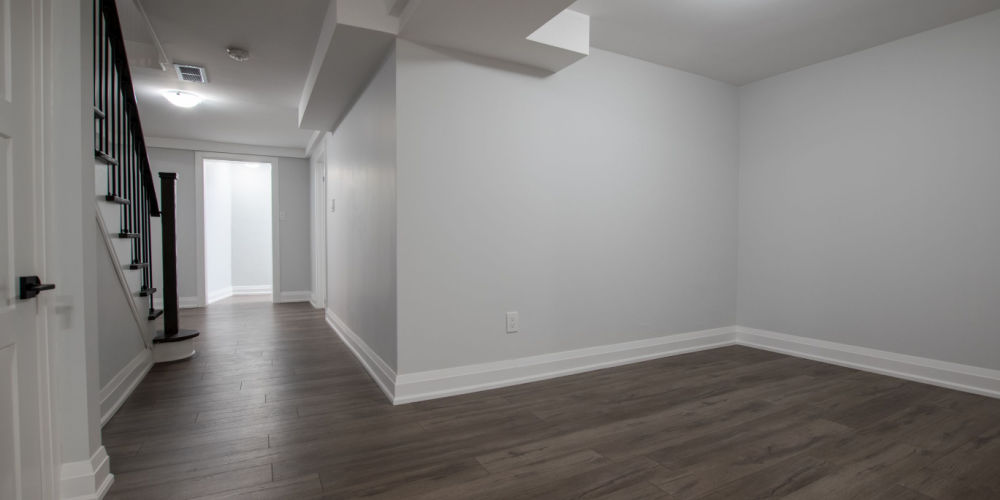 You may be surprised to know that, on average, finishing a basement can cost up to $30,000. This isn't always the case, of course—it largely depends on the size and scope of your project. And while this is a hefty figure to consider, there are ways to lessen the cost and get the best bang for your buck.
To give you an idea of precisely what you might be looking at in terms of budgeting for a basement remodel, here are some of the estimated costs associated with finishing a basement:
Framing: $5-$20 per square foot
Drywall: $1.50 – $2.00 per square foot
Insulation: $1 – $3 per square foot
New Flooring: $2 – $14 per square foot
Electrical Wiring: $2 – $4 per square foot
HVAC and Plumbing Installation: Up to 10% of the total project cost
By speaking with experts and getting accurate estimates before starting a project, you put yourself in a fantastic position to save money when it comes time to finish your basement.
Wood Flooring In the Basement
If you're looking to spruce up the basement, wood flooring is a great option—it looks great, is relatively low maintenance, and provides good insulation for your space.
On average, you may expect to pay between $4 and $10 per sqft for your wood flooring. While this cost depends on the type of Flooring you choose and the size of the area, it's still a reasonably affordable option compared to other types of Flooring. For example, engineered wood flooring is cost-effective yet still looks and feels like solid hardwood floors. Additionally, pre-finished concrete wood floors have a factory finish lasting longer than traditional sanded and hardwood floors.
Other factors will also influence the total cost—subfloor preparation can add more than $1 per sqft to your expenses. This includes leveling off any imperfections in the concrete subfloor, such as ridges or high spots, patching in low areas, adding additional reinforcing when needed, and applying a vapor barrier to protect against moisture from below.
After all, it all boils down to finding a balance between completing your project within budget without sacrificing quality—that's why it pays to shop around for materials and compare prices for different types of Flooring before committing.
Basement Bar Ideas and Designs
If you want to make your basement even more of a fun hub for your family, you may be interested in adding a bar.
A basement bar can be more than just a place to sit and relax—it can become the centerpiece for your next gathering. According to HomeAdvisor, planning a custom basement bar starts at an average cost of around $4,588. This usually includes painting, lighting, decor, and sink installation. Remember that higher-end materials and finishes will add to the project's total cost.
You can seek inspiration from many sources when creating your basement bar ideas and designs. While the sky is the limit on what you can do, here are some popular materials used to create stunning basements:
Industrial bar stools or chairs
Glass tile backsplash
Stone countertops
Cork flooring or hardwood flooring
Textured walls or painted walls
Built-in shelves with LED lighting
Custom cabinetry or built-in wine storage
Beverage chillers or kegerators
And much more!
Heating Your Basement
Heating your basement is an important consideration when finishing it—you don't want to spend time in a cold space! Unfortunately, heating a basement can add substantially to the total cost.
The average cost to heat a basement ranges depending on what kind of heating system you go for. If you already have central heating in your home, installing ductwork from the main area into your basement will likely be the most affordable choice—but this could still cost between $2,000 and $4,000.
On the other hand, electric baseboard heaters or in-floor radiant heat can sometimes be cheaper to install. For instance, if you wanted electric baseboard heaters to warm up a 1000-square-foot area, it would cost around $1,200-$1,800. Installing radiant floor heating is much pricier due to the labor-intensive installation process, but it is efficient and can last up to 50 years with little maintenance. The price period for installing radiant Flooring comes in at around $14-$20 per square foot; if you had a 1,000 sq ft basement with radiant Flooring installed, it could cost anywhere from $14,000-$20,000.
Ideas for Basement Rooms
Let's talk about the rooms you can finish in your basement. Of course, there are classic favorites like a home theater or game room, but there are some other options you may not have considered.
Bedroom
A bedroom is always a great idea—not everyone has room for an extra bedroom on their main floor, and basements are often naturally darker and quieter, making them a great place to sleep. Plus, if you plan on having overnight guests, they won't have to go all the way up from the main floor to get to their room.
Home Gym
Have you wanted to start working out but don't have room for gym equipment in your house? Setting up a home gym inside your basement can be a great way to get fit at home. You could lay down some rubber mats, add some exercise machines (or even buy weights), and soon you can use your gym whenever you want!
Office Space
If you're working from home, having an office space is essential. Set aside some space in your basement and arrange it how you like—from a comfortable chair and desk set up to shelves for books or supplies for projects. Not only will this help with productivity, but it's nice having an extra dedicated space just for work so that after work hours end, you can relax without thinking about work stuff anymore.
Though the cost of finishing different rooms will usually depend on the size and materials used, finishing rooms such as these can be great additions that will not only help increase the value of your home and give family members more space and privacy.
Cost to paint basement.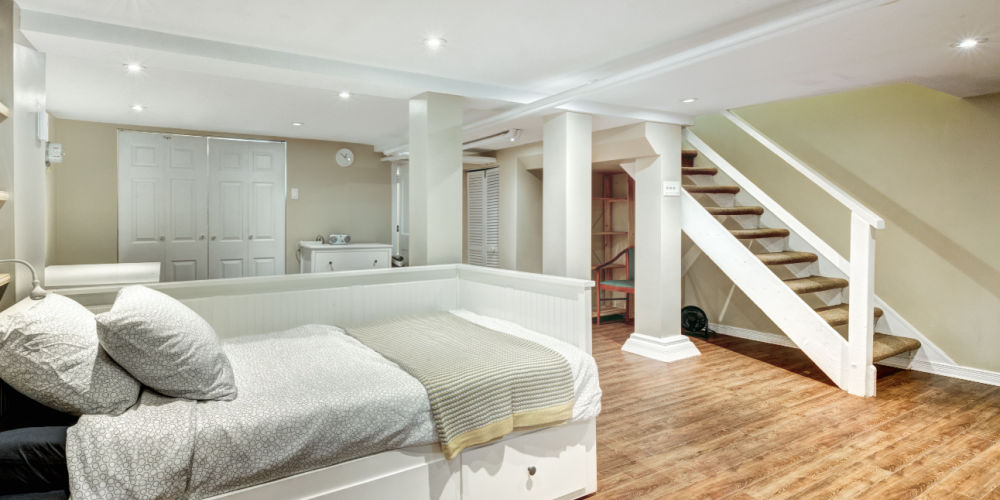 When considering the cost of finishing a basement, you must consider a professional painting job. Unless you want to do this yourself, professional painters will make all the difference in quality and durability.
Based on the size and complexity of the space, professional painting can start at around $2,500. This is where having a detailed plan comes in handy so that you can show professionals what they need to do and get accurate estimates.
It's essential to keep in mind some things when considering painting costs:
The paint color you choose will affect the cost. Darker colors require more coats and will be more expensive than lighter colors.
Keeping furniture out of the way during the painting process is cheaper than moving it around.
Professional painters often have access to discounts for supplies that aren't readily available in stores.
If you have any special requests (like wall coverings or special finishes), that could add extra costs.
HVAC for basement cost
You're also going to need to think about HVAC for your basement. If it doesn't already have one, you'll need to factor in the installation and ongoing maintenance costs.
HVAC installation costs can range from $2,000 to $14,000, depending on the size of your basement and the type of system you want. If your basement is 500 square feet or more, especially if it has a bathroom, you'll look at the higher end of that range.
Ensuring your living space has to work, and efficient climate control is essential for comfort—especially in places with extreme seasonal weather changes like those in the USA. You don't want any problems with mold or humidity taking over!
Your chosen HVAC system should be tailored to your specific requirements. The good idea is to get quotes from different companies so that you can compare prices and weigh up other factors like energy-efficiency ratings before making a decision. It might take longer, but it could save you money.
How much does it cost to add a basement?
So, you're wondering how much it'll cost to finish a basement? A full basement remodels, of course, can get pricey quickly. According to a HomeAdvisor survey, the average expense to finish a basement is between $11,000 and $30,000.
Most basements come down to the space size and the project's scope. Finishing a basement usually involves at least some of the following:
Drywall installation — your most significant expense — and finishers like mudding, sanding, etc.
Electrical work
Painting or Wall Paper
Flooring installation
New trim and moldings
HVAC and plumbing additions or updates
Lighting fixtures installation
Adding/updating doors, windows, or egress windows — depending on local code requirements
It's also worth considering that if you plan on adding any amenities like an entertainment center or bar, these items may come with additional costs too! But if done correctly, you can add functional living space with some upgrades and intelligent use of space that'll add value to your home.
Basement finishing tools
If you plan to work, you must rent or purchase some tools. Depending on what needs to be done, devices like a power drill, saws (circular, jig, and utility), sander, hammer, level, and some other hand tools are essential for finishing a basement. Of course, if you don't have the right tools, you may buy them anyway.
When it comes to basement finishing tools, here is an estimate of all what it might cost:
Power drill: $50-$100
Saws (circular): $60-$140
Jig saws: $20-$90
Utility Saws: $30-$90
Sander: $30-$160
Hammer: $5-$25
Level:$20 -$40
Other hand tools:$20 -$50
The cost for these essential tools can add up quickly—planning and shopping around for the best prices can help you save money in the long run.
Best time to finish the basement
Another thing to consider when you're thinking of finishing your basement is timing. Of course, the best time to do it is when you have the cash on hand, but what if you don't? Weather can make a big difference in costs depending on where you live.
If your project requires digging and laying down a foundation, it's best to finish the basement in the summer when the ground isn't frozen. Otherwise, you might face extra costs for special equipment and labor. If no excavations are needed, wintertime can be an ideal time—weather-related prices will be low, and contractors might charge a discounted rate since fewer projects are available during that season.
It's also important to check with local authorities or contractors regarding permits or licenses needed for certain parts of your project; not only could that save you money, but it could also mean avoiding costly delays down the line. Once all these things are considered, and a budget is set, you can start tackling your basement finishing project confidently!
Conclusion
Finishing your basement can significantly improve the value of your home, offering more living space and potential income if you decide to rent it out. However, the cost of finishing a basement depends on the size, materials, and labor involved. Generally, it costs anywhere from $15,000 to $30,000 to finish a basement, but there are ways to ensure you stay on budget. Knowing what to expect for the cost of materials and labor can help you better plan for your basement remodel. Make sure to allocate a budget for unexpected expenses and get professional quotes to understand labor costs better. With the proper preparation, you can have the finished basement of your dreams without breaking the bank.