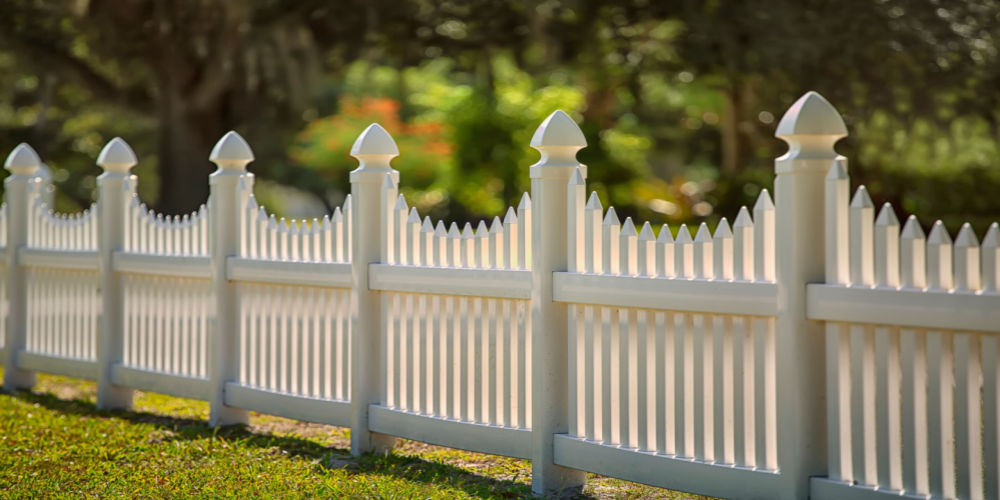 Looking to add a fantastic curb appeal to your home? Installing a vinyl fence is an excellent way to do just that! But before you get started, you'll need to understand the costs of vinyl fence installation.
That's why we created this comprehensive guide: to give you the knowledge you need to plan and budget your vinyl fence installation accurately. We'll talk about all the necessary components of a vinyl fence, explain how they factor into the cost, and provide helpful tips on how to save money on the project.
We understand that a new fence is an important decision and want to ensure it fits your budget—and looks great in your yard! So if you're ready, let's get started by breaking down all the components involved in a vinyl fence installation.
Pros and Cons of Vinyl Fences
When researching the cost of fences, you'll quickly come across vinyl fencing. Known for its affordability, low maintenance, and durability, it's a popular choice for homeowners. But before you decide if it's the right fit for your home, let's look at the pros and cons of vinyl fencing.
Pros
Low Maintenance: Vinyl fences require little to no upkeep, from occasional washing to preventative maintenance measures like caulking and recoating.
Durability: Not only are vinyl fences solid and sturdy, but they can also withstand extreme weather conditions without needing to be replaced soon.
Affordable: Vinyl fences are made with materials that have less expensive production costs—making them more cost-effective than other fence types over time.
Cons
Limited Color Options: You won't find many color variations when choosing a vinyl fence—most products on the market only come in white or tan hues.
Potentially Unsafe: Vinyl fences may not be as strong as other materials in certain situations and may need to be reinforced if used near roads or in high winds.
Potential Warping: If exposed to direct sunlight or extreme heat over long periods, vinyl fences could warp or crack due to their plastic composition.
Costs of Different Types of Vinyl Fences
Vinyl fencing is an excellent choice for residential and commercial properties, as it is cost-effective, durable, and low maintenance. When considering the cost of vinyl fences, there are several factors to remember: the size of the lot, the purpose of the wall, and what type of fence you choose.
In addition to these considerations, different vinyl fences vary significantly in cost. Below is a summary of popular types of vinyl fences, their associated costs, and related features:
Picket Fences: These traditional white-picket-fence styles come in assembled sections and average between $20–$30 per linear foot based on height and type.
Privacy Fences: Built with planks that overlap slightly to create a full coverage, panels usually range from $20–$40 per linear foot based on height and style.
Pool Fencing: The average range is around $14–$20 per linear foot, with a minimum installation fee of around $400. Pool fencing must meet safety regulations, which are typically more expensive than other fencing styles.
In addition to material costs for the fence itself, there may be additional fees for labor or extra materials, such as posts or gates, which may not be included in the product package.
Options for Vinyl Outlet Fencing
When choosing vinyl fencing, some of the most popular options for homeowners are outlet fencing. Outlet fencing is excellent because it adds an extra layer of privacy and looks great in any yard.
So, how much does vinyl outlet fencing cost? Well, it depends on a few factors:
Size and layout – Vinyl outlet fencing can range from 4 to 8 feet tall, and the design will depend on what you need—a straight line or curves. The more intricate the fence is, the higher the cost will be.
Pickets – Usually made of weather-resistant PVC, so they don't chip or warp; pickets come in different shapes and sizes and can add a custom touch to your fence.
Posts and caps – Posts come in several colors to match your fence and can help give an extra layer of protection against wind and weather. The prices for these will depend on where you purchase them from and if any additional features like lighting or automatic gates are included in the package.
Labor costs – Labor costs may vary depending on who you hire for installation—no matter what, ensure that it's someone with experience installing vinyl fences so that your wall lasts for years to come!
On average, you can also expect to pay between $3-$5 per square foot for vinyl outlet fencing—but bear in mind that this price can fluctuate depending on size, pickets, posts & caps, etc., as well as labor costs!
Color Options for Vinyl Fences
When considering the cost of a vinyl fence, you'll also need to calculate the cost of the color. Vinyl fences come in various colors, giving you many options to match your style.
White
White is the most popular option among homeowners and the classic pick. It's also the cheapest due to its popularity — so if you're looking for low prices, white is your best bet.
Tan and Clay Colors
Tan and clay colors are slightly more expensive than white vinyl fences but still affordable. They're great if you want something that blends well with nature while keeping a classic look.
Gray and Black Colors
Gray and black are popular choices too, but they cost more than the other colors due to their rarity — so if you're looking for something unique and can afford it, gray or black might be an excellent choice.
Custom Colors
For those looking for a fully customized look for their fence, custom colors offer just that. You may choose from any color imaginable — however, these options will cost significantly more than standard colors since manufacturers have to customize orders for each customer.
Purchasing Parts and Accessories for a Vinyl Fence
When purchasing accessories for your vinyl fence, you need to consider if your project requires any gates, posts, and caps. Gates are essential for providing access in and out of the fenced-in area and are made from wood or vinyl material. Centers will provide additional support for the fence, while the caps will help keep all the pieces in place. Not only that, but they can also add an extra layer of appeal to the design.
Remember, though, that each part will incur its own cost. On average:
Gates typically cost between $90 – $220 each
Posts usually range from $12 – $290
And caps can cost as little as $2 – $45 per piece
Ensuring you have purchased enough parts and accessories to complete your fence project is essential to keeping costs low and minimizing disruption. A clear plan and an idea of what you need before purchasing materials are critical to staying on track.
Cleaning and Maintenance for a Vinyl Fence
On top of the upfront costs, you want to consider the maintenance and cleaning costs associated with your vinyl fence. A clean wall is attractive, and it all starts with a cleaner specifically made for PVC or vinyl fence surfaces.
These cleaners are specially formulated to avoid damaging the surface of your vinyl fence over time. Not only that, but they get rid of dirt and mildew fast, making your wall look new again.
Vinyl fences are also resistant to staining, but cleaning off pet urine as soon as you can will help prevent discoloration in some cases. You can use a degreaser if you have stains that don't come off quickly with water or soap. It would be best to use this sparingly, though—too much degreaser or abrasive cleaner can damage your fence's finish.
To keep things looking their best, use a plastic spray bottle or garden hose to occasionally clean off the dirt or dust on your vinyl fence – monthly is a good goal if you live in an area with frequent rain and snowfall.
Finally, and most importantly, regularly inspecting your vinyl fence's hinges and locking mechanisms will help maintain its structural integrity for many years!
Stone vinyl fence
You may consider a stone vinyl fence for an even heavier, more resilient look. Vinyl fencing with stone finishes is a unique option that adds a more luxurious feel to your outdoor space. It comes in many different styles, colors, and textures to give your yard a one-of-a-kind makeover.
In terms of installation costs, you'll pay between $30-$45 per linear foot for the materials alone. Labor costs are typically higher for this type of fencing due to the weight of the materials, so expect to spend around $50-$75 per linear foot in total installation costs.
Stone vinyl fencing also requires more maintenance than standard vinyl fencing due to its weight and complexity. If you choose this option for your yard, check up on it regularly and perform minor repairs if needed.
vinyl fence hooks
Vinyl fence hooks can make all the difference when erecting your vinyl fence. Sure, you can hire a professional to install them, but what if you want to do it yourself? That's where vinyl fence hooks come in!
Vinyl fence hooks may come in a variety of designs and sizes. They're designed for quick installation and are ideal for attaching two pieces of vinyl fencing. And the best part? You don't need any tools to install them—it's just a simple snap-and-lock process!
Here are a few things to consider when selecting vinyl fence hooks:
Make sure they are compatible with your type of fence – there are universal ones that fit most bars, but it's always best to double-check!
The strength of the hook varies depending on the material — stainless steel is the most robust.
Decorative hooks can be a great way to customize your vinyl fence and add a touch of personality!
Price – shop around for good deals and fees, which can vary significantly between stores and online retailers.
No matter which style you select, vinyl fence hooks make it easy to tackle your fencing project yourself—so get started today!
vinyl fence lights
Vinyl fence lights are one way to make your vinyl fence stand out. The lights run from electricity or solar power and come in various shapes, sizes, and colors.
Cost
The cost to install vinyl fence lights depends on several factors, most notably the size and type of light you choose. Generally speaking, you can also expect to pay between $10 and $100 for each installed morning. An essential LED strip lighting may cost around $15 per foot installed; if you want more complex lighting options like motion sensor lights or post-mounted lights (with bulbs), those will cost more.
Benefits
When you pair other elements like pathways or bushes, vinyl fence lights can create a unique aesthetic for your landscape, such as modern, classy, or even spooky effects. They also provide an added layer of security and energy-efficient lighting that can be relied upon for many years without the need for replacements — not to mention the added feature value should you ever decide to sell your house.
the vinyl fence around the tree
Did you know that if you want to fence in a tree on your property, you don't have to miss out on the beauty of vinyl fencing? Installing a vinyl fence around a tree is possible, although it is tricky.
The best approach is to build the fence around one side of the tree, coming in close enough around the circumference that it's aesthetic. Since trees grow, there should be space between the trunk and the vinyl to accommodate any growth over time.
Vinyl pickets or panels usually come in eight-foot lengths, but they can easily be cut and installed selectively around trees. The cost of materials increases slightly when you add this feature since those materials must be customized to fit the tree's diameter.
Overall, installing a vinyl fence around a tree will cost slightly more than installing one without it (on average, an additional 5-15% depending on size and materials used). Still, it can come with long-term benefits, such as boosting the overall aesthetic appeal of your property.
vinyl fence sizes (foot)
When it comes to fencing, size matters. The taller the fence, the more it's going to cost you. This is why it's essential to consider the size of your wall when calculating the cost. While standard vinyl fences come in six-foot sizes, you can also get taller heights for added security or if you want something a bit more imposing.
But don't worry if you don't have a big budget—you can still get vinyl fencing in smaller sizes, like three- and four-foot panels that are perfect for defining boundaries and keeping pets and children in.
Of course, there are lots of other sizes available, too—here's a breakdown to help you out:
Three feet: These are good for defining garden beds and walkways.
Four feet: Perfect for front yards and short runs along driveways.
Five feet: Great for both security and pet containment.
Six feet: Ideal for privacy fencing along property boundaries and creating blockades between homes or light commercial spaces.
Seven feet: Many cities require seven-foot fences around pools or high-traffic areas like driveways.
Eight to nine feet are perfect for maximum security fencing applications around government buildings or industrial sites.
Repair, install & replace vinyl fence
It's no surprise that the cost of repairing, installing, or replacing a vinyl fence can vary based on the area and style of the wall. For example, replacing or installing a six-foot privacy fence with standard panels and posts will cost around $3,500 for materials and labor.
But no matter what type of vinyl fence you're installing, it's always best to look at all the factors that go into the cost:
Materials
Regarding materials, there are usually two choices—premade panels or components. With premade panels, you'll have to pay for installation labor and additional materials to construct the fence. If you go with individual features such as posts and rails, your costs will be higher because they need to be cut down and put together on-site.
Labor Costs
Regarding labor costs for a vinyl fence installation project, consider site preparation (grass removal) and cleanup. It's also essential to remember that additional landscaping is required after the installation is complete (grass seeding). All this can add up quickly, so make sure you're factoring in all these smaller items when creating your budget for a vinyl fence installation project.
vinyl fence protector
You might wonder if there is a way to protect your vinyl fence from damage. Well, the answer is yes! Vinyl fence covers are an excellent option for protecting your wall from the elements and daily wear and tear. These covers protect against UV rays, water damage, cracking, and fading. Plus, they are easy to install and come in a variety of colors and also patterns, so you can choose one that matches your home's esthetic.
Vinyl fence covers differ in price depending on the size, thickness, and material quality. On average, you can expect to pay anywhere from $3-15 per linear foot for a vinyl fence cover. Vinyl fencing covers protect your investment in a vinyl fence and add extra style to your outdoor space.
vinyl fence Q& A
Are you ready to get out fencing project estimates but still have some questions? Let's have a quick look at the most common questions we get asked about vinyl fences and their cost.
What Is the Average Cost of a Vinyl Fence?
The average vinyl fence cost is around $25 to $35 per linear foot, with installation costs reaching around $2,000-$6,000. Depending on the size and type of fence you choose, vinyl fence costs can range from a few hundred dollars for a short privacy wall up to $7-8k for a complete wrap-around picket fence.
How Strong Is Vinyl Fence?
Vinyl fences are solid and durable. Their compressive strength is 5-20 times greater than wood or aluminum fences! You won't have to worry about maintaining your vinyl fence for many years; it will look as good as new after it's installed.
How Do I Know What Style of Vinyl Fence I Should Choose?
It would be best if you decided what style of fencing suits your home and garden's overall aesthetic best. Consider the different types—privacy fences, picket fences, lattice panels or horizontal fences—and look at pictures of each type online to help you make an informed decision. Ultimately, it comes down to personal preference; if you like it—get it!
Conclusion
Vinyl fencing can be an excellent solution for homeowners looking to contain their property and keep it private. While the cost of a vinyl fence can put some people off, they shouldn't be dissuaded by the upfront price. The cost of a vinyl fence is more than worth it when you factor in the benefits, such as its low-maintenance requirements, durability, and the fact that it adds to a home's value.
Before you start working on your next home improvement project, consider the costs of installing a vinyl fence as you decide whether it's the right choice. With the proper preparation and complete knowledge, you can be sure you'll get the most out of your purchase and have a stylish and secure addition to your home for years to come.