So you're thinking of replacing your deck, but you're discouraged by the costs that come with it—we understand. We all want to get the most bang for our buck, and it can be daunting to dive into such a big project. Here at Renvations, we believe that with the correct information, there's nothing you can't take on.
That's why we put together this guide to deck replacement costs. We cover everything from getting ready to taking action, so you know exactly what you're in for before making any significant commitment. Read on for an in-depth look into everything related to deck replacement costs so you can confidently start your project!
Average Deck Replacement Cost
Regarding deck replacement, pricing and materials can vary greatly. On average, you can also expect to pay anywhere from $3,000 to $10,000 for a complete deck replacement.
The size of the deck is one of the main factors in determining the cost. An enormous deck requires more materials and labor and will likely cost more than a smaller or mid-size deck. Additional charges may be incurred if you opt for an exotic wood material or if your local county or city requires you to pull a permit for the project.
Aside from size, the cost depends on the type of wood used and all the deck features, such as railings, stairs, and built-in benches. As always, talking with your contractor about various materials and options that may fit your budget is best. That said, there are still ways to ensure you get a quality job on your deck replacement without breaking the bank.
Factors That Impact Deck Replacement Costs
If you're considering replacing a deck, it's essential to understand all the factors that come into play when estimating the cost. It's not just the cost of material and labor – many other factors will contribute to the final price. Here are just common ones:
Size

: The more extensive your deck, the more expensive it will be. Extra materials, increased labor time, and additional safety measures increase the cost of more extensive patios.

Location

: Where you live can impact your deck replacement cost. Different parts of the country will have additional costs for materials, labor, and any applicable local taxes or fees.

Materials

: Different materials, such as wood and composite decking, can vary significantly in price and quality. So be sure to research when choosing a material for your new deck.

Timeframe

: The timeframe for completing a deck replacement can also affect the final price. If you need it done quickly or over a holiday weekend, expect to pay a premium for expedited work.
It would help if you now had a better understanding of what goes into the overall cost of replacing a deck — from size to materials and everything in between — so you can make a well-informed decision regarding which option is best for you and your budget.
Labor & Installation Costs for Deck Replacement
Depending on the area's size, complexity, and labor costs, replacing a deck costs thousands of dollars. According to Remodeling Magazine's 2020 Cost vs. Value Report for the USA, the typical cost of a midrange redwood replacement deck is around $14,000, including materials and installation. Labor will account for about $7,000 of that total, but if you're looking to save money, here are some things you can do:
Do some work yourself: If you're confident in your DIY skills, you may be able to handle some of the demolition and replacement work yourself to save on labor costs.

Shop around: Getting quotes from at least three contractors will help you compare different deck designs and costs to make an informed decision.

Use fewer expensive materials: Selecting less costly materials can lower your total costs significantly—for example, low-maintenance composite products are often cheaper than natural wood types like redwood or cedar.
Building Materials Needed for Deck Replacement
Knowing how much it will cost to replace your deck is one thing, but you must also consider the cost of deck-building materials. Depending on your specific deck design, you'll need different materials ranging from wood to steel to composite plastic lumber.
Wood
Wood-based decks can be made from pine, cedar, and redwood. Wood decks are known for having natural beauty and require regular maintenance throughout their lifetime—which can be up to 15 years with the proper care—but they tend to be more affordable than other materials.
Steel
While steel decks often appear more industrial than wood decks, they require much less maintenance and are more durable, lasting up to 30 years if built with galvanized steel. If you're looking for something more budget-friendly than composite lumber on top of being durable and easy to maintain, steel is a great option.
Composite Plastic Lumber
Composite plastics lumber is an appealing alternative because it is virtually maintenance free and has a longer lifespan than wood (although not as long as steel). Since no organic material is in the mix, composite plastic lumber doesn't rot or attract termites and other bugs looking for food sources like wood does. These features make composites pretty reliable for outdoor construction projects like deck replacements.
Factors to Consider When Budgeting for Deck Replacement
When renovating or replacing your deck, you should consider a few factors that may impact the cost. Depending on your budget and timeline, some of these items may be more or less important to you.
Size
The size of your deck is one of the most significant factors in cost—the larger the area, the more materials and labor are required for your project. For example, a small 10-by-12-foot deck will cost significantly less than a sizeable 20-by-30-foot deck. So it's essential to accurately measure the size of your existing deck and determine precisely how much space you want your new one to occupy.
Shape
If you are replacing an existing structure, you may need to factor in changes in shape into your estimates. Depending on all that you need to plan to do with the space and any special requirements you might have, it could be necessary to factor in additional costs associated with modifying existing shapes.
Material
The materials used for construction can vary significantly in price point—and this is true for both wood and composite decks. For example, pressure-treated wood is typically one of the most affordable options; however, other types of wood, such as redwood or cedar, are much more expensive due to their durability and good looks. If you choose composite material for your deck replacement project, keep in mind that low-end models are generally cheaper than high-end ones because of their quality and esthetic appeal.
So it's essential to think about how each factor affects not only your budget but also how long your new deck will last—after all, it's an investment that can make a real impact on the
Professional Deck Replacement Cost Estimator Tools
Do you feel like you're spinning your wheels trying to ballpark the cost of a new deck? Could you not feel like you have to do it alone? Professional cost estimator tools exist for this very purpose.
We offer one of the best deck replacement cost estimator tools free of charge. Here's what you can expect from it:
Step-by-step Guidance
The deck replacement cost estimator tool offers step-by-step guidance that walks you through the entire process and helps you determine exactly how much it'll cost to replace your old deck with a new one. You'll be asked a series of questions related to your project's size, material, and budget and then given an estimated cost.
Accurate Cost Estimates
Renvations deck replacement cost estimator is designed to provide accurate estimates based on current industry prices that consider the local labor and materials costs. This means you get an estimate tailored to your specific area and can plan accordingly without worrying about hidden surprises or unexpected costs down the road.
Quick, Convenient Way To Estimate Costs
Whether you're looking for ballpark figures for budgeting or need exact quotes for planning finances, Renvations deck replacement cost estimator is here to help give you peace of mind in your project planning—quickly and conveniently!
Replace the deck with the patio.
If you want to switch up your deck for something different, why consider replacing it with a patio? Unlike decks, terraces typically sit at ground level and require less maintenance and upkeep.
While replacing your deck with a patio comes in around the same range as an upper-tier composite deck—up to $20,000 for materials and labor—terraces offer several advantages worth considering.
Low Maintenance
Patios don't require regular staining or sealing like wood decks do, so you'll save time and money for upkeep.
More Secure
Patios are typically more secure than decks since they are lower to ground level and commonly connected to your house. This gives you better peace of mind compared to tiers that can be unsafe if not built correctly.
Design Options
Your options with patios are nearly limitless: choose from concrete slabs in various shapes, sizes, colors, and textures, or opt for something more natural, like natural stone pavers or flagstone. You can even incorporate planters and other landscaping elements into the finish.
In the end, whether you decide on a new deck or patio is up to you—but either way, it's an investment in your home that will increase its value while giving you and your family an outdoor space to relax and unwind.
Replace the wood deck with a concrete patio.
Are you thinking about replacing your wooden deck with a concrete patio? It might sound like a big step, but it's worth looking into. Here's why.
Long-lasting and durable
Concrete patios are incredibly long-lasting and durable. And if you thought that regular maintenance was excessive for your wooden deck, concrete patios are way easier to care for—you don't need to sand or seal them at all.
Low-cost and low-maintenance
Concrete patios are the most cost-effective choice out of all the material options. Plus, they require very little maintenance after installation—just a quick sweep occasionally and maybe a coat of paint. They come in different colors and designs to find one that suits your home perfectly!
Good investment
The best part? Replacing your old wood deck with a concrete patio is an investment that keeps giving: it adds value to your home and increases its curb appeal!
Repair or Replace the deck?
Would repairing your deck be a better option than replacing it? Well, that depends on the situation.
Repairing a damaged deck might seem like the most cost-effective solution at first, but you should also consider how sturdy and safe it would be after repairs. The cost of repairs can quickly add up, and if you're covering up structural issues, all your hard-earned money is going to waste.
It would help if you also compared the cost of repair and replacement. If repair costs exceed the price of brand-new materials or match those of partial deck replacement, it's time to consider replacing the entire structure. After all, replacing a damaged deck is safer and more cost-effective in the long run.
We have outlined some basic guidelines for homeowners who need to decide between deck repair and replacement:
Evaluate the scale and severity of damage—if more than 15% of your deck needs attention, then replacement is an option worth considering

Consider any underlying structural problems that may have caused damage in the first place

Calculate a realistic budget for both repair and replacement options

Verify whether any pieces need to be custom-made or if they can be replaced in sections

Check warranty coverage on original materials used for construction
Deck drains replacement
Another factor to consider as you plan your deck replacement is dealing with drains. Drains are often necessary for decks to help prevent water pooling and keep your deck safe and dry. Replacing a drain on a deck can cost between $75 – $200, depending on the complexity of the job and the type of drain used.
For example, if you need to install a new drain outside the perimeter of your deck, that can be more complicated than just replacing one within the confines of the old deck. Remember that most decks need at least one drain, so this cost should be included in your overall budget. You may also need to replace damaged plumbing or irrigation lines when replacing a drain, which can increase the total cost.
When to replace deck boards
When deciding when to replace deck boards, there are a few things to remember. If the panels are splintered or stained, you'll want to replace them, and if the board is warped due to weathering, you can also replace them. Regarding the cost, you should expect to spend anywhere from $15 – $30 per square foot to replace your deck boards.
In addition, if your deck has nails instead of screws, it's time to upgrade them because nails tend to come loose over time. When deciding what material to use when replacing your deck, boarensuresure it's strong and lasts a while. You'll want naturally weather-resistant wood, like pressure-treated pine or cedar.
You can also opt for composite materials like plastic lumber for a higher-end look that lasts longer and requires less maintenance than wood. To give it an even longer lifespan, use corrosion-resistant hardware when fastening the boards.
Overall, wait to replace your deck board; instead, be proactive and inspect your deck once every six months so any issues can be addressed sooner rather than later. A little bit of upkeep now will save you from shelling out big bucks in the future!
Learn also about Mobile home decks & ideas.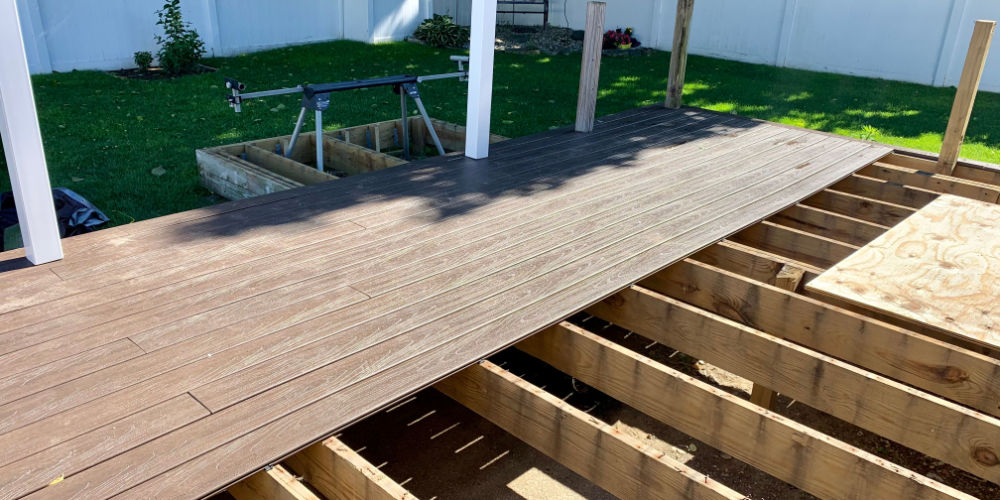 It never hurts to explore different deck ideas, mainly if you live in a mobile home. While these homes don't have a traditional frame or structure, many ways exist to update them and increase their value with a brand-new deck.
Raised Decks
If your mobile home rests on cinder blocks placed on their sides, you can build a raised deck for added outdoor living space. This type of deck requires only the basics—a ledger board, pressure-treated support beams, and floor joists with plywood sheeting on top. While it involves more framing than other decks, the cost is relatively low, and the framework will remain sturdy for years.
Covered Decks
A covered deck is an increasingly popular option for mobile homeowners, as it protects from various weather conditions. The best part? It doesn't necessarily keep costs high either — in fact, many types are surprisingly low-cost due to how they're constructed and the variety of materials used.
Ground Level Decks
Ground-level decks are perfect for those looking to update their property without spending too much money. This can be done with several materials like composite or recycled plastic lumber, which minimizes upkeep and labor costs so you can get more bang for your buck without breaking the bank. Ground-level decks don't require railings or stairs, so fewer permits may be needed.
Deck sealer prices
You might be wondering about deck sealer prices. They vary, of course, but applying sealer onto a brand-new deck is typically anywhere from $0.30 – $0.60 per square foot for one coat.
This price includes surface preparation like sanding and pressure-washing. Depending on the condition of your current deck and its age, you may need additional treatments before applying a sealer, which will add to your total cost. The good news is that regular resealing can help protect your deck against all kinds of wear and tear and maintain its beauty and integrity.
Factors that Influence Deck Sealer Prices
Here are some factors that can influence the cost of deck sealer:
Deck size—Bigger decks will naturally require more sealant and, therefore, more money.

Material—Materials like wood and composite absorb stains differently, requiring different products to bring out their colors.

Condition—Weathered or damaged decks require a longer preparation process before staining or sealing them, which can also add to the cost of resealing a deck.

Several coats—Applying multiple coats can enhance the colors of the wood or composite material, but this also adds to labor costs and materials for application brushes or sprayers.

Quality of product—High-end products with better chemicals tend to yield better results, so choosing these for a new sealant job can be worth the extra cost in terms of performance and longevity.
Deck lights prices
When it comes to deck light prices, the cost can vary. It all depends on the type of lights you choose and your preferred lighting style. The good news is that there are plenty of alternatives out there for you to choose from.
Let's take a glance at some of the most common types of deck lights and their associated prices:
String Lights
String lights are popular, as they come in all sizes, shapes, and colors and can create a festive look. You'll be looking at around $100 – $200 for string lights.
Solar Lights
Solar-powered lights are great for those looking for a low-maintenance lighting solution since you don't have to worry about any wiring or drilling holes in your deck boards. Prices begin at around $25 per light but can get much higher depending on the type of solar light you buy.
Step Lights
Step lights create an eye-catching effect while providing safety and security after dark. Prices start around $25 per light but can go up to $75 per light, depending on the size and quality of the fixture.
The key takeaway here is that there's no one-size-fits-all answer to deck light prices, as it depends on your tastes and budget. But whatever type of lighting you choose, adding some illumination to your outdoor space will create a welcoming atmosphere that will make every evening feel special!
Home deck ideas
When considering deck replacement, it helps to know the various design options. Many excellent home deck ideas are out there, so you can tailor your new deck to your home's style.
Here are just a few of them:
Traditional decks: 2×6 planks are a classic look. Many homeowners prefer this deck style for its ease of maintenance and durability.
Composite decks: this sophisticated look is usually made from recycled plastic and wood fibers, making them resistant to rot, decay, and splintering. Plus, composite decks come in a variety of colors and textures.
Stone or concrete decks: for those looking for a modern aesthetic, stone or concrete patios make great platforms with weather-resistant qualities. This can be expensive, but the results make it worth the price!
No matter the area of your outdoor space or budget, there is always a best-fit deck option to match your needs!
Conclusion
Deck replacement is not a decision to be taken lightly because of its associated costs. However, when done correctly, you will enjoy your new deck for years. You'll need to consider all the relevant factors in the price, such as labor, material, and any necessary permits or other fees.
We will help you make all the necessary decisions, from budgeting to esthetics, so you can enjoy the perfect deck for your home. If you want to attain the most bang for your buck and ensure the job is done right, contact us today to get started on your deck replacement project!