Have you ever kept knowledge of how easy it is to take the minor things around your home for granted? When your gutterguards are doing their job, you may barely even know them. But yet, when something goes wrong, and you need to replace them, it can quickly become a big headache.
Gutter guard replacement costs can vary widely due to factors like the type of system you have, the complexity of your roofline, and other issues. So before diving in and replacing your gutter guards on your own, use this guide from Renvations.com to ensure you understand all the project costs.
We'll cover the most common questions about gutter guard replacement costs, explain how much money you should spend on replacing a typical system, and give guidelines for what to look out for when hiring a professional contractor. Let's get started!
What Are Gutter Guards and Why Do We Need Them?
When you think of home maintenance, gutters probably aren't the first thing that comes to mind. But well-functioning gutters are essential for keeping your home's foundation dry and free from water damage. And that's why gutter guards can be a necessary installation for any homeowner.
Gutter guards are metal or plastic covers that protect your gutters from debris like leaves, twigs, and dirt. They help prevent clogs and stop leaves from accumulating in your gutters, which reduces the risk of water pooling on the roof or overflowing on the ground when it rains. By installing gutter guards in your home's drainage system, you can keep them clean and working correctly while reducing your chances of costly repairs.
How Much Is the Cost of Replacing Gutter Guards?
Gutter guards can help protect your home and keep it looking beautiful for many years. But, like all things, they eventually need to be replaced. So, how much does it usually cost to replace gutter guards?
There's no one-size-fits-all answer, as the cost of replacing gutter guards will depend on several factors, including:
The size of your home
The material you choose
How many stories does your house have
Whether you hire a professional or do it yourself
Generally speaking, DIY installation of gutter guards is more affordable, but the cost can range anywhere from $800 to $2,000. Professional installation is more expensive and can range from $1,200-$3,500 or more. To get the best estimate for your project, contact a few qualified contractors in your area to get quotes for the work.
Benefits of Installing Gutter Guards
When considering gutter guards replacement costs, looking at the long-term benefits of installing them is essential. Here are just some of the advantages you can expect when you install new gutter guards in your home:
Save Time and Effort
Gutter guard installation means no more regular ladder climbs or back-aching manual cleanings. You'll save time and effort by having fewer maintenance requirements for your gutters, making them more accessible and safer when needed.
Increased Lifespan for Gutters
Gutter guards act as a barrier between moisture, leaves, dust, and other debris and the inside of your gutters. This means that water flows easier through the system without getting clogged up or wearing it down as quickly as it would without them. Installing gutterguards can extend the lifespan of your gutters by up to 10 years.
Reduced Risk of Ice Dams
Ice is a big problem in many parts of the US, especially where winters are frigid. Gutter guards can help reduce the chance that large chunks of ice form in your gutters. When combined with proper attic insulation, this can be especially helpful in preventing ice damming problems like roof leaking or damaged shingles.
What to Consider Before Replacing Your Gutter Guards
So you've decided that you need to replace your gutter guards. But before you do, there are a few factors to consider before choosing a replacement.
Quality of Gutter Guards
For starters, you'll want to consider the quality of the replacement gutter guards. Unless you want to take the time to replace them often due to deterioration, it's essential that your replacement gutter guards are high-quality and will last a long time. You can ensure this by researching the materials used, any warranties offered by the manufacturer, and customer reviews.
Installation Difficulty
Next, consider how easy or difficult installation will be for your replacement gutter guards. For example, if your home has a particularly complicated roofline, it can make installation more difficult. Moreover, if your DIY skill level isn't up for installing the new gutter guards yourself, factor labor costs from a professional installer into your budget.
Price of Gutter Guards
Finally, consider your budget for new gutter guards and shop for options that fit within it. The price range can vary quite dramatically depending on the type of material you choose—metal mesh, foam inserts, or surface tension screens. Hence, it pays to research various options until you find something that works best for you and your wallet.
How to Select the Right Type of Gutter Guards
When selecting the correct type of gutter guards, there are some things to remember.
Material
The material used to make the gutter guards will affect their performance and what types can be installed. For example, metallic gutterguards (usually aluminum) are lightweight and durable, making them popular. On the other hand, foam gutterguards prevent blockages from leaves but will not stop twigs and other debris from traveling into your gutters.
Design
The size of your gutters will determine how many gutter guards you need for installation and how wide they should be. A larger surface area will better ensure that water reaches the bottom of the guard and into your gutters. Also, an angled design helps direct water away from your home and prevents overflow.
Price
Price is one of the most vital factors in selecting the correct type of gutter guard. Different materials and designs can have other price points, so it's essential to research other products to see which fits within your budget. Be sure to include installation costs when researching prices since this is an added cost that can significantly impact the overall value for money spent.
Maintenance Tips for Keeping Your Gutters Working Properly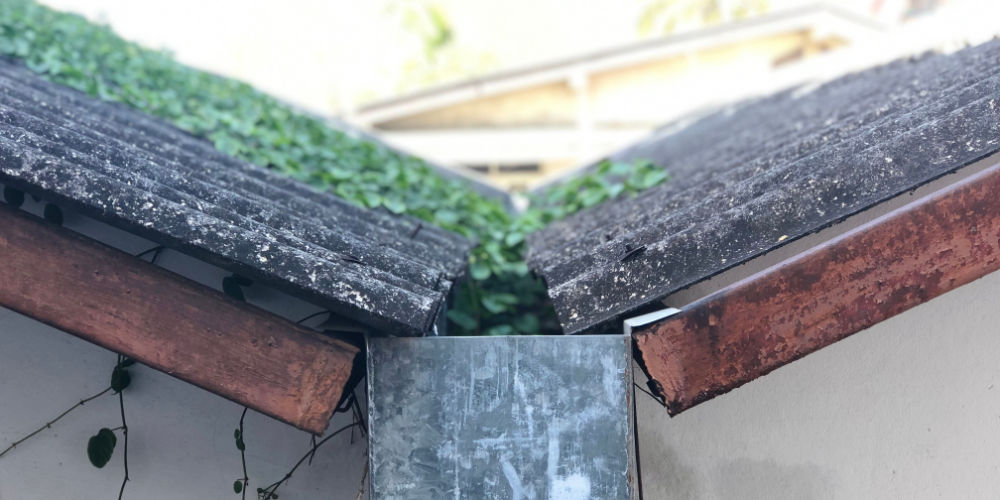 It's not enough to replace your gutter guards; you must maintain them. Here are a few maintenance tips to help keep your gutters working correctly:
Clean regularly
The primary purpose of having gutter guards is to minimize the necessary cleaning, but you still need to clean your gutters out occasionally. Make sure to do regular inspections and remove leaves, twigs, and other debris that can build up over time — cleaning your gutters twice a year should suffice.
Inspect for damages
Inspecting your gutters for damage after any major storm or weather event and before and after cleaning would be best. Look for rust, holes, or sagging sections that need replacement.
Look for signs of water leakage.
Checking for signs of water leakage is critical to maintaining the integrity of your gutter system. Common symptoms include staining or rusting of the fascia boards behind the gutter. If you find any pooling around your home's foundation, this could also indicate an issue with the gutters or downspouts that needs addressing quickly.
Finally, if you're serious about keeping up with your gutter maintenance schedule, consider hiring a professional team to do regular checks and cleaning. Doing so will help prolong the life of your gutter system and keep it functioning optimally with minimal costs over time.
Drain guard gutter
When it comes to gutter guards, there's one type that stands out from the rest—drain guard gutter guards. These can help protect your gutters from clogging up, leading to costly and time-consuming maintenance issues. You might be wondering what these drain guard gutter guards cost to install.
The average cost of drain guard gutters is around $1,400 – $2,800 per 100 feet. This price range can vary depending on the type of material and the complexity of the installation process. For instance, if your house has multiple levels or steeply pitched roofs, expect a higher cost than if it were one story with a shallow roof slope. Furthermore, you'll also need to factor in the price of labor for installation, which usually ranges between $50 – $100 per hour.
Installing drain guard gutter guards isn't something you want to skip out on—it can help prevent costly damage down the line that could come from clogged drains. But if you're still on the fence about making this investment in your home's gutters, here are some benefits that come with it:
Protection from rain splashes back onto walls and facades
Enhanced rainwater collection
Prevention of water clogging in gutters
Reduced maintenance costs
hydro shield gutter guard
If you're looking for high-end gutter guard protection, opt for the hydro shield gutter guard. As the name implies, it shields against water, safeguarding your gutters from further damage.
The cost of a hydro shield gutter guard varies depending on the size and shape of your home. Generally, you can also expect to pay between $5–$10 per linear foot installed.
Durability
A hydro shield gutter guard's average lifespan is 15–25 years! It boasts long-term protection and excellent quality performance throughout all four seasons: spring, summer, autumn, and winter. Plus, its solid surface allows debris to slide off while redirecting water away from your gutters efficiently and safely.
Low Maintenance
When opting for a hydro shield gutter guard system, you can enjoy low maintenance demands without compromising performance or durability. Its reinforced aluminum construction allows it to resist rusting or corrosion even in wet climates — plus, it's UV-protected to maintain its vibrant color over the years.
leaf exterminator gutter guard
Regarding the leaf exterminator gutter guard, you're looking at an average cost of $3.50 per foot. This includes the materials and installation, typically done by a professional contractor, not a DIYer. If you're considering a DIY project for your leaf exterminator gutter guard, expect to pay for the materials only and plan on taking several hours of work.
Why are some homeowners choosing leaf exterminator gutter guards? The reasons include the following:
Quality construction: The materials are durable, with a reinforced steel frame and rust-proof coating ensuring long-life
Easy installation: No special tools or expertise are needed; slide the panels into place
Cost savings: Leaf exterminator gutter guards significantly reduce the need for regular gutter cleaning, saving time and money in the long run
Leaf exterminator gutter guards are designed to efficiently protect gutters from damage caused by falling leaves and debris without impeding water flow, making them an excellent choice for anyone looking to save time and money on their next gutter replacement project.
half round gutter guards
So what's the cost of replacing half-round gutter guards? The price can vary significantly depending on the size and complexity of your home and the type of gutter guards you choose.
Typically, the average cost of a new set of half-round gutter guards ranges from $2 to $8 per linear foot. This usually includes labor, materials, installation, and clean-up. This cost may increase if you have multiple stories, as installers must access difficult spots. Additionally, certain types or designs of gutter guards may require longer installation times, leading to higher labor costs.
But suppose you already have half-round gutters on your house. In that case, some replacement options are more affordable than buying a brand new set — precisely, brands that make snap-in covers or inserts that can fit over your existing gutters. These systems usually run around $2 to $4 per linear foot and last for around ten years before needing a replacement. It is cheaper than buying a new set, but it's pretty easy for the average homeowner to install without professional help.
Remember that these prices vary based on geography, materials, and potential accessories like additional downspouts or hangers needed for support. So be sure to research and shop for the best price for your situation!
smart flow gutter guard
If you're looking for a more comprehensive solution to gutter guards, you may want to consider something like the intelligent flow gutter guard system. This system protects your gutters from anything kicked up from your roof and into the air, like pollen, leaves, and other debris.
What makes the intelligent flow gutter guard so great?
Heavy-duty performance
This product is designed for heavy-duty performance—it stands up to extreme weather conditions, like during a hailstorm or even intense heat from a summer day—the polypropylene surface is designed to handle it. Not to mention, it also resists rusting, rotting, and warping.
Easy installation process
The installation process is pretty simple—it's quick and easy, thanks to the self-tapping screws included in each kit. The integrated hangers make attaching the guards to your existing gutters hassle-free. And the best part? You won't need any extra tools or special equipment!
Installing an intelligent flow gutter guard costs $300 – $500 per 100 feet of coverage (including labor). The price range may vary based on where you live and whether you need additional materials or tools. Plus, if you bundle gutter guards with other services, such as roofing material or fascia board replacement, you may get a package deal that could drive down costs even more.
leaf relief gutter guard
You may be wondering about the cost of installing a leaf relief gutter guard. Well, it's not as expensive as you might think, but it's worth noting that this gutter guard requires more maintenance than other options.
A leaf relief gutter guard typically costs between $7 and $15 per linear foot. To install the system, you'll also need to factor in costs for labor and materials. Depending on your roof type and height, installation can range from $50 to over $350 per roof section.
Maintenance
Regarding maintenance, monthly cleaning is recommended—especially if you live in an area with many trees. The expense here may vary depending on the size of your house and how many trees surround your home, as well as how frequently leaves hit your roof or gutters—but the cost averages at around $200 to $250 per year for a 2,000 square-foot home with five trees around it.
However, given the performance benefits of leaf relief gutter guards (handling large amounts of debris without clogging), they can sometimes be well worth the extra maintenance and installation costs.
gutter guards for metal roof
You may wonder whether gutter guards are proper if you have a metal roof. While gutter guards provide extra protection for metal roofs, there are some special considerations to consider before deciding.
Point one: compatibility
When selecting gutter guards, it's essential to make sure they are compatible with the type of metal roof and the type of gutters that you have. Different gutter guard systems work better with different kinds of material; not all plans will fit your metal roof well. Research and consult a professional before deciding on your home's gutter guard system.
Point two: installation process
It is also essential to consider the installation process for each type of system. Some may require special tools or materials, and some may not be as easily installed on metal roofs as on other types of roofs. You don't want to get yourself in a situation where you can't correctly install your gutter guard system because it's incompatible with your Roof or doesn't fit perfectly.
Point three: price point
Finally, it's essential to factor in the cost of materials when installing gutters on a metal roof. Some systems may require specially designed materials which can add significantly to the cost. Be sure to compare prices and talk to a professional before purchasing to get the best value possible for your project.
Reverse curve gutter guards
If you've ever heard of reverse curve gutter guards, you might wonder if they're worth the cost. Let's look at reverse curved gutter guards and how they compare to other choices regarding replacement costs.
Reverse curve gutter guards are made of stainless steel or aluminum, and they work with your existing gutters, using a curved surface to direct water in or out of the channels while deflecting debris away.
Replacement Cost
Regarding installation costs for reverse curve gutter guards, the price can range from around $15 per linear foot to about $25. For nearly 75 feet of gutters for an average home, you could look at prices ranging from approximately $1125 to $1875.
Advantages
The advantage here is that your gutters will stay clean and last longer than if you don't have any gutter guard system—effectively saving on replacement costs down the road. Not only that but reverse curve systems also keep debris away from the overhang of your roofline, protecting your shingles against premature wear and tear due to water damage over time.
clean mesh gutter guard
Have you heard of clean mesh gutter guards? This option may be perfect if you're looking for a cost-effective solution to keep your gutters clear of debris and avoid regular maintenance.
Clean mesh gutter guards are designed to block leaves and debris from entering your gutter system. Plus, they are easy to install—all you need to do is cut the guard to fit the size of your gutter and secure it in place. The result is a low-maintenance system that can save you time and money in the long run.
So, how much do clean mesh gutter guards cost? Generally, clean mesh gutter guards will range from $3-$8 per foot of guard. However, depending on the size and complexity of your project, this cost could be higher or lower. So getting a quote from a professional before starting any project is essential.
foam gutter guards pros and cons
Foam gutter guards come in two main types—rigid foam and brush type. Both have pros and cons, so let's take a look.
Advantages of Foam Gutter Guards
Cost: Rigid foam is usually the most affordable gutter guard product.
Ease of installation: Foam guards are the most accessible gutter protection systems since they don't require specialized tools or hardware. This can make them ideal for DIYers who want to save time and money on installation costs.
Durability: Foam gutter guards are made from durable materials that won't rust, deteriorate or discolor with time, helping keep your gutters looking new for years.
Disadvantages of Foam Gutter Guards
Maintenance: Foam gutter guards can trap debris and be difficult to remove without damaging the material, making regular maintenance more complex than other protection systems.
Clogging: Foam tends to clog more quickly than other types of gutters guards because it traps larger particles more efficiently, leaving you with a greater chance of clogged drains over time if you don't regularly clean them out.
vinyl gutter guard
You may be considering a vinyl gutter guard for your home. After all, vinyl is a popular, affordable option and doesn't require much maintenance.
Vinyl gutter guards are an economical way to protect your home from drainage issues caused by gutters clogged with leaves and debris. The guard fits over your existing gutter system, lying flush against the roof and covering the channels. Most vinyl gutter guards come in white or black colors, with standard sizes that are easy to install.
Compared to other gutter guards, such as metal, vinyl guards are more cost-effective and require less maintenance. They last longer than standard plastic gutter guards and are less likely to blow away in strong winds or get clogged with leaves due to their design. Given the cost savings over metal guards and minimal maintenance requirements, vinyl guards offer one of the best long-term value options for keeping your gutters clean and free-flowing.
So if you're searching for an affordable and durable solution for gutter protection without breaking the bank or spending hours on maintenance, a vinyl gutter guard may be perfect!
how to hang Lights for Christmas with gutter guards
If you've already installed gutter guards to protect your gutters from leaves and debris, hanging Christmas lights on them might make you feel uneasy. But fear not! You can easily turn Christmas lights on your gutter guards with simple steps and the right supplies.
Christmas light clips for gutter guards
You'll first need special clips designed to attach securely to your gutter guards without damaging them. Christmas light clips come in two main varieties: "c" clips and "s" clips. These are designed to fit into the front lip of the guard and hold securely without tools or extra pieces of hardware.
Christmas light hangers for gutter guards
You can also opt for pre-made hangers designed explicitly for gutter guards. These usually come pre-attached with a small metal hook that fits into the top of the guard, eliminating the need for extra hardware or tools. They're also one-size-fits-all (at least kind of), so they'll work no matter what guard you have installed.
How to install Christmas lights with gutter guards
Once you've selected your preferred light clip or hanger, it's time to get hanging! If using clips, slide them onto the front lip of your guard and press firmly into place. If using hangers, turn one from each side of the top hole in your guard and then thread your Christmas lights through each side until they've reached their desired length. Then plug them in, sit back, and admire your handiwork!
Conclusion
To sum up, replacing your gutter guards can be expensive, but it can also be well worth it if you value the extra protection from the elements and the peace of mind that you won't be dealing with clogged gutters.
No matter what route you choose, be sure to research for the best fit for your budget and needs, check references of local gutter guard installation companies, and get a complete estimate of the work that includes labor, materials, and any other associated costs. Once you completely understand the price, you can make an informed decision that's best for your home.