Pool ownership should feel like a dream come true. But can you continue living out your poolside fantasies if you don't know how much a replacement might cost? Especially if the time for a new pool ever arrives sooner than you expect.
Welcome to our guide on the questions and costs of replacing your pool! We aim to show you how to turn this challenge into an opportunity. To that end, we've tried to include all the practical advice and information you'll need so you're fully prepared if (or when) you decide to take the plunge and replace your pool.
We'll cover everything from getting estimates and dealing with contractors to understanding what's involved in the process and ensuring everything goes smoothly, so no matter when—or why—you're considering replacing your pool, our goal is that this guide will have something for everyone.
Pool Replacement Cost Overview
Swimming pools are a great way to add value, beauty, and entertainment to your backyard. However, if you are in the market for a brand-new pool, you must factor in the replacement cost.
Before you decide if a pool is right for you, let's look at what goes into pool replacement costs and how you can prepare yourself financially. Generally speaking, there are three main components:
*Materials and Equipment: This includes everything from the type of material (concrete or vinyl) to accessories like ladders and skimmers. Depending on your desired pool size and shape and whether or not you want additional features like waterfalls or slides, these costs can vary considerably.
*Labor and Installation: You can't forget labor costs when budgeting for a pool installation. Specialists will need to visit your home to measure the space for your new pool. In some cases, they may also be responsible for the excavation and soil removal.
*Permits & Fees: Before any work on your new pool, apply for all necessary permits. This may require additional fees depending on your city or township regulations.
By being aware of these primary factors when planning a swimming pool replacement cost guide, you'll be better equipped to make well-informed decisions about the future of your backyard oasis!
Pre-Replacement Cost Factors
Replacing your pool can be daunting and expensive, but it doesn't have to be if you plan. Before you begin the replacement process, there are a few cost factors homeowners need to consider:
The size of the project: The bigger the project, the more expensive it will be. For example, a large pool replacement with complex features such as a waterfall, hot tub, or heating system will cost substantially more than a simple rectangular pool with minimal features.
Labor and materials: This includes work for excavation, installation, and finishing of the pool and materials like coping, tile, and concrete.
Preparation: This includes any demolition or site preparation that must be done entirely to install the new pool. In some cases, it might also include soil testing or other inspections if required by local regulations.
If you keep these elements in mind before beginning your project, you'll have a better idea of what budget to aim for when replacing your pool—and the best way to ensure everything goes smoothly throughout the process.
Post-Replacement Cost Factors
Pools are a significant investment that many homeowners don't consider after replacing their pool. Whether you've already done the installation or are just planning on it, there are some post-installation costs to consider when budgeting for your new pool.
Additional Materials
Adding decorative materials like tile mosaics, lighting elements, or water features can significantly add to the cost. Depending on the size of the pool, materials like plaster and tile can increase the replacement cost by as much as 30%.
Professional Services
Unless you're an experienced professional, you may need help with installation, maintenance, and repairs. This could include hiring electricians and plumbers who know how to work with swimming pools and ensure they meet safety standards and regulations. So, if you're hiring professionals to do any of the work, make sure they're licensed and bonded in case any faults arise later.
Pool Covers
Don't forget a pool cover—they provide extra protection for your pool from debris and leaves, which can also save time if you have an automated pool cleaner or robotic vacuum cleaner. Expect to pay around $150-$300 for a decent quality model that will last several years, depending on size and type.
Researching and Working With a Professional
Knowing the pool replacement cost is just one part of the process—you'll need to do some research and work with a professional to help make sure you're prepared for everything. Here's what you should keep in mind:
Research
Research and learn what's available regarding materials, designs, and installation options. This will help you decide if a DIY project is feasible or requires professional installation. Knowing the specifics of your pool replacement will also allow you to budget adequately and plan strategically.
Professional Installation
A professional can help throughout the entire process, from finding the right size pool for your yard to ensuring that all permits are to help with any drainage issues or grading problems that may arise. Ask around for recommendations on contractors who have experience with pool replacements and get several bids before choosing one for the job.
Financial Assistance Options
Replacing your pool can be costly, and many of us don't have an extra $10,000 – $25,000 hanging around. That's why it's important to know what financial assistance options are available to you.
Government Grants
Depending on where you live, you may be eligible for government grants or incentive programs to help cover the pool replacement cost. Some cities have PACE (Property Assessed Clean Energy) Programs that offer homeowners access to loan money for energy-efficient upgrades like pool replacement. Additionally, some water conservation departments incentivize households to install water-saving technologies such as rainwater harvesting systems or drought-tolerant landscaping.
Financing Options
If you don't qualify for a grant, you might want to consider financing options through banks or credit unions specializing in home improvements. Look into unsecured personal loans and lines of credit so that you can borrow only what you need without worrying about mortgaging your home immediately. Don't forget to shop around and compare loan terms before deciding. Don't forget to check out Renovations's financing offerings, either!
If all else fails, there are still many creative ways in which homeowners can come up with the money they need for a pool replacement project without breaking the bank. Consider selling something on Craigslist or reaching out to family and friends—you never know who can help!
Getting the Best Value for Your Money
When replacing a pool, getting the best value for your money is essential. To ensure you get just the most bang for your buck, here are a few simple steps you can take:
Do Your Research
It's essential to look into all the pool replacement options available. Do your research on materials, different construction styles, and any additional features such as water features or lighting. Review any products or services you're considering and ask questions until satisfied with all the answers.
Get Multiple Quotes
Don't just settle for the first quote you get—get multiple quotes from at least three different contractors. That way, you can compare prices, services, and levels of quality for each pool replacement company.
Consider Long-Term Costs
It's easy to get involved in the excitement of remodeling or replacing your pool but keep in mind that there are long-term costs associated with such a project. Think about energy efficiency, maintenance, and additional insurance costs associated with owning a swimming pool.
Considering these simple steps when looking into replacing your pool, you can make a well-informed decision that will give you great value for your money in both the short and long term.
How much does it cost to replace all pool equipment?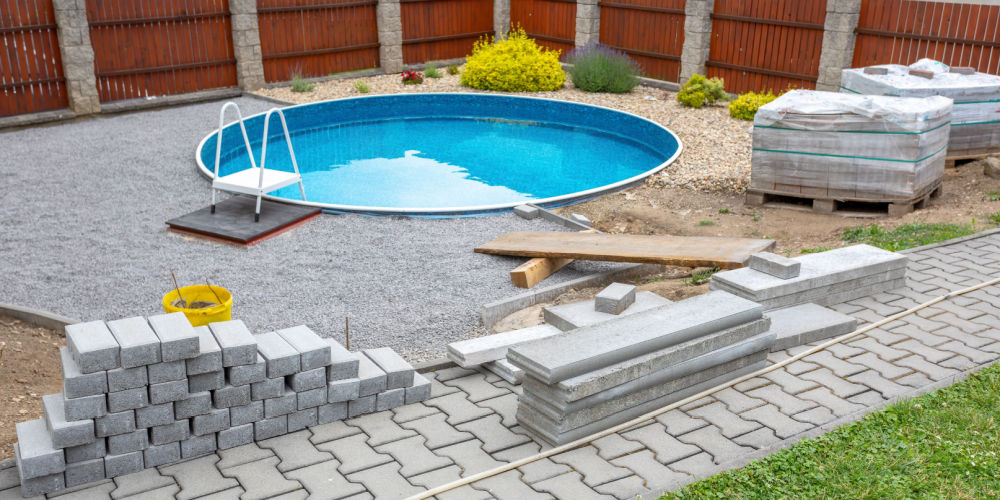 The pool equipment is an essential part of the pool replacement project. This is essentially the heart of your pool, from the pump to filters and skimmers. So you'll want to ensure it's up to scratch if you consider replacing your collection.
How much will it cost? It depends on the type and size of your pool. Generally speaking, you could be looking at anywhere from a few hundred bucks to several thousand dollars for the complete replacement of all the equipment.
To break it down a little further, here are some rough estimates for standard pieces of equipment:
Pump: Expect to pay anywhere from $500-$1,500+ depending on size and power
Filter: Between $100-$600+ based on size, type, and quality
Skimmer: Usually around $50-$100 depending on size
Heater/Chiller/Heat Pump: Can range from $2,000-$6,000+ based on energy source and efficiency level
Pool Accessories (cleaning system robotic vacuums etc.): Anywhere from a couple of hundred dollars up to thousands for more complex systems
Ultimately, it pays to research and shop for the best quality equipment at a price that suits your budget — without compromising on quality. At Renovations.com, we offer expertly curated products with helpful product descriptions so you can make informed decisions about what you need for your particular project.
How to replace above-ground pool skimmer
There's no set-in-stone cost when replacing the skimmer of an above-ground pool. The skimmer replacement cost will depend on a few factors, like the pool size, the type of material the skimmer is made of, and if you hire a professional or choose to do it yourself.
Factors that Affect Replacement Cost
The type of material your skimmer is made of will affect your replacement cost. A metal, plastic, or PVC skimmer will be much more expensive than rubber. You'll also need to consider any additional costs associated with removing your old skimmer—the labor costs and materials necessary for proper disposal.
Your pool's size will also affect how much you pay for a new skimmer. For example, if you have an Olympic-sized pool with a large deck surrounding it, you'll likely have to pay more for a more extensive replacement than the former. Lastly, if you don't DIY projects, you'll have to factor in an hourly or total flat rate from any professionals you hire.
Remember these factors when pricing out replacement costs for an above-ground pool skimmer. Knowing about them before you start shopping around should help ensure you get the right price when it comes time to purchase.
How to replace pool light & its cost
Replacing pool lights can be confusing, especially if you're unsure about the size, shape, and wattage best fit your pool. The wrong light can cause problems with your electrical system and make your pool unsafe.
That said, here are a few tips to help make sure you get the right one:
Get an exact replacement: Replacing a broken or burned-out light is much easier if you have an exact replacement in size, shape, and wattage—otherwise, additional parts like adapters may be required and potentially increase your cost.
Choose LED Lights: LED lights use less energy than traditional incandescent bulbs, which helps reduce your utility costs over time. They also tend to last longer and are more energy efficient.
Invest in safety features: Many LED lights are designed with safety features such as automatic shut-off after certain hours to protect your family and guests.
Have a professional install it: Even though you can install the lights yourself, hiring a professional is recommended, as faulty wiring can lead to electrocution or other severe injuries if mishandled.
The average pool light replacement cost is between $550 – $1000, depending on what type of light you choose and whether or not you hire a professional electrician.
Replacing sand in pool filter
This could be another high cost if you want to replace the sand in your pool filter. Depending on the area and shape of your pool, it could be anywhere from $150 to $1,000 or more.
The good news is that the sand in a pool filter doesn't have to be replaced often — only once every few years. To decide whether it's time for a replacement or not, you can use a simple test: Reach into the filter and take a scoop full of sand. If you can see through it, it's usually fine—but if not, it might need replacing soon.
When choosing new sand for your pool, there are a few essential factors to remember:
Ensure it complies with safety standards– check with your local authorities if necessary.
Test out different grades for compatibility with your pump and filter system – some coarser sands don't let water pass as quickly, so make sure you find one suitable for your system.
Check the label for any signs of calcium carbonate or other minerals – these can clog up filters over time due to their tendency to react with chlorine and other chemicals used in pools and hot tubs.
Consider buying pre-washed play sand – this is cheaper than pool-grade filter sand and less likely to contain contaminants that can clog up filters over time.
Don't forget to buy enough sand – figure out what volume is required by measuring the area of the filter bed, then multiply by the desired depth of sand plus 10% extra, just in case!
Replacing pool coping
Replacing pool coping may be your most significant expense when returning your collection. Pool coping is the border that separates the pool from the deck and protects it from weather damage. It is usually made of concrete, brick, or stone, and can be pre-made or custom. The replacement cost depends on the material used and if you go with a custom design.
Custom stone coping can quickly become expensive, ranging from $25 to over $100 per linear foot for products such as granite or travertine. Pre-made options are more affordable and generally range between $10 and $20 per linear foot for brick or concrete tile products.
In addition to material costs, you should also factor in labor costs whenever budgeting for your pool replacement. Installing pre-made coping typically takes one day or less, while custom projects can take several days—or even weeks—to complete depending on the complexity of the design you choose. Keep this in mind when considering how much your pool replacement will cost.
Pool motor replacement cost
When it comes to pool replacement costs, you'll also want to factor in the price of replacing your pool motor. A typical pool motor can cost anywhere from $400-$800 to replace, depending on the type and size of your pool and the motor's horsepower.
Most pool motors last about seven years, so if you're looking for a replacement and need to know how much it will cost, here are some tips:
Cost Factors
The cost of a new motor can vary based on the following:
The size and type of your pool
The horsepower rating of the motor
Fencing around your pool
The brand and model of the motor
The service or installation you'll need for it
If there are any additional parts or pieces required for installation.
Maintenance Tips
You may prolong the life of your pool motor by doing regular maintenance like cleaning off debris, checking the wires and connections, replacing faulty pumps, or making sure there isn't too much back pressure. Doing these steps regularly can help prevent costly repairs or replacements.
Pool liner replacement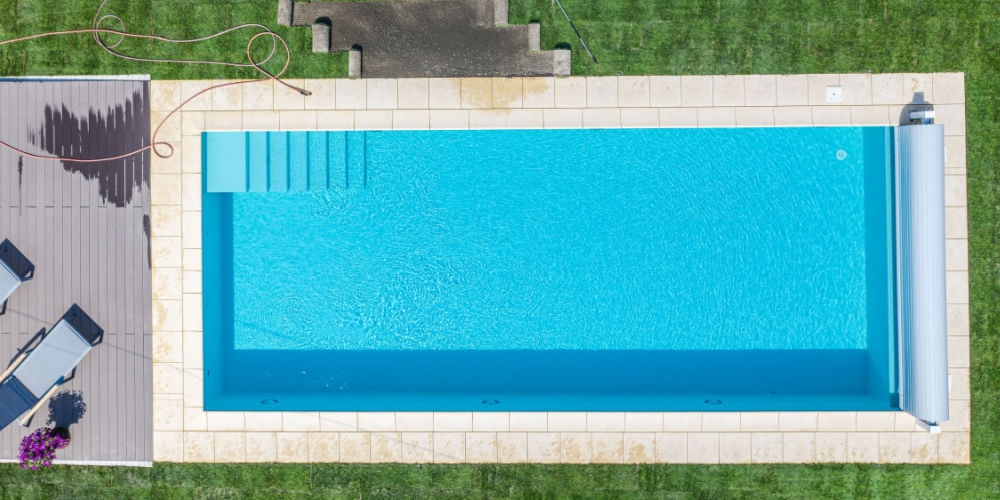 Are you thinking about replacing your pool liner? A new liner is one of the most cost-effective ways to revitalize your pool, but there are some things to consider before you start.
Styles and Colors
One of the first things you may want to do when considering a replacement liner is to choose between two basic options: solid or printed. Solid liners are usually cheaper, but printed ones offer the widest variety of styles and colors. Remember, if you opt for a printed design, you may have to pay slightly more to get precisely what you want.
Costs
Another critical factor when it comes to pool liner replacement costs is size. If your collection is more significant than average, purchasing a higher-end product may cost more or require unique manufacturing or installation fees. If your pool is smaller than average, then you'll likely be able to find a lower-cost option that fits within your budget.
Installation
Finally, the installation process for replacing a pool liner can vary in price depending on who does the work and how long it takes. If you decide to hire professional installers, shop around and compare quotes to get the best deal possible.
Pool pump motor replacement cost
Now that you know the pool replacement cost, let's look at the expense of a pool pump motor replacement. A pool pump motor is an essential part of your pool—they keep the water moving, which keeps it clean and free from stagnant areas. Plus, they help circulate chemicals throughout your water, ensuring correct pH levels.
Replacing a pool motor is tricky and may require professional advice and help from an electrician or a swimming pool technician. Depending on the size of your engine, you can expect to pay between $400-$800 for labor and installation for replacing it. Of course, you'll also need to factor in the cost of the new pump motor, which will range from $300-$1,200.
Consider any additional costs arising from complications like incorrect wiring or fixing supporting components like unions and PVC pipe fittings before installation. It's also essential to make sure you purchase a high-quality pump motor—do your research to ensure you're getting something that will last many years with proper maintenance.
The pool table felt replacement cost
The felt on your pool table will wear out eventually. You can extend its life, of course, with regular maintenance, but you'll need to replace it after a while. So what's the cost?
The pool table felt replacement cost could depend on a few things: the size and type of fabric you choose, the job's complexity involved, and labor costs. The material ranges in quality from beginner to tournament grade, so if you're not an expert, you should consider having a professional service do the installation.
Also, consider that some fabrics are more expensive than others. Generally speaking, from start to finish, the cost to completely re-felt your pool table should be between $600-$1,200.
The good news is that quality felt will last five or six years before needing replacement—which means it will see many great games (and maybe even some tournaments) before replacing.
Replacement legs for pool table
Ready to replace the legs for your pool table? Depending on the materials and design, it can cost anywhere from $100 to more than $400. If you need custom-made legs to fit a unique space, prices will be higher.
Replacing the legs of your pool table can often be a cheaper option than buying a brand-new one, and it is an easy DIY job. All you'll need to do is buy the replacement legs and hardware, then uninstall the old legs and install the new ones.
Before you buy any replacement parts, take some measurements of your current set-up so you know what size leg is compatible with your table. It's also essential to check for any wide variations in leg height, as that could cause balance issues over time. Ensure you get all this sorted out before replacing the legs—you want them to last!
Conclusion
Replacing a pool is an expensive undertaking, but it can be done with careful planning and budgeting. Having a good understanding of the costs involved is an essential component of the planning process. With the information outlined in this guide, you can better grasp what your pool renovation will cost and plan accordingly.
It's also important to focus on the quality of the materials used for your replacement. Investing in higher-quality materials upfront could save you thousands of dollars later on down the line. Do your research, compare contractors, and get quotes to find the best deal that fits you and your budget.
Pool replacement is a significant undertaking, but with the proper knowledge and resources, you can ensure your investment is worth the while. With the appropriate preparation, you are now well-equipped on what to expect in the process of a pool replacement.