Have you started noticing cracks in the driveway? Does your sidewalk look like a minefield of potholes and sunken pavers? It's time to start thinking about replacing your pavement. But the cost could be intimidating if you don't have experience dealing with paving.
Don't worry—we're here to help. Today we will walk you through all the factors that go into calculating paving replacement costs so that you can make a well-informed decision about getting your pavement up to par. The good news is there are a variety of paths you can take for replacing or repairing your pavement that won't break the bank, and understanding these options is critical to ensuring that your home is safe and looks as good as new.
How Much Does It Cost to Replace Paving?
If you've ever had to replace the paving in your home, chances are you know it's costly. But how much does it usually cost to replace those pavements?
The cost of replacement paving depends on several factors, such as the size of the project, the material used, and labor costs. Generally, pavement replacement in the US can range anywhere from $2,400 to $8,500 for a standard-size driveway. Asphalt paving replacement can cost an additional $1,500 to $3,000 because installation requires special equipment. Costs will be significantly higher for larger projects like roads and parking lots.
It's important to remember that most of these costs are estimates and may vary depending on the specific project. For the most accurate price estimate for your paving project, consult a professional contractor who can provide a detailed quote.
Factors Influencing Paving Replacement Cost
Do you know that the cost of replacing a paved driveway or pathway can vary significantly? Several factors can influence your paving replacement cost. The most important of these include the following:
Size

: The larger the area you need to pave, the more costly it will be. If you're paving a driveway, your total surface area is calculated by multiplying width and length. More extensive pathways and driveways mean more material, labor, and inevitably higher costs.

Material Costs

: Different materials used in paving come with different price tags. Asphalt is usually the most economical option, whereas interlocking pavers are slightly more expensive. But remember that high-quality materials will last much longer than low-quality ones and require less maintenance—leading to long-term savings!

Labor Costs

: When getting ready to pave, consider if you'll hire professional help or take on the task yourself. It's possible to DIY paving projects with suitable materials and tools but consider taking safety precautions and ensuring proper installation—both of which may require professional help.
These elements combined will give you an idea of what your paving replacement cost may look like. But remember—these estimates depend on specific circumstances, so get an accurate quote from a reliable contractor before commencing any project!
Homeownership has many responsibilities, including ensuring your driveway is up to par. When it's time to replace your driveway, you may ask, "what's the paving replacement cost?" Your driveway is an essential feature of your home—not only does it improve the resale value of your home, but it also adds character and appeal to your curb appeal.
How Much Does It Cost to Replace Paving?
How much will replacing your paving cost? This is an important question because while the initial cost of paving can vary depending on the project, it's just as important to factor in the expected cost of replacing those pavements when it's time.
To give you an idea, here are some of the things that can affect paving replacement costs:
The size of your region: More densely populated areas are typically more costly for repaving.

The type of material used: Asphalt is usually less expensive than concrete, but this comes with a trade-off if you need a longer-lasting solution.

The number and type of repairs: Replacing sunken parts or using a patch repair kit will drastically lower the price if you don't need an entirely new pavement.

Contractor fees: Replacing pavements is labor-intensive, and professionals understand that these jobs come with bigger paychecks.
Overall, understanding what goes into replacing pavements is integral in estimating how much you should expect to pay for your project.
While this isn't a renovation project that needs to be done daily— or even annually—it still can take a toll on your budget. Before planning for the expense of paving replacement, you need to know all the factors that affect the overall cost. This guide will provide all the knowledge you need about paving replacement costs and how to budget them appropriately.
Paving Replacement Cost Factors
The cost is the most crucial factor when looking into replacing your paving. But what things determine how much you'll end up spending? Remembering that paving replacement costs depend on multiple factors, from the type of surface installed to the paved area's size.
Here are a few of the factors that influence paving replacement costs:
Type of Surface: The type of surface you choose is a significant factor in the material costs you'll be looking at. For example, more natural materials like asphalt and gravel often require less maintenance and cost less up-front than other materials like concrete or brick.

Size of Area: The more extensive your area to be paved, the more materials will be needed – which often translates into higher costs. Ensure you know exactly how big an area you want to pave before committing to a material purchase!

Labor Cost: Labor can be expensive! Ensure you get an estimate from your contractor before signing any contract regarding labor costs. You want to avoid paying extra for things you weren't expecting!
Cost Savings With Do-It-Yourself Driveway Paving
If you're a do-it-yourselfer, you're probably wondering if driveway paving is something you can take on yourself. The answer is yes—and if you do it right, you can save yourself some hard-earned money.
For example, a professionally installed asphalt driveway costs $3 – $5 per square foot. However, a DIY asphalt driveway would only cost somewhere in the range of $2 – $2.50 per square foot. That's a saving of over 30%.
It's essential to remember that asphalt driveways require quite a bit of maintenance to keep them looking their best. Still, given its relatively low installation cost compared with other driveway materials like concrete and pavers, asphalt may be your option if you've got the time to maintain it.
Considerations When Choosing a Paving Contractor
Now that you've decided to start paving replacement, let's discuss choosing a contractor.
You want to choose one who will do a great job, so there are a few considerations to keep in mind:
Look at the contractor's portfolio and previous projects. Make sure you like the work they've done in the past.

Ask for references. A quality paving contractor should be fine providing testimonials from previous clients or contacts from sub-contractors they have worked with.

Get quotes from at least three contractors, ensuring you understand your responsibility for permits, zoning, and other costs associated with paving replacement projects.

Given current weather conditions and potential supply delays, please inquire about the timeline and ensure it is realistic.
Following these suggestions will help you find an experienced and qualified contractor who can do the job right, on time, and within your intended budget. Remember that choosing a well-qualified paving contractor may cost more initially but could save you money when your project is completed correctly, on time, and on a budget!
Average Price Estimates for Different Types of Paving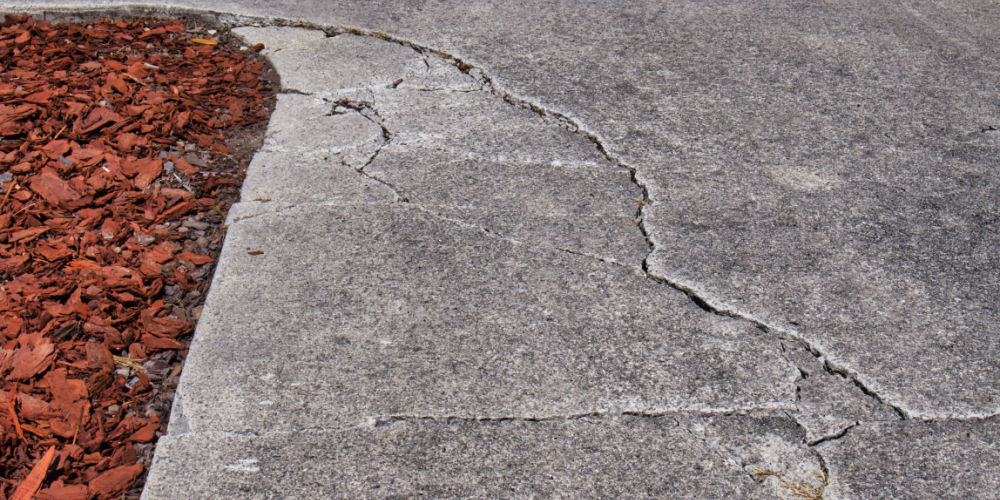 It's essential to research to understand better what paving replacement costs will be for your specific project. That said, here are some average price estimates for different types of paving:
Asphalt
Asphalt is among the most popular paving materials, and it typically comes at an affordable cost. For a standard 2-car driveway, you can expect to pay anywhere from $2,300 – $6,500 in total. Of course, this cost can vary based on the size and condition of your driveway and the geographical area that you live in.
Concrete
Concrete is another standard option that comes with its own set of pros and cons. Typically, it costs more than asphalt, but it's also more durable – meaning it can last up to three times longer before requiring maintenance. You can expect an average cost of $4,750 – $10,000 for a standard 2-car driveway.
Gravel
Gravel is usually cheaper than asphalt or concrete but requires more frequent maintenance since it's less durable than other materials. Installing stone for a standard 2-car driveway will cost about $1,800 – $4,000, depending on the type of gravel and how much is needed for full coverage.
Making the Most of Your Paving Replacements With Renvations.com
One of the best ways to get the most out of a paving replacement is to use Renvations.com. With us, you'll get a free quote and access to experienced professionals who will do the job right the first time. Here are a few more reasons why you should choose us for your paving replacement project:
Expert Advice
We are proud of our team of experienced professionals who know precisely what must be done for your project. We can walk you through each step, answer any questions, and provide detailed advice on saving time and money.
Quality Materials
Our team uses only tried-and-true materials to ensure your paving replacement will withstand wear and tear. We believe in quality over quantity and will be satisfied once you are!
Great Service
Our commitment to customer service also sets us apart from other paving companies. We aim to ensure that every project goes smoothly—from start to finish—so that you are left with a finished product you love!
When it comes time for a paving replacement, don't hesitate to reach out to Renvations.com for the best products, advice, and customer service in the business!
Paving paint
You already know all about paving replacement costs, but you may not know that there's also something called paint.
Paving paint is an excellent option for a cost-effective driveway makeover. It's an asphalt driveway paint designed to protect and extend your asphalt surfaces' life.
Paving paint can:
Reflect 98% of the sun's damaging UV rays, giving you a more excellent summer surface

Decrease cracking, fading, and oxidation of your asphalt

Improve the appearance of your driveway.

Resist fading due to weathering, creating more excellent color retention

Be applied with a brush, roller, or even sprayer

Be available in dozens of colors – so you can customize the look and style of your driveway.
So if you're looking for an affordable way to freshen up your driveway – paving paint offers an attractive and durable solution that won't break the bank.
types of paving stones
Replacing your driveway with something durable is essential — you don't want it to require repairs every few years. But making the best choice for a stable job depends on the type of paving stones you choose. Here are some of your options:
Granite Paving
Granite is one of the most durable driveway materials and is a good option for those who want a driveway resistant to mechanical stress. It's also an excellent choice if you're looking for an aesthetic tailored to fit your home—granite comes in many colors, textures, and finishes.
Rubber Paving
Rubber paving is an attractive option, prevalent in places where temperature extremes are expected. It expands and contracts with changing temperatures, which keeps it from cracking or breaking apart under extreme conditions. Plus, it's slip-resistant and easy to install — lower installation costs than other materials like asphalt.
Sandstone Paving
Sandstone might not be as glossy as granite or as flexible as rubber, but it's still incredibly durable. What it lacks in glossiness, sandstone makes up for in esthetics—your driveway can look like a hot summer beach all year round! Plus, sandstone is easy to maintain and repair if needed.
Stone Paving
For those that want an elegant look without sacrificing durability or ease of maintenance, stone paving could be the way to go. Many types of stone are available for driveways that come in numerous shapes and sizes. You can get creative by mixing different stones for unique patterns too!
### Asphalt Paving
Asphalt is also a popular provision
pool paving ideas
Swimming pools are plentiful in the backyard, but you must consider suitable paving options to ensure safety. It's essential to remember that pool paving replacement costs can vary depending on what material you decide to use.
Here are some popular options you can explore:
Cobblestone

: It's a classic choice with earthy tones such as brown and beige, but expensive.

Pavers

: Pavers come in different shapes, sizes, and materials like concrete and stone, giving plenty of scope for personalization. Plus, they are easy to install and can last long with proper maintenance.

Stamped concrete

: This gives you the esthetic of natural stone but is more affordable than actual stone pool pavers. It also requires minimal maintenance and is available in different colors, textures, and patterns based on what kind of look you're going for.

Brick

: Brick is easier to install than stones or cobblestones; however, it needs tight joints and careful installation for best results.

Natural stone

: This gives a luxurious touch but requires additional upkeep, such as re-sealing periodically due to its porous nature, so bear that in mind when deciding on your pool paving replacement cost budget.
To ensure you only pay what is necessary for your pool paving idea or have any surprises along the way budget-wise, be sure to factor in design features like borders or circular designs into your total pool paving replacement cost estimate before beginning the process!
linear paving
Linear paving is another form of paving repair that you might opt for. Instead of replacing whole sections, linear paving repairs cracked and broken areas with a minor patch or treatment. This way, you only focus on the parts of your pavement that need fixing instead of the entire site.
One pro tip is to look for non-structural cracks generally caused by temperature fluctuations or tree roots pushing underneath the surface. Non-structural cracks can be repaired without requiring complete replacement services. Additionally, since it's such a targeted fix, it only requires a little shutdown or preparation time, making it an efficient and cost-effective solution.
The process for linear paving is as follows:
Identify problem areas through inspections and surveys.

Clean out the cracks with an air compressor.

Fill the gaps with an asphalt mixture or hot rubberized tar.

Level out the surface with a hand tamper or roller.

Seal coat the area with asphalt sealant to protect it from further damage.
french pattern paving
If you're looking for something fancier, consider french pattern paving. It's not the cheapest option, but it is eye-catching and can add curb appeal to your home. Depending on the quality of your pavers and the design's complexity, you can expect french pattern paving to cost around $15-$30 per square foot.
This type of pavement is intricate and aesthetically pleasing, making it an ideal choice for those who want something more distinctive than a basic brick-style pattern. The pavers are laid in an alternating pattern that gives off an elegant look while still being relatively easy to install—provided you have the right supplies and know-how.
The benefits of French Pattern Paving:
Unique esthetic—this type of style adds a sense of elegance to driveways, patios, or garden paths.

Lower maintenance costs—pavers are less likely to crack over time due to their interlocking design

Durable—pavers become even more densely packed over time thanks to an even weight distribution from vehicles or foot traffic.

Easier repair—since individual pieces are laid rather than concrete slabs, replacing broken or damaged bricks is easier and cheaper.
Overall, French Pattern Paving is worth considering for those who want a bit of extra oomph without breaking the bank too much.
paving breaker
How do you ensure the old pavement is wholly broken up before paving replacement starts? The answer is to use a paving breaker.
A paving breaker is an industrial tool used to break up concrete upper layers in a process known as "break and seat." It uses a jackhammer-like mechanism to break up the old pavement, and then the newly created surface is leveled, or "seated," using a weighted plate or roller.
The paving breaker's size will depend on your project's scale. Various types are available, such as lightweight and portable electric-powered and larger gas-powered ones. Also, depending on how noisy you want the job, you can opt for quiet models too.
So if you're looking to replace paving yourself, remember that a paving breaker will be essential for breaking up the old pavement quickly and efficiently. And thanks to technological advances, they can now be low noise and low vibration too—so they won't disturb your neighbors!
Learn about lindy's paving schedule.
Replacing your old and worn-out pavement might include a Lindy Paving Schedule. Property owners use this type of paving schedule to determine how often to repave their surfaces based on the type of material used and the amount of traffic.
The frequency of repaving depends on the use the space receives and what material was used in its construction. Heavy traffic and harsh weather conditions require more frequent repaving than light traffic; some materials hold up better than others.
Here's a small overview of how it works:
Estimate how long the existing pavement surface has been in place, then assess it for any visible damage (potholes, cracks, wearing down of character).

Calculate the number of years until a full repave or overlay should be done based on your findings from step one — this calculation is usually referred to as the "Lindy Number."

Based on this number, create a paving schedule for maintenance work such as seal coating, resurfacing/overlaying rich fills or patches that need to be done every few years until your "Lindy Number" suggests you should do a complete replacement, then reset your paving schedule with a new Lindy Number when that happens.
This systematic approach can help you minimize future costs by keeping track of wear over time and ensuring you are proactively maintaining your surface before they have to be entirely replaced—saving you potential time and money in the long run!
modern paving patterns
Are you interested in exploring modern paving patterns for your driveway, walkway, or patio? They are a great way to add character and charm to any home, but it's essential to consider the cost of installing them.
Costs of Each Pattern
Depending on the type of pattern you select, paving replacement costs will vary. Look at the pattern and materials type you want to use and check the price of that particular pattern. Generally speaking, intricate patterns require more installation time and labor costs than simpler designs – which can affect the overall cost.
Quality Materials for Your Patterns
Quality should never be compromised when it comes to selecting materials for paving. You can choose from various materials such as concrete, natural stone, asphalt, or cobblestone—make sure that whatever you choose will be strong enough for your region's climate conditions.
Types of Patterns You Can Choose From:
Brick herringbone: A classic design that is always in style. It offers an attractive visual appeal and is ideal for driveways or pathways.

Stretcher bond: This linear pattern gives a contemporary touch to your base walkway or driveway when used in concrete or stone varieties.

Running bond: Create an exciting texture with this classic diamond-shaped pattern which can be used in driveways, pathways, and outdoor patios!
Paving tools
You might not realize it, but the tools and materials used for a paving replacement project can become a significant part of the cost. Whether you're doing the job yourself or hiring a contractor to do it for you, you'll need to purchase or rent specific paving tools. Here are the essential ones:
Shovel
A sturdy metal shovel is necessary for breaking up the existing pavement so that a suitable base can be created. You'll also need one when backfilling any essential areas.
Wheelbarrow
A wheelbarrow is ideal for carrying debris and transporting new material from area to area.
Tamper
Using a tamper helps ensure that the ground where you place your asphalt or concrete surface is physically and evenly flattened so that the pavement stays in place during temperature changes and other environmental conditions. It's also handy for helping pack down soil when backfilling.
Plate Compactor
You may need a plate compactor — which looks like a sizeable motorized plate — to apply pressure over large areas while placing asphalt or laying pavement stones.
Hose Reel/Sprayer System
This equipment is necessary for an asphalt driveway replacement project: it helps spread hot liquid asphalt around gravel beds, giving your driveway extra stability and protection.
By understanding what tools are needed for a successful paving replacement job, you can accurately estimate your total cost and plan accordingly—without surprises!
Conclusion
When considering paving replacement costs, it's essential to consider the size and complexity of the job, the materials and tools required, and the expected longevity of the project. A properly installed and maintained surface will last longer and need fewer repairs and replacements in the long run.
For those ready to get started, the experts at Renvations.com are available to help. We provide complimentary consultations, expert advice, and cost estimates to make the paving replacement process as smooth and stress-free as possible. With our unbeatable customer service and prices, Renvations.com is the perfect partner for all your paving replacement needs.