It's time for the big reveal…in your kitchen. You've been dreaming of a new kitchen for what feels like forever, and you're ready to take the plunge and start. But before you begin, it's essential to understand what it'll cost to replace your kitchen cabinets, appliances, and Flooring.
You'll want to make sure that you budget accordingly and understand what kind of costs to plan before you move forward with any renovations. That's why we created this guide: to provide a helpful overview of what kind of costs you can expect when replacing the kitchen in your home.
We'll provide insight into how much money is typically required for all kinds of kitchen replacements and what you should look for when hiring a contractor or remodeling company. So if you're considering revamping your kitchen—but not sure where to start—you've come to the right place! Let's get started!
Introduction to Kitchen Replacements
Are you considering a complete kitchen replacement? Or just a few updates? Either way, knowing what to expect regarding costs when updating your home's kitchen is essential.
Below are some of the most common costs associated with replacing your kitchenette. Remember that these figures represent average national costs for standard-grade materials and labor. When looking for budget specifics, get quotes from several contractors, as prices vary based on material quality, location, and project scope.
Cabinets: $4,000-$20,000
Countertop: $2,000-$7,500
Plumbing Fixtures: $400-$1,700
Appliances: $2,500-$8,000
Lighting & Electrical Work: $700-$3,000
Backsplashes & Flooring: $1,200-$4,000
Miscellaneous Costs: $500-$3,000
When planning a complete kitchen rejuvenation or replacement project, it is essential to understand all the costs involved and the potential return on investment this type of project can bring. Knowing what to expect regarding charges will help you plan accordingly and maximize your initial budget and any return on investment when ready to move forward.
Average Costs to Replace Kitchen Cabinets
Replacing kitchen cabinets is one of the most expensive components of a kitchenette remodeling or replacement project. You may expect to pay between $4,000 and $12,000 for new cabinets. This price range will depend on the type of material used, the style of the cabinet, and any extra features, such as decorative glass or built-in accessories.
For example, if you go with a bare wooden cabinet with few features in a standard kitchen size, you will pay closer to the lower end of this range. However, if you go for high-end custom cabinetry with many extras like roll-out drawers and soft-close hinges, you could be looking at closer to $25,000 or more!
The best way to know your exact cost is to get an estimate from a contractor specializing in kitchenette replacements. They'll be able to help consider all the factors that could impact your costs, like material selection and layout adjustments that could save or add charges.
Average Costs to Replace Kitchen Countertops
Regarding kitchen replacements, the cost to replace your countertops is an essential factor to consider. The kind of countertop you choose and its finish will majorly impact the overall price. On average, you may expect to spend between $3,000 and $5,000 to replace your kitchen countertops.
Granite Countertops
Granite is among the most popular materials used for countertops. It's a natural stone that adds elegance to any kitchenette and can range from flecked colors of pink, gray, or beige tones. Quartzite countertops are also gaining in popularity for their natural beauty and durability. Granite can cost anywhere from $50 – $100 per square foot, depending on your chosen quality and finish.
Marble Countertops
Marble is another popular material for its classic look combined with durability. Like granite, marble has different grades that range in pricing from $50 – $200 per square foot, depending on the quality. However, it's important to note that marble is prone to staining, requiring more maintenance than granite or other available materials.
Solid Surface Countertops
Solid surface countertops are also becoming a favorite due to their low maintenance requirements and many design options, such as Corian or Staron Solid Surface materials, offered by companies like Renvations. The solid surface materials start at around $35 – $45 per square foot, with installation not included in most cases.
Average Costs of Refinishing Kitchen Countertops
Replacing old kitchen countertops is one of the most cost-effective ways to upgrade your kitchen. But what's the average cost of refinishing them?
Fortunately, it's lower than you expect. The average cost of refinishing kitchen countertops is just under $500. That's hundreds of dollars less than replacing them and a fraction of what you'd pay for installing new countertops. Plus, you don't have to think about the mess and hassle of a complete renovation!
In addition to the average cost range for refinishing kitchen countertops mentioned above, you should also consider the following:
The type and size of your countertop: Granite or concrete countertops are generally more expensive than laminate surfaces. Large kitchenette islands need more labor hours and materials than simple bar-top areas.
The scope of work: If you only want to resurface the existing material, such as sanding down and repainting wooden countertops, your costs will be lower than if you replace them entirely with new materials like quartz or marble.
Any extras: If additional tasks are involved in refinishing your countertops — such as addressing minor repairs before resurfacing or using specialty tools — your cost will be higher than average to match the extra labor and materials involved.
Refinishing kitchenette countertops is an easy and affordable way to upgrade your kitchenette without breaking the bank!
New vs. Existing Flooring in Your Kitchen
If you want to know your kitchen replacement cost, consider the cost of new Flooring. This can vary depending on whether you opt for existing Flooring or something new.
Existing Flooring
Your route will depend on the type of existing Flooring you have present and how much work is needed to prepare the surface for a successful installation. If the existing floor has been structurally sound and without too much damage, it may only require minor preparation and cost less than other options.
New Flooring
On the other hand, if you go for a new product, several factors will affect the overall cost — such as materials used (i.e., tile, wood, vinyl), size/shape of the room, and amount of labor required as such, it's best to get at least three estimates from reliable contractors to get an accurate estimate for your project.
When it comes to replacing your kitchenette floor, it pays to research and shop around to get the best deal that still meets your needs.
Hidden Cost Factors for a Kitchen Replacement
When planning for a kitchen replacement, you need to consider the hidden cost factors that could begin to add up. These are the specifics that, if not taken care of, can drive up your budget. Here are just a few of them to have in the back of your memory when planning for a kitchenette replacement.
Electrical and Plumbing
You'll need to ensure the wiring and plumbing are up to code, as these elements will be around after the renovation. This means hiring an electrician and plumber to look things over and install new outlets or patchwork where needed—remember that these professionals will cost extra.
Appliances
If you decide to get all-new appliances, they can quickly become pricey. Make sure you know the measurements beforehand so you don't mistakenly buy a machine too big—or worse—too small for your kitchen setup. And don't forget about warranties and delivery fees when budgeting for devices!
Cabinet Installation
Installing cabinets yourself might be simple, but professional installation is recommended for a safe and secure result. You'll also want someone experienced with kitchenette renovations if you add crown molding or custom paneling to your cabinet design.
These hidden costs can add up quickly if not considered when budgeting for a kitchenette renovation. Consider them so that your final total doesn't come as a surprise at the end!
Replace kitchen cabinet doors cost
So, you're curious about the cost of replacing kitchen cabinet doors? There's no one-size-fits-all answer to this question because it will depend on the doors you select and the complexity of your project. But here are a few things to keep in mind as you budget for it:
Materials Costs
The cost of materials used for new kitchen cabinet doors will vary depending on the material choice, such as wood, laminate, or metal. Wood cabinets tend to be more expensive because of their durability and the ability to be refinished when needed. Laminate costs less than wood but is not as durable, nor can be refinished. Metal cabinets can be pretty spendy due to the complexity and craftsmanship involved in the installation, but they are known for their long-standing durability.
Labor Costs
You'll also need to factor in labor costs for hiring a professional contractor or carpenter to install your new cabinet doors, which could range anywhere from $100–$400 per door, including labor and materials. Be sure to get estimates from a few contractors to find one that works with your budget and timeline. In addition, if you don't already have the hinges and knobs (pulls), you'll need those as well, which could add $15–$50 per door.
Don't forget that you'll also have disposal costs associated with removing existing cabinet doors! So calculate these into your overall replacement cost estimate, just in case. All in all, replacing cabinet doors is essential to any kitchenette remodel and should NOT be overlooked when budgeting for your project!
Replace countertops in the kitchen.
Regarding kitchen replacement costs, the sky can be the limit. From a small DIY project to a full-scale kitchen remodel, it's important to think not just about the cost of the materials but also the cost of labor. For example, when it comes to replacing countertops in your kitchenette renovation project, you have various pricing options depending on the countertop material you choose.
Granite
Granite is one of the most popular materials used for kitchenette countertops, and it's easy to understand why—it's beautiful, luxurious, and highly durable. But its price tag can be hefty. Labor and installation for granite typically cost between $200 and $400 per square foot of space, so expect to pay somewhere between $2,000 to $4,000 for labor alone for a 10×10 countertop.
Laminate
Laminate is one of the cheaper options for kitchen countertops and can run you as little as $25 per square foot installed. It's also available in various colors and patterns that mimic more expensive materials like granite or quartz. However, laminate is less durable than other materials and could require more frequent replacement if you're hard on your counters!
Quartz
Quartz countertops are a great midpoint between granite and laminate when it comes to price—labor costs are typically around $90 per square foot installed—so expect similar pricing to that of granite as far as total costs go if you choose quartz over granite or laminate. However, quartz offers several benefits, including being heat-resistant, so you don't
replacement drawers for the kitchen
Replacing drawers in your kitchen might not sound expensive, but it can impact your budget. If you order custom-made drawers, you're looking at anywhere from $100 to 200 dollars for just one. And if you're ordering new drawer fronts, don't forget to add the extra labor to install them. Tha can be over a hundred dollars as well.
Still, there are some advantages to replacing kitchen drawers.
You can save on labor costs by doing it yourself.
You have more control over the design and style of your kitchenette since you are building or installing the drawer yourself.
You get an immediate upgrade in cabinet storage space with more extensive and deeper drawers.
Your kitchen looks more modern and stylish with new drawer fronts
Replacing your kitchenette drawers isn't cheap, but if done correctly, it can offer a great return on investment in home value and style compared to refinishing them. Whether you tackle this project yourself or hire a professional contractor, ensure you get quality materials that last longer and look great!
Replacement sink for the kitchen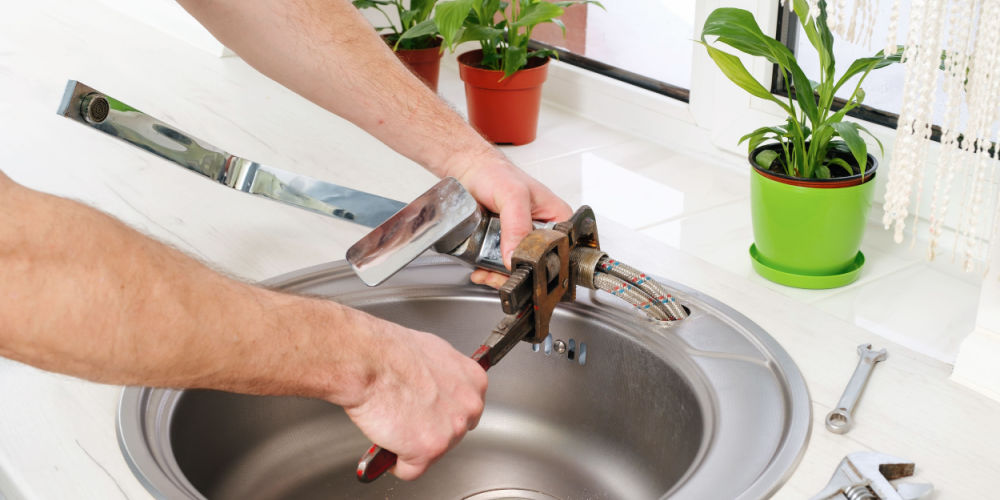 Replacing a kitchen sink is essential to most kitchen remodeling projects and requires some planning — and a budget. We can help you understand the cost of replacing your sink so you can plan accordingly.
Here's what you can expect in terms of replacement sink costs:
Prices vary widely
The cost of replacing a sink varies depending on several factors, such as the material, size, and installation. A budget-friendly option might be around $200. Mid-range sinks could cost about $400 to $500, while high-end luxury models might cost upwards of $1,000 or more.
Decorative elements add to the cost.
If you're looking for something beyond a primary replacement sink that might include additional decorative elements like tile work or walls, these will come with additional costs. Expect to pay an average of about $800 for a complete kitchenette sink replacement project with tile work or $2,000 for something more extensive such as detailed wall work.
Installation is also expensive.
When it comes time to replace your sink, don't forget about installation fees since these also add up. You'll want to ensure everything is installed correctly – this is your kitchen – so hiring an expert isn't optional if you want it done right. Labor fees will depend on the type of repair and installation needed but typically run between $50 – $100 per hour.
replacing kitchen faucet
Replacing your kitchen faucet is one of the more affordable options for kitchenette upgrades, but considering the costs is still important. When replacing your kitchen faucet, you should budget anywhere from $50 to $200.
Factors That Impact Cost
The cost of replacing a kitchen faucet will depend on a few factors:
Style of Faucet: The type of faucet you choose will impact how much this project will cost. For example, a pull-down faucet or one with a spray nozzle could cost more than a primary two-handle option.
Plumbing Necessary: You may need to pay for additional plumbing work if you change the type of faucet connections or if the old piping needs replacement.
Type of Finish: If you want to add new hardware with an exceptional finish, such as chrome, bronze, or nickel, that could increase your total cost for this upgrade.
Seller Price: Depending on where you purchase your materials and fixtures from, prices can vary greatly. It is always wise to shop around and compare prices before buying.
No matter what type of kitchen faucet you decide on, it likely won't make up a large part of your overall kitchenette renovation budget — but it is still important to factor in these costs and any associated labor costs so you can plan for the entire project accordingly.
tiny home kitchen cabinets
You must look at specific cabinets and appliances tailored for smaller spaces if you have a tiny kitchenette. You're in luck—there are plenty of options from which to choose.
There are four factors to consider when thinking about tiny home kitchen cabinets.
Material: The materials used for tiny home kitchen cabinets come in various options, from wood cabinets and particleboard to medium-density fiberboard (MDF).
Style: If you want your kitchen cabinets to make a statement, you can opt for sleek or elaborate designs that fit the size of your space but make the room look bigger than it is.
Size: Tiny home kitchens require cabinets less than 90 cm (35 inches) wide and no taller than 200 cm (79 inches).
Finish: Choose a finish that works with the other colors throughout your kitchen, like high gloss, painted, or modern wood-grain finishes.
The average cost of replacing tiny home kitchen cabinets can vary widely—from around $2,000 up to $13,000—depending on the quality and size of the cabinet materials you choose. So be sure to research when selecting the right ones for your space!
adorable home kitchen
Many folks are willing to break the bank for a genuinely dreamy kitchenette. But it doesn't have to be that way. With some smart shopping and planning, you can create an adorable home kitchen for a fraction of the cost.
Here's what you need to remember:
Spend wisely
It's easy to get overwhelmed when looking at different kitchenette fixtures and appliances but resist the urge to splurge. You can still make a beautiful space without breaking the bank—shop for the best deals on cabinet hardware, countertops, faucets, and other items.
DIY, if you're able
If you're confident in your DIY skills, there are ways to reduce kitchenette renovation costs significantly. For instance, you could install LED lighting or repair broken cabinet hinges instead of replacing them. Of course, research and consider your comfort level before taking on any project.
Opt for timeless materials.
When selecting materials for your new kitchen, choose timeless pieces like natural stone countertops, durable metal-framed cabinets, and stainless steel appliances. These pieces will last longer and won't require frequent replacement—so consider these more expensive items an investment in your home's value rather than an additional cost.
Conclusion
As we mentioned at the beginning, replacing a kitchen is a big job—but it's not a one-size-fits-all process. The cost of a kitchenette replacement project may vary depending on how extensive the renovations are, which materials you opt for, and the type of appliances you choose.
The essential factor to remember is that kitchenette replacement projects are an investment. A quality kitchenette will improve your home's overall look but also help increase your home's value. Therefore, investing in a quality kitchen replacement can provide a considerable return over the long term, even if there's an initial cost.