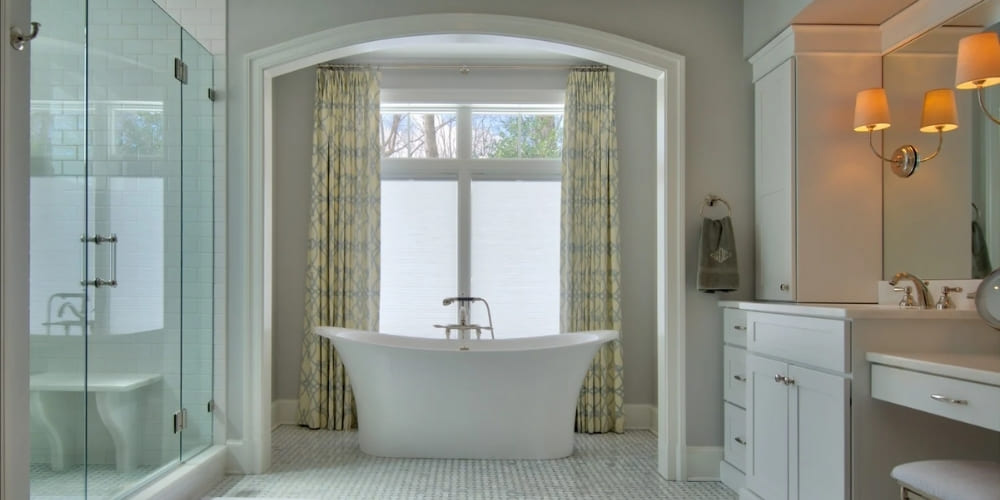 One popular home improvement project that can enhance the functionality and appearance of your home is the bathroom remodel. Besides, the bathroom is one sure place of comfort and a space to freshen up ahead of a day's activities. This space needs remodelling to suit homeowners' styles. But before you start planning your dream washroom, you must have a realistic understanding of what are the steps to remodel a bathroom or how much it will cost.
Without a doubt, the expenses of a restroom can range from a few to tens of thousands of dollars, depending on some factors involved.
To help homeowners understand how to budget ahead of a restroom turnover, this blog delves into an overview of the average expenses of different remodeling projects.
What is the average cost of bathroom remodeling?
Many factors go into the average cost of a bathroom remodel. One of them depends on the remodel you choose. Let's look at the renovation and the cost involved.
A basic restroom remodels: This washroom makeover typically involves painting, updating fixtures, and installing new flooring. On average, this can cost anywhere from $5,000 to $15,000.
Mid-range bathrooms can expense anywhere from $15,000 to $30,000. Adding new cabinetry, countertops, and updated lighting with other details in the basic remodel options.  
High-end washroom remodels: This is more of a custom washroom remodeling project like walk in tub installation. For this, you will enjoy custom cabinetry, heated floors, and luxurious fixtures that are more expensive than the former. This can expense upwards of $30,000 or more.
Costs by Size
It could range more for a larger bathroom than a smaller one. For instance, a smaller washroom requires little labour and fewer materials. This can lower the cost of the remodeling project. On the other hand, a larger washroom will require more time, materials, and labour. You can estimate the remodel cost of bathroom right after completion of home alone house floor plan. For one thing, the size of your bathroom will affect the expenses of your remodel. Let's take a rough estimate of each to renovate with the bathroom size.
A basic bathroom remodels for a small washroom (say less than 50 square feet) can cost around $5,000, while a basic remodel for a larger bathroom (100 square feet or more) could range upwards of $10,000. 

A mid-range remodel (like the size above) for a small washroom costs around $15,000, while a mid-range renovation for a larger bathroom costs $25,000. 

A high-end remodel for a small bathroom could cost around $30,000, while a larger one could cost upwards of $50,000 or more.
Costs by Feature
The specific features you choose for your washroom renovation can also greatly impact the overall cost. Some features, such as new flooring, updated lighting, and a fresh coat of paint, can be relatively affordable and help refresh your small bathroom remodel ideas. However, other features, such as custom cabinetry, heated floors, and luxurious fixtures, can be much more expensive and drive up the project's overall cost.
Here is some estimated costs of some common washroom renovation features:
New flooring:

 $2,000 to $5,000

Updated lighting:

 $500 to $1,500

New cabinetry:

 $2,500 to $10,000

Countertops:

 $1,500 to $5,000

Heated floors:

 $1,500 to $5,000

Luxurious fixtures (such as a spa tub or rain shower):

 $2,500 to $10,000
Installation and Labor Costs
Apart from the cost of materials or appliances in a bathroom remodel, the installation and labour costs affect the project's overall expenses like the installation of luxury walk in tub shower combo can increase the cost of the project. There can only be an exemption to this if you attempt to do the work yourself. Of course, this is not advisable because most DIY projects often result in mistakes and may require repairs after some time. Hiring a professional contractor ensures that the work is completed properly and up to code. 
As a rough estimate, the labour expenses can vary based on the type of remodelling project. For instance, the labour expenses for a basic washroom renovation can range from $1,000 to $3,000, while the cost for a mid-range to high-end washroom remodels can vary from $3,000 to $10,000 or more.
Final Thought
Do note that the above costs are just rough estimates. Many factors still go into the actual cost of your bathroom renovation. Equally important is to hire a professional contractor to help ensure the washroom project is completed properly and up to code. This will help you save on additional costs down the line.
Ultimately, the most important thing is to plan your restroom renovation carefully. Proper planning allows you to achieve the washroom of your dreams while staying within your budget.