I. Introduction
The bungalow home style is truly a classic that has stood the test of time and is still beloved by many today. It's a style that will never go out of fashion, as it captures the cosy and comfortable charm of living in an old-fashioned cottage. Whether you are looking for inspiration to build a bungalow or are already living in one, our Guide to Bungalow House Style will provide you with all the tips and ideas you need to make your house yours.
Bungalow style has two primary components: embracing its charm and adhering to its esthetic. Regarding bungalow living, one cannot go wrong with cosy touches like rocking chairs on the porch and vintage furniture inside. But mix these pieces with modern touches for a balanced look—think stainless steel accessories or industrial lamps for a rustic-chic vibe. Then, when it comes to sticking with the classic bungalow design esthetics, think of large picture windows, inviting front porches, and low-pitched roofs with eave projections. These design elements create an inviting front entrance that exemplifies traditional bungalow charm.
II. DIY Projects for Bungalow House Style
If you want to give your home a facelift and extra personality, look no further than a few DIY projects. Adding touches to your bungalow house style can set it apart and make it yours. Here are some amazing ideas to get you started:
Craftsman-inspired woodwork: No bungalow house style would be complete without woodwork! Customize your walls, door frames, archways, and ceiling beams—anywhere you can fit in some wood accents and decor.
Custom shelving and storage: One of the great things about designing for the bungalow house style is that you have the freedom to create storage systems that perfectly fit the design of your home. Find shelving and accent pieces that blend perfectly with your chosen aesthetic.
Repurposing vintage items: If you're looking for an economical way to add vintage vibes to your home, consider repurposing old or used items. You can also opt for faux vintage items or repurposed upcycled pieces as an eco-friendly option.
III. Bungalow Decor Ideas
Regarding bungalow home style, a few key components keep with the timeless and classic look. For example, natural materials like wood furnishings and earthy tones in your decor and furniture can help you build the look you're going for. It would be best to consider incorporating indoor plants, which add to the earthy vibes.
Timeless and classic accessories
Choosing accessories for your bungalow ensures it looks like a classic bungalow. Accessories like window boxes, ceiling fans, and sconces can help pull together the look while adding extra style.
Natural materials and earthy tones
Using natural materials can make your bungalow feel cosy and inviting. Raw materials like stone and brick masonry, recycled wood flooring, wicker furniture or rattan furnishings, woven rugs or blankets can all be used to incorporate natural elements into your bungalow's design. It would be best to integrate earthy tones in your color palette — think shades of green, brown, tan, yellow, orange and more — to give it authentic bungalow vibes.
Incorporating indoor plants
Indoor plants are essential to any home's decor and thrive in a bungalow style. With so many different types of plants available — from succulents to ferns — there are plenty of options for adding life to your space regarding greenery and vibrancy.
IV. Bungalow Cleaning Tips and Tricks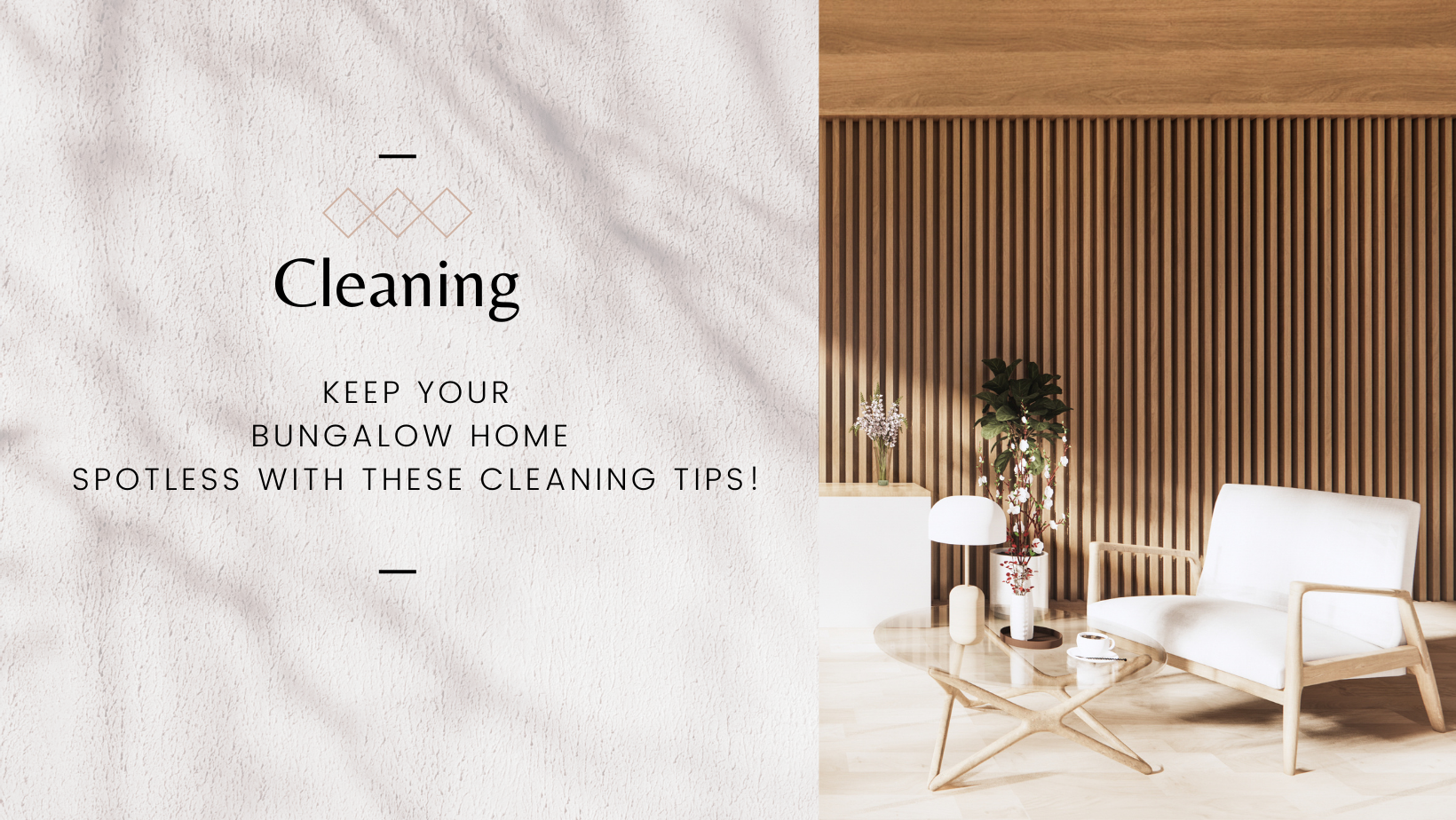 One of the great things about the bungalow house style is that you don't have to do much cleaning and maintenance to keep it in tip-top shape. If you're looking for some bungalow cleaning tips and tricks, have no fear! We've got a few ideas for you.
First up: green cleaning solutions are essential to keeping your bungalow clean. Home-made solutions of vinegar, water, lemon juice, and baking soda can break up dirt and grime without leaving any residue. Plus, they're easy on the environment — a bonus!
Next: Seasonal maintenance tasks are essential for any home, regardless of style. In the summertime, keep leaves raked outside so that your gutters don't get clogged with debris — which will prevent extra work down the road if not taken care of routinely. In colder months, be sure to inspect pipes and other plumbing components in case there's a chance they could freeze or need repair before spring rolls around again.
Keeping to a regular cleaning routine is essential to owning any property — bungalow or otherwise. Follow these tips and tricks while keeping your space clean and feeling good knowing you're taking proper care of your home!
V. Furniture Selection for Bungalow House Style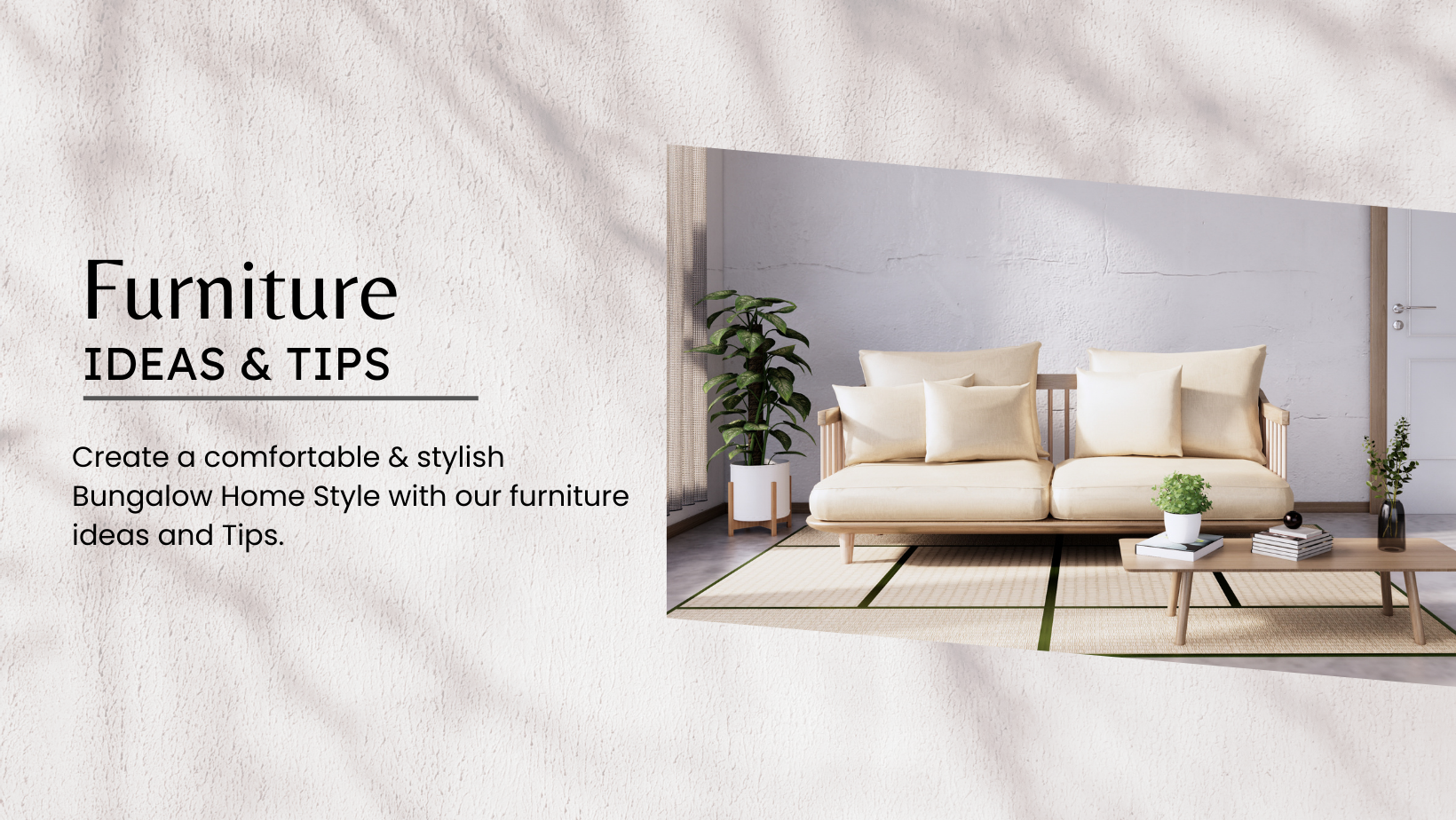 Bringing the bungalow style into your home is pretty much all about decor. And when it comes to selecting furniture for your bungalow, there are a few key things to keep in mind.
A. Choosing Craftsman-style pieces
The craftsman style has been around since the early 19th century and is known for its clean lines, straight edges, and earthy materials like wood and natural stone. Look for pieces made of solid wood and steel or iron, stained or left clear in its natural state, with sturdy legs—anything you would expect to see in an old-school artisan's home.
B. Mixing traditional and modern designs
You don't have to choose strictly between classic craftsman-style pieces or modern furniture designs — you can mix and match them! That way, you get the best of both worlds: old-fashioned charm plus a contemporary style that won't look outdated in a few years.
C. Functional and versatile seating options
Aside from its aesthetic appeal, it would be best to consider how functional your furniture selections will be. Look for pieces that offer comfort but can also be used for different occasions: armchairs with removable cushions that work, as well as sofa seating or office chairs when guests arrive.
VI. Bungalow Appliances to Enhance Your Space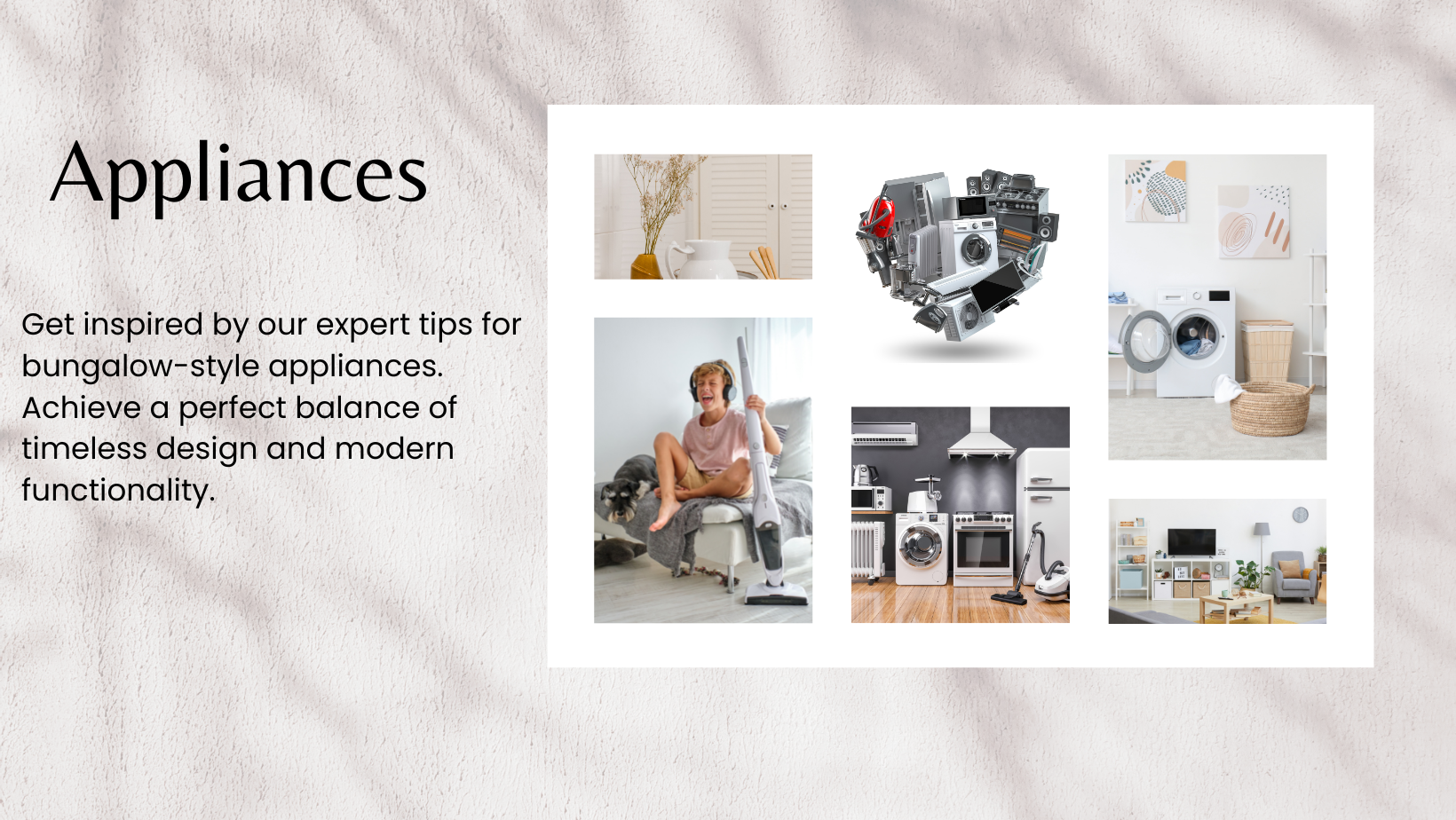 Everyone knows that the heart of a home is the kitchen, and when it comes to bungalow living, having the right appliances in your kitchen can make all the difference. From energy-efficient options to intelligent technology, you have plenty of choices that will help meet your needs.
A. Energy-efficient and space-saving options
Regarding appliances for small spaces, energy efficiency is a crucial factor. Look for refrigerators with freeze-thaw cycles and built-in temperature settings to help your food last longer and save energy. It would be best to look for dishwashers that can fit in corners or have adjustable racks to get creative with how you use your space.
B. Essential kitchen appliances for bungalow living
No matter what size your bungalow is, some essential kitchen items are necessary for bungalow living:
A basic one-burner stovetop or electric hot plate will do the trick.
If you need something more advanced than a burner, an oven, or a countertop convection oven.
If you need something more potent than an oven and stovetop combo, a small microwave.
An efficient trash compactor if you want to save on space while disposing of waste.
C. Smart technology for a modern touch
If you're looking to create a modern atmosphere in your home, plenty of innovative technology options exist too! From voice control over other connected devices like lights and curtains to automatic dishwashers and washing machines that can be controlled through your phone—there's no shortage of ways to bring convenience.
VII. Organizing Your Bungalow House
Organizing a bungalow house might seem like a chore, but it doesn't have to be. Here are some creative storage solutions and tips to help you maximize space and maintain your home's order.
A. Creative Storage Solutions
Bungalows can be tricky to organize since they usually have little built-in storage space or closets. Get creative with your storage solutions by installing shelves on the sides of walls and under windowsills–to make them blend into the room's ambience, use wicker baskets and vintage-style crates that come in varying sizes. Maximize underutilized spaces like behind doors to store small items, such as cleaning supplies, shoes, hats and gloves. Incorporating built-in cabinets into your living room furniture is another excellent way to increase storage without removing your home's style.
B. Making The Most Of Small Spaces
When decorating small spaces like bungalows, multi-functional items are essential! Look for furniture pieces with versatile designs that can serve multiple purposes — for example, a coffee table that doubles as an ottoman for extra seating when you need it or a storage bench that also serves as an entryway landing spot. To make rooms look even more significant, paint walls with bright colours to help reflect light and use mirrors wherever possible to visually extend space and create the illusion of greater depth in each room.
C. Tips For Maintaining An Orderly Home
One of the biggest challenges when organizing a bungalow house is keeping everything tidy between cleanings. Make maintenance easy by utilizing organizers such as drawer dividers, hanging
VIII. Bungalow Renovations and Upgrades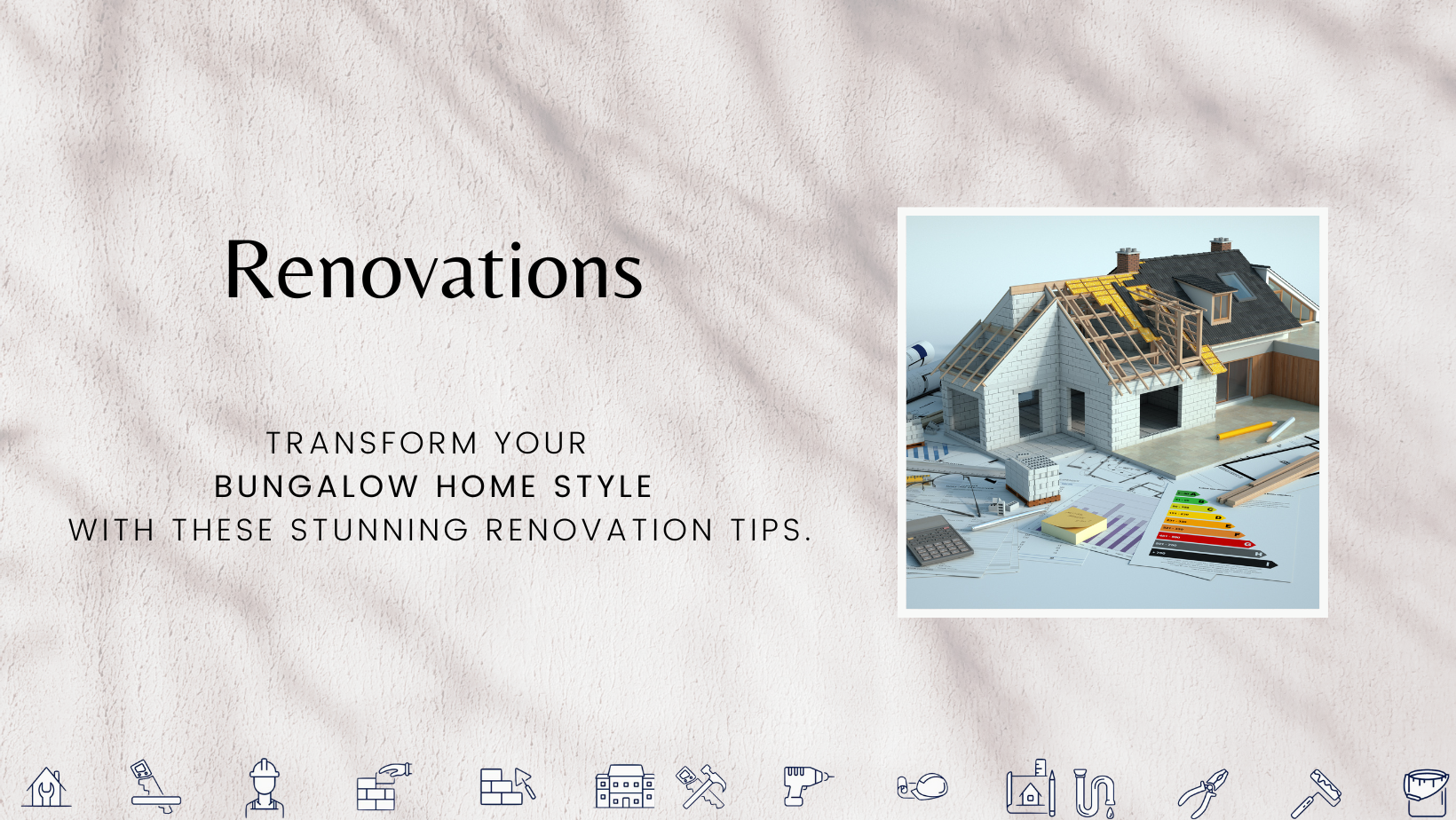 If you have a bungalow and are looking to make some improvements or upgrades, there are a few ways you can go about it that will still preserve the original character of this charming home style.
First, don't be afraid to leave most of the main structure just as it is. The bungalow house style is often connected to its nostalgic charm, so altering the existing design too much may detract from its character.
A. Retaining the Bungalow's Character
Second, look for ways to make minor tweaks while keeping its overall character intact. This could mean adding a second window to a room or enlarging one that already exists – make sure it's still in line with the bungalow 'style'. You might also want to consider choosing colours and materials that are faithful to the era in which your house was built.
B. Renovation Projects That Add Value
Thirdly, focus on renovation projects that add value both financially and aesthetically, such as updating bathrooms and kitchens, as these are typically seen as suitable investments for potential buyers in the future. Beyond purely functional updates like adding built-in shelving units or re-doing kitchen cabinets, you may also opt for funky wallpapers or vintage-inspired hardware for an extra touch of personality
C. Budget-friendly Improvements With Big Impact
Finally, if you're working with a tight budget but crave significant impact changes, consider replacing light fixtures throughout the house – something like an antique chandelier in your dining room could shine (literally!), while vintage-inspired sconces may bring flair to your hallway or entryway inarguably worthy of
IX. Bungalow House Design Ideas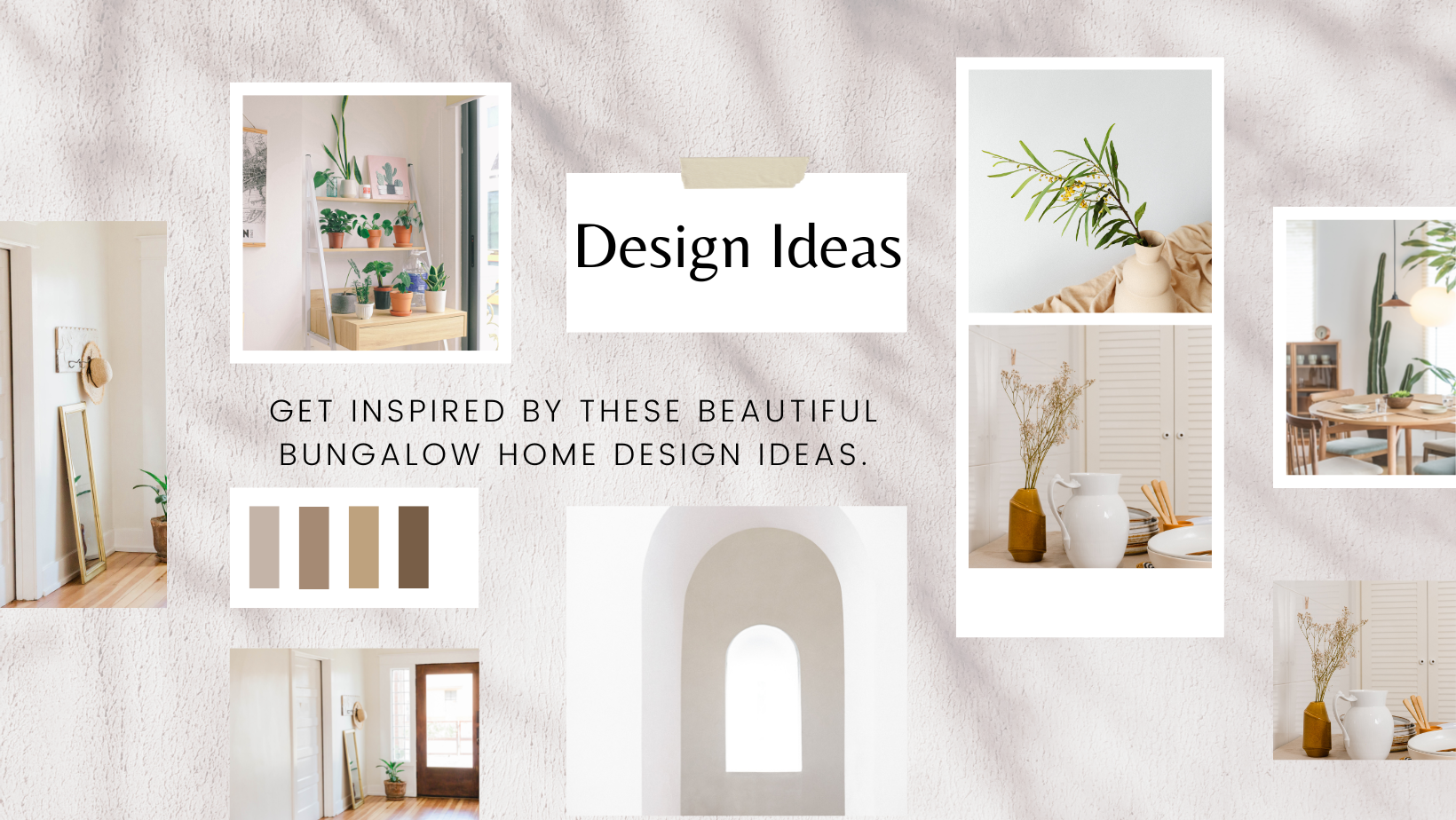 One of the best things about the bungalow house style is the many design ideas to choose from. Whether starting fresh with a blank canvas or remodeling an existing house, you can tailor the design to your home and lifestyle.
Here are three great design concepts to think about:
A. Open-concept living and dining spaces
Open-concept living and dining spaces could be a great way to maximize your limited space in a bungalow. By removing a wall that would usually separate your kitchen from the main living space, you could open up the whole room and make it feel more spacious. This can also be great for entertaining friends and family, as everyone will be able to see each other and chat away easily.
B. Cozy bedroom sanctuaries
Bungalows sometimes don't offer massive bedrooms, so getting creative is essential when designing them. Investing in built-in cabinets, bookshelves, and other storage solutions can help make the most of your space without sacrificing style. Embrace those cosy corners by adding soft furnishings like pillows, throws and rugs – it's all about getting that snug sanctuary feeling!
C. Inviting outdoor living areas
It's always lovely to create a nice outdoor space where you can relax after a long week at work – even if you live in a smaller home like a bungalow. When designing the site, think about creating raised flower beds or adding some climbing plants onto your walls – this will help create an inviting environment where you can unwind on those warmer summer days!
X. Cost Guide for Bungalow House Style Living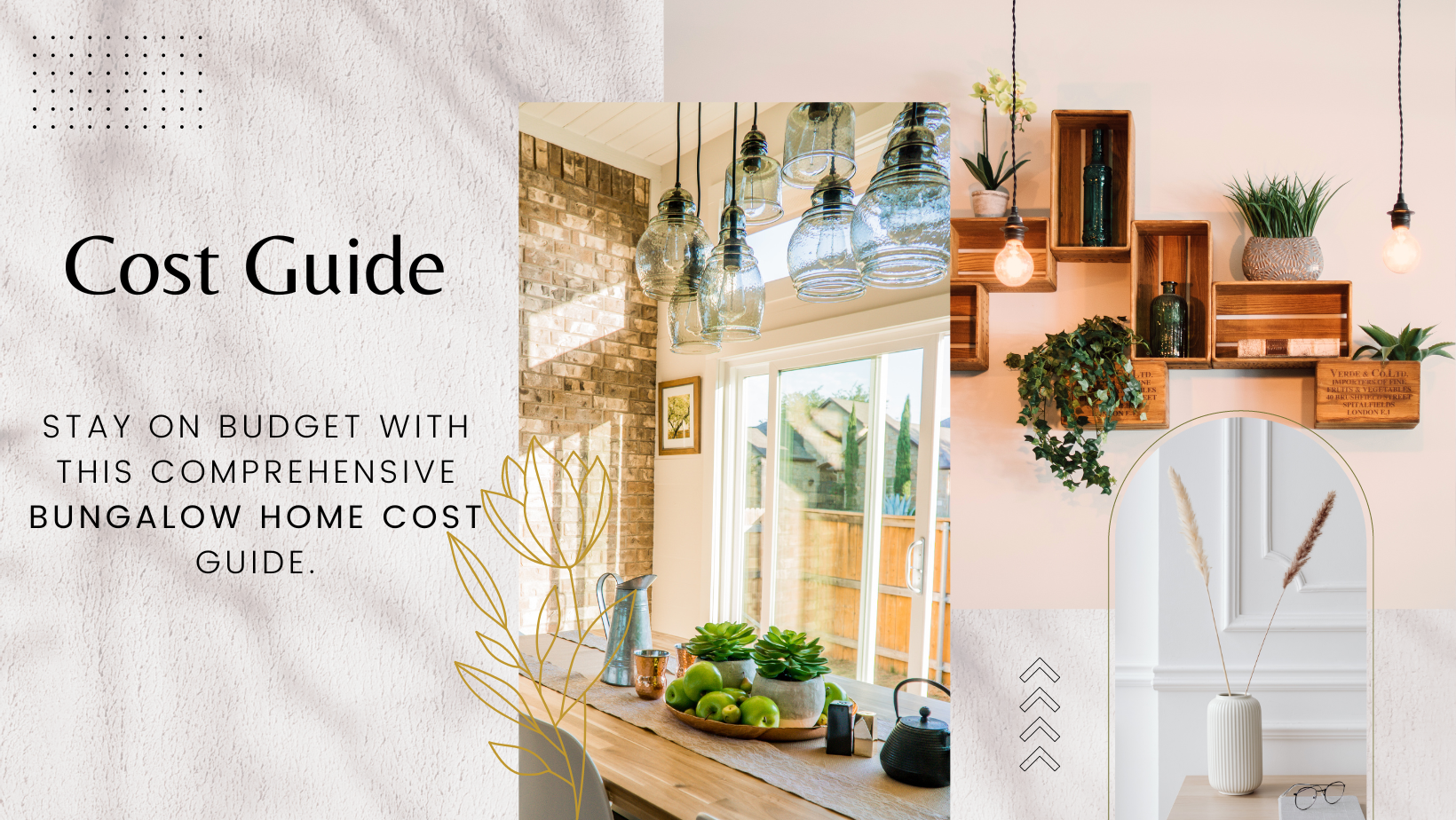 If you plan to upgrade or remodel your bungalow home, knowing the costs involved for materials and labour is essential. To help you budget better, here are the costs associated with modifications and upgrades:
1. Estimating Renovation and Upgrade Costs
Major Renovations (including labour): $7,500 to $50,000+
Minor Renovations (including materials): $1,000 – $3,000
Rooms Addition: Varies depending on size and finishes. The average cost is between $20,000 – $50,000+
New systems like electrical wiring or plumbing: Varies based on complexity. The price range is usually between 10% – 40% of the total renovation cost
2. Budgeting for Furniture and Decor
Furniture: Depends on the quality and style of furniture. The price range may vary from several hundred to thousands of dollars
Artwork: Anywhere from $30 -$3,000+
Window Treatments: Interesting window treatments can cost anything from under a hundred dollars to several thousand dollars
3. Saving on Appliances and Utility Expenses
Energy Efficient Appliances: 30% – 50% savings from energy costs over non-energy-efficient models
Water Heaters: Upfront cost is expensive but offers significant long-term savings
Insulation: Choose insulation that suits your climate's temperature requirements to save money in the long run
With a clear understanding of all these costs involved in upgrading a bungalow home style house, you can easily budget the necessary expenses properly before getting started on any
XI. Conclusion
Embracing the bungalow house lifestyle creates a cosy, comfortable, and inviting space you can call home. Of course, there's no one-size-fits-all approach to achieving this, so use these tips, inspirations, and ideas to establish a style that best reflects your taste and preferences.
From taking cues from nature to incorporating modern decorative elements for a contemporary upgrade, there are endless possibilities when designing and decorating your bungalow abode. With this comprehensive guide as your foundation, you can create a beautiful home that reflects you. Good luck!