I. Introduction
Are you interested in investing in a coastal house style? There's so much to love about living near the shore—the fresh, salty air, beach walks, and beautiful sunsets. And if you're looking to bring some of that atmosphere into your home, it may be time to look into coastal home style.
Whether you live by the coast or on the other side of the country, you can embrace the coastal style aesthetic with some thoughtful decorating choices. The appeal of coastal house living lies in its effortless sophistication, bright open spaces, and timeless charm. With these few tips, you can transform any space into an oasis of relaxation and comfort—even just for a weekend staycation!
II. DIY Projects for Coastal House Style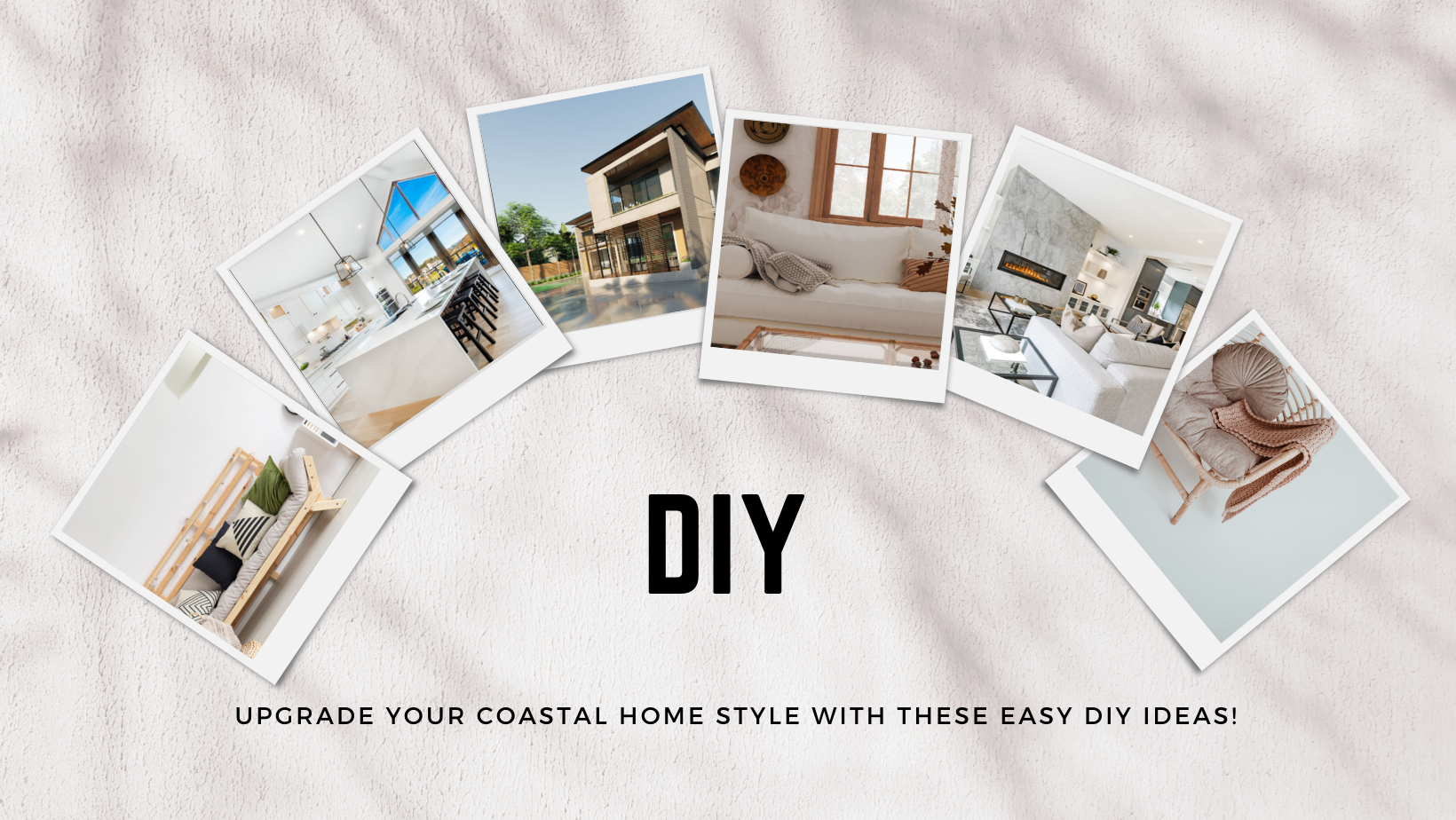 Bringing in coastal style doesn't have to mean breaking the bank. There are many ways to DIY a beachy look that fits your budget and makes your home feel like an escape to the seaside.
A great way to start is by up-cycling salvaged materials and nautical items, like the beach's driftwood, bringing in a rustic coastal touch. You can use them as decorations or even incorporate them into furniture for an unbeatable one-of-a-kind vibe.
If you have a crafty streak, seashore-inspired crafts are an easy and affordable way to bring in some coastal vibes. Create shell wind chimes or sandcastles out of clay for wall decor. Even something as simple as painting vases blue or adding paint splotches to mason jars can give your home a beachy twist.
And if you're looking to customize your windows, custom window treatments and drapery give you many options to play with colors, patterns, and textures inspired by sea elements. From brightly colored curtains to ones fashioned out of fishnet—the possibilities are endless!
III. Coastal Decor Ideas
If you're looking for coastal home-style decor ideas, you've got plenty to choose from. A great way to channel the relaxed beachy vibe is with beach and ocean-themed accessories. Whether you have a few subtle items, like a pair of coral bookends or a shell bowl, or go all out with surfboards and rope wall hangings. Your home should be a reflection of your style, after all.
Another thing to consider is color. Light and breezy colors like whites, creams, tans, and blues help create an airy space that feels like a bright beach day. This palette also pairs well with natural elements—wood textures and rattan furniture—and textured fabrics such as linen and burlap. You can even bring in seagrass or jute rugs which give your space an exciting dimension without overpowering the room.
Finally, don't forget to add life to your space! House plants are perfect when it comes to creating a coastal look because they add organic touches as well as color. Place potted plants around the house or hang some pothos ivy or string of pearls in macrame planters for an extra dose of tropical flair.
By choosing the right colors and incorporating natural elements, textures, and decorations into your home, you'll create an inviting coastal atmosphere that will make you feel like you're on vacation any day of the week!
IV. Coastal Cleaning Tips and Tricks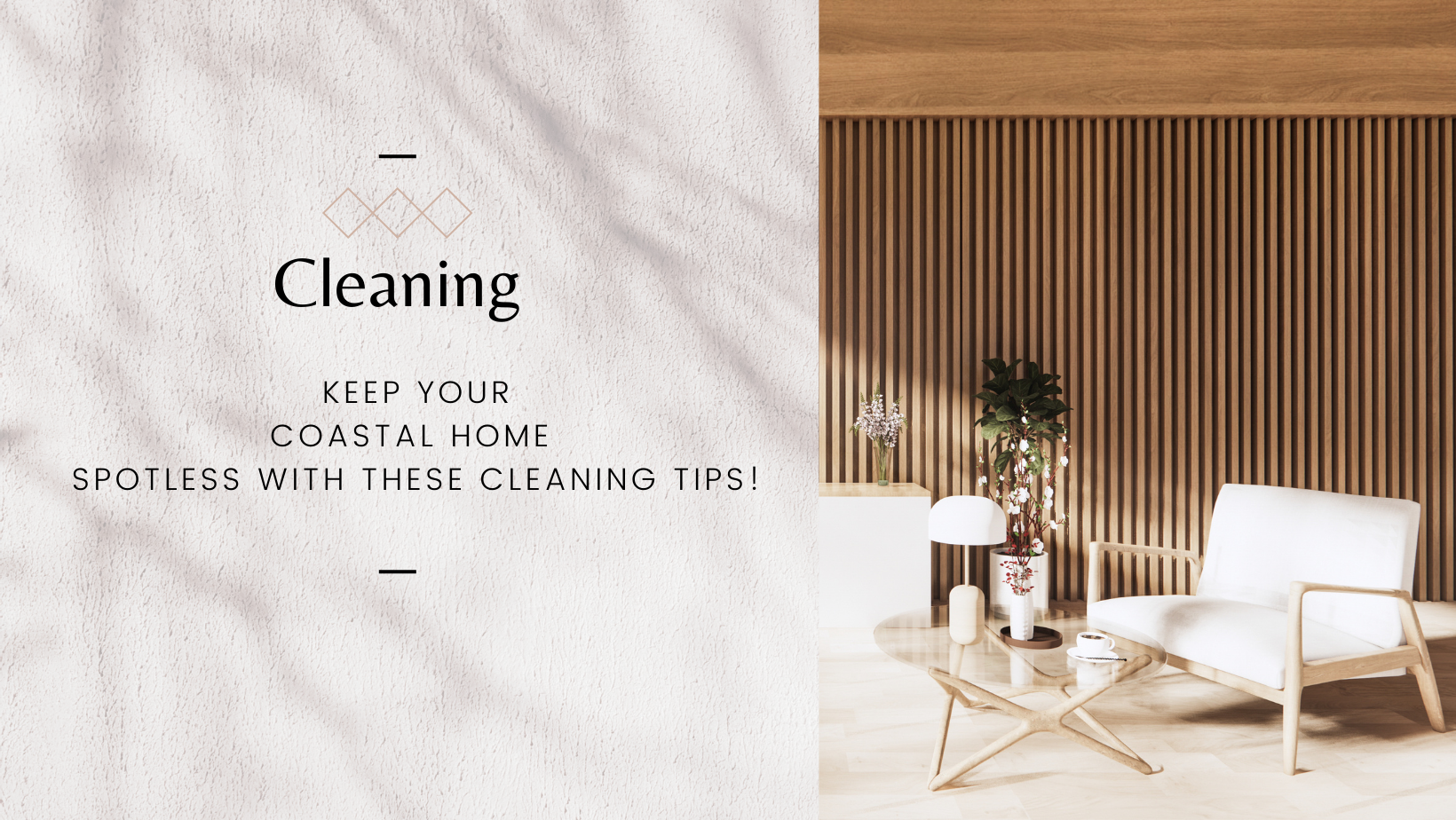 Having a beach-inspired home means keeping it looking sparkly and new all year round. Here are some tips and tricks to make sure your coastal home is in tip-top shape:
Eco-friendly cleaning solutions
When it comes to cleanliness, the beach is all about sustainability. That's why you should go for eco-friendly cleaning solutions, which are easier on the environment and safer for your family. Investing in environmentally-friendly products helps you save money in the long run—they don't contain harsh chemicals like ammonia or bleach. So go for a natural, biodegradable option that still does a great job of cleaning your squeaky surfaces!
Caring for indoor and outdoor surfaces
Interior and exterior surfaces need just as much TLC as other parts of your coastal home. You'll need to rinse outdoor surfaces like decks and patios made from wood or vinyl every few months using eco-friendly soap or cleanser. It's also essential to re-seal outdoor surfaces regularly to protect them against wear and tear caused by the weather.
On the flip side, interior surfaces such as marble countertops or hardwood floors require regular dusting and wiping with an appropriate cleaner—check out our guide on properly caring for each surface type!
Seasonal cleaning and maintenance
Like any other part of your house, coastal homes also need seasonal cleaning maintenance! This includes checking windows and shutters for any signs of damage (particularly during stormy seasons) and inspecting your roofing system often to ensure everything is up to par. Additionally, make sure that
V. Furniture Selection for Coastal House Style
When it comes to furniture, you want pieces that will fit the coastal home style—casual and comfortable pieces that enhance the look and feel of your space. Think of inviting seating options that are perfect for relaxing after a long day at the beach (or just imagining you're there).
Mixing cottage, beach, and coastal styles is critical for creating a tremendous coastal home look. There are tons of different options for furniture, but here are some basics to inspire you:
Wicker—a must-have staple in any beach home. It's easy to find wicker chairs, sofas, tables, and love seats.
Wood—add a rustic touch with wood furniture with lovely natural grain textures. Look for a statement piece like an accent chair or chest of drawers to add a pop of character.
Whitewashed pieces—soften your space with whitewashed furniture pieces to instantly bring in an airy feel. Go for a classic cottage look with whitewashed tables or chairs.
Nautical blues—bring in subtle hues of blue and white for an unmistakable nautical design style reminiscent of traditional sailing vessels. Adirondack chairs are perfect for this purpose!
With these furniture tips in mind, you'll be on your way to creating the perfect coastal house style!
VI. Coastal Appliances to Enhance Your Space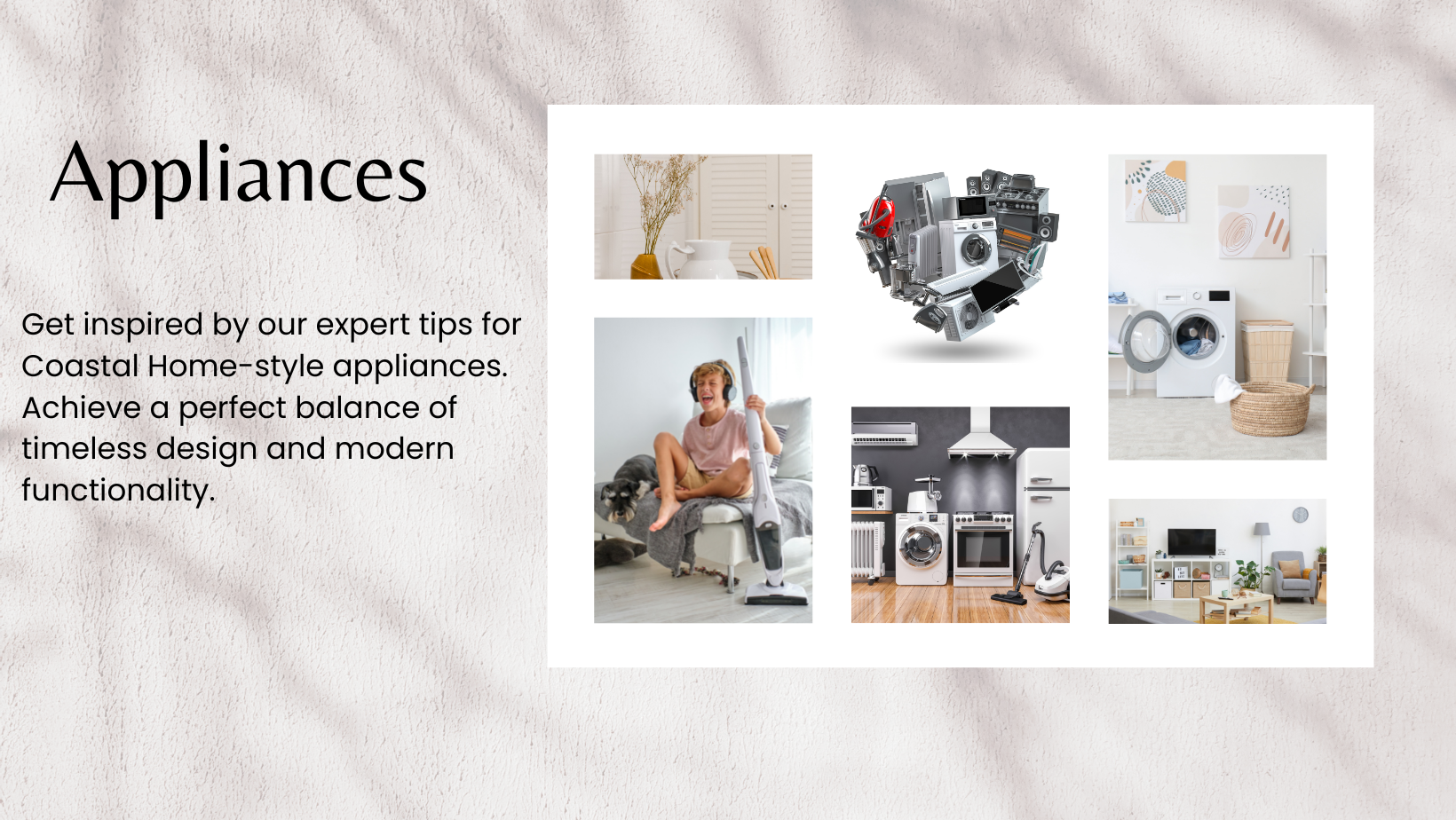 The kitchen is the cornerstone of a well-appointed coastal home, so it makes sense that you'd want to focus on outfitting it with the right appliances. But it's not just about practicality—the proper devices can help to set the tone for your space. Here are a few ideas on how you can balance function with style.
A. Energy-efficient and modern options
Energy efficiency is an essential part of going green. These days, you can find a range of stylish and efficient kitchen appliances that fit into your coastal home without sacrificing style. Consider replacing your old stovetop with a sleek induction cooktop, or get an energy-star-rated refrigerator to complete your updated look.
B. Essential kitchen appliances for seaside living
While indulging in a whole new suite of kitchen appliances may not be in the budget, there are some essentials that no coastal home should go without. For example, if you like cooking seafood dishes, an oyster shucking tool or steamer are essential pieces of equipment to help make life easier in the kitchen.
C. Blending function and style
For small kitchens where counter space can be at a premium, consider looking for appliance models specifically designed for compact spaces—this could include ovens with double capacity or features like built-in grills or pizza stones that offer great versatility for home cooking which will also look chic for your beach house style.
VII. Organizing Your Coastal House
When creating your coastal-style home, an element of organization is critical to making the most of your space. Creative storage solutions can maximize your area, whether you have a large, airy beachfront property or a small apartment near the bay.
Here are some great ideas for clever storage solutions:
Use furniture with built-in drawers and shelves to keep things off the floor
Hang things up on the wall when you need extra shelf space
Use dividers and clear containers to separate items and make them easier to grab when you need them
Put away things that you don't often use in bins or baskets stored in cabinets or closets
Install additional hooks, racks, and other organizational tools where they make sense
Choose furniture with hidden storage, such as ottomans with lids or sofas with secret compartments
Invest in a multipurpose piece, such as an ottoman with a pull-out bed for overnight guests
Incorporating these strategies into your design concepts ensures your coastal home is beautiful and organized!
VIII. Coastal Renovations and Upgrades
If you're looking to upgrade or renovate your coastal home, there are a few projects that you can do to increase its value and charm without breaking your budget.
A. Enhancing the Coastal Charm
First and foremost, one of the best ways to enhance the coastal charm of your home is through thoughtful landscaping. Create outdoor living spaces with comfortable seating around a fire pit. Add native plants and trees to create outdoor nooks that bring in wildlife and provide ample shade for outdoor activities.
B. Renovation Projects that Increase Value and Appeal
Regarding interior renovations, updated kitchen appliances or light fixtures can give your home an instant boost in appeal. You can also add natural materials like wood flooring or stone countertops for an elegant touch.
C. Budget-Friendly Improvements For a Fresh Look
Finally, it's possible to update the look of your coastal home without breaking the bank by repainting walls with warm colors reminiscent of the beach or adding accents like area rugs, curtains, pillows and throws that capture a maritime vibe while creating an inviting atmosphere.
IX. Coastal House Design Ideas
Creating a coastal home is about making it feel light, airy, and relaxed. Here are some ideas for bringing this look into your home:
Open and airy living spaces
Open-plan living areas are perfect for creating an airy, spacious atmosphere conducive to relaxation. A large open-plan kitchen adds a sense of serenity – think white walls, cabinets, and plenty of natural wood accents. Add plenty of natural elements – plants, wicker baskets, driftwood, or seashells- to give your open space a warming coastal feeling.
Serene and calming bedrooms
A coastal bedroom should be calm and tranquil – think soft blues, greens, and whites mixed with natural materials like rattan or jute to create a peaceful space. Introduce subtle twinkly lighting using hanging pendants or wall sconces to add an extra layer of tranquillity. The perfect way to unwind after a long day!
Outdoor living areas for entertaining and relaxation
Creating an outdoor space that you can use throughout the year is essential to enjoy your life by the coast fully. Introduce plenty of seating with comfy cushions; hang up fairy lights or add fire pits – anything you can do to make your outdoor space feel snug and inviting! Finally, don't forget the finishing touches – beach umbrellas, wind chimes or even hammocks to make your outdoor area truly unforgettable!
X. Cost Guide for Coastal House Style Living
Switching to a coastal house-style home can be a rewarding experience but can also add to costs. To ensure you're budgeting correctly and staying on track, here are some tips for estimating renovation and remodelling costs, budgeting furniture and decor, and saving on appliances and energy expenses.
Estimating renovation and remodeling costs
Many factors must be considered when remodeling a home to have a coastal house style. Depending on the extent of the renovation, this could include structural changes like raising ceilings, building an outdoor deck, and changing out flooring or windows. In any case, you'll want to get quotes from contractors before committing to any big projects.
Budgeting for furniture and decor
When creating your coastal house-style home, furniture and decor make all the difference. Setting aside a fair amount of your budget for this part of the transformation is essential. Doing research online ahead of time can help you understand how much it will cost to furnish each room with pieces that fit your coastal esthetic—when shopping for these items, make sure to read reviews and take advantage of any discounts that may be available!
Saving on appliances and energy expenses
Investing in modern appliances with higher energy efficiency ratings can help reduce your electricity bills in the long run; meanwhile, consider making eco-friendly upgrades, such as using LED bulbs instead of traditional bulbs for lighting fixtures throughout your home. Additionally, consider installing solar panels if possible; this will help save money on electricity bills while being good for the environment!
XI. Conclusion
Once you have all the pieces, you have embraced the coastal house lifestyle and are ready to enjoy it! Breathe in the ocean air and take in the beauty of the sunsets. Your seaside home should be a tranquil and welcoming space where you can unwind, relax and appreciate life.
Every aspect of a coastal home plays a vital role in comfort, style, and expression of taste. By introducing natural elements such as driftwood, shells, linen upholstery and weathered finishes for furniture into each room, you will create a beautiful haven that captures both the softness and strength of beach living. Whether your home is big or small, selecting pieces with colors reminiscent of those abounding beachside will evoke a signature vacation ambience with tones that match sand and sea.
So what are you waiting for? Start planning your ideal beachfront escape today!