I. Introduction
Are you looking for a home style that combines a modern look and rustic charm? Do you appreciate the beauty of industrial furnishing and unique objects? If so, the industrial house style might be just the thing for you.
Industrial house living has become increasingly popular in recent years, with its minimalist yet chic approach to interior design appealing to an ever larger audience. Combining modern furniture and distinct vintage pieces creates a balance between the familiar and the unexpected.
This home decor style embraces the aesthetic of industrial art and furniture while incorporating modern pop culture elements like metal sculptures or installations to give your interiors an urban, edgy look. The appeal of industrial house living lies in its diversity—there are countless ways to make your space unique, from bold geometric shapes to eclectic color palettes.
II. DIY Projects for Industrial House Style
The industrial house style is all about creating a raw and edgy aesthetic. To give your home a more industrial look, you can make DIY projects using salvaged materials and upcycling them. Here are some ideas you can try:
Raw and Edgy Crafts: Make your furniture from salvaged wood or metal. You can also create custom window treatments from industrial-looking textiles like burlap or canvas.
Custom Window Treatments: Make your window treatments with bamboo shades, curtains made from rough burlap cloth, or even handmade paper lanterns to hang in the window frames.
Upcycling and Repurposing Salvaged Materials: Use old boards and scrap pieces of metal or wood to make decor accents for your home. For example, you could use an old ladder for a magazine rack or an old door to create a unique headboard for your bed.
III. Industrial Decor Ideas
When you think of industrial house style, maybe a blank canvas with exposed pipes and brick walls comes to mind. But that's just a start — there are plenty of ways to achieve this aesthetic in your home using exciting and bold decorating ideas.
Here are some additional tips to help you create the perfect industrial-style home:
Bold and functional accessories
When it comes to accessories, think bold, functional, and minimal. Let your furniture be the focus with colorful or metallic accents. Look for vintage finds or unusual pieces, like a bulky bike wheel hung as a wall decoration. Choose accents that reflect the industrial style and ensure each part serves a purpose.
Neutral and minimalist color palettes
Stick to neutral hues for most home decor items, like creamy whites or greys for walls, rugs, furniture, curtains, and window treatments. This will give your home a modern look while showing off the unique architectural elements of the room.
Incorporating exposed elements and metal accents
Choose furniture pieces made from distressed wood or incorporate rustic touches like metal rope weaves on furniture or artwork. To keep the look consistent throughout your house, contain metal accents like antique bronze or industrial lighting fixtures around your entryway or kitchen.
IV. Industrial Cleaning Tips and Tricks
Cleaning industrial surfaces can be a bit more challenging than your typical surfaces. Concrete is incredibly durable and can handle a lot, but it needs special care to keep it looking its best. Metal and other industrial materials differ slightly, so you must know the right cleaning solutions.
Eco-friendly Cleaning Solutions
When it comes to eco-friendly cleaning solutions, you're in luck. Many options are available to help you clean away dirt and grime from metal and concrete surfaces. Look for natural cleaners like vinegar, baking soda, and lemon juice that don't contain harsh chemicals that can damage your feelings over time.
Caring for Concrete, Metal, and Other Industrial Materials
Caring for concrete and metal finishes is a little bit different too. Most metal finishes should be washed with mild soap and warm water. Use soft cloths or sponges to gently scrub the surface without causing any scratches or damage. Concrete should be wiped down with a damp cloth using minimal pressure—cleaning too hard could cause discoloration or damage to the surface over time.
Seasonal Cleaning Routines
Creating regular, seasonal cleaning routines for your industrial home-style space is also essential. This means wiping down metal surfaces regularly, sweeping up dirt on concrete floors and surfaces, mopping up spills when necessary—any tiny maintenance tasks that need doing before they become more significant problems down the road!
V. Furniture Selection for Industrial House Style
When choosing furniture for your industrial-style home, remember a few things. Here are some tips for selecting pieces that will fit your esthetic:
A. Choosing reclaimed and modern pieces
You'll want to choose a mix of modern and reclaimed pieces to capture a genuinely industrial feel. Reclaimed furniture often has an aged and worn look that matches the sleek, modern lines in industrial-style decor. You can source these from vintage shops or even Craigslist.
B. Mixing materials and textures
Along with mixing vintage and modern pieces, combine different materials and textures in your furnishings. For example, consider pairing a distressed leather couch with a metal table topped with concrete or marble. This combination will give your space a more textured and visual interest.
C. Comfortable seating options for urban living
Finally, don't sacrifice comfort when selecting furniture! Industrial-style homes generally favor simple silhouettes, but that doesn't mean you have to skip on comforts like cushions and padding. Look for seating options with thicker cushions or soft upholstery like velvet textures — it'll make all the difference in making your space feel more inviting and livable!
VI. Industrial Appliances to Enhance Your Space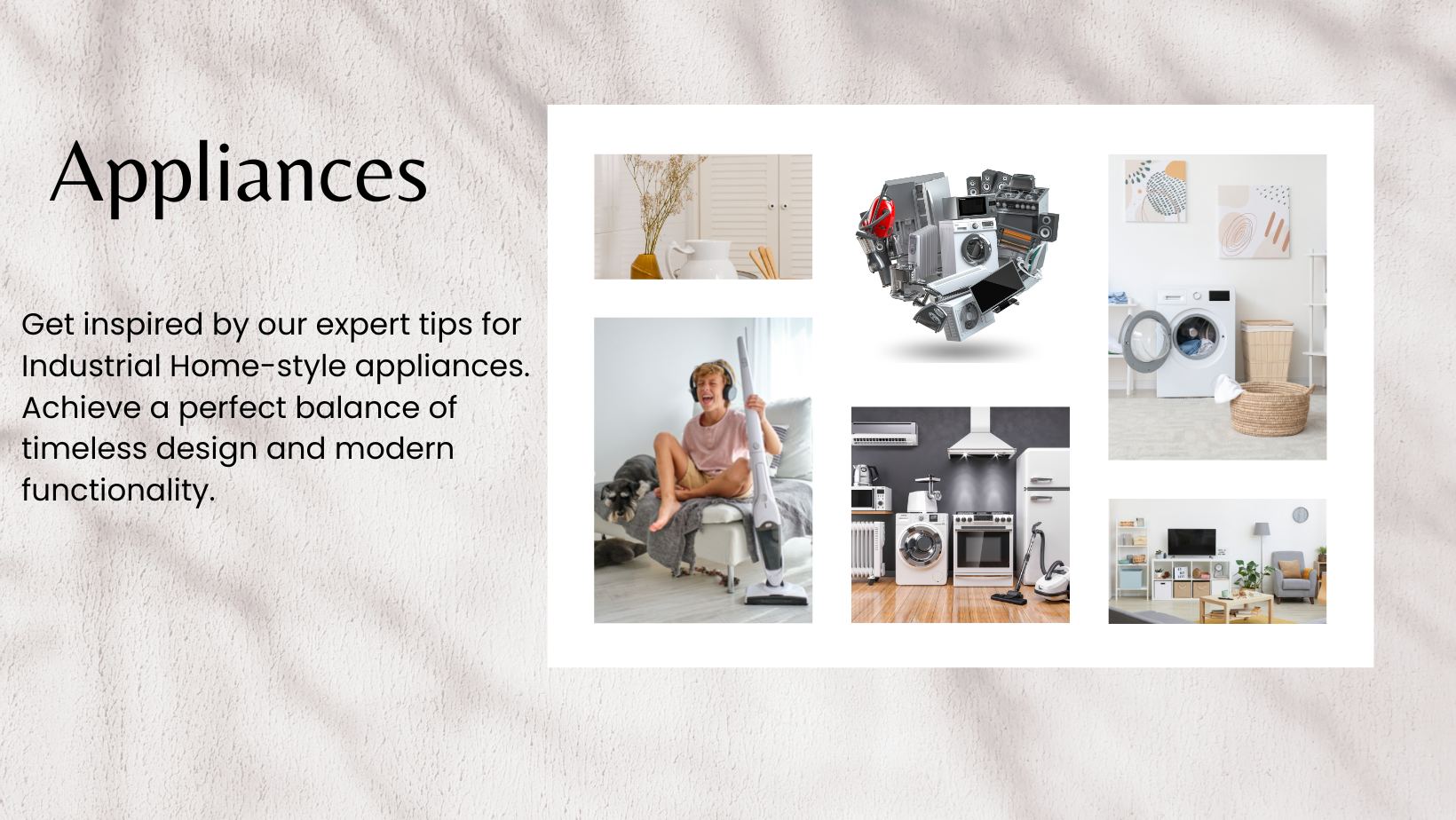 You need certain essential appliances to create the perfect atmosphere for the industrial home style. From efficient and high-performance options to easy-to-use pieces, it will help make your space feel like an industrial retreat.
A. Energy-efficient and high-performance options
Your first step is to choose energy-efficient appliances such as refrigerators, dishwashers, ovens, washing machines, and dryers that match the industrial aesthetic of your home. Look for stainless steel options with sleek lines and a modern design. When paired with an industrial theme, modern appliances can bring a unique charm to any space while providing the highest energy efficiency and durability performance.
B. Essential kitchen appliances for industrial living
When filling your kitchen with all the necessary appliances, think of timeless designs that blend easily. Traditional copper and brass cookware, cast iron skillets, ample marble countertops, and old-fashioned storage jars and utensils will give your kitchen a vintage edge while reflecting its overall industrial style.
C. Balancing practicality and design
Industrial style is all about balancing practicality with design — from open shelving to exposed lightbulbs or pipes — so don't be afraid to get creative when choosing furniture and fixtures for your home. Find a balance between minimalism and grandeur that reflects both comfort and functionality — think warm woods combined with cool steel accents — that will create an atmosphere of sophistication without sacrificing practicality or design appeal.
VII. Organizing Your Industrial House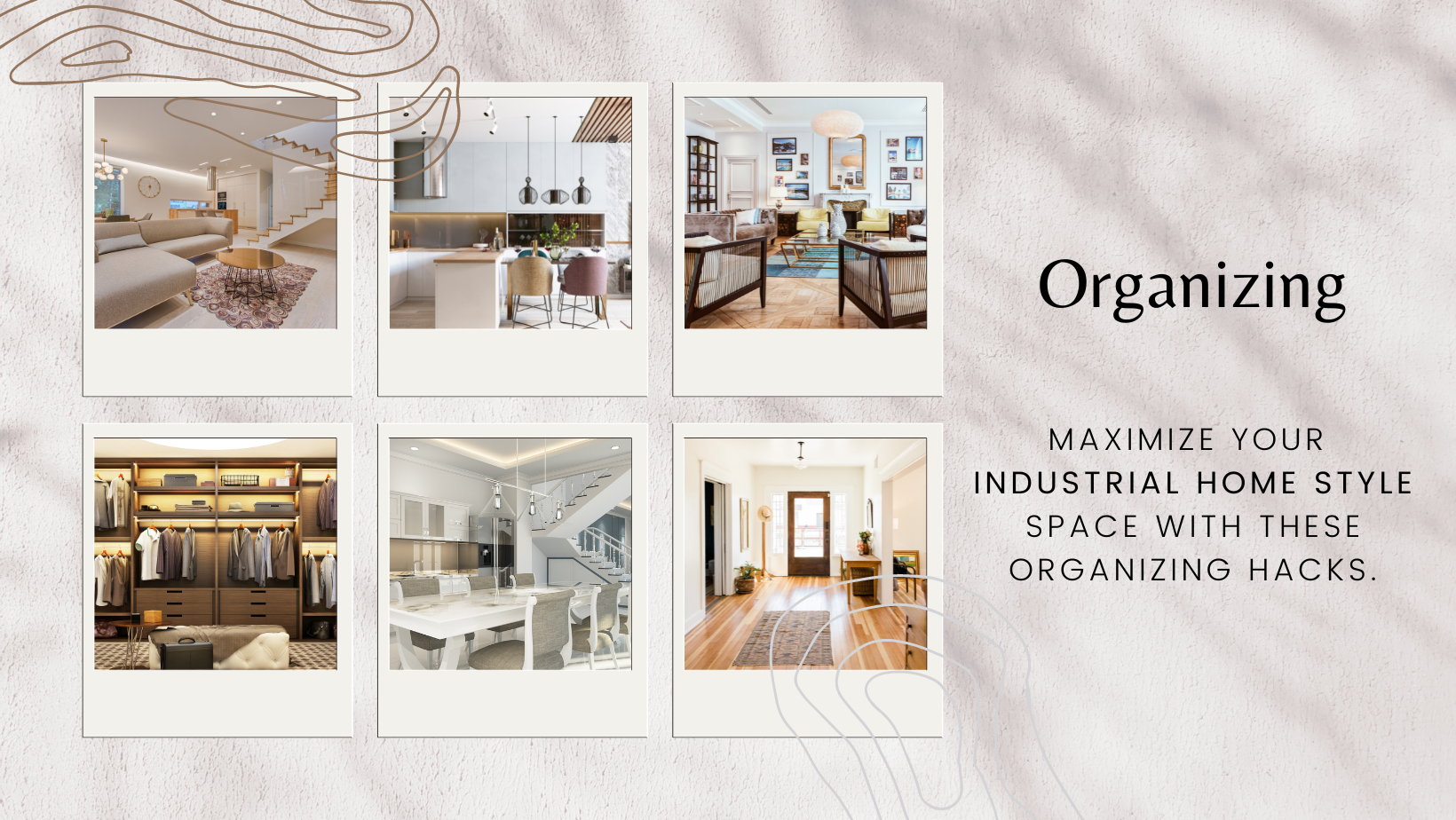 Organizing your industrial house is super critical to maintaining its unique style. Here are some tips on how to do just that!
Creative Storage Solutions
Industrial spaces tend to be open and airy, so finding places to store things can be difficult. Find creative storage solutions like shelves or cabinets with open fronts, backs, or armoires to maximize your area. Add hooks and pegboards on your walls or floating shelves that won't block out any natural light.
Maximize Open Living Areas and Loft Spaces
Open living areas with lofted ceilings and little dividers can create an incredible look if you know how to take advantage of it all. Consider adding sideboards and benches for seating options and hanging wall art for texture and décor. Utilizing the space with furniture pieces with hidden storage options will allow you to declutter your home without sacrificing style.
Keep It Clutter-Free
The industrial look is all about being minimalistic – so don't clutter up the room! Try dedicating certain areas for specific items, like books or tools in a workshop area or kitchen items in a pantry. It would be best to think vertically rather than horizontally – adding tall shelving units will give you more storage space and add to your home's industrial vibe.
VIII. Industrial Renovations and Upgrades
Industrial home style is all about giving a space a contemporary, modern look that is still durable and functional. But what if you want to make improvements to your existing living space?
There are some easy renovations that you can make that will give your home an industrial feel while also increasing its value and functionality. Here are three great renovation projects for achieving an industrial look in your home:
A. Enhance the industrial character
Start by looking at your space's existing design and see how to enhance the industrial character. For example, consider using bold colors, raw materials, and exposed pipes or beams to create accents.
B. Renovations that add value and functionality
Look for ways to improve the convenience factor of your home. Consider adding new lighting fixtures or replacing outdated ones with modern alternatives. You can add built-in shelving or storage solutions for better organization and improved esthetics.
C. Budget-friendly improvements for a modern look
Lastly, consider budget-friendly improvements to give your home a new look on a small budget. Painting one wall in an accent color can have a more significant impact than you think – it's a great way to update the overall look of your space without spending much money. You might consider replacing old hardware with modern options like door handles and cabinet pulls.
IX. Industrial House Design Ideas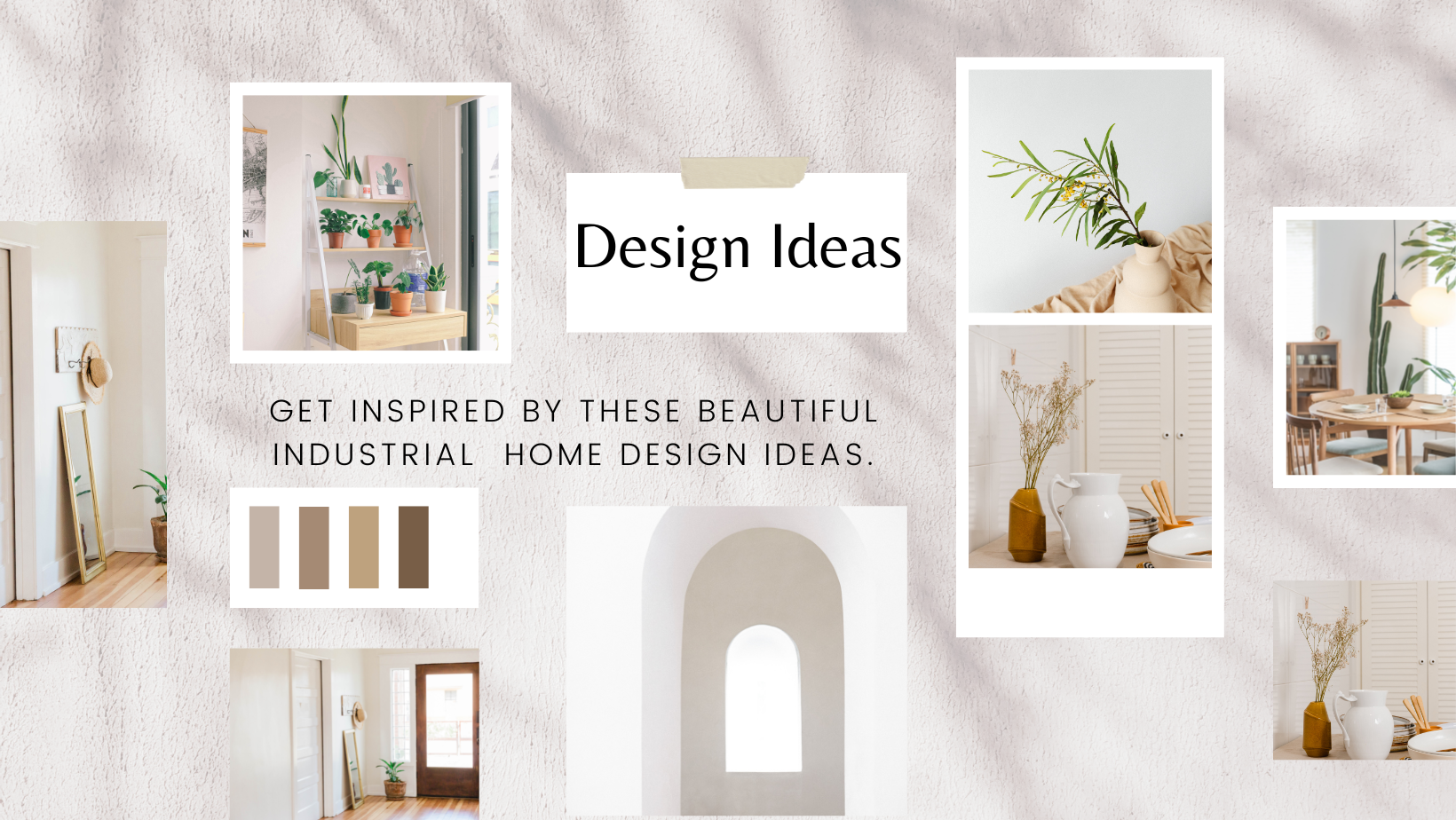 When it comes to decorating an industrial-style home, the possibilities are truly endless. Many people think industrial houses are rather stark and clinical, but you can make these spaces feel personal and cozy. Here are some great design ideas to get you started:
Spacious and open-concept living spaces
The beauty of industrial-style homes is that they make excellent use of space. Opt for multiple overlapping rugs in neutral or earthy tones to maximize the midcentury modern aesthetic and keep with the theme. You can also hang stationary pieces like photos or wall art in neat rows or create a dramatic atmosphere with furniture in dark wood shades.
Sleek and minimalist bedrooms
Industrial bedrooms don't have to feel cold and sterile. If you keep them minimalist and sleek, you can add numerous decorative touches for a warm and inviting atmosphere. Stick with minimalistic bedframes in metal or wood for a classic look, then use pops of color with bedding pieces like throw pillows and quilts. Hang sheer curtains over windows for added lightness, but consider leaving exposed brick walls uncovered for an authentic industrial vibe.
Outdoor living areas for relaxation & entertainment
Your outdoor space is perfect for taking full advantage of your industrial house style. Invest in sturdy outdoor furniture pieces—think metal tables and comfy chairs covered in lush fabrics—for a sophisticated, inviting, yet classic look. Look for bold colors when accessorizing your tablescape; think of vases filled with brightly colored flowers or patterned glassware for extra flair.
X. Cost Guide for Industrial House-Style Living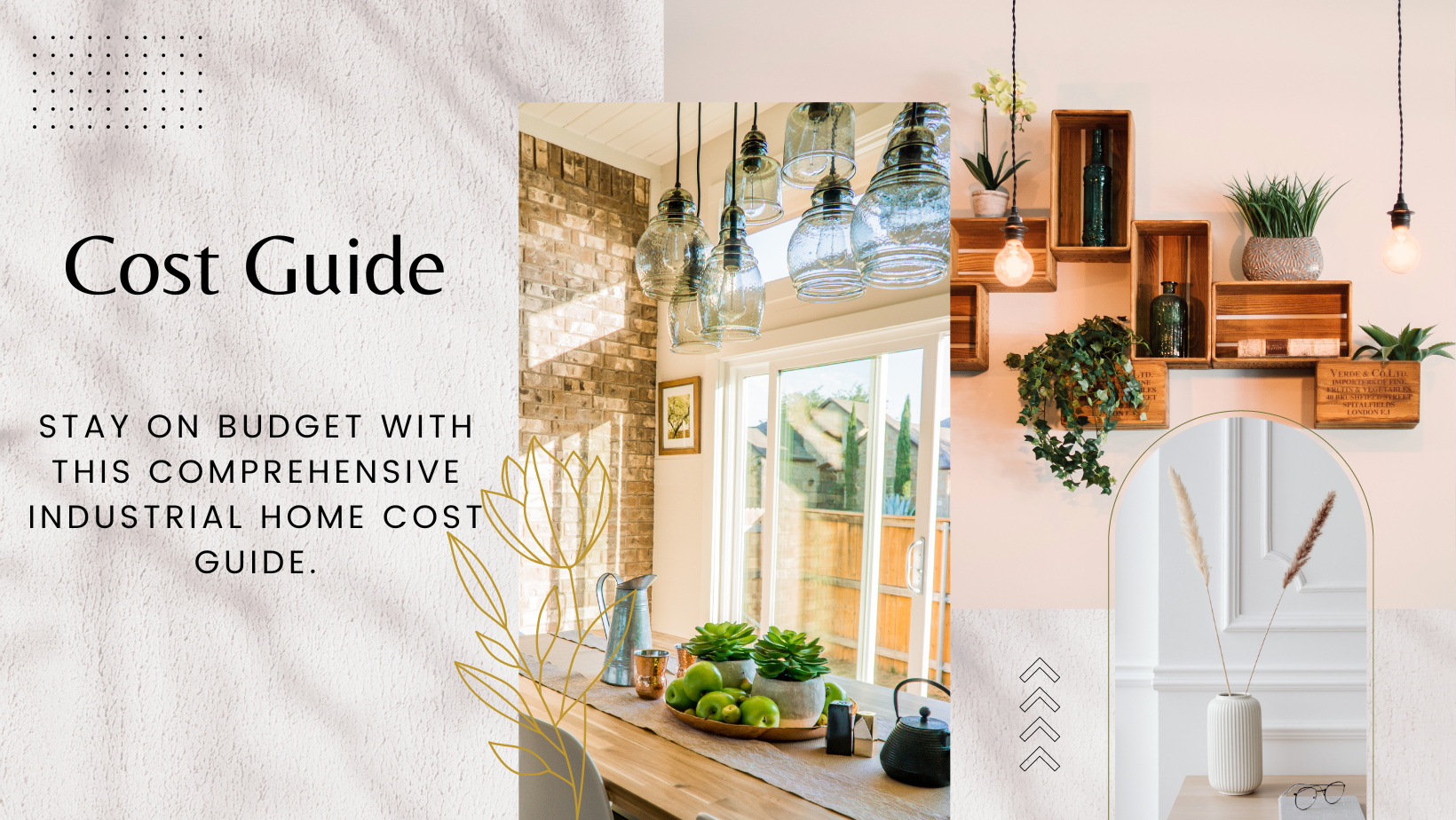 One of the biggest questions regarding industrial home style is—how much does it cost?
We can break that down into three key questions:
A. Estimating renovation and remodeling costs
Renovation costs can vary depending on the type of project you're tackling. Consider installing barn doors, adding metal beams, or getting exposed brickwork. You might do some of the work yourself, saving you money. Getting a professional contractor to help you with complex projects, including electrical and plumbing, is always best.
B. Budgeting for furniture and decor
You'll want pieces that serve form and function when creating an industrial home. This could mean shopping at secondhand stores or antique shops for affordable, well-preserved pieces like old shutters, rusted cans, wooden chairs, vintage storage trunks—the list goes on!
C. Saving on appliances and energy expenses
Go for energy-efficient appliances when you're renovating your industrial-style home. Look for models that boast energy star certification or offer additional features such as intelligent technology or an eco-friendly setting to help you save energy and lower monthly bills in the long run!
XI. Conclusion
Now that you've read about Industrial Home Style, you know why it's a popular trend and key to creating a cutting-edge and functional home. But before you design your space, remember that the industrial house lifestyle is about embracing the rawness of sensitive materials and elements. The industrial house style uses creative solutions to make a space unique, from steel beams to concrete walls.
Your home should be your haven—when you design your space in an industrial style, ensure it still has those cozy touches that make it homey and inviting. Finally, have fun with it—making a living space with industrial style isn't rocket science—it's all about having fun within the parameters of what this style offers. Good luck!