I. Introduction
Does the idea of country house style enchant you? Whether you live in the countryside or are simply looking to bring a bit of rustic charm to your urban home, embrace a cosy and comforting atmosphere by embracing the country house aesthetic.
The appeal of living in a country house lies in its sense of peaceful serenity, surrounded by nature, far away from the hustle and bustle of urban life. When styling your home, there's much more to countryside chic than adding lots of florals and vintage-inspired pieces. The beauty lies within finding an equilibrium between elegance and good old-fashioned fun – think cosy throws, statement lighting, tall walls and lots of texture!
Follow these tips, inspirations, and ideas to recreate this warm, inviting look. You'll soon be cuddled beside an open fire with your favourite mug — feeling snug like an old country bug!
II. DIY Projects for Country House Style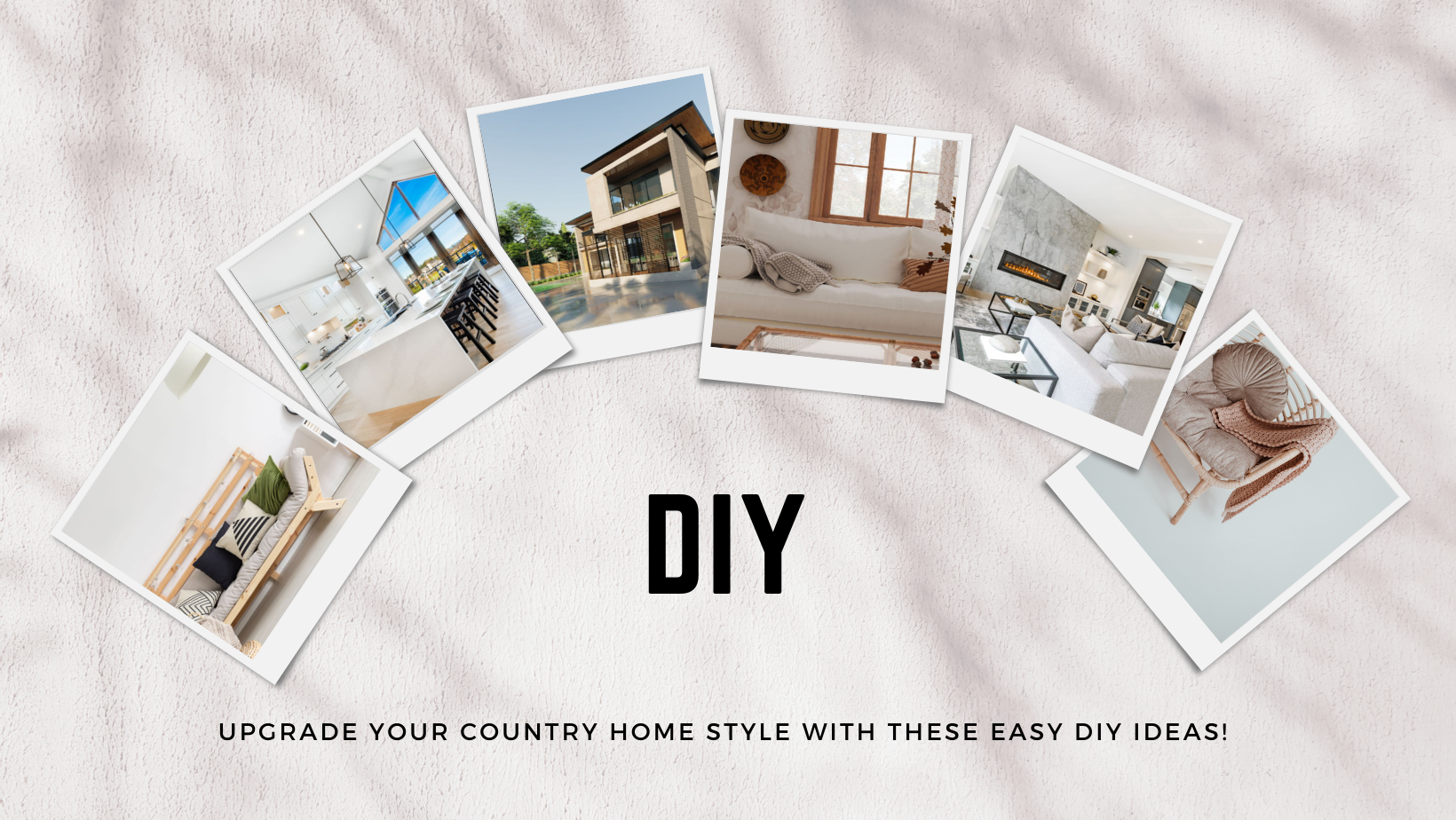 If you want to complete your country house style, one of the best ways is by creating DIY projects. This could range from rustic crafts inspired by farmhouse living to custom window treatments and draperies. You can even up-cycle or repurpose vintage items to make them feel brand new again.
When it comes to creating a cosy country home esthetic, it's all about getting creative and having fun with your ideas. For example, you can take an old wooden ladder and make it into a coat rack or use an old pair of jeans to make a patchwork quilt. These types of projects will add a unique personal touch to any home and save you money. Plus, so many materials can be found for free or for very little cost at secondhand stores or flea markets.
III. Country Decor Ideas
Now you know the basic building blocks of the country house style, it's time to uncover some of the best decor ideas that will help you make your home much more inviting and unique.
Warm and Inviting Accessories
The accessories you include in your country house will greatly increase the warmth and cosiness. Look for rustic and natural-looking items, and bring character to each room. Think barnwood frames for artwork, tin buckets as planters, vintage boards used as shelves, or even antique pieces like an old door or furniture. Accessories like these are perfect for giving your home a country feel with minimal effort.
Earthy and Natural Color Palettes
Color is another essential element when establishing a cosy country living environment in your home. Natural tones like soft grey or muted greens and blues will provide an airy atmosphere that will make your home feel inviting. If you love bold statements, consider accent colors such as burnt oranges and deep yellows that offer a modern take on classic country style.
Incorporating Rural & Agricultural Elements
Finally, no country house style is complete without rural and agricultural elements—like animal hides used as rugs or raw wood flooring for a rustic look—that give your home a unique atmosphere. Again, look for items with a natural feel; things like distressed furniture pieces or antique slotted baskets will give each room character and bring life into the entire space.
IV. Country Cleaning Tips and Tricks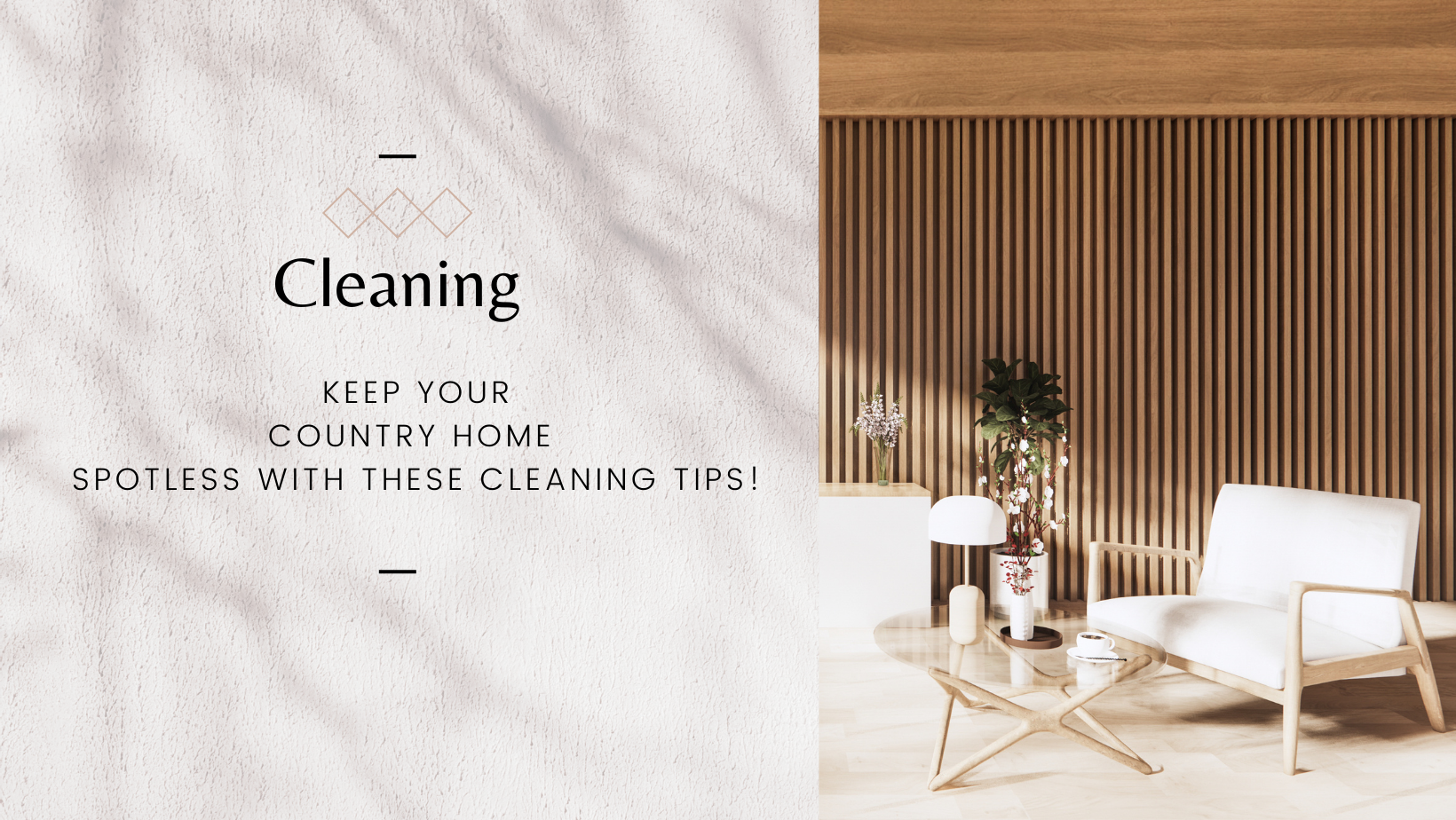 Cleaning a country home can be challenging, especially when you want to keep it spotless and beautiful. A few key tips can ease the burden of cleaning and maintaining the cleanliness of your country home.
Eco-Friendly Solutions
Using eco-friendly cleaning products is a great way to keep your home clean while being mindful of the environment. Eco-friendly cleaning solutions are made with natural ingredients that do not contain harsh chemicals. These products can be just as effective as traditional cleaners but without all the potential toxins.
Caring for Different Materials and Surfaces
One of the most important parts of keeping your home clean is correctly handling surfaces like wood, stone and tile. For carpets, regularly use a vacuum cleaner or carpet steamer to get rid of dirt, dust and allergens that settle over time. For wood surfaces, take extra care when using water, as too much exposure can cause it to warp or discolor over time. If you consider stone or tile surfaces, use a pH-balanced cleaner specifically designed for hard surfaces, which will help minimize wear and tear from everyday use.
Seasonal Cleaning Routines
It is also important to stay on top of seasonal cleaning routines, such as deep cleaning out furniture and appliances in springtime or preventing exterior damage during winter months. Regular check-ins throughout the year are also important for ensuring that any small issues like window drafts or roof problems don't become larger issues down the line.
By following these amazing tips, you can ensure that your country home remains in pristine condition throughout the year!
V. Furniture Selection for Country House Style
Furniture selection is key when it comes to achieving country style. To begin, choose pieces that are built to last. Sturdy and strong furniture is essential for a home that will stand the test of time. You'll want timeless and traditional pieces, such as armchairs or chaises with classic lines and features.
From there, you can blend the rustic and modern to create a unique country home look. While classic styles can give a room an air of respectability, modern furniture can keep it from looking dated—choose pieces like Windsor chairs or leather sofas that combine practicality with style.
Finally, for larger gatherings, comfortable seating options are a must. Whether you opt for loveseats or ottomans, these pieces will give everyone in the room plenty of space to lounge back and relax—just like in days gone by!
VI. Country Appliances to Enhance Your Space
When it comes to completing a country-style home, one of the most essential elements is the appliances. Not only can these appliances bring some character and charm to your home, but they can also add many practical benefits.
Energy-efficient and farmhouse-inspired options
The country style is about being practical and efficient, so it's no surprise that energy-efficient appliances are popular in these spaces. Energy star-rated models can save money on monthly bills, while farmhouse-inspired options such as stainless steel fridges, dishwashers and oven ranges will add a more rustic touch.
Essential kitchen appliances for country living
Some of our favourite kitchen appliances for the country style include vintage-inspired range hobs with decorative tiles around them, vintage range hoods with exposed chimneys, French door fridges with panelling detail, farmhouse sinks with drop-in installation and even period freestanding stoves in vibrant colors like red or blue.
Balancing function and style
One thing to remember when choosing appliances is that function should always come before form. While opting for energy-efficient models might be practical in reducing energy costs, carefully choosing pieces that match your overall design aesthetic will ensure that you have both form and function.
VII. Organizing Your Country House
The organisation is key if you're trying to create a country house style. And luckily for you, there are plenty of clever storage solutions and tips for maintaining an organized and clutter-free home.
Clever Storage Solutions
Country home style is about making the most of your existing space. Use hanging wall baskets and other containers to store bathroom necessities, like towels, soap, and toilet paper. You can also use built-in shelves to help organize living room clutter or add stylish baskets to store blankets or toys.
Maximizing Spacious Living Areas
Storage furniture is essential when it comes to keeping organized in a country home-style setting. Opt for multi-functional furniture pieces that do double duty as storage and seating options. Think ottomans with hidden compartments or benches with lift-top lids, which provide plenty of practicality and style.
Tips For Maintaining an Organized Home
To ensure your country house stays tidy, practice the following rules: keep surfaces clean and free of clutter; always put items back in their place; be mindful of what you allow into your home; invest in items that allow you to maximize the space you have; establish specific homes for extra items; and make sure all family members know the rules. With these tips in mind, your house will look neat and tidy no matter how many people come in or out!
VIII. Country Renovations and Upgrades
You can take your country home to the next level with smart renovation projects adding value and charm. From replacing ageing windows and doors to updating the roof, there are many areas of your home that you can upgrade for a countryside-inspired design.
Enhancing Country Appeal
Consider replacing standard features with more distinctive, rustic elements when enhancing a country house's appeal. For example, switching out modern light fixtures for antiquated styles or installing a barn door for closet doors give your space even more of an old-world feel. You can also bring nature into the home by adding a wrap-around porch or putting planter boxes along exterior walls.
Budget-Friendly Improvements
Don't have lots of money to invest in upgrades? No problem! Plenty of affordable accents and additions will make your home just as cosy and inviting as if you'd spent thousands on renovations. Choosing repurposed furniture pieces or vintage accessories is budget-friendly and adds loads of charm! Installing window sills, adding wainscoting, or painting accent walls are other easy ways to give your home an updated look without breaking the bank.
IX. Country House Design Ideas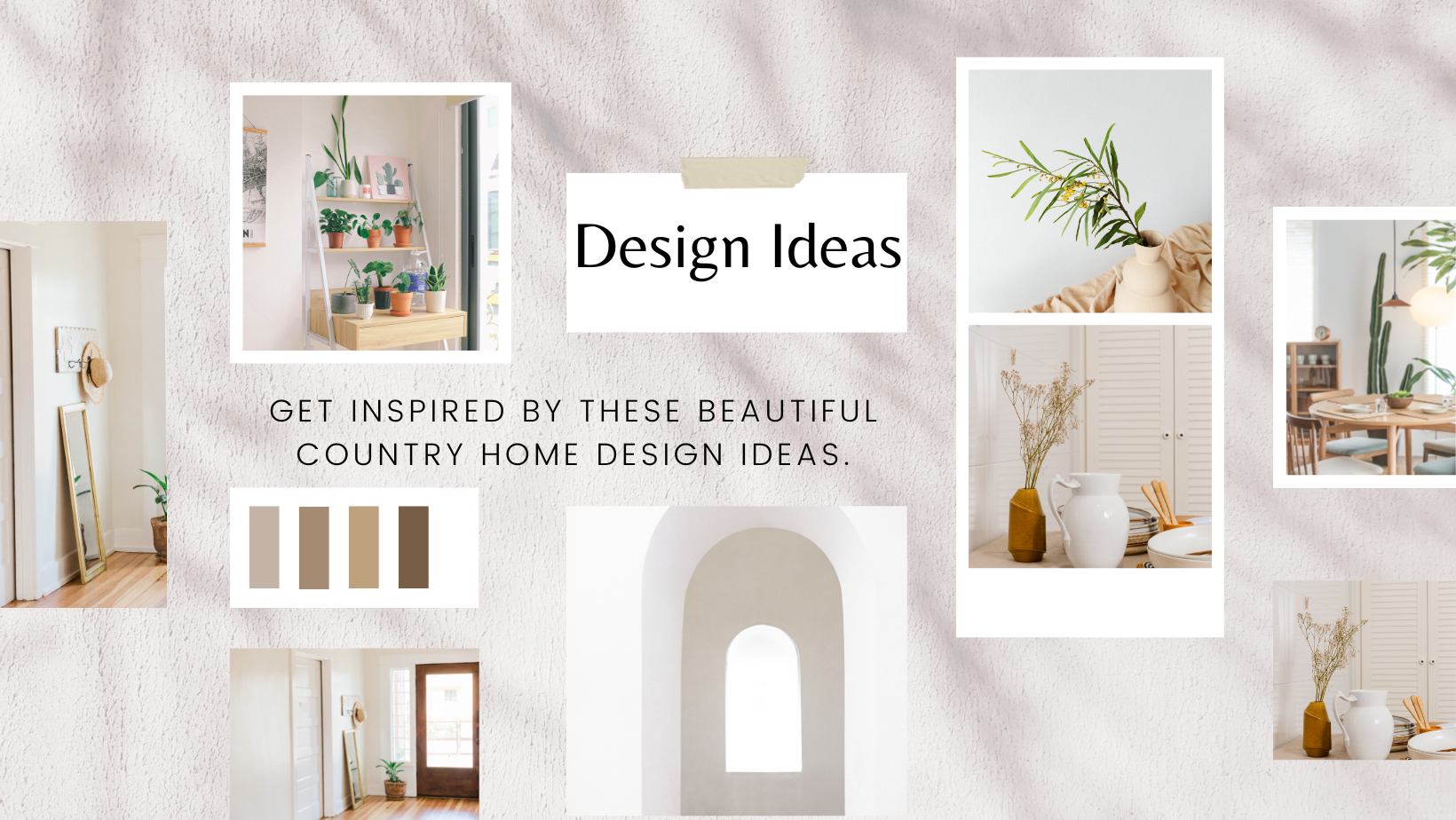 As you plan your country house style, consider using these design ideas to create a comfortable and inviting home.
Open and Inviting Living Spaces
Start by creating an open and inviting living space. To do this, focus on choosing furniture with upholstered pieces in soft colours with accents of texture and natural elements like wood, clay, or rattan. These can help bring a sense of cosiness to the area. Have plenty of seating around the room so that all guests can be comfortable and draw attention to the fireplace with oversized mirrors or photos. Create a subtle ambience in the living room with floral scents and throw pillows that create a homey atmosphere.
Restful and Cozy Bedrooms
The country house style is about feeling relaxed, so you want your bedrooms to be restful and cosy. Use white painted floorboards as a base for adding furniture pieces that ensure comfort. Pops of blue or green create an airy feel, while wooden furniture pieces give it a more rustic touch. You can also add area rugs for warmth or patterned wallpaper for colour. Finally, adding distressed detailing on mirrors or vintage paintings on the wall gives country homes their characteristic charm.
Indoor-Outdoor Living Areas for Leisure and Entertainment
Create a comfortable connection between your indoor living spaces to outdoor areas for leisure and entertainment by installing sliding doors or French doors that open directly onto gardens or patios. This will help you enjoy the beautiful outdoor scenery while maintaining indoor comfort and luxury! To add some style to these outdoor areas, consider custom lighting fixtures paired with outdoor furniture pieces in earthy colours like olive green, terracotta browns, or
X. Cost Guide for Country House Style Living
Finally, let's talk about costs. Maintaining a country home style is not cheap, as you may have guessed. From remodeling and renovations to furniture and appliances, you must consider various cost factors in your budgeting.
A. Estimating Renovation and Remodeling Costs
When planning your renovations or remodels, start by estimating the total cost of labour and materials needed for the job. Don't forget to add overhead costs like taxes, permits, and insurance policies on the construction crew.
B. Budgeting for Furniture and Decor
When furnishing your new country home, don't go overboard with decor—keep it simple with natural materials like wood and stone for a rustic look that won't break the bank. Look for pieces that evoke a sense of warmth and comfort that will weather years of use without costing an arm and a leg.
C. Saving on Appliances and Energy Expenses
You can strive to save energy while keeping your country house cool at the same time! Choose energy-efficient appliances when you're ready to replace old ones — they cost more upfront but will save you money in the long run through reduced energy bills. Plus, they're better for the environment!
XI. Conclusion
To embrace the country house style, you must bring it out in every detail—from the furniture to the light fixtures. Create a warm, inviting space through statement pieces, earthy tones, and harmonious decorations. Keep it simple, cosy and homely so that you can enjoy your home and make it a place that encourages comfort and relaxation.
Don't be afraid to mix elements of different styles if it helps create an environment that fits your needs. Ultimately, create a space expressing who you are and giving your home a unique touch only you can create.