I. Introduction
If you're considering buying a Craftsman house or appreciate the style, you'll have plenty of company. Craftsman house living encapsulates the beauty of modern-day living, with all the comforts of a home away from home. By embracing the distinct elements of the Craftsman house style—its welcoming porches, beautiful woodwork, and solid architectural lines—, you'll have an esthetically pleasing home that will last for generations to come.
The Craftsman-style esthetic is about more than looks, though: it's about taking pride in craftsmanship and quality. Every detail is an homage to traditional construction techniques, from the exposed roof rafters to the built-in bookcases. As such, you can expect your new Craftsman house to be durable and timelessly fashionable at the same time.
II. DIY Projects for Craftsman House Style
If you're looking for a straightforward and affordable way to start crafting your dream Craftsman home, you should consider taking on DIY projects! From handmade and artisan-inspired crafts to custom window treatments and woodwork, there is plenty of fun yet easy ways to update your home with a Craftsman-style esthetic.
For example, you could:
Try handcrafting framed artwork or wall hangings using wood and fabric that evoke a rustic charm.
Create unique pieces of furniture by upcycling vintage items that can be refinished or repurposed creatively.
Try making your custom window treatments to add an intricate and elegant look to your windows.
Build a set of shelves for storing books or displaying decorative items using natural woods like cedar, alder, oak, and more.
Have fun getting creative as you bring the timeless beauty of the Craftsman style into your home!
III. Craftsman Decor Ideas
To capture the Craftsman style, you must consider interior design. Think of warm and natural color palettes incorporating soft blues, greens, browns, and yellows for a cozy feel. Add texture with rich and inviting accessories like tapestries, rugs, and wood furniture to bring in even more warmth.
Don't forget to include elements from this era to truly capture the essence of the Arts and Crafts movement. This could have anything from handcrafted pottery or an heirloom bowl to stained-glass lamps or one-of-a-kind pieces found at a flea market. These small touches can help imbue your home with an extra cozy ambiance.
IV. Craftsman Cleaning Tips and Tricks
If you're looking for tips and tricks on keeping your Craftsman home clean, you've come to the right place!
Eco-Friendly Cleaning Solutions
We recommend eco-friendly cleaning solutions, which are better for your family and the environment. They don't contain harsh chemicals that can harm you, your family, or the environment. Earth-friendly cleaners are generally made from natural ingredients and are as effective as traditional cleaning products when maintaining a clean home.
Caring for Wood and Other Natural Materials
Craftsman houses often feature natural materials like wood and stone, which require special cleaning care. A microfiber cloth is usually recommended for cleaning wood—as opposed to paper towels which can scratch delicate surfaces. Additionally, wood should be cleaned with mild soaps and water or other specially formulated wood cleaners that don't leave behind a residue. Using mild household soaps is generally safe for stone floors, but testing a small area first ensures it doesn't leave any streaks or marks on the flooring material.
Seasonal Cleaning and Maintenance Routines
It would be best to create seasonal cleaning routines to ensure your Craftsman home remains in top condition all year round. During each season, you should give special attention to certain areas of your home—for example, during the summer months, you should clean air conditioning filters, while in fall, you may need to get your lawn ready for winter weather by raking leaves. By creating seasonal maintenance schedules and sticking to them, you'll be able to maintain a clean Craftsman house year-round!
V. Furniture Selection for Craftsman House Style
When picking furniture for your Craftsman house style, consider a few things. First, you'll want to ensure you're choosing solid wood and high-quality pieces—this is key since furniture can be an investment you'll keep for many years.
Next, mixing traditional and modern styles is a great way to update the look of your Craftsman home while still preserving the classic design elements. For example, adding a mid-century modern couch can inject a bit of contemporary style while keeping in line with the overall aesthetic.
Finally, choosing comfortable seating options is essential for relaxation—so think sofa beds or oversized chairs that can double as daybeds in guest rooms or living areas and sectional seating for family rooms and den areas.
VI. Craftsman Appliances to Enhance Your Space
When it comes to appliances in a Craftsman home, the important thing is to make sure you pick something that fits the vintage style and feels of the house. Modern machines can look out of place, so try to go for something functional and period-appropriate.
If you're looking for energy-efficient options that are also designed for a Craftsman-style kitchen, consider making use of these appliance choices:
Refrigerators – Go for an appliance with a basic design, like a single door and a flat top.
Stoves – A range or Aga stove is excellent since they have a period design and can be bought in different sizes because they have multiple compartments.
Dishwashers – If you'd rather not handwash plates, choose an energy-efficient dishwasher with a classic design like white enamel or stainless steel.
Washers/Dryers – To stay true to the Craftsman style, opt for a side-by-side washer-dryer combo with an antique copper finish.
Choosing period-appropriate appliances allows you to bring life back into your Craftsman home without sacrificing efficiency or updates.
VII. Organizing Your Craftsman House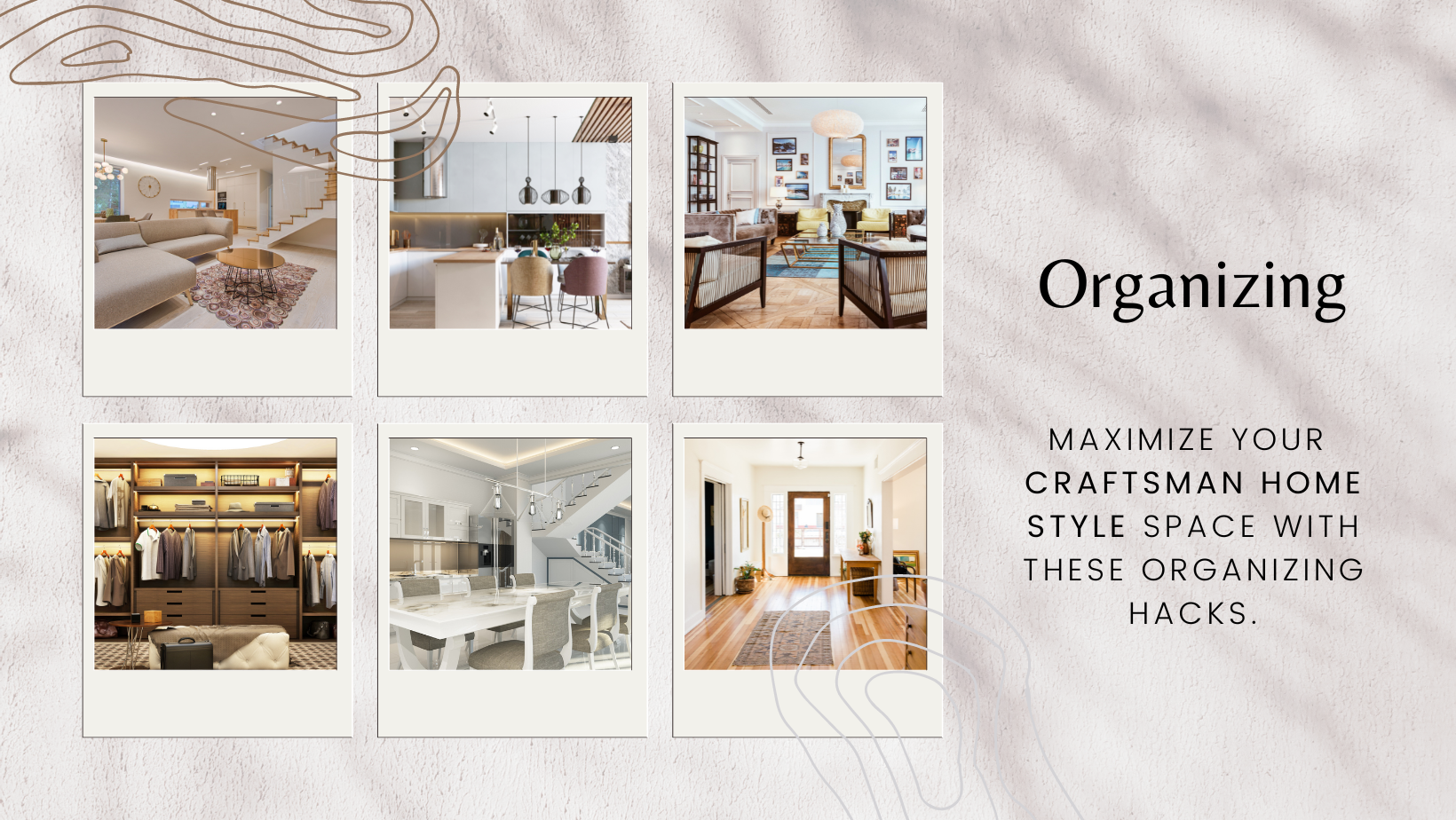 Organizing and maintaining an organized living space can be challenging, especially in a Craftsman house. But with careful planning and proper storage solutions, you can make your home feel lived-in and organized. Here are a few tips to help you get started:
Smart Storage Solutions
Think creatively when it comes to storage solutions to maximize the available space. Look for pieces that offer both form and function—like ottomans with hidden esthetic compartments or multi-functional furniture like coffee tables with extra storage underneath.
Maximizing Open Living Areas
Use wall space by adding shelves around the room for books, knickknacks, and vertical wall racks for tools. You can also use furniture with storage capabilities, like beds with drawers underneath and cabinets that allow storing items you do not often use.
Tips for Maintaining an Organized Home
Staying on top of cleaning up after yourself is essential to keep your home looking clutter-free. Invest in some storage baskets or bins so toys, games, and craft materials can be easily tucked away when unused. Also, create a designated spot for mail, keys, wallets, and other items so they do not get scattered around the house. Finally, fix certain places where things belong, so everyone knows where they must be put away after use.
VIII. Craftsman Renovations and Upgrades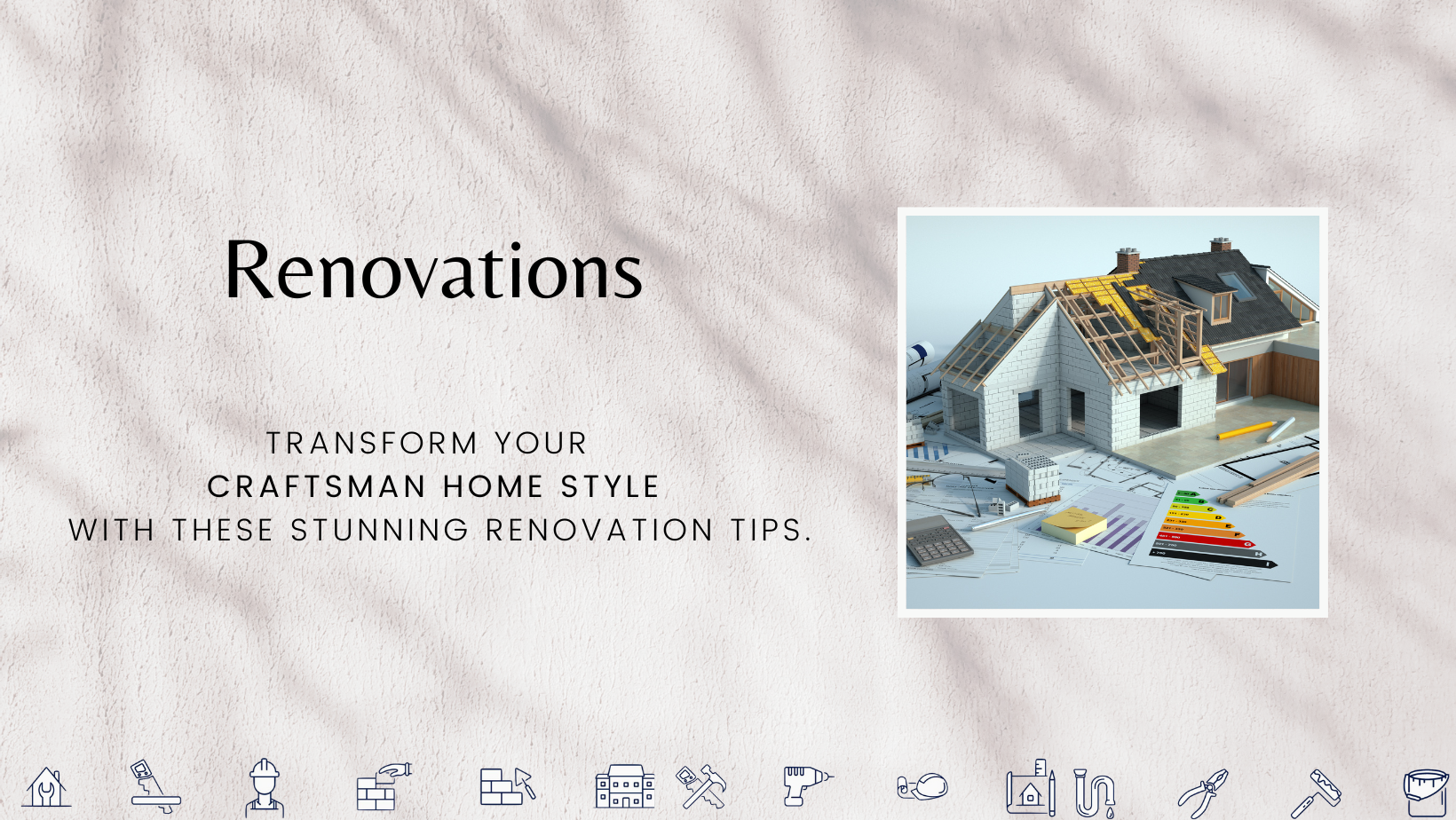 Has your Craftsman home seen better days? You may not know that you can do many renovations and upgrades to your home that will help enhance its Craftsman charm while adding to its overall value.
Enhance the Craftsman Charm
Many of the most iconic characteristics of a Craftsman house are found outside the home. Consider these renovation projects to bring out the Craftsman style:
Replace or update exterior siding. Choose materials that reflect traditional Craftsman design, such as wood clapboard, shingle siding, stucco, or all three!
Refresh your front porch railing with a new look. Columns can be replaced or updated with creative designs, from classic square columns to more modern cylindrical columns. You can also add a decorative new handrail for a warm accent.
Install new windows and doors with classic Craftsman-style details like double-hung panes and leaded glass for a timeless look.
Add outdoor seating areas with built-in planters and benches in natural stone or brick for an inviting touch to your home's exterior space.
Projects that Add Value and Appeal
When it comes to interior renovations, here are some projects that will add both value and appeal to your Craftsman home:
Install hardwood flooring with intentional character marks like knots and cracks for a rustic charm that is true to this style of architecture.
Replace dated light fixtures with elegant chandeliers or pendants in bronze or brass accents for classic-style lighting fixtures throughout the space.
IX. Craftsman House Design Ideas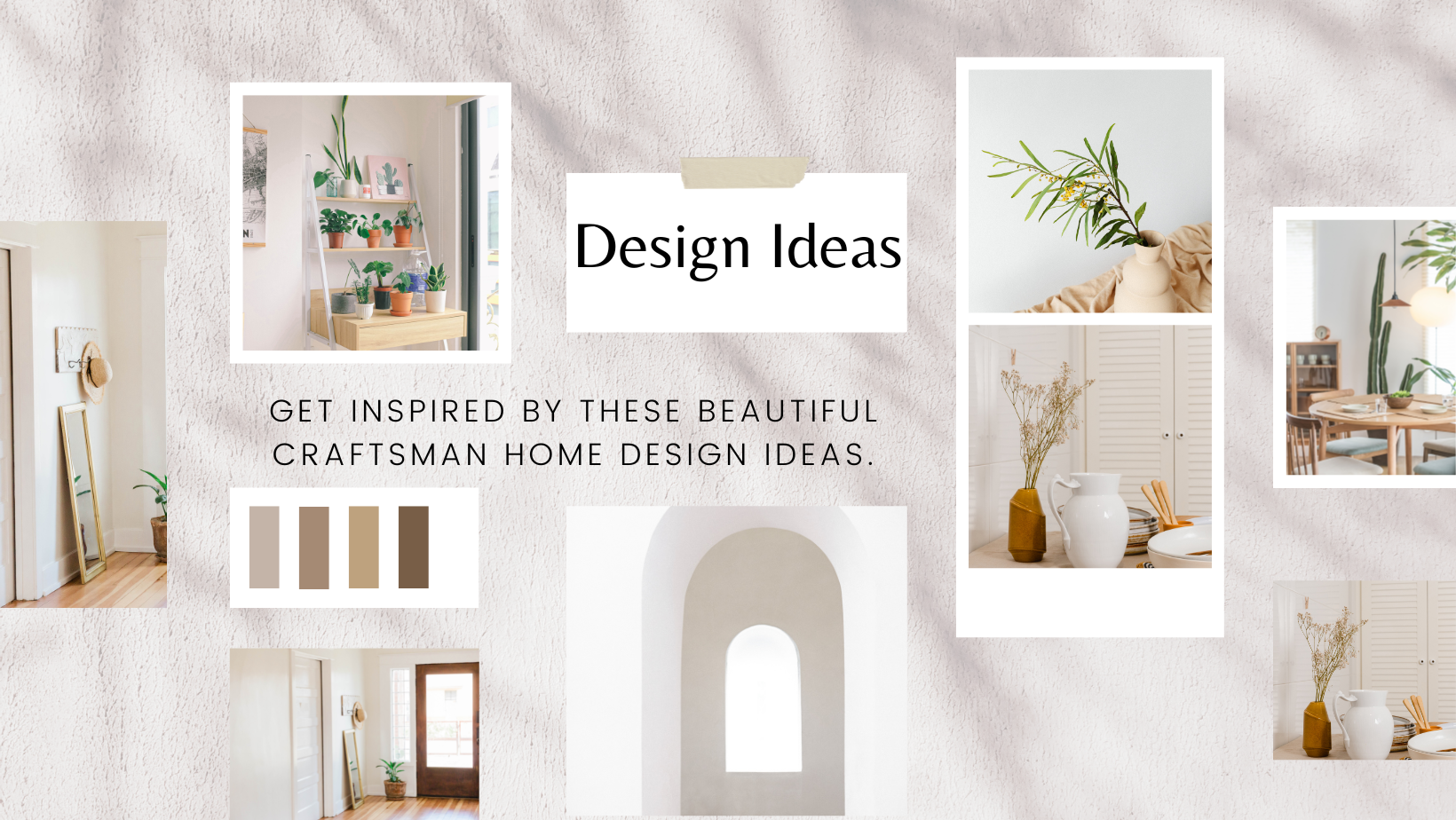 Are you interested in bringing a Craftsman home style to your house? Here are some ideas to help get the look and feel of a classic Craftsman home.
Spacious and functional living spaces
A Craftsman home should be a cozy oasis for its owners. To that end, the design should flow from one room to the next, enabling easy transitions between spaces. Create an inviting entryway that leads into a comfortable living room with plenty of space for entertaining family and friends. Incorporate built-in shelving, cozy chairs, and natural lighting — all classic Craftsman elements — to create a welcoming environment.
Cozy and inviting bedrooms
For bedrooms, wooden furniture is vital in creating the Craftsman look. Choose pieces with unique design details, such as curved headboards or single armchairs, as accents for bedrooms with plenty of natural light. Complement these pieces with wood flooring, warm colors on walls and fabrics, and soft lighting powered by energy-saving bulbs or ambient lighting sources like candles or lamps.
Outdoor living areas for relaxation and entertainment
Outdoor living spaces are essential in any Craftsman home — they offer natural coolness during the warm months and make a perfect spot for relaxing after a long day or enjoying time with family and friends on weekends. Consider accents like flower boxes that add texture and color to bring your outdoor space to life and patio furniture constructed of wood or wicker. Enjoying meals outdoors can be great fun, so choose outdoor dining pieces that are comfortable yet stylish; opt for durable materials such as teakwood that won't require lots of maintenance over time.
X. Cost Guide for Craftsman House Style Living
Craftsman-style living has so many advantages—it's naturally beautiful, open, and timeless—but it's no secret that renovating or remodeling your home to fit this vintage style can be expensive. It may be tempting to go all-out on the esthetics of Craftsman, but there are plenty of ways to save. Here are some tips for estimating renovation and remodeling costs, budgeting for furniture and decor, and holding on to appliances and energy expenses.
Estimating Renovation & Remodeling Costs
When renovating or remodeling a Craftsman home, remember that you may have to pay for new materials like windows, doors, finishes, fixtures, lighting, etc. Some of these components can be costly, so get estimates before purchasing.
Budgeting For Furniture And Decor
At first look, the furniture and decor in a Craftsman home might seem like expensive luxury items but don't forget that there are plenty of ways to upgrade your look without breaking the bank. Consider looking for discounted items at secondhand stores or online retailers with special sales.
Saving On Appliances And Energy Expenses
Finally, when furnishing your Craftsman home, invest in energy-efficient appliances; from refrigerators to water heaters—this will help reduce your utility bills in the long run! Thankfully, plenty of options fit into the Craftsman house-style esthetic without cutting corners on quality or performance.
XI. Conclusion
Isn't it great that you can embrace the Craftsman house lifestyle, even if you don't live in a Craftsman home? Following the tips and ideas in this guide can add warmth and character to your space.
Whether through rustic furniture, natural materials, or artwork that speaks to your values, it's easy to create a warm and welcoming space that reflects the Craftsman house style. You can also work with a designer for styling services that will make your home feel like a piece of art – all with your unique touch.
No matter what you do with yours, we hope this guide has inspired you to create a home full of coziness and charm that embraces the authentic Craftsman house style!