I. Introduction
Scandinavian design is all about simple, clean lines and muted colors. It's minimalist and airy, with plenty of natural elements like wood, stone, and leather that lend a modern yet timeless look. For a good reason, Scandinavian-style homes have become increasingly popular recently!
Embracing such kind of simplicity and also the functionality of Scandinavian design can bring great joy to your home. It's not about having fewer objects in your house or avoiding fussy ornaments;  it's about finding the perfect balance between practicality and esthetics. With its versatility and lightness, the Scandinavian style offers a unique living experience: a respite from the busyness of everyday life.
The appeal of Scandinavian house living lies in its calming atmosphere, which encourages mindfulness. From open spaces to neutral color palettes, this style is all about being mindful of the environment—enabling us to be more aware of our belongings, surroundings, and ourselves to cultivate mindful living.
II. DIY Projects for Scandinavian House Style
If being surrounded by sleek and minimalistic pieces of furniture isn't quite enough for your Scandinavian-style abode, why not try creating something yourself?
Minimalist and Functional Crafts: Crafting is integral to the Scandinavian style since it can add more personality and charm to a living space. If you want to DIY something that follows the minimalist aesthetic, we recommend starting with a simple project such as making coasters or a wall hanging. These projects usually take minimal time and effort and can make a massive difference to your home.
Custom Window Treatments & Handmade Textiles: Windows are essential to any Scandinavian home; their clean lines can be complemented by custom window treatments or handmade textiles such as curtains, roman shades, or tiers. Some create creativity and can easily create window treatments that match the room's aesthetics.
Room's aesthetics Materials: The Scandi-style is about creating something from practically nothing – which is why up-cycling and repurposing materials are helpful! Using unconventional materials like wood scraps, old furniture pieces, and random knick-knacks, you can craft unique decor pieces for your home that add some personality while following Scandinavian-style furniture's same clean lines.
III. Scandinavian Decor Ideas
If you want ways to add a touch of Scandinavian style to your home, plenty of decor ideas can help make your space look and feel cosy and comfortable.
Streamlined and understated accessories
Scandinavian design is all about minimalism — clean, simple, and without extra frills. Accessories are a great way to amp up this style in your own home — look for items like lighting fixtures that are streamlined and understated, such as pendant lamps or sconces.
Neutral and calming colour palettes
You will notice most Scandinavian interiors have a neutral colour palette. This creates a calm atmosphere while allowing you to incorporate decorative elements without making the space too busy or cluttered. Think whites, greys, tans, beiges, etc. – colours that evoke comfort and subtlety.
Incorporating natural elements and textures
Another great way to bring some Scandinavian style into your home is by incorporating natural elements such as wood furniture or rustic details like stone tiles throughout the space. Natural finishes like these add texture which can help bring warmth into the room while maintaining the minimalist esthetic of Scandinavian design.
IV. Scandinavian Cleaning Tips and Tricks
You need to keep your Scandinavian home in tip-top shape, and there are some essential tips and tricks to help you do just that.
Eco-friendly cleaning solutions
A crucial part of the Scandinavian style is caring for the environment, which means using eco-friendly cleaning solutions for your surfaces. Plenty of all-natural solutions with ingredients like baking soda, vinegar, and essential oils can tackle tough dirt and grime without harsh chemicals.
Caring for wood, metal, and other materials
If you have wooden furniture or metal fixtures, dust them regularly with a soft cloth. If the item needs more cleaning than dusting off, use a gentle cleaner and test it on a small area before applying it to a larger surface. For more oversized furniture needing a deep clean but not fitting into your washing machine, try using a mild detergent on a damp cloth instead.
Seasonal cleaning and maintenance routines
To keep things looking their best long-term, do seasonal deep cleans of everything from window sills to baseboards. To buff out any scratches on wooden furniture or fixtures, use a furniture paste wax or mineral oil to make them look as good as new again.
Following these tips and tricks when cleaning your Scandinavian home will create an inviting atmosphere for yourself and your visitors!
V. Furniture Selection for Scandinavian House Style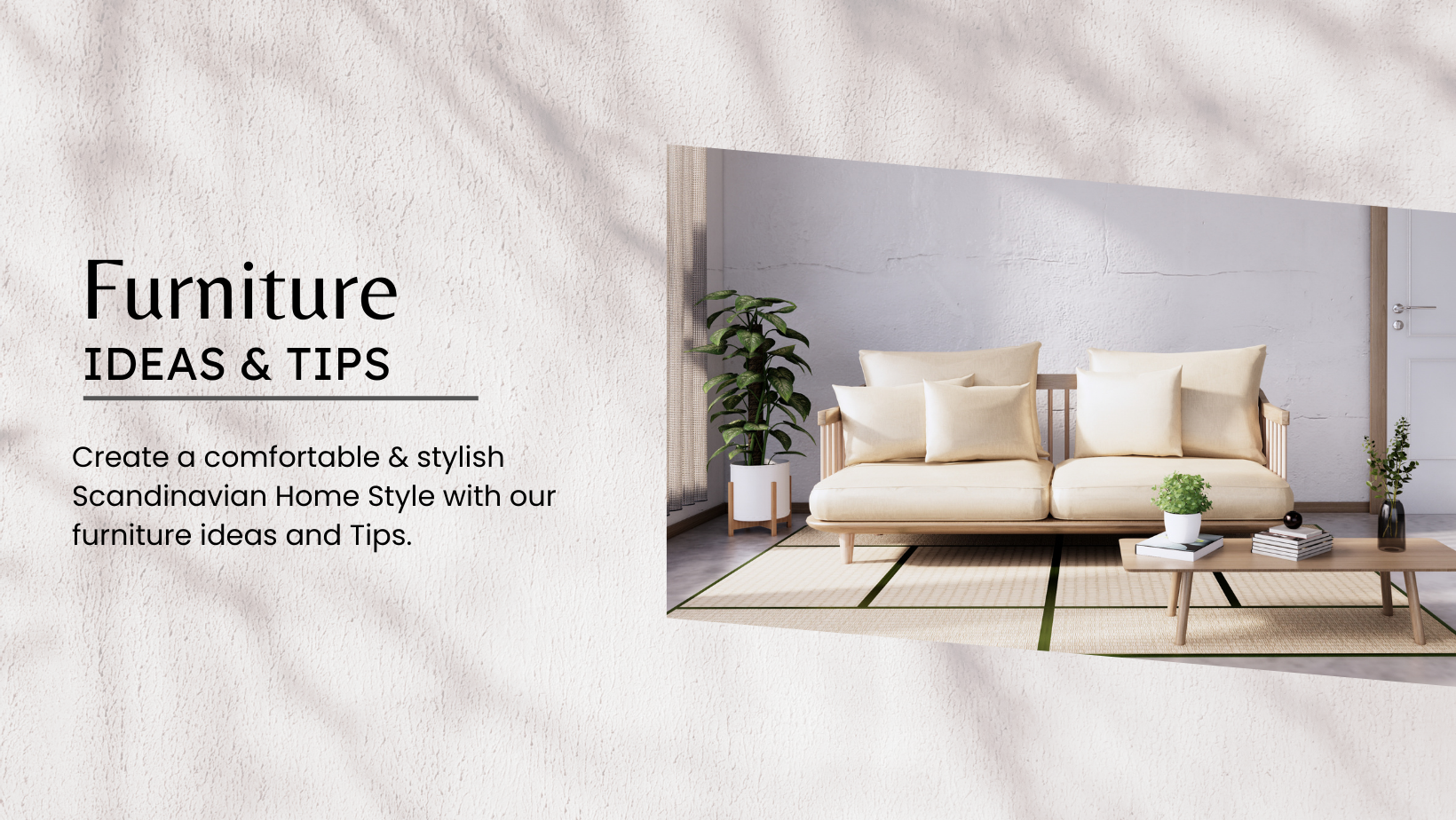 Choosing modern and minimalist pieces to fill the space is critical when picking furniture for your Scandinavian home. The idea is to maximize functionality and comfort while providing enough room for guests to move around.
In terms of materials, you want to mix wood, metal, and plush fabrics – that's how you can achieve a cosy yet airy atmosphere that reflects the Nordic style. Color-wise, tones of white and natural wood are always on-brand. For example, a white leather sofa looks excellent alongside wood coffee tables or an accent chair with a metal base.
And don't forget comfortable seating options – essential in the Scandinavian house style. Opt for pieces with light but durable frames that don't take up a lot of visual space – think armchairs with sheepskin throws or ottomans with storage boxes beneath them!
VI. Scandinavian Appliances to Enhance Your Space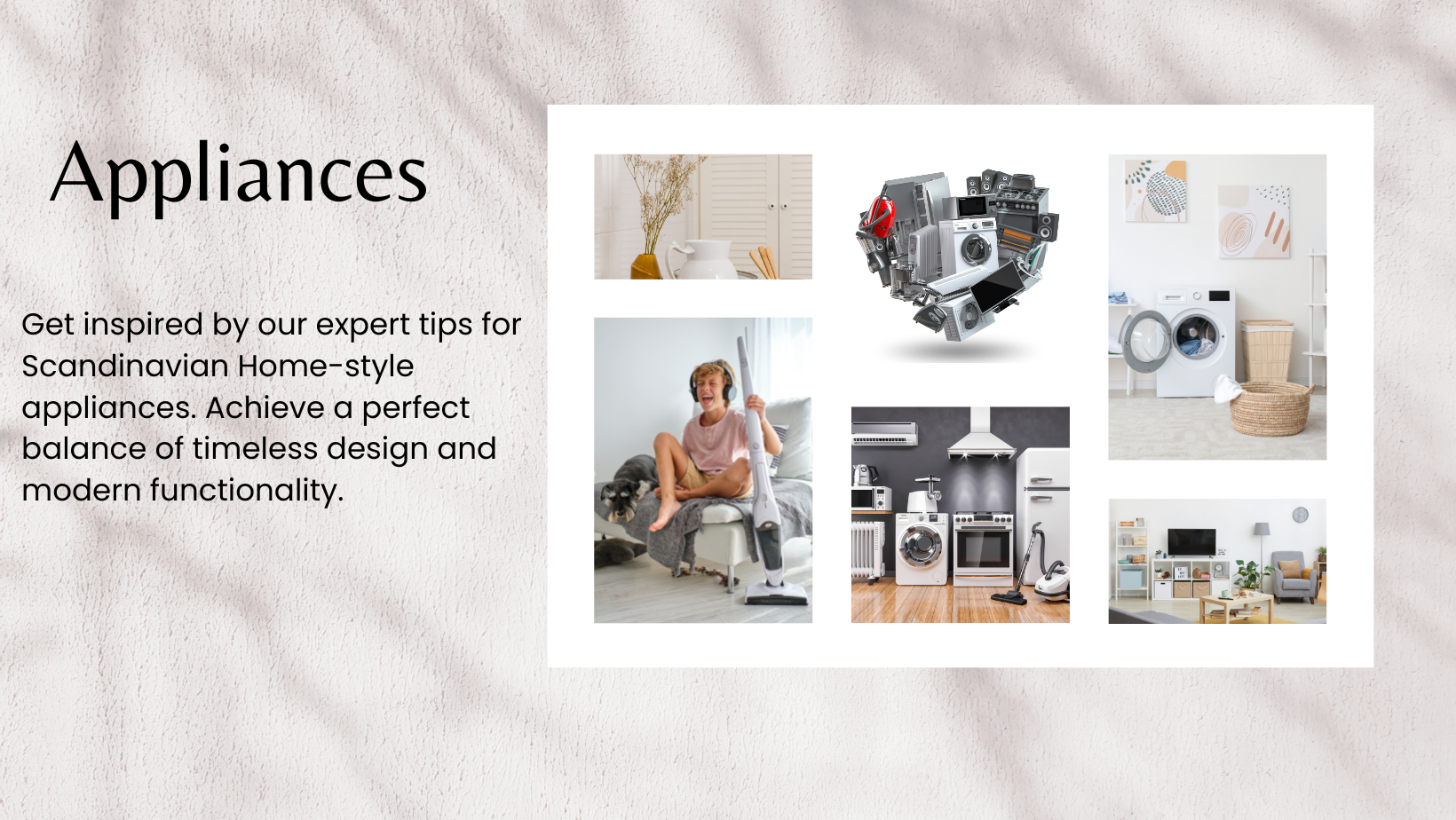 Regarding the appliances in your home, don't forget that style matters! Scandinavian appliances are energy-efficient and stylish options to enhance the space. Not only do they look good, but they'll also work with the modern functions you may need. Here are a few essential kitchen appliances to consider:
Refrigerators: Sleek and noiseless fridges with features such as energy-saving options make great additions to any kitchen.
Dishwashers: Look for simple but stylish designs that won't stand out from the rest of your decor but offer a range of wash cycles and temperature settings for versatile performance.
Stoves: Stoves with ceramic glass tops offer an easy-to-clean surface and can create a design centrepiece for your kitchen.
Microwaves/Ovens Combos: If space is an issue, consider getting one appliance to do the job of two by purchasing a microwave/oven combo complete with convection and broil functions, as well as several sensor cooking choices
Pressure Cookers: Pressure cookers reduce the time to prepare meals while retaining all the nutrients lost in traditional cooking methods—making them perfect for the Southern Scandinavian home style!
When shopping for appliances that fit into your Scandinavian design aesthetic, remember to balance modern functionality with great looks – you don't want either function or style to suffer at the expense of the other!
VII. Organizing Your Scandinavian House
When it comes to the Scandinavian home style, organization is critical. After all, the attraction of this decor style is the airy and open atmosphere it creates—and to achieve that, you'll need some clever storage solutions to ensure your living space can stay minimal and clutter-free.
A. Sleek storage solutions
Invest in furniture with built-in storage, like ottomans or beds with drawers underneath, so you can keep your living space tidy without sacrificing style. Floating shelves are also a great way to incorporate esthetics and function into your home décor; they're lovely to look at but provide plenty of room for miscellaneous items like books, pottery and frames.
B. Maximizing open and airy living spaces
Aside from opting for pieces with built-in storage, consider how to use other areas in your home for organization. Your walls are an ideal opportunity for displaying items in a visually appealing way—you can hang pictures or shelves with small trinkets on them—while cabinets or closets can provide another helpful storage solution.
C. Tips for maintaining an organized and clutter-free home
The final step: consistent upkeep! Make sure you allocate time each day to putting things away in their respective places — this will help keep your living space neat even after friends come over or if you have kids running around the house.
VIII. Scandinavian Renovations and Upgrades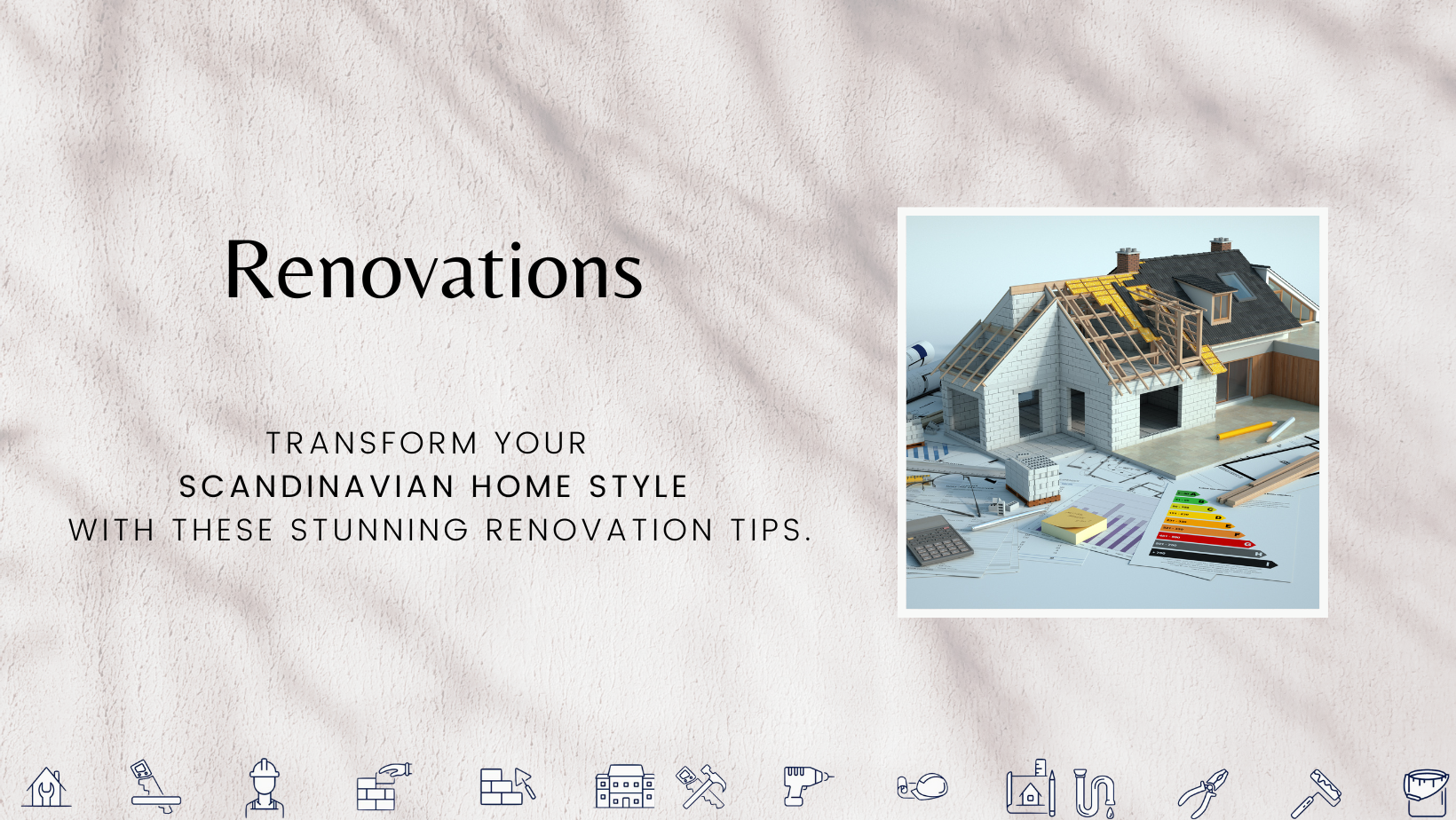 Several budget-friendly projects can make an impact when it comes to making improvements to a Scandinavian house style.
A. Enhancing the minimalist character and appeal
To start, consider renovating small spaces to enjoy the minimalist character of a Scandinavian house style. Here are some ideas:
Replace any cabinetry with a sleek and subtle option
Look into removable wallpaper or stencils to add a touch of class and color
Change out wallpaper panels to create an exciting look with texture
Consider natural wood wall panels instead of paint for an accent wall
B. Renovation projects that add light and openness
Light and airy space are critical components in Scandinavian design, so you may want to consider projects that open up the space for more light and airflow:
Install windows with natural finishes such as wood, metal or plastic frames
Put in glass sliding doors to open up spaces into outdoor terraces for more warmth and comfort
Remove any walls that block natural light from entering your home
Use mirrors strategically around the house to magnify sunlight
Select light colours when furnishing your home and use sheer curtains for added light filtering
C. Budget-friendly improvements for a clean and modern look
Lastly, choose budget-friendly ways to improve cleanliness and modernize your home's decor while still capturing the essence of Scandinavian design:
Update fixtures such as door knobs, cabinet handles, shower-heads or faucets with gold or silver finishes
Shop thrift stores or vintage markets for unique furniture pieces
IX. Scandinavian House Design Ideas
If you're trying to get the Scandinavian look and feel for your home, here are some ideas for inspiration.
Open-concept and light-filled living spaces
An open-concept floor plan is essential in a Scandinavian home. Taking out unnecessary walls lets light filter through the entire space, creating a spaciousness. To achieve this, you can use double-height ceilings and large windows to create a bright, airy living area.
Peaceful and functional bedrooms
Scandinavian bedrooms always exude peace, calmness, and functionality. Keep colors neutral with a hint of pastel accents to balance the neutral tones. If you want your bedrooms to be extra calming, try sticking with pale blues or soft greens.
Outdoor living areas for relaxation and entertainment
Outdoor living areas are becoming more popular in the Scandinavian house style. A patio or deck can add value as an entertainment spot or relaxation nook for some alone or family time outdoors. Consider adding furniture pieces like loungers, chairs, or benches with clean lines for a modern look that stays cosy at the same time.
X. Cost Guide for Scandinavian House Style Living
If all this talk of Scandinavian house style has inspired you to create your own dream home, it pays to plan—and that includes thinking carefully about how much your project might cost. Here are a few tips for estimating the cost of remodeling and renovating your home and Budgeting for furniture, appliances, and energy expenses.
A. Estimating renovation and remodeling costs
It might seem daunting to try and guess what your renovation project might cost, but there are some ways to estimate it. Consider calculating the costs of materials and supplies depending on the type of project you're going for; if it's a kitchen remake, for example, think about the cost of paint per room and the estimated price of furniture pieces you need. Don't forget to factor in labour costs for hiring contractors if required.
B. Budgeting for furniture and decor
Creating a Scandinavian-style house comes with extra costs for furniture and decor—think mid-century pieces that make a statement but stand the test of time. Luckily, some budget-friendly stores sell everything from tables and chairs to rugs and art at more affordable prices than speciality stores. Finding classic pieces at bargain prices is always possible if you know where to look.
C. Saving on appliances and energy expenses
Switching out old appliances can be costly. Especially if you opt for energy-saving ones—but think long-term when making these investments! Look out for deals on websites like Amazon or get discounts through companies that sell pre-used models in good condition (make sure they include a warranty!). As far as energy expenses go, make sure all electronics are unplugged
XI. Conclusion
The Scandinavian design could be the perfect fit if you're looking for an esthetic approach to creating an inviting and spartan home. The ultimate goal is to create a clean and functional space without compromising comfort and style.
The Scandinavian home style is about embracing natural elements, utilizing neutral colors and subtle textures, and achieving the perfect balance between minimalism and warm cosiness. You can apply this style to any space in your home without breaking the bank or going overboard. Remember to focus on embracing the Scandinavian house lifestyle rather than recreating it in every detail.
By taking this approach to interior design, you can create a beautiful and inviting place that looks like it was taken right out of a catalogue. But don't forget- even more critical than any esthetic factor is making sure the result feels like home – unique, comfortable, and comforting – while leaving enough room for functionality.