I. Introduction
Are you ready to introduce the charm and flavor of the Mediterranean into your home? The Mediterranean style of home is a celebration of life and family. From the warm interior colors to ornate flourishes, this style has been beloved by users worldwide for centuries.
It is no surprise why. The Mediterranean house style offers a relaxed yet regal feel that complements various other decorative motifs. The class also emphasizes bright, airy spaces, embracing natural beauty with elegant materials and finishes.
From bold patterns to cozy textures, there's something for everyone in the Mediterranean esthetic. Embrace its timelessness with these tips and ideas on bringing this classic look home.
II. DIY Projects for Mediterranean House Style
Regarding the Mediterranean home style, the possibilities are virtually endless. You can create a warm, inviting space reflecting your unique taste and style with a few simple DIY projects. Here are some of the best DIY projects to help you achieve a Mediterranean-style home:
Warm and Inviting Crafts: From hand-painted furniture to woven baskets and other decorative items, crafts can add a layer of personality to your space. You can also repurpose existing items in unique ways – upcycle them into something new with a bit of paint and imagination!
Custom Window Treatments and Handmade Textiles: Want to add a touch of color or texture to your home? Make your window treatments, curtains, or other textiles from natural materials like cotton, linen, or hemp. You can also achieve subtle vibes with suitable fabrics—from floral patterns to subtle geometric shapes.
Up-cycling and Repurposing Natural Materials: Don't throw away those old wood pallets yet! Reuse them in unique ways—from shelving units to art installations—to bring warmth and character into your Mediterranean-style home. You can also repurpose old metal pieces for a vintage look or natural stones for an earthy feel.
III. Mediterranean Decor Ideas
Creating the Mediterranean style in your home is all about bringing together a few key elements. Pick a few decor ideas to make your home cozy and inviting.
Earthy and vibrant accessories
Fill your home with earthy and vibrant accessories like throw pillows, blankets, artwork, and candles. Look for natural textures like straw and seagrass. These will help to bring an organic vibe to any room in your home. Incorporate interesting pieces like hand-painted vases or antique furniture to add a touch of global flair.
Warm and soothing color palettes
When creating the perfect Mediterranean atmosphere, nothing beats a gorgeous color palette. Think warm shades of blues, greens, yellows, oranges, and reds – all inspired by the natural beauty of the Mediterranean coastline. Don't be afraid to mix different prints; textiles like striped Moroccan rugs are famous for this look.
Incorporating artisanal details and textures
Finally, fill your home with unique artisanal details for the perfect final touch. Incorporate ceramics from local artisans or glassware worldwide that add texture to any space. Not only do these pieces add character to your home, but they also make great conversation pieces that show off your global style!
IV. Mediterranean Cleaning Tips and Tricks
Cleaning and maintaining a Mediterranean house style is essential to keeping it looking beautiful and in exceptional condition, but luckily it doesn't have to be complicated. Many natural cleaning solutions and seasonal maintenance routines will help you preserve the Mediterranean style of your home.
Natural Cleaning Solutions
One of the benefits of having a Mediterranean-style home is that you can keep it clean without resorting to harsh chemical cleaners. Here are some natural cleaning solutions:
White vinegar: Mix with warm water for an all-purpose cleaner for floors, counters, sinks, and more.
Baking soda: You can use baking soda as an abrasive scrubbing agent or mixed with a little bit of water as a paste to eliminate tougher messes.
Lemon juice: Leave the lemon juice on greasy areas or items, then scrub or wipe them clean later with a microfiber cloth.
Caring for Terracotta, Stone, and Other Mediterranean Materials
Terracotta, stone, and other materials used in Mediterranean decor require special care. For terracotta items without a glaze (such as planters), occasionally spray the thing with a mixture of one cup of olive oil and one gallon of hot water. To prevent staining on stone surfaces like countertops, use coasters underneath drinks glasses and consider sealing the surface once or twice yearly.
Seasonal Cleaning Routines
Having a seasonal cleaning routine will keep your home looking beautiful year-round. Besides dusting off furniture regularly throughout each season (a damp microfiber cloth works best!), start giving your home deep-cleaning treatments twice per
V. Furniture Selection for Mediterranean House Style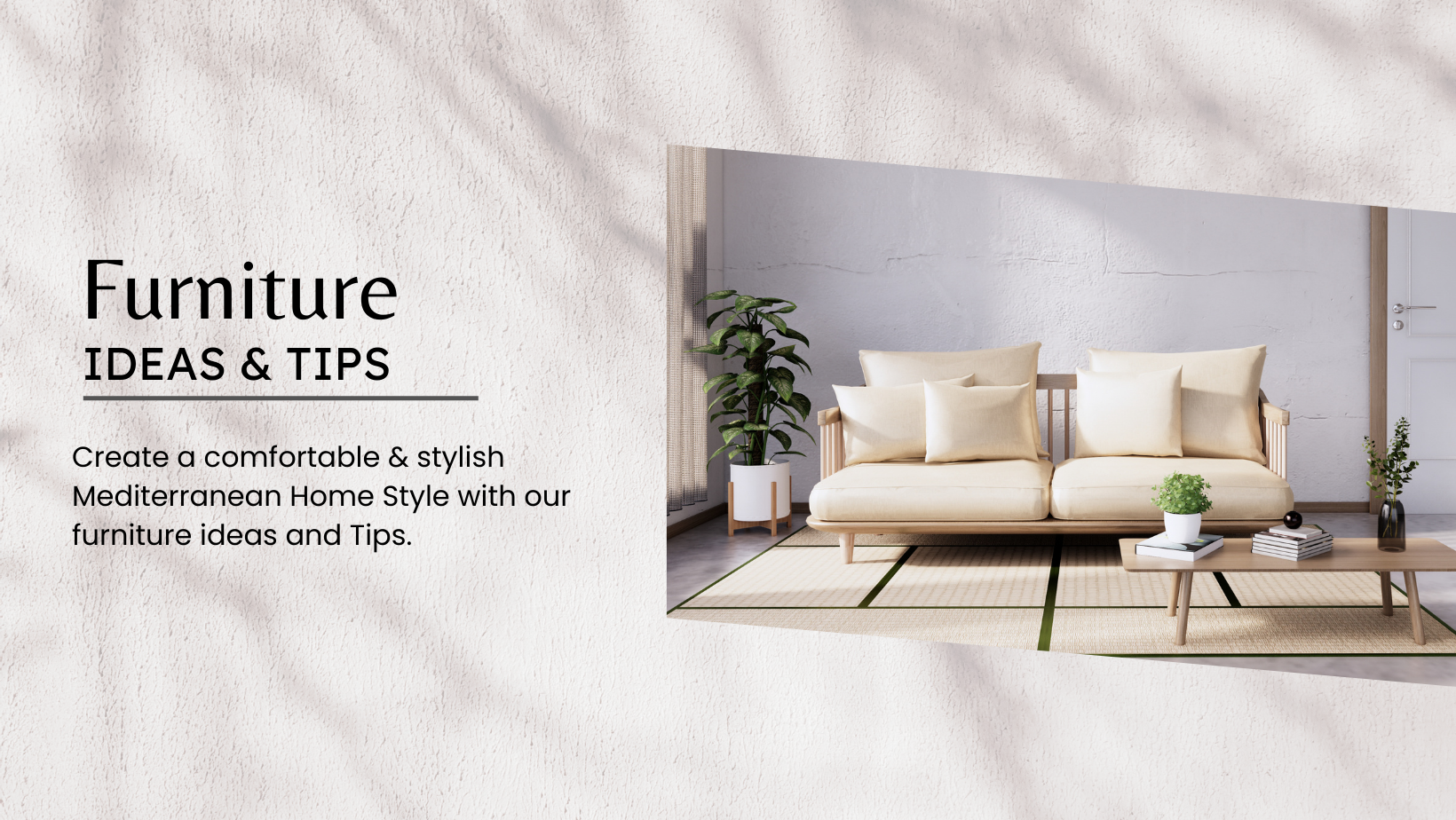 When deciding on furniture pieces for a Mediterranean home, your goal should be to create rustic elegance. To achieve this, choose pieces made of wood, iron, and woven materials. Opt for furniture with curves, tufting, and carved details that add a touch of sophistication to the look without taking away from its casual appeal.
For seating, choose comfortable items such as overstuffed sofas and chairs that invite you to linger and enjoy the space. Colorful cushions in warm shades like oranges, yellows, and reds bring the feel of the Mediterranean into your living room or family room. If you have wall space, incorporate tall bookcases and hand-painted armoires with traditional motifs for a warm, inviting feel.
Adding some decorative items like wrought iron lamps or sculptures in earthy tones will help to complete the look. When selecting decorative pieces, consider adding terracotta planters, pottery from local artisans, or vintage rugs that can be used as wall hangings or floor area rugs. By combining all these elements, you'll have your Mediterranean-inspired home complete and inviting!
VI. Mediterranean Appliances to Enhance Your Space
When buying appliances for your Mediterranean home, why not go all the way and find energy-efficient and high-quality options that will last a lifetime? Not only are these types of appliances designed to perform better, but they'll also help you save money in the long run.
Some essential kitchen appliances for Mediterranean living include:
Refrigerators – You'll want to look for a refrigerator with an efficient motor and an insulation system that keeps food fresh longer. Look for reversible door hinges, customizable shelving, and adjustable drawers.
Ovens – Select a gas stovetop oven with multiple burners and easy-to-clean surfaces for an authentic Mediterranean feel. Some models also come equipped with digitally controlled temperature settings that can make baking a breeze.
Cooktops – Look for cooktops with continuous grates so you can move your pots and pans while cooking without lifting them off the surface. Choose ceramic glass or stainless steel finishes for added durability.
Dishwashers – To fit in with the Mediterranean style, select a dishwasher with an energy-efficient design with adjustable racks and spray arms that make cleaning easier.
When selecting appliances for your Mediterranean home, aim for a balance between functionality and Old World charm – finding the perfect balance is critical in creating an ambiance that reflects the elegance of its origin country!
VII. Organizing Your Mediterranean House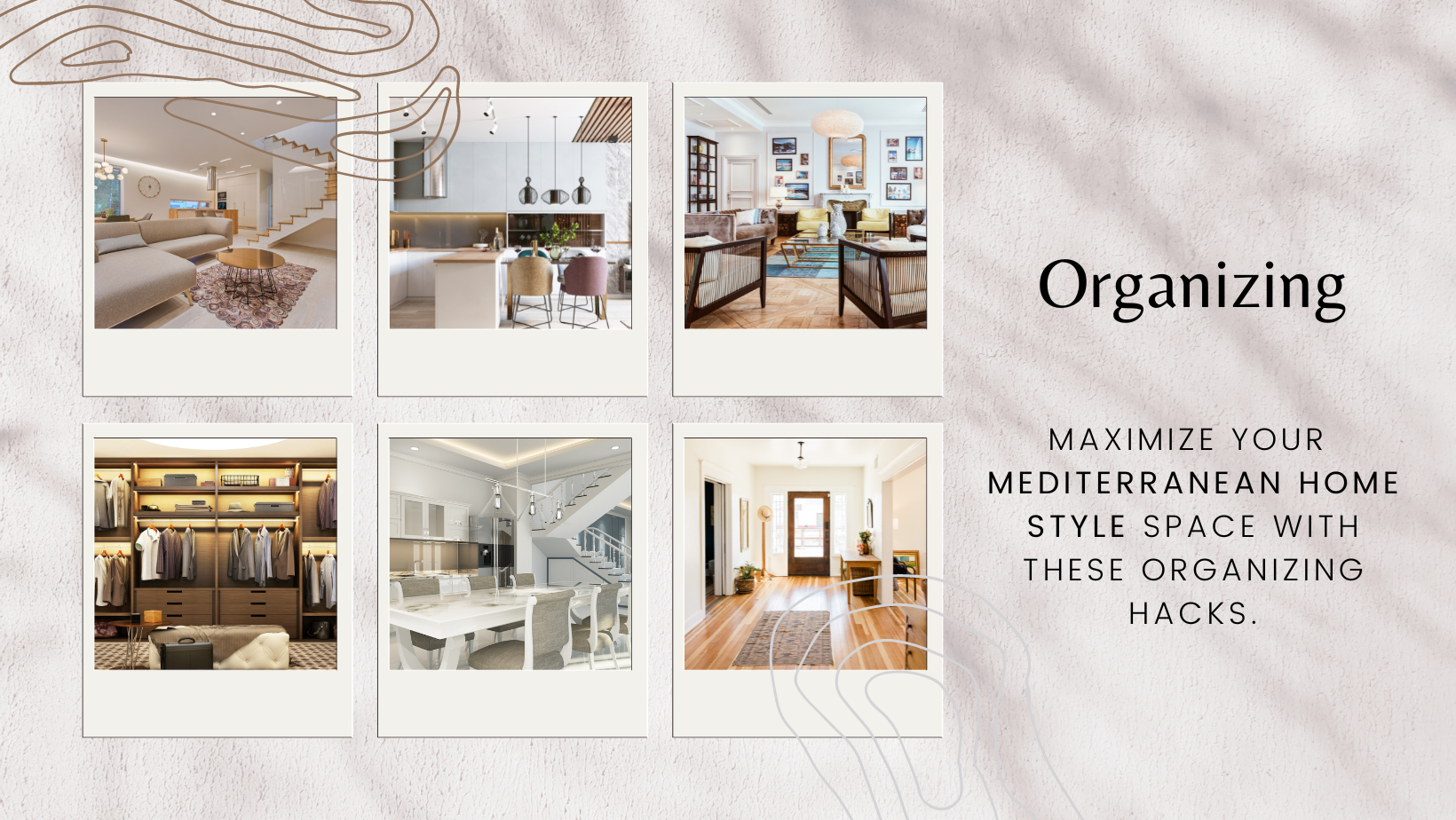 Regarding the Mediterranean home style, one thing is for sure: organization is critical. Many of the design features in Mediterranean houses involve creative storage solutions, airy living areas and outdoor spaces, and other opportunities to get organized and stay that way. Here are some tips for keeping your Mediterranean home clutter-free.
Creative Storage Solutions
Creative storage solutions are essential for keeping your Mediterranean house tidy and organized. Invest in furniture with built-in shelves or cubbies, or opt for multifunctional furniture like ottomans with removable trays or beds with drawers. Don't forget baskets and bins—these can be used in any room for stylish yet helpful storage.
Maximizing Airy Living Areas and Outdoor Spaces
Your Mediterranean home should have open living spaces encouraging an airy, breezy atmosphere. Maximize these spaces by taking advantage of the natural sunlight that typically floods these homes, and make sure to keep the area clutter-free for a genuinely relaxed feel at home. Additionally, don't forget about your outdoor space as another opportunity to use creative storage solutions—a few planters here and there can go a long way in making your outdoor space both beautiful and practical.
Tips For Maintaining an Organized & Clutter-Free Home
Finally, here are a few more tips you can put into practice when it comes to keeping your Mediterranean home organized:
Dedicate a certain amount of time each week to tidying up around the house
Keep only decor items you truly love
Make use of vertical space—shelves on the walls can help make
VIII. Mediterranean Renovations and Upgrades
When upgrading your Mediterranean-style home, you can make a few key improvements to keep the design current. To do this, you'll want to enhance the Mediterranean character with renovations that add warmth and functionality.
Here are some budget-friendly ways to improve the timeless look of a Mediterranean house:
A. Enhance the Mediterranean Character
Adding new pieces, like clay roof tiles or stucco siding, can make a home feel more authentic. Fill in your garden with potted plants and add bright colors with bold terra cotta accents around entryways or fireplaces. Lastly, don't forget to hang colorful window treatments or awnings!
B. Renovation Projects That Add Warmth and Functionality
If you're investing in renovations anyway, why not add something that increases functionality? Open up individual spaces by removing walls or adding a skylight in an otherwise dark area of your house–both will help bring in natural light and warmth. Another idea is to put in energy-efficient windows for added insulation. They may cost more upfront but pay for themselves in the long run!
C. Budget-Friendly Improvements for a Timeless Look
Remember that little details make all the difference when embarking on any renovation project! Focus on small things like adding crown molding and detailed tiles around windowsills—these small touches can elevate the look of your home for less money than larger projects like remodeling bathrooms or kitchens.
IX. Mediterranean House Design Ideas
Plenty of fantastic design ideas for the Mediterranean house style can work for any home. Here are a few additional ideas to get you started:
Inviting and Open-Concept Living Spaces
One great idea is to create inviting and open-concept living spaces. This means having an airy and open plan with plenty of natural light, which perfectly applies to relaxed gatherings with friends or family. Consider placing your living room furnishings near the windows or balcony to take advantage of the natural light during the day.
Tranquil and Romantic Bedrooms
Create tranquil and romantic bedrooms that feel like a secluded oasis away from the hustle and bustle of daily life. Remember that bedrooms are meant to be a haven for relaxation, so make sure your furnishings feel cozy and inviting—think plush bedding or luxe fabrics like velvet accents on chairs or headboards.
Outdoor Living Areas
Maximize your outdoor living areas by making them extensions of your indoor entertainment areas. Add comfy lounge seating near the pool, create cozy rooms under pergolas with comfortable cushions, or build raised decks for outdoor dining areas. These outdoor living areas allow relaxing afternoons reclining by the pool or taking in the sunset from your elevated deck with friends and family.
X. Cost Guide for Mediterranean House Style Living
Regarding the Mediterranean house style, you may wonder how much it will cost to renovate or remodel an existing home and make it look more like a Mediterranean house. The price for renovating and remodeling a home in this style can vary drastically depending on the materials used, the labor costs, and the location.
A. Estimating renovation and remodeling costs
If you want to remodel your home, look at what materials you plan on using—wood, stonework, tiling—and compare their prices from different suppliers. Labor costs vary, so shop for reputable contractors specializing in Mediterranean house styles. On average, you can expect a complete remodel of this type to cost anywhere from $100 to $500 per square foot!
B. Budgeting for furniture and decor
The great thing about the Mediterranean house style is that you can get creative with the set. Surprisingly, furniture and decor don't have to cost an arm and a leg; think of second-hand stores or thrift shops if you're on a budget. You'd be surprised at what unique items you can find that add real character to your home without breaking the bank!
C. Saving on appliances and energy expenses
It's not just furniture and decorations that need consideration when Budgeting for a Mediterranean house style: appliances and energy expenses are also something to consider when making renovation decisions. Research online before making any purchases; products labeled 'energy efficient' usually use less electricity than their traditional counterparts, saving money in the long run!
XI. Conclusion
If the Mediterranean house style, congratulations have inspired you! You're one step closer to creating a beautiful, welcoming living space built around a lifestyle that honors nature and offers relaxation.
The best way to embrace the Mediterranean lifestyle is by starting from the basics:
Incorporate natural stone, terracotta tiles, and wooden beams to create an authentic environment
Choose plants, trees, and other foliage primarily found in the Mediterranean region for a true sense of place
Employ coastal décor elements like neutral-toned fabrics and nautical accents
Decorate with art, sculpture, and other traditional accessories from the Mediterranean
Utilize outdoor spaces to enhance your home—these are as much a part of the home as the interior!
Limit hard edges and incorporate earthy elements like wind-worn stones or rounded fireplace hearths
Embrace earthy tones—go for yellows, ochers, and rich blues instead of bright primary colors
Make sure your furniture is both functional and comfortable!
Use light fixtures that fit with your overall design theme—not just any lamp or chandelier will do!
And finally—enjoy every moment in your beautiful new home!
By keeping these tips in mind when designing your own Mediterranean-style home, you can create an inviting and unique retreat that will make you feel like you're on some vacation all year long!