I. Introduction
Are you looking for a home style that will bring in the beauty of the outdoors and make you feel cosy simultaneously? Southwest house style might be just what you're looking for. With its warm colours, textured finishes, and beautiful mix of wood and stone, it's not hard to see why so many people are drawn to Southwest house living.
If you're considering embracing a Southwest home atmosphere, several tips and ideas will help bring this desert style into your home. Whether you're looking for subtle hints or full-on decorating, each end will inspire your creativity as you seek to make your house feel like a true southwestern oasis. So let's dive in!
II. DIY Projects for Southwest House Style
DIY is great for bringing out your Southwest house style without breaking the bank. What's cool about this style is that it encourages you to repurpose and upcycle materials from around your home, so if you find yourself with limited funds, you can still create something unique.
Here are some starting points:
From candle holders fashioned from old logs to wall hangings made of driftwood, tons of earthy and rustic crafts will help transform your home into a cosy oasis. Look for twine, rope, driftwood, and bark to get started!
Custom window treatments and handmade textiles
Turnsome fabric or found materials into custom window treatments or handmade textile art for a personal touch in any house room. Need ideas? Check out vintage rugs and blankets at flea markets for inspiration!
Upcycling and repurposing materials for Southwest-inspired spaces
A rusty old bedframe can become a one-of-a-kind lounge chair with the right transformation; an old wood door can make a fantastic headboard; used bricks can be used as planters in a unique outdoor entertaining space. Get creative with reusing materials around your home for some true DIY style!
III. Southwest Decor Ideas
One way to get that classic Southwest house-style look is to incorporate natural materials, textures, and patterns. Think wood, stone, leather, and rugs with a southwest vibe. You can even bring in natural elements like cacti and succulents.
Rich and Earthy Color Palettes
We all know the iconic turquoise or earth-toned sand colour associated with the Southwest house style, but you don't have to limit yourself to just these tones. Instead, try painting walls with a soft yellow-sand hue or dark browns that evoke an outdoor desert feel.
Bold and Vibrant Accessories
Bring in some boldness by adding vibrant accessories like throw pillows in rust oranges or sunshine yellows. Dabble with turquoise blue for something truly eye-catching. This is an amazing way to add some special touches without overdoing the Southwest style — it'll give you the right pop of colour without getting too wild!
IV. Southwest House Cleaning Tips and Tricks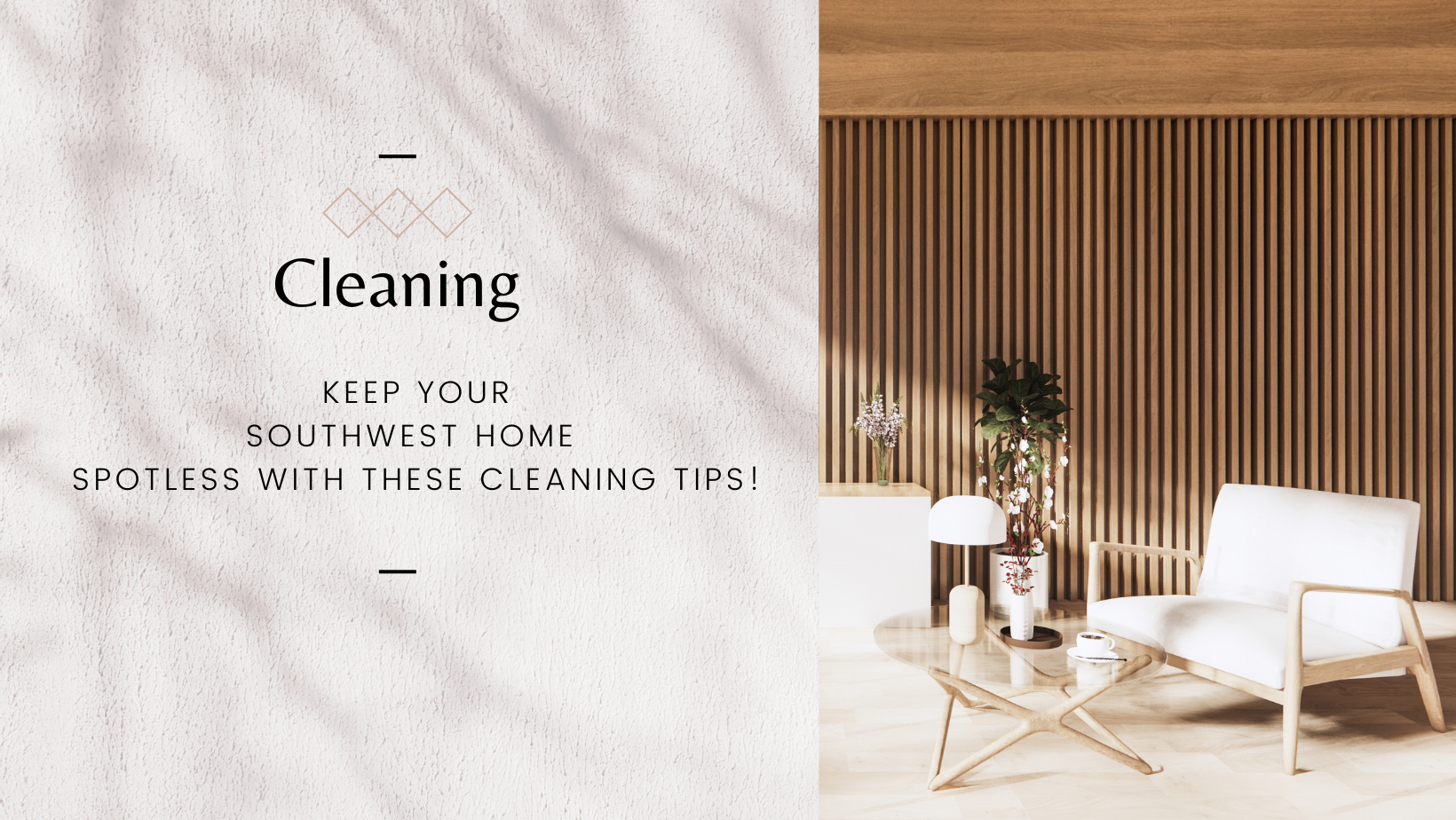 When it comes to cleaning and maintaining a Southwest home style, there are certain things you need to know. To make life easier and get your home sparkling, here are some tips and tricks you should keep in mind:
A. Eco-friendly cleaning solutions
When cleaning your Southwest-style home, make sure to use eco-friendly cleaning solutions. This will help protect the environment and any natural materials or finishes that might be in your home.
B. Caring for natural materials and finishes
It's essential to take extra care of any natural materials or finishes in your Southwest-style home—cleaning them gently to avoid scratches and damage. Regular dusting of wood furniture will help keep them looking great for years to come!
C. Establishing regular cleaning and maintenance routines
Finally, it would be best if you established regular cleaning and maintenance routines to keep your southwest-style home looking fresh and inviting. This could mean a weekly vacuuming session or wiping down surfaces every few days—whatever suits your lifestyle!
V. Furniture Selection for Southwest House Style
Let's talk furniture selection. If you want to create the Southwest house style, you'll want to include rustic and handcrafted pieces. Think of components made from leather, reclaimed wood, iron and natural fabrics. The best strategies are to mix wood, metal and natural materials.
When it comes to seating options, you should keep it casual—big couches with comfy cushions that invite people to sit and stay awhile. Plush ottomans can double as extra seating or a coffee table when needed. You can also bring in elements of surprise like colourful tribal rugs or a vintage-style armchair with high-contrast upholstery—both work great for adding specific design details that will make your space unique!
VI. Southwest House Appliances to Enhance Your Space
Bring your Southwest home style to life and get ready for an upgrade with the right appliances. You'll be surprised by how much difference the perfect kitchen appliances can make to your southwest-style home, blending form and function.
A few of the essential appliances that you might want to think about include the following:
Refrigerator: Choose a fridge with a stainless steel finish that complements your home's natural textures and hues. Look out for energy-efficient options with an Energy Star rating that helps you save on energy costs in the long run.
Microwave: For quick meals on the go, microwaves are must-haves in any home. Look out for chef's options with convection cooking to ensure everyone gets fed in a flash!
Oven & Stove: Get creative when it comes to ovens and stoves that are added to your kitchen or dining area. Opt for built-in models for seamless integration into your existing design and pick ones with multiple functions such as temperature control, steam ovens or a combination of both so you can whip up various meals quickly and easily.
Dishwasher: Say goodbye to grimy dishes forever with an efficient dishwasher suitable for any kitchen size or style preference. Whether you're looking for countertop models or full-size units – there's something ideal for all needs!
VII. Organizing Your Southwest House
When organizing your Southwest-style home, there are some tips to remember. For starters, you should focus on creating a space that feels rustic and natural but is also stylishly organized.
Natural and Rustic Storage Solutions
Look for items that have a natural look: think woven baskets, vintage trunks, and weathered wood. Or you can use native elements like cactus and leather to create an organic feel. You don't have to fill your home with many storage solutions either—keep it minimalistic and only add pieces that bring character to the house.
Maximizing Indoor-Outdoor Living Spaces
To maximize indoor-outdoor living spaces, incorporate elements from both indoor and outdoor spaces into your rooms—think large windows, lightweight furniture pieces on wheels for easy mobility, curtains for privacy (or use drapes for added texture), and bold rugs that contrast against the natural beauty of an outdoor setting. Add accent plants or flowers in colourful pots or vases to finish your space.
Tips For Maintaining An Organized And Clutter-Free Home
Finally, to stay organized in a Southwest home-style house:
Focus on keeping surfaces clear by adding storage baskets underneath tables or by installing wall hooks behind furniture, so they don't take up floor space;
Invest in tall bookshelves instead of short shelves so that you can store items neatly while at the same time displaying knick-knacks;
Add more light sources to illuminate dark corners of the room;
Add labels to boxes or bins — this will help you know where everything should
VIII. Southwest House Renovations and Upgrades
Renovations are exciting… if you do them right. Doing some simple (and budget-friendly) upgrades to your home can help you bring the desert indoors and showcase the unique character of a Southwest style. Here are some projects that'll give your home a stunning Southwest look:
A. Enhancing natural light and warmth
The natural light streams through the windows and is an integral part of a Southwest-style home, and one way you can enhance this feature is by installing privacy curtains in lighter hues and adding warm pendant lights to the room. You can also install shades or blinds to adjust the amount of light entering your home. These simple updates will add warmth, ambience, and charm to your home's interior.
B. Renovation projects that showcase Southwest's character
To capture the essence of a Southwest style in your home, there are specific renovation projects that you can opt for — like installing terracotta tiles on the floor and using linoleum, painted or raw wood doors or door frames, or installing vividly coloured rugs with folkloric designs on your walls. These uncomplicated renovations will make your home look more vibrant and authentic!
C. Budget-friendly improvements for a desert-inspired look
If you're on a budget but still want to get some Southwest vibes in your home, try using earthy hues like ochre and turmeric to paint your walls or add neutral accents such as sisal rugs and baskets with tribal patterns — they're an inexpensive way to enhance a room's character! You can also go for materials like rattan furniture instead of heavier styles like oak or mahogany — they'll look beautiful when paired with soft
IX. Southwest House Design Ideas
From more minor upgrades to grand gestures, here are some design ideas to help you embrace Southwest style in your home.
Cosy and inviting living spaces
Creating an inviting living space is essential. Start by drawing on the earthy vibe of desert earth tones in your furniture, rugs, and textiles. The Southwestern look also pairs well with natural materials like wood, leather and iron, so consider these materials when picking out furniture or accents. Meanwhile, adding exciting pieces that reflect the area's Native American heritage can quickly round out the home's atmosphere.
Rustic and earthy bedrooms
Regarding bedrooms, the Southwest style is all about comforting and unpolished vibes. Achieve this by using textured fabrics like wool or fur for cosy blankets and throws or Navajo-inspired rugs on the floor. As for wood furniture, go for light-colored woods like aspen or knotty pine for a rustic feel. You can even use faux-wood wallpapers for a desert-inspired touch!
Outdoor living areas with desert-inspired charm
The great outdoors is what Southwest style is all about! Use locally sourced or sustainable materials like adobe brick walls or earthen pottery to create an authentic atmosphere. Adding plants like cacti and succulents can also give your outdoor area a nice pop of color—perfect for entertaining guests during hot summer afternoons!
X. Cost Guide for Southwest House Style Living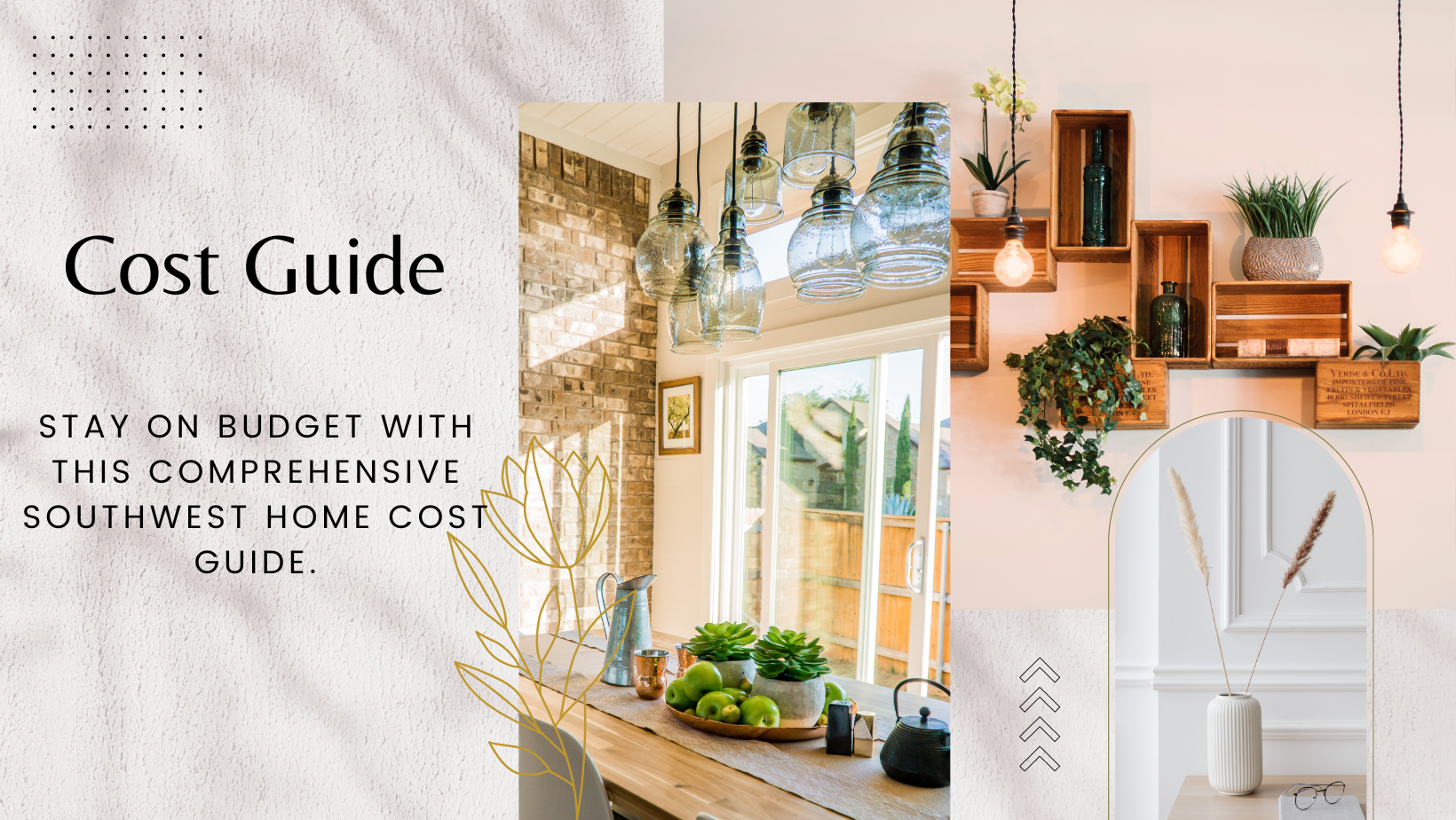 Achieving the perfect southwest esthetic for your home doesn't have to cost an arm and a leg. You can achieve this without breaking the bank with the proper budgeting, renovation and remodelling tips. Let's start with the renovation and remodelling costs:
A. Estimating renovation and remodeling costs
The great thing about a southwestern-style home is that it doesn't require significant renovations or remodeling to achieve a unique look. If you plan on major ones, such as installing stucco to existing walls or replacing flooring with Mexican tiles, ensure you have a reasonable cost estimate.
B. Budgeting for furniture and decor
Furniture and decor will complete your southwestern-style home, so you must plan your budget accordingly. Look out for bargains at second-hand stores or even DIY tables to add a personalized touch!
C. Saving on appliances and energy expenses
Devices like air conditioning units should be chosen based on their energy efficiency ratings — this means that they may be more expensive at initial purchase but will save money in the long run, which can help compensate for costs on furniture, decoration, and other elements of redesigning your space.
XI. Conclusion
Now that you understand southwest style better, you're probably wondering what's the best way to get started.
A. Embracing the Southwest house lifestyle
This is about transforming your home into a warm, vibrant, and inviting space. You can achieve this by integrating elements from the Southwest in your indoors and outdoor decor. Think clay pottery, wrought iron fixtures, hand-woven Navajo rugs, colourful textiles and furniture made from mesquite or willow branches.
B. Creating a warm, vibrant, and inviting space
You can also create an atmosphere of warmth and comfort by focusing on the details such as fabrics in desert colours, wall decorations with Southwest motifs and decorative accents like carved wooden skulls or painted desert flowers. Place some cacti around your garden for an extra dose of authenticity! Last but not least – use bright colours to add a splash of cheerfulness to your home while remaining true to the Southwestern style.