I. Introduction
Are you dreaming of a cabin in the woods? Or maybe a cozy place near the lake? If so, cabin-style homes offer the perfect combination of comfort and style with rustic charm. With a unique aesthetic that blends relaxation and modern sophistication, the cabin home style is having a moment.
So, what is it about cabin homes that are so appealing? The allure of cabin-style living lies in its ability to create the perfect balance between natural elements and contemporary trends–allowing you to enjoy cozy comfort with a touch of modern flair. Cabin-style homes embrace living close to nature, often incorporating raw materials such as wood and stone into their designs. Whether you're looking for rustic accents to create an inviting ambiance or a natural retreat that exudes rustic elegance, these elements help give your space new life.
By homaging traditional mountain lodge decor while embracing more modern materials, you'll be able to capture that wonderful cabin feel while still achieving an updated look!
II. DIY Projects for Cabin House Style
Adding your personal touches to the cabin home style is a great way to make it yours. Whether you're a bit of a handyman or a DIY beginner, there are some easy ways to get started working on your dream cabin house style.
First, start with rustic wood accents, like adding farmhouse-style wooden beams in the living room or bedroom. And if you're feeling adventurous, you can make handmade lighting fixtures, like mason jar sconces and pallet wood chandeliers. These projects will add character to the room and help transform it into a unique space that reflects your tastes.
Pallet furniture can also bring a rustic touch to any room. This furniture style usually doesn't require many tools or construction skills, from tables and chairs to bookshelves and firewood holders. It's an affordable way of sprucing up any space and simultaneously making it look stylish yet cozy!
III. Cabin Decor Ideas
Bring that classic cabin look to your space with the correct decor. There are many ways to do this; the best part is you can customize the style however you like.
Here are three different ideas to get you started:
A. Vintage and Antique Accessories
Go to your nearest flea market or thrift store and find vintage items that evoke nostalgia — like a record player, typewriter, gramophone, or priceless family heirlooms. This will help create a unique, rustic feel for your cabin home.
B. Natural Materials and Textures
Choose natural materials like wood, stone, metal, leather, wool — anything that helps create an ambiance of comfort and warmth. Add lush textures with throws and pillows in fabrics like velvet or linen for a cozy feel.
C. Cozy and warm color palettes
Choose colors inspired by nature to evoke an outdoor feeling inside your cabin home — earthy hues like hunter green, honey golds, deep blues, and burnt oranges work great for achieving this effect. You can also go for warm neutrals like cream or taupe if you prefer a more muted tone.
IV. Cabin Cleaning Tips and Tricks
Cabin life means keeping your home clean and tidy, so here are some tips and tricks to help you do just that.
Natural Cleaning Solutions
Natural cleaning solutions are easy to keep your cabin clean without exposing your family to harsh chemicals. You can use a few essential, all-natural ingredients to make your cleaning solutions around the house, such as white vinegar, lemon juice, baking soda, essential oils, and castile soap.
These products are all natural and non-toxic and can be used to make cleaning solutions like all-purpose spray cleaners, window cleaners, and floor cleaners. Plus, they're way cheaper than store-bought chemical cleaners!
Maintaining Wood Surfaces
Another tip for keeping your cabin looking great is ensuring all wood surfaces are properly treated and maintained. This means taking extra care of wooden furniture by polishing it regularly with special oil to ensure it stays in good condition. Additionally, using wood polish occasionally will help maintain your wood floors against wear and tear.
If you have exposed wooden beams or other structures in your cabin home, use a sealant or protective finish every two years to prevent moisture or sunlight exposure damage.
Seasonal Cleaning Checklist
Finally, creating a seasonal cleaning checklist for essential tasks such as changing the furnace filter or checking the locks on windows will help ensure everything is kept well-maintained between deep cleans throughout the year. That way, you'll never be caught off guard by something unexpected!
V. Furniture Selection for Cabin House Style
When you're decorating in cabin house style, furniture selection is critical. You'll want to choose pieces with the theme to bring the whole look together.
Here are some tips for furniture selection that will bring your cabin house-style look to life:
A. Rustic and reclaimed wood furniture
Rustic and reclaimed wood furniture is a great way to get a cozy cabin living space. This type of furniture has a natural and warm look, perfect for an outdoorsy or cottage vibe. Opt for pine, oak, or hickory pieces for an earthy feel.
B. Mixing modern and vintage pieces
Don't be afraid to mix modern and vintage pieces in your cabin house-style space. This will add a unique touch to your area while holding on to the classic cabin warmth you're trying to create. Try adding vintage chairs around a sleek modern coffee table or incorporating throw pillows with modern prints into your seating area's vintage couch.
C. Comfortable and cozy seating options
If you want your cabin home style to be relaxed and inviting, comfortable seating options are necessary! Look for couches with soft fabrics that entice people in, armchairs with plush cushions, and ottomans that beckon people to sit down after a long day on the slopes or running around the lakefront! Recliners are also excellent choices – they can provide extra space when needed but quickly transition back into warm seating areas when company comes knocking!
VI. Cabin Appliances to Enhance Your Space
If you want to enhance your cabin home with the right appliances, you've come to the right place. Suitable devices are essential when living in a cabin home because they improve comfort, style, and efficiency.
Energy-efficient and eco-friendly options
Looking for energy-efficient and eco-friendly options certified by Energy Star is essential when shopping for appliances. Not only will these save you money on your monthly bill, but they will also help protect the environment by reducing energy consumption. Look for devices that utilize LED lighting, dual-flush toilets, programmable thermostats, and energy-efficient dishwashers to make your cabin even more eco-friendly.
Essential kitchen appliances for cabin living
When it comes to kitchen appliances in a cabin home, there are a few essentials that you should have:
A refrigerator – Choose one ENERGY STAR rated to keep food fresher while using less energy.
A microwave –Is an efficient way to heat food without wasting space or energy.
A convection oven – For a powerful option that spreads heat evenly throughout your dishes using turbo fans and sealed cooking chambers allowing you to use less power when baking or roasting.
A dishwasher – Look for models with multiple wash cycle options to adjust water temperature and soil levels according to your needs.
Small space appliances and gadgets
If you live in a smaller cabin home, look for small space-friendly appliances like countertop microwaves, compact refrigerators, and other gadgets like slow cookers, air fryers, and pressure cookers to save on space while providing plenty of cooking.
VII. Organizing Your Cabin House
Whether dealing with a small cabin house or a larger space, small spaces can get cluttered in the blink of an eye. Luckily, there are a few tips and tricks for keeping your cabin house organized and clutter-free, so let's explore them now:
Clever Storage Solutions
Make the most of limited space using vertical storage options – think bookshelves, coat racks, and cabinets. You can also use creative storage solutions like wall cubbies, hidden shelves, under-the-bed drawers, and other multi-purpose furnishings like ottomans with built-in storage.
Maximizing Small Spaces
Use double-duty pieces, such as chairs with hidden storage, to make the most of your cabin's small space. Use pieces of furniture with shelving to store items like magazines or books. Lastly, invest in trunk coffee tables or serving carts to store things without occupying too much space.
Tips for an Organized and Clutter-Free Cabin
Start by organizing your items into categories (e.g., kitchen utensils vs. dishes) and then create individual sections. Consider keeping things like seasonal to limit clutter in your cabin even further. Lastly, bins can store items underneath beds or closets for easy access without taking up too much visual space in your home.
VIII. Cabin Renovations and Upgrades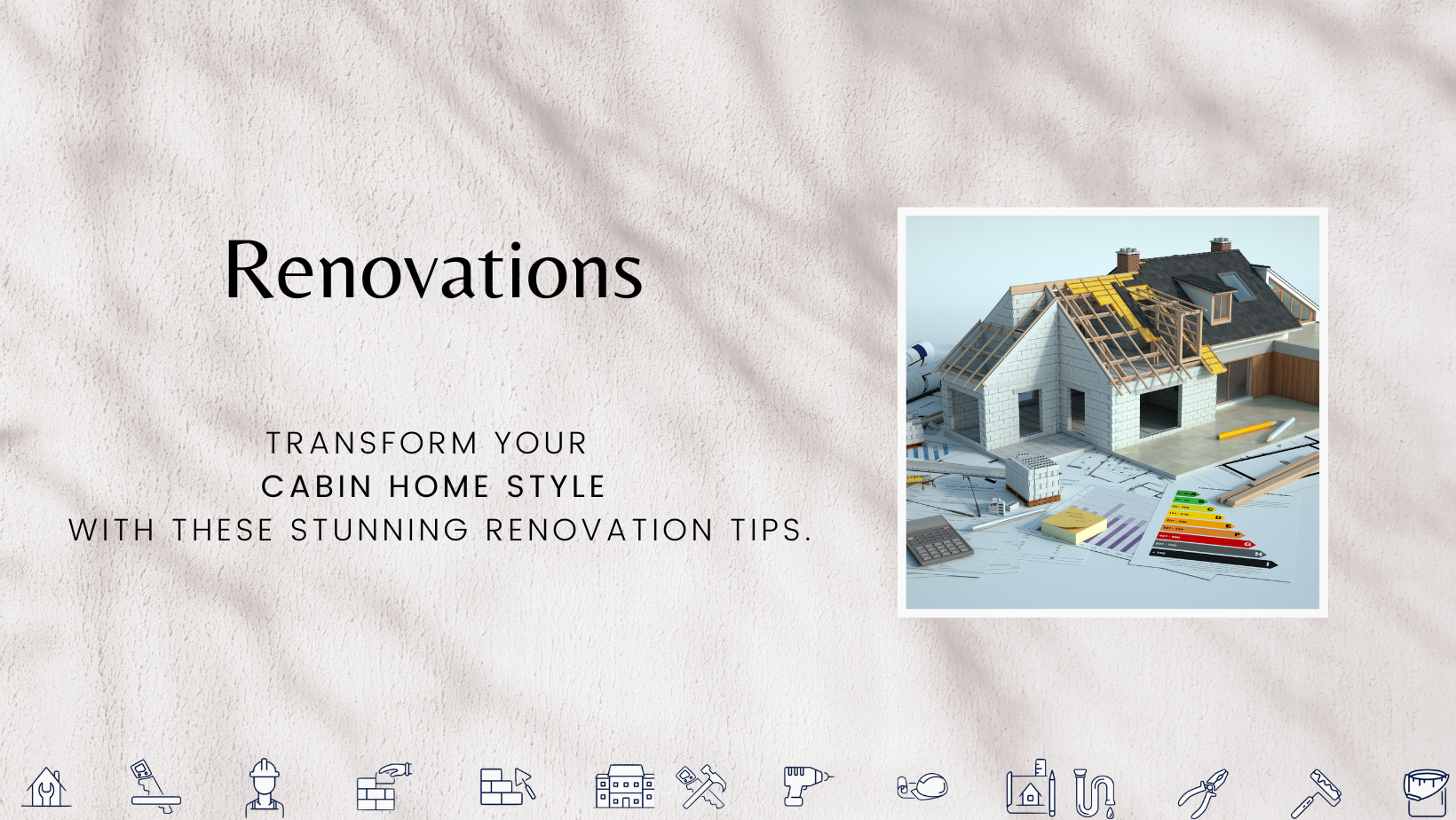 Preserving the charm of your cabin doesn't mean you can never upgrade it. You can do plenty of renovation projects to increase the value of your cabin home without sacrificing its style.
Renovation Projects
If you want to make significant improvements to your cabin, think of long-term projects that can add value and improve functionality—for example, sealing insulation into walls or adding new windows and doors to improve energy efficiency.
You can also renovate existing features like fireplaces or stonework or add outdoor features like a patio or outdoor kitchen to help create a warm and inviting space for entertaining and relaxing outdoors with friends and family. And don't forget about landscaping – adding trees, plants, and flowers can transform the look of your cabin home.
Budget-Friendly Upgrades
If you're spending less but still want extensive impact upgrades for your cabin home, you can make more affordable improvements too. Repainting exterior wood trim is one cost-effective improvement that will give your cabin an instant facelift. You could also upgrade kitchen counters and backsplashes in your kitchen or bathroom, choose energy-efficient LED light bulbs to save energy costs over time, or even refinish hardwood floors for added shine without incurring high labor costs.
No matter what kind of renovations or upgrades you choose for your cabin home, ensuring they keep the integrity of your cabin's style intact is vital to preserving its unique charm!
IX. Cabin House Design Ideas
You don't need to sacrifice style for the cabin look you want. Here are some exciting cabin house design ideas that you can use to give your home a cozy, rustic vibe.
Open Concept Living
Open-concept living is a great way to make your cabin house feel more extensive and inviting. If you're lucky enough to have large windows or skylights, take advantage of the natural light! Keep furniture low, layer different patterns and textures, and incorporate natural elements like stone or wood.
Cozy Bedroom Retreats
Create the perfect retreat in your bedroom by bringing in texture and warm colors like burgundy, navy blue, chocolate brown, and cream. Incorporate woven rugs on the floor and soft blankets on the beds. Hang a few deer heads on the wall for an extra rustic charm.
Outdoor Living Spaces to Extend Your Cabin
Take your cabin style outdoors with inviting decks, patios, fire pits, and wood or wrought iron outdoor furniture. Install twinkle lights or lanterns for a magical vibe at night. Add lush green plants in wooden boxes for an added touch of nature.
X. Cost Guide for Cabin House Style Living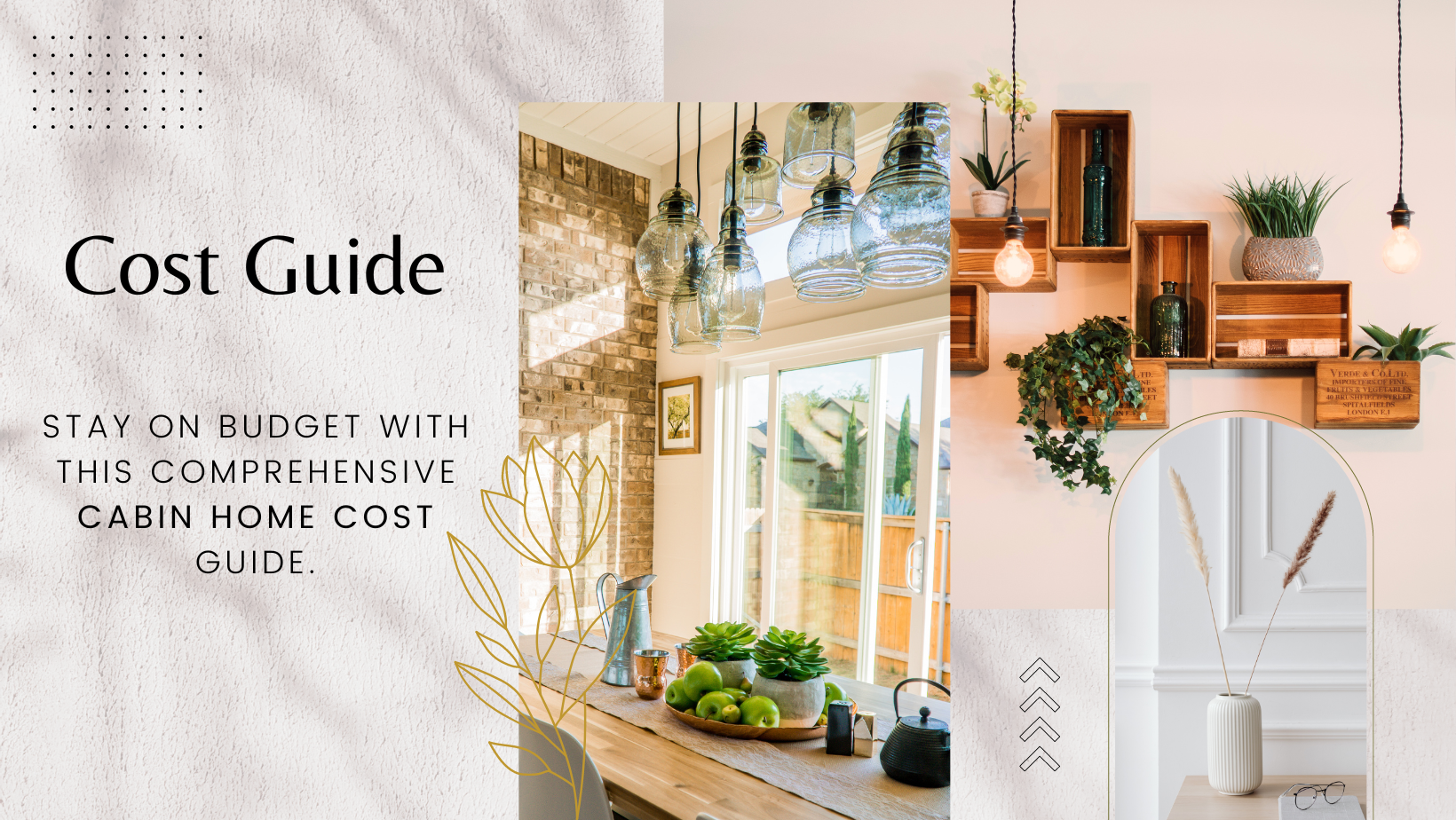 Cabin's home style is cozy, comfortable, and stylish but can also be expensive. To make your cabin dreams a reality, you must stay budget-conscious when renovating, shopping for furniture and decor items, and selecting appliances. Here are some tips to help you budget for cabin home living:
A. Estimating Renovation Expenses
Renovating an existing space or building a new one can be costly. Start by creating a list of all the material and labor costs you'll need to make your cabin dreams come true—you can find plenty of renovation calculators online to help you get started.
B. Budgeting for Furniture and Decor
Cabin house-style homes often have rustic touches that make them warm, cozy, and inviting—this type of furniture and decor often comes with a high price tag if you don't know where to look. Consider going thrifting or shopping in secondhand stores for unique pieces at more affordable prices.
C. Saving on Appliances and Energy Costs
An essential part of budgeting for your cabin house is saving on appliances and energy costs. High-efficiency lightbulbs may help reduce your electric bill. Investing in energy-efficient appliances like washing machines may save money from reduced water costs and energy savings over the long run.
XI. Conclusion
You can embrace the cabin house lifestyle and create a warm, welcoming space in your home. You don't have to jump into a full-on renovation; small changes like bringing in natural elements, keeping things simple, and adding texture can make a big difference. Choose furniture that matches the scale of your room and its purpose. Don't forget to have a mix of subtle and bold colors too!
The key is to keep your vision in mind—consider what you love most about cabin houses and make it happen in your home! With these tips, tricks, and ideas, you can bring the rustic feel of a cabin house into your own space.