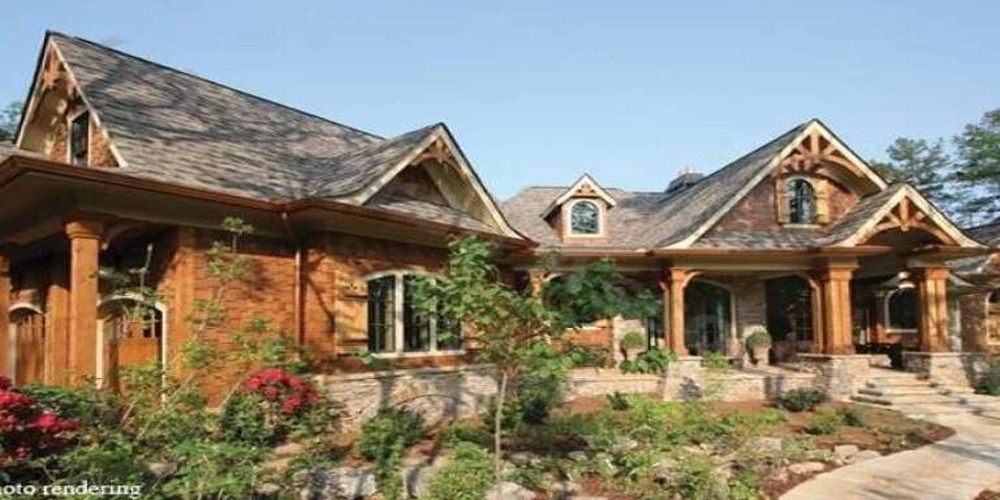 I. Introduction
The rustic house style is unique, full of charm and natural elements that help make your home a cosy and picturesque abode. Whether you're looking to revamp an existing space or get your feet wet by incorporating a few rustic touches, you'd be amazed at the difference that embracing this aesthetic can make for your home.
So why go rustic? Let's look at the two most important key points: the charm of rural house living and embracing the rustic esthetic with natural elements.
When it comes to charming decor and ambience, there is no comparison to a home filled with rustic accents. Think cosy fireplaces surrounded by antique furniture, sun-filled rooms featuring antiques, and unique details made of wood, wrought iron, and brick that are so often associated with this style. Rustic homes have an inviting quality that makes you feel right at home.
Incorporating natural elements into your decor is essential for achieving the perfect rustic look. You don't need to spend a fortune on expensive decorations; letting nature bring in its beauty will do wonders for your space. Utilizing plants and materials such as wood, stone, clay, and iron can create an atmosphere of sophistication while giving off a cosy vibe.
II. DIY Projects for Rustic House Style
One of the best things about the rustic style is that it's easy to achieve with a few DIY projects. From custom window treatments to cosy handmade textiles, you can create truly stunning pieces in no time.
Handmade, earthy crafts are a great way to add a rustic touch to your home. Make wall art from natural branches and twigs, or create a cosy centrepiece using pinecones and twine. You can even create easy-to-sew pillows with natural fibres like cotton muslin or burlap.
If you prefer something more permanent than decorating, try creating custom window treatments like Roman shades or indoor shutters. Choose fabrics like burlap, linen, or plaid for a classic rustic look that will last years.
Up-cycling and Repurposing
Another great way to get the rustic look is by up-cycling vintage furniture and decorating it with reclaimed materials like wood pallets, old doors, and salvaged cabinets. Incorporating these materials into the design will instantly add character and charm to any room in the house!
III. Rustic Decor Ideas
Regarding rustic home décor, it's all about organic and handcrafted items, warm and earthy colors, and incorporating natural textures and raw finishes. Here are some ideas to get you inspired:
Organic and Handcrafted Accessories
Fill your room with quality handmade items or vintage finds – like a hand-knitted blanket or ceramic bowls – for a truly cosy atmosphere. Also, opt for meaningful art pieces like black-and-white photographs taken in nature that will remind you what makes the rustic style so unique.
Warm and Earthy Color Palettes
Rustic décor is all about keeping things warm. Think muted greens, dark reds, browns, beiges and charcoals – these colors will create a soft base for other elements of your room. Then use lighter accent colors like cream to break it up and add interest.
Incorporating Natural Textures and Raw Finishes
Incorporate natural materials such as wood beams, wood floors, woven rugs or rough stone walls to bring depth and texture to your interior space instantly. Unfinished woods create an organic feel that adds charm to any room. And don't forget natural fabrics like linen that add texture without compromising comfort!
IV. Rustic Cleaning Tips and Tricks
When cleaning a rustic home, it's essential to use eco-friendly cleaning solutions and to properly care for the wood, stone, and other rustic materials used in the design. Here are some top rustic cleaning tips and tricks:
A. Eco-friendly Cleaning Solutions
Switch out your regular chemical cleaners for natural eco-friendly cleaners to keep your rustic home as safe and non-toxic as possible. Organic products like vinegar and baking soda effectively disinfect surfaces without exposing you and your family to harsh chemicals.
B. Caring for Wood, Stone, and Other Rustic Materials
Your rustic home likely features a variety of textures, materials, and finishes — including wood, stone, wrought iron, leather, etc. To keep these materials looking their best over time, you must choose the appropriate cleaning techniques for each type. For instance, you should never use an abrasive scrubber on softwood floors that may scratch or damage the finish!
C. Seasonal Cleaning and Maintenance Routines
To indeed maintain a rustic look in your home, especially if it has wooden elements like an exposed ceiling beam or a staircase banister constructed from wood or wrought iron, be sure to carry out seasonal cleaning routines involving wet-wiping surfaces with a damp cloth or dusting with vacuum cleaners for more challenging to reach spots—you don't want any dust settling on the surface of your furniture!
V. Furniture Selection for Rustic House Style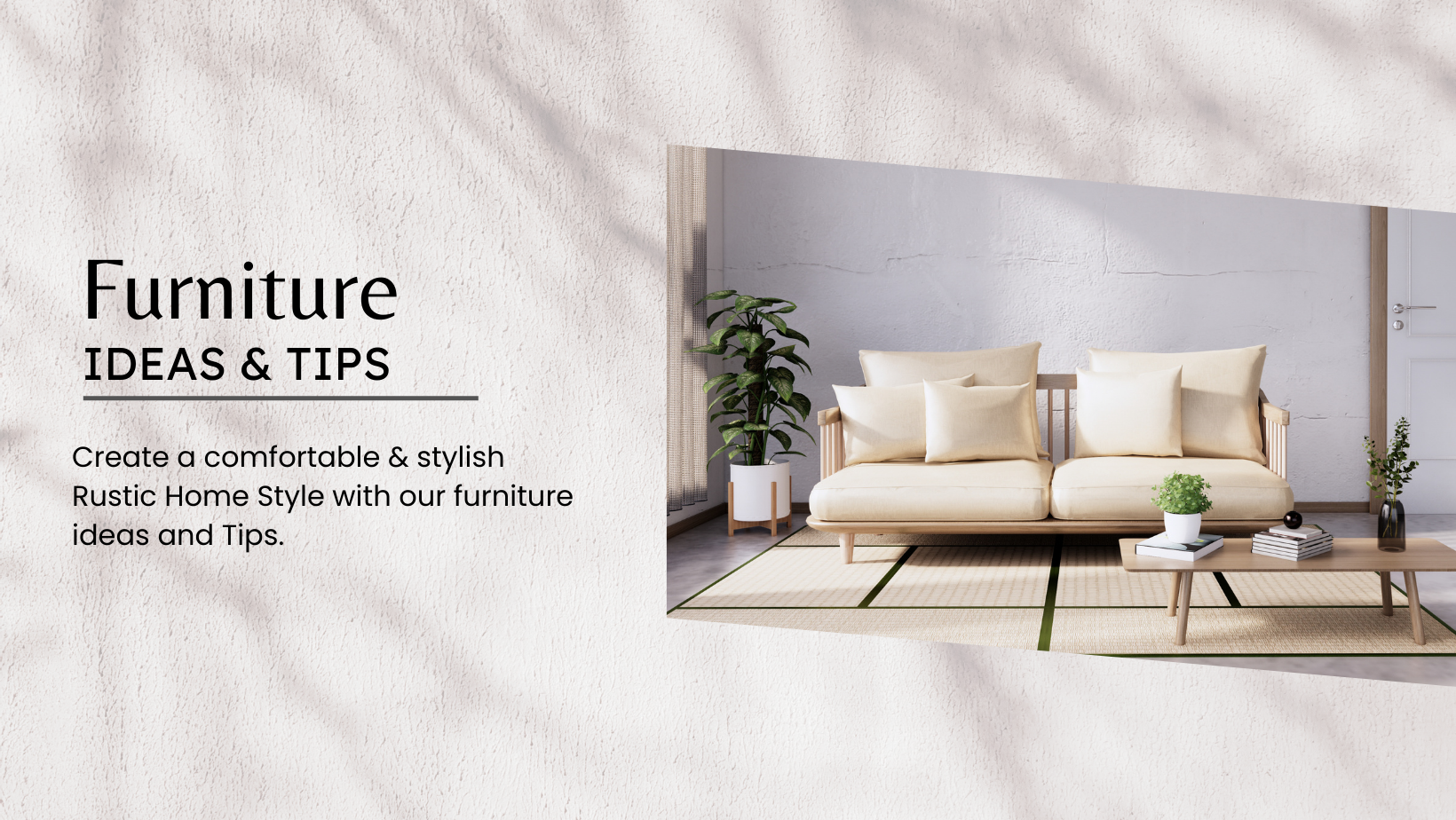 When it comes to furniture selection, there are several ways you can add to the rustic charm of your home. Here are some tips you can use to create your rustic style:
A. Choosing reclaimed and handcrafted pieces
You can choose pieces with a rustic look, such as reclaimed wood or handmade furniture, or select items with a more modern feel and then distress them to give them an aged look. Reclaimed woods are cost-efficient and recycled materials, so they're also eco-friendly! Bonus: Reclaimed wood often comes with its own patina and historic charm, so you don't need to spend extra time finishing it.
B. Mixing wood, metal, and textured fabrics
Mix elements like wood, metal, and textured fabrics for a more stylish modern rustic look. It would be best to mix other metals like brass, copper, and even stainless steel for a more eclectic feel.
C. Comfortable seating options for cosy living
Whether you're looking for seating in your family room or office space, there is no shortage of comfortable seating options in the rustic style. Chairs with exposed legs in light woods or wicker can help create a casual yet luxurious feel in any room of your house. To ensure everyone is comfortable sitting down or lounging around, choose furniture pieces with cushions or pillows made from natural fibres like cotton or jute.
VI. Rustic Appliances to Enhance Your Space
Certain appliances can enhance your rustic living space experience. From classic cookers to refrigerators to washing machines and microwaves, there are so many options you can go for that will fit the rustic aesthetic and be efficient and practical at the same time.
Let's take a look at some of the essential kitchen appliances you'll need for a rustic home:
Stove/Range
Regarding rustic kitchen appliances, the stove or range is one of the essential pieces. Whether it's a gas or an electric stove, look for a classic design with traditional charm. Go for a neutral finish such as stainless steel, white or black—all of which will help you create the perfect rustic setting in your kitchen.
Refrigerator
For your fridge, you want something practical yet stylish. Look out for sleek retro designs that still embody the rustic feel of your home—think minimalism and classic lines mixed with natural wood accents in traditional colours like white or grey.
Dishwasher
The dishwasher should be a functional and practical piece that goes along with the style of your kitchen while also being able to stand up to regular use without compromising on performance or efficiency. If you're going for an industrial look, opt for stainless steel—it's timeless and sure to last an lg. If you're going more traditional, choose something with natural wood accents such as oak or walnut.
Remember to balance functionality and traditional charm when picking out appliances for your rustic home – this is critical to creating an efficient yet stylish space.
VII. Organizing Your Rustic House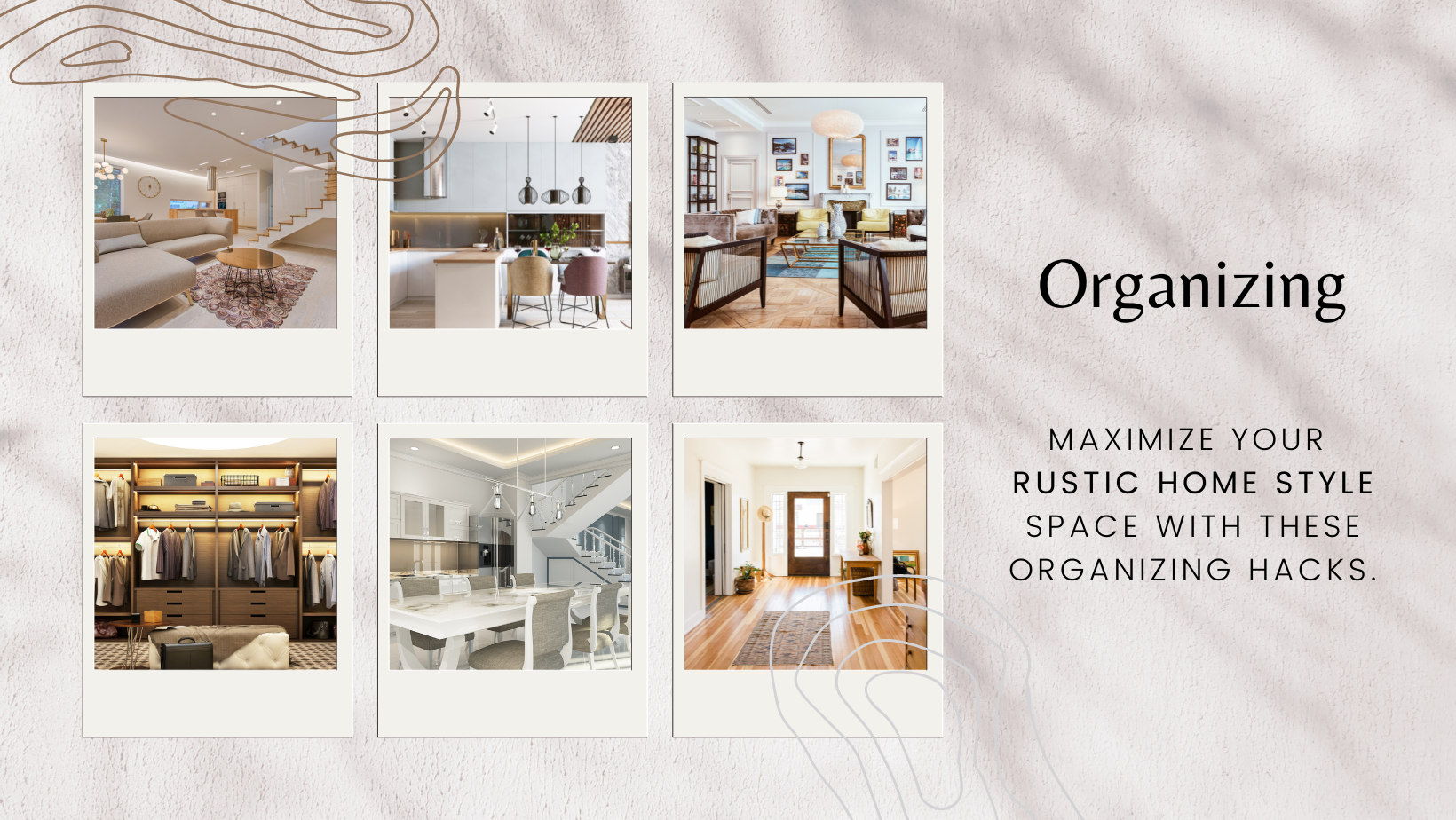 When it comes to having an organized, rustic home, you can do a few things to make sure you're making the most of your space. Here are some tips for maximizing your living areas and outdoor spaces, plus natural storage solutions that don't skimp on style:
Maximizing Living Areas and Outdoor Spaces
Use baskets or wicker containers for extra seating—they add extra storage space and help bring in a cosy atmosphere.
Hang shelves or floating shelves on the walls to store books and magazines.
Install hooks on walls or doors to store hats, coats, and bags.
Utilize furniture with hidden compartments like ottomans or tables with drawers for simple storage solutions.
Place furniture close to walls if space is tight; you'll gain extra floor space and make your home feel bigger!
Try creating a home office in an unused corner; it's a great way to organize paperwork and create an inspiring workspace where you can get creative!
Natural Storage Solutions
Please use vintage suitcases as end tables, side tables or coffee tables; they're also great places to store blankets and other items!
Install wooden crates as wall shelving; they're great for displaying knick-knacks, books, plants etc., while still being functional shelves!
Hang wooden boards over doors for additional shelf space; you can use them for plates and cups, or even kitchen utensils!
4 Look for vintage crates and trunks—
VIII. Rustic Renovations and Upgrades
Rustic style isn't about perfection; it's about character—so if you're ready for some DIY renovating, add some rustic charm to your home. Low-budget improvement projects can significantly impact creating of your ideal rustic-style home.
Enhancing the rustic character and charm
Adding vintage hardware and fixtures, like light fixtures or door handles, can bring out the home's warmth—exploring antique shops or flea markets is a great way to find unique pieces that create an authentic look without breaking the bank. And don't forget about the finishing touches: experimenting with antique furniture is a great way to add interest to plain rooms.
Renovation projects that add warmth and authenticity
If you're looking for larger renovation projects with a more dramatic effect, consider installing rustic hardwood floors (like hickory or oak) or laminate wood floors (like distressed wood). And why not experiment with shiplap on an interior wall? It brings out the natural look of wood.
Budget-friendly improvements for a timeless look
Finally, even minor upgrades can bring life to your home without breaking the bank—adding simple things like vintage lighting fixtures and distressed-painted furniture can give you that cosy yet timeless look without investing in expensive pieces.
So if you're ready to spice up your rustic house style with some vintage flair, remember: low-budget improvements are great investments when creating an authentic-looking space!
IX. Rustic House Design Ideas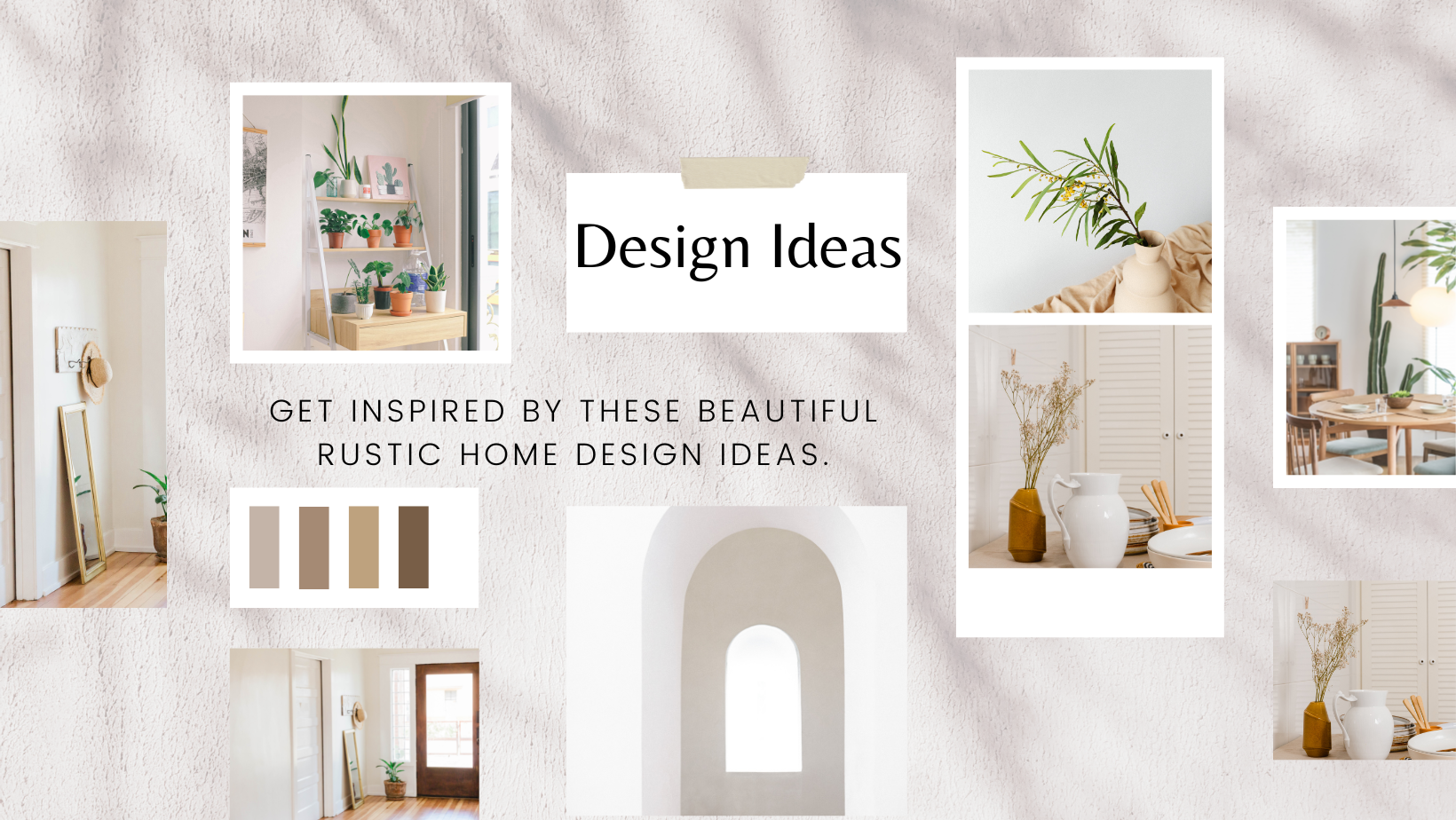 Suppose You've come to the right place, you're looking for great rustic house-style ideas; from cosy and inviting living areas to be serene and earthy bedrooms, from outdoor living areas perfect for relaxation and enjoyment. In that case, there are plenty of ways to incorporate the rustic look into your home.
Let's take a clear look at some of these rustic house design ideas:
Cosy and Inviting Living Spaces
Creating a warm and cosy living space is easy with rustic pieces like a natural fibre rug, comfortable seating, an oversized coffee table, distressed furniture, and vintage decor. Hang some twinkle-light string lights for an extra special touch!
Serene and Earthy Bedrooms
Bring out the beauty in your bedroom by incorporating rustic elements like wood panelling or a wooden headboard. Use natural materials like light linens and wool blankets to add texture. Create a focal point by hanging a chandelier or an abstract wall hanging.
Outdoor Living Areas For Relaxation And Enjoyment
Bring the comfort of indoors outside by using natural materials like stone, brick pavers or composite decking as flooring materials. You can also incorporate garden lighting in the form of lanterns or sconces to set the mood. Add plenty of comfortable seating options, such as chairs made with reclaimed wood or weather-resistant cushions.
X. Cost Guide for Rustic House-Style Living
Creating and living in a rustic house style doesn't have to be expensive. You can save money while making your desired look in a few ways. Here are some tips for estimating renovation and remodelling costs, budgeting for furniture and decor, and holding on to appliances and energy expenses.
Estimating renovation and remodeling costs
The cost of transforming your home into a rustic style will come from renovations and remodeling tasks. To reduce the amount you spend, try to do as much as you can yourself, such as painting cabinets or wall décor frames. If you're taking on more significant projects such as tiling or constructing walls, estimate how many hours of work will be needed to complete them and consider the individual labour costs that might be required for areas beyond your skill level (and willing patience!).
Budgeting for furniture & decor
It pays to shop around when it comes to furnishing your space with rustic house-style pieces. Research what material you want—wood is a good option for furniture, but so are metal and reclaimed items that tie into a rustic home style's "old world" charm. Look out for discounts at local stores or online shops specializing in rustic furniture—you never know what kind of savings you'll find!
Saving on appliances & energy expenses
Regarding appliances such as refrigerators or washers/dryers, look out for Energy Star-labeled ones, which generally use less energy than standard models over their lifetime. You may not get the same features as regular models, but cutting out anything unnecessary or unused could help.
XI. Conclusion
You've reached the end of our ultimate guide to rustic home style, and now you can look forward to enjoying life in your rustic abode. Embracing this simple lifestyle can be incredibly satisfying—not only will your house look gorgeous, but you'll also create an inviting and warm atmosphere that makes every guest feel right at home.
You can turn any house into a beautiful rustic home by combining natural materials like wood and stone, inviting colors and patterns, your sense of style, and traditional elements like antiques and heirlooms. Use this guide's tips, inspirations, and ideas to create a cosy space that speaks to you. The perfect nest for eating dinner in the evening or entertaining late into the night.