I. Introduction
Balcony rooms are all the rage in the home building and design space. With their indoor-outdoor connection that adds a unique feel to any room, they can transform how you use your home—not to mention how you enjoy the outdoors.
From brilliant living spaces to inviting outdoor dining spots and cozy reading nooks, balcony rooms have become a must-have for modern homes. They offer you not just one but two ways to experience your outdoor area—indoors or out—so you can enjoy your home no matter what the weather brings.
Moreover, it doesn't require many transitions from indoors to outdoors either. It would be best if you did not worry about being in direct competition with the elements like in a traditional patio setting; instead, by using floor-to-ceiling glass walls or French doors, balcony rooms provide effortless integration between both spaces.
II. DIY Projects for Balcony Rooms
Whether you're upcycling, repurposing, customizing, or creating something from scratch, there is a world of balcony room DIY projects.
A. Creative Crafts And Functional Ideas
Doing DIY projects in your terrace is a great way to spruce it up and get creative. You can make functional accessories for your balcony, like window boxes or decorative curtains. You can even create art pieces that uniquely use the outdoor space.
B. Custom Planters and Handmade Textiles
Plants are a great way to add life and personality to any outdoor space, so why not get creative with your planters? Get crafty with clay and create custom planters for your plants. If you're ambitious, try making your own cushioned seating or handmade rugs for the floor to pull the look together.
C. Upcycling and Repurposing Items
One of our favorite things about DIY projects is how to turn something old into something new! From pick-me-up furniture pieces to wall art that stand out, upcycling makes it all the more meaningful because it was salvaged and given new life! You don't have to spend too much on new materials when repurposing used items around your house or in thrift stores.
III. Balcony Room Decor Inspirations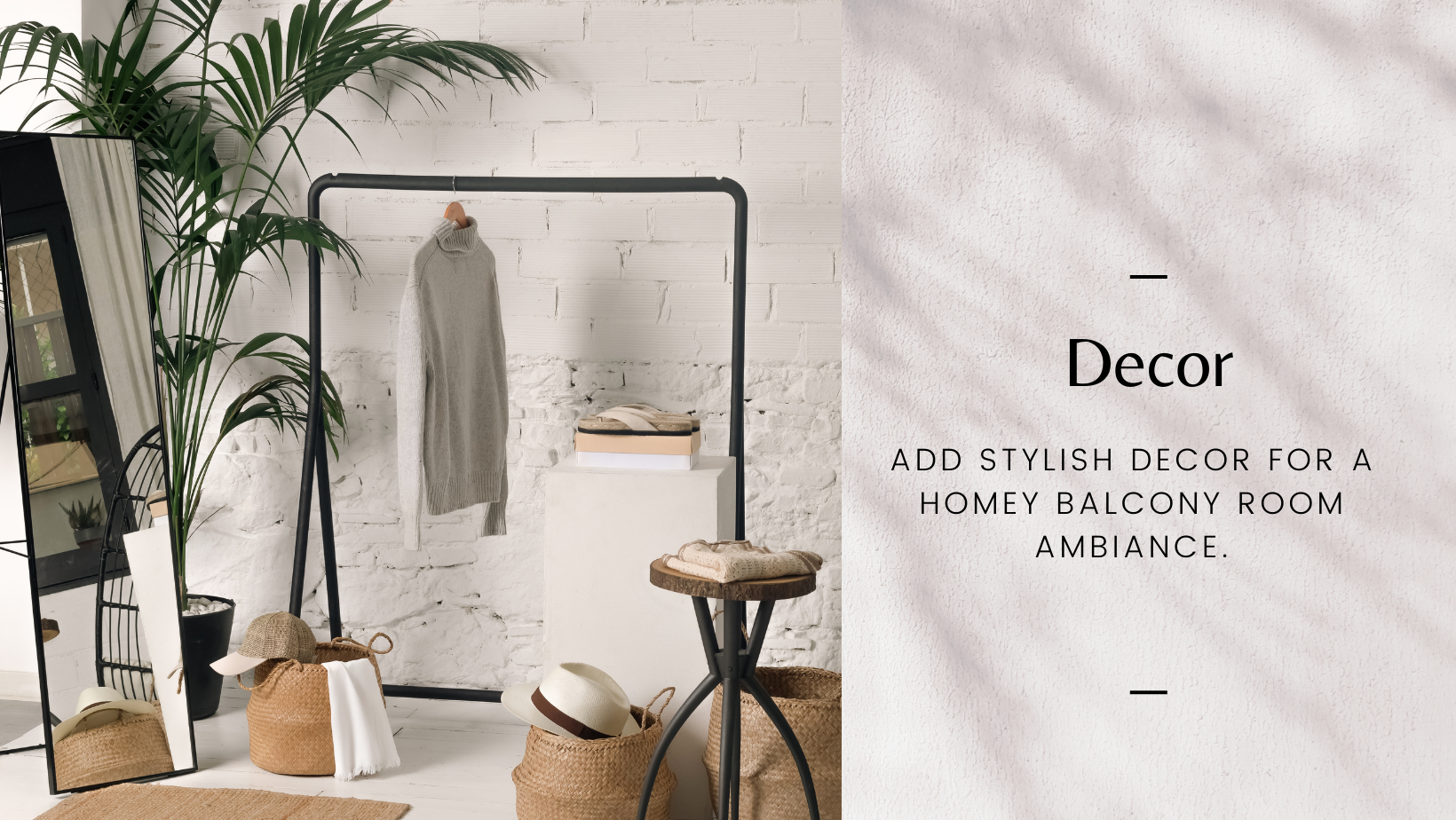 Whether you want a beach-inspired escape, or something more moody and dramatic, there are plenty of ways to bring a unique style and personality to your terrace.
Stylish Accessories
Select stylish accessories that will make it extra cozy. Think throws, sun-blocking screens, outdoor rugs and furniture, and potted plants to enhance the space. If possible, match the outdoor elements with what's already inside the house for a cohesive theme.
Fresh Color Palettes & Textures
Create an inviting atmosphere with fresh color palettes and unique textures like rattan, bamboo, or terra cotta. Bring the outdoors in with cushions and blankets in natural colors that won't fade too quickly in the sun. And don't forget to add an amazing view by hanging artwork or adding greenery!
Greenery & Artwork & Lighting
Complete the look with greenery such as succulents, air plants, or ferns—and don't forget to water them regularly. Another great way of sprucing up your terrace is by hanging artwork like paintings or photography prints. Finally, introduce lighting elements such as fairy lights or lanterns for nighttime ambiance.
IV. Cleaning Tips for Balcony Rooms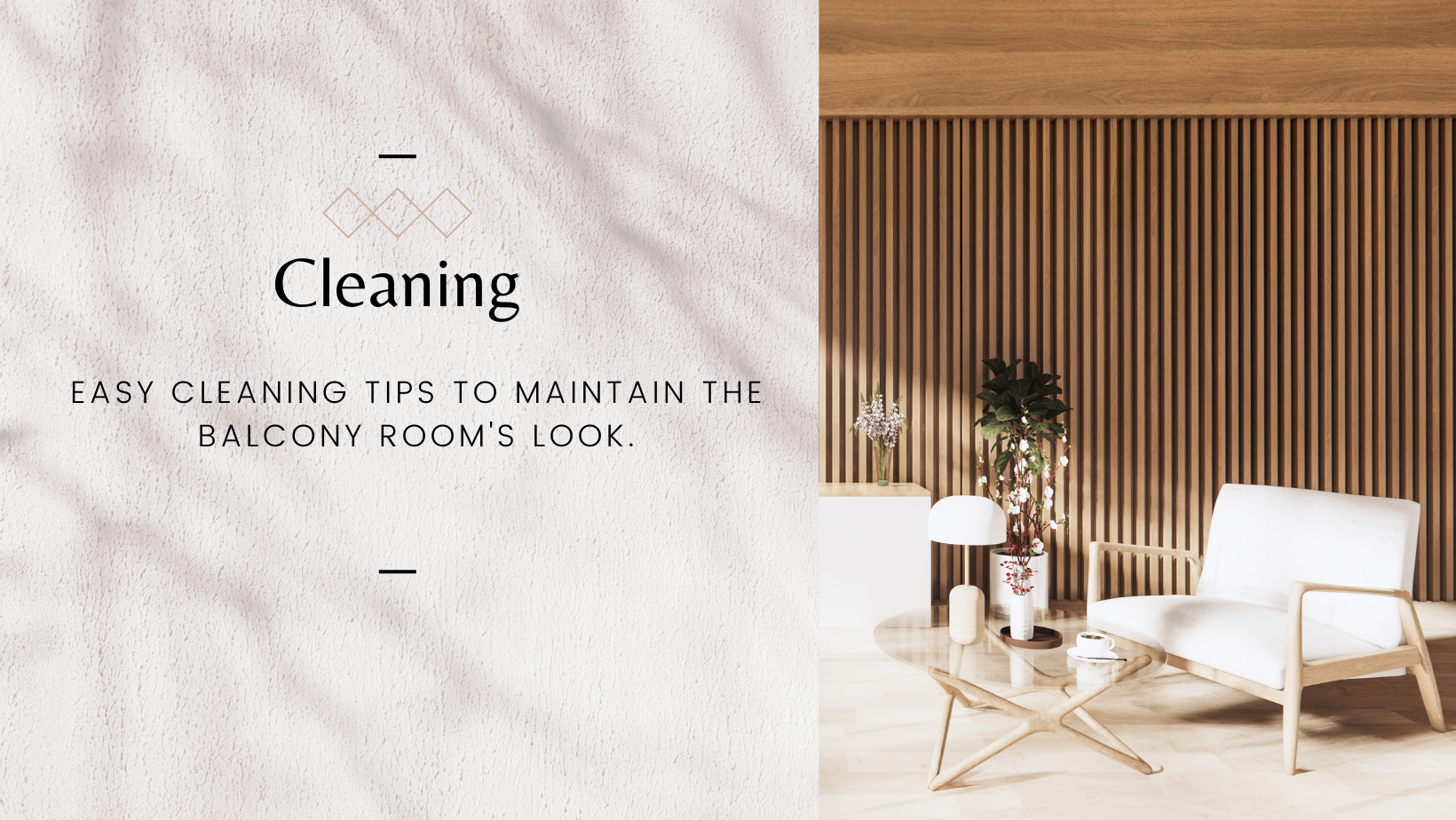 When cleaning your balcony room, there are a few simple steps and supplies you should have ready. To keep the space looking its best, we recommend keeping the following cleaning items on hand:
A vacuum cleaner equipped with an upholstery attachment for furniture
All-purpose cleaner or a mixture of water and mild soap (depending on the fabric)
Soft cloths, sponge, brush, and microfiber cloths
Cleaning materials appropriate for fabrics such as suede or leather
A duster suitable for the ceiling and walls
Glass cleaner and paper towels
A mop or a steam cleaner with a large head that can reach tight corners
Check your furniture's care labels before using any cleaning products. You should do this before performing any cleaning routine to keep fabrics and materials in good condition as time goes by—some fabrics may not respond well to certain products or chemicals, so take precautions when choosing cleaning supplies!
V. Furniture Choices for Balcony Rooms
Choosing the right furniture for a balcony room can make all the difference. Here are some things to keep in mind while deciding on the table.
Comfortable and Weather-Resistant Pieces
When selecting pieces for your balcony room, look for comfortable, weather-resistant items. If your balcony is exposed to outside elements such as rain and wind, it is essential to choose water-resistant materials. When possible, find pieces with removable covers or cushions so you can store them away if needed during inclement weather.
Mixing Seating, Tables, and Storage Options
In addition to seating, consider purchasing a table or two to host gatherings or enjoy meals outdoors. A combination of chairs and benches offers versatility since you can accommodate more people with both options. Adding storage solutions like ottomans completes the look while providing extra space to store items like books, blankets, and pillows when not used.
Functional and Inviting Layout
To create an inviting layout in a terrace, opt for circular-shaped seating instead of traditional straight lines. This setup encourages conversation while creating a warm atmosphere for entertaining guests outdoors. Make sure pathways between the furniture are cleared so people can move around the area without having any obstructions in their way.
VI. Balcony Room Appliances
When you envision your balcony room, you don't just think of the furniture, lighting, and decorations but also all the necessities needed to be enjoyable. Appliances suitable for outdoor use can make all the difference in making your space more convenient and enjoyable.
A. Appliances suitable for outdoor use
One must-have appliance for an outdoor space is a refrigerator. An outdoor refrigerator allows you to keep drinks and snacks cool in the summer months when temperatures rise, plus it can store tools and other needed items in one place. For a bonus, consider installing a wine chiller or mini-bar if space allows! Another excellent appliance is an electric grill; you can easily throw together a barbecue with friends without leaving your terrace.
B. Essential items for entertainment and convenience
Other useful appliances include a TV or audio system to provide entertainment while relaxing outdoors. This could be connected to a wall-mounted TV or sound projector that won't take up much floor space but will offer plenty of entertainment options. Finally, adding some lighting fixtures can help make your terrace look even more inviting at night while giving necessary illumination for late-night barbecues or gatherings with friends.
C. Esthetic and functionality balance
When shopping for appliances for your terrace, it's important to remember that aesthetics matter just as much as function! With today's technology, many appliances are available in stylish designs that liven up the atmosphere while still being energy efficient and durable enough to withstand the outside elements. Please make sure all of the appliances match your desired esthetic so that they blend in with the rest of
VII. Organizing Your Balcony Room
When organizing your balcony room, several smart storage solutions make maintaining a clutter-free space easily. Whether starting over or modernizing an existing space, these strategies will help you get the most out of your space.
A. Smart storage solutions
You don't have to sacrifice esthetic for functionality — plenty of options combine both. Choose furniture that can double as storage, like an ottoman with a lift-up lid or a coffee table with drawers. Add custom shelving over railings to store items while letting light in and keeping your view open. Wall-mounted coat racks and hanging baskets are great for accessing items quickly, while space-saving rolling carts give you access to frequently used items without taking up too much floor space.
B. Maximizing space for relaxation and entertainment
When decorating your balcony room, think about how it can best serve the purpose of leisure and enjoyment. Arrange furniture so people can move freely around the area, create conversation circles and provide adequate seating for guests if necessary. If your balcony has a roof or gazebo, hang string lights for the added atmosphere or add plants for some green life into the mix.
C . Maintaining a clutter-free balcony
The key to maximizing the use and enjoyment of your balcony is keeping it decluttered and organized so you can easily access the items you need when you need them. Make sure clutter doesn't creep in by using organizational tools such as drawer dividers and baskets; designate spaces for equipment like tools and gardening supplies; have a designated place for frequently used items like grill ut.
VIII. Balcony Room Renovations
Are you considering a balcony room renovation? We understand why—combining indoor and outdoor living spaces can make your home look beautiful while adding value.
Whether you're aiming to upgrade existing features or start from scratch, here are projects that blend indoor comfort and outdoor appeal:
A. Enhancing balcony features
If you already have some balcony features, there'll be a few ways to enhance them. This could include adding privacy screens, cushions for a seating area, or decorative pots or planters. You may also consider flooring treatments like tile, wood decking, or sandstone — these are great for improving the look and safety of your terrace.
B. Projects blending indoor comfort and outdoor appeal
You could also go further than the basics by integrating different aspects of the outdoors and indoors into one unique retreat. Attach an outdoor kitchen with pergolas, shaded areas, and comfortable seating arrangements, then decorate with fairy lights to create an intimate outdoor dining space. Or add a hot tub with sections of walled-in seating areas and mood lighting — perfect for entertaining friends in style!
C. Budget-friendly improvements
These changes don't have to break the bank either – think about buying second-hand furniture or making DIY items like window boxes filled with flowers or herbs—it'll give your space a whole new feel! Plus, the increased insulation by double-glazing will help keep costs down over time too!
IX. Balcony Room Design Ideas
There are several options available for designing your balcony room. You could create comfortable seating areas or add dining and entertainment setups. Maybe you'd like to include a balcony garden or green space?
Comfortable Seating Areas
Adding a sofa, armchairs, and ottomans is an easy way to give the space a homey feel and make it cozy for lounging outside. You may also consider adding some patio furniture, like umbrellas, tables, and chairs. To add a touch of elegance, you can also hang string lights around the area for that extra special ambiance.
Dining & Entertaining Setups
Having your setup for dining and entertaining can be great for hosting friends and family. Consider setting up a buffet table with plates, cutlery, glassware, and a cold drink dispenser for outdoor barbecues. There's nothing like dining al fresco on warm summer nights!
Balcony Gardens & Green Spaces
If you have some room left over in your terrace layout plan, why not build yourself a mini garden? Potted plants make great decorations along the balconies railings or as table centerpieces. You could even add bird feeders or wind chimes to make the space more inviting!
X. Cost Guide for Balcony Rooms
If you're planning and budgeting for your balcony room, consider the renovation and remodeling costs. There are a few ways to estimate how much this will cost — from getting an online quote to hiring a contractor for a more detailed assessment.
Estimating Renovation & Remodeling Costs
When considering how much to budget for remodeling and renovating, it's important to account for the type of project you want and the materials you'll use. For example, if you want to install new tiling or flooring, there are also costs associated with demolition and any alterations that need to be done.
Budgeting For Furniture & Decor
In addition to renovations and remodeling, furnishing your terrace requires extra budgeting considerations. You have to factor in furniture pieces like sofas and beds and decorative items like rugs, lighting fixtures, and lamps; even art pieces all add up quickly. It's also important to consider other smaller elements in the room, such as trays for serving drinks or fruits, cushions for chairs, etc. So don't forget that part of the budget!
Saving On Appliances & Energy Expenses
Lastly, don't forget those appliances that can help make life easier. A small refrigerator can come in handy when it comes time to cool a beverage or put away leftovers or uneaten snacks. Appliances also use energy which can add up on your energy bill—so consider investing in energy-saving devices and bulbs that keep electricity costs low while also helping the environment!
XI. Finding Contractors and Companies
To make sure your balcony room project turns out as perfect as you've envisioned it, it's important to find the right contractors and companies for the job. The internet is a great resource for discovering specialists in your area and reading reviews from others who have tapped their services. Start by searching industry-specific websites that host contractor portfolios, such as ENHanceConnect, Homestars, and Houzz. These categories are specifically tailored to balcony rooms; this includes examples of completed projects for inspiration and customer reviews for assessing quality.
When looking through online portfolios, there are a few tips we recommend following to identify highly-rated professionals:
Check the total number of reviews they have—the more reviews they have, the more reliable they will be
Look at how many projects they've completed—experience is key when it comes to custom projects like balcony rooms
Read customer feedback—positive reviews indicate a good experience
Compare costs—choose the best offer but keep an eye out for quality too!
These steps should lead you to the best contractor or design firm for your terrace project. Ensure you check multiple sources before making any decisions and are completely satisfied with your choice. Good luck!
XII. Conclusion
As balcony room enthusiasts, we are passionate about bringing everyone closer to the ultimate balcony lifestyle. Whether you're looking for nooks and crannies for a potting station, planning something fancy for a home office, or want to create an inviting environment for friends and family, there is much that you can do with your balcony space.
Creating the perfect look and feel for your terrace is all about embracing the history of this unique lifestyle and ensuring that the new design meets your needs and serves its purpose. It's a perfect opportunity to add value and functionality to your apartment or house.
If you decide to take on a DIY project or hire a contractor, we hope our guide has provided enough information to give you the confidence you need. The world of balcony living awaits!
There are all kinds of rooms you can have in your house. They have different names and other purposes. There's a terrace, basement room, bathroom room, bedroom, closet, dining room.