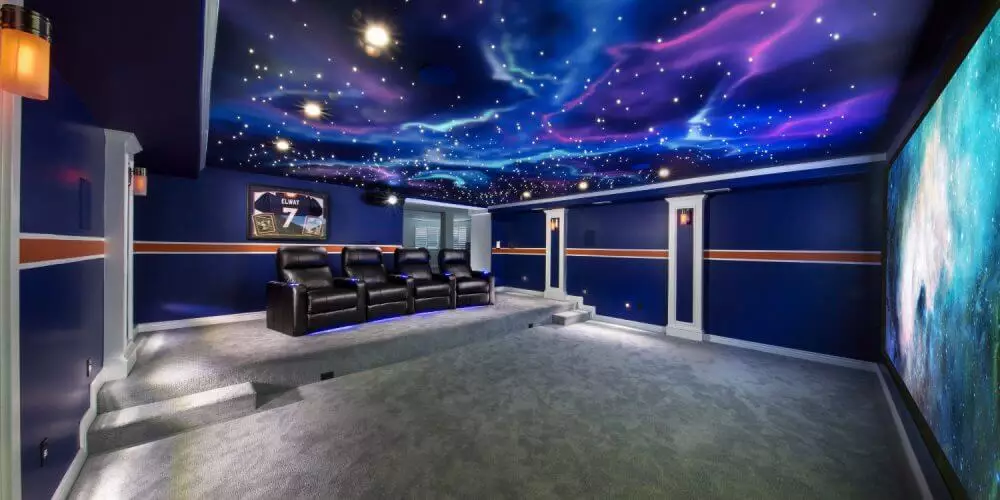 I. Introduction
Welcome to the world of home theatre haven. Here, you'll discover all the tips, tricks, and advice to build the home movie house room of your dreams. A home theatre room can bring your entertainment dreams to life and become a new source of joy for you and your family.
We know that getting started can feel overwhelming. And that's why we've put together this article! We aim to provide you with the information you need to create an immersive and entertaining space within your home—one where you can enjoy endless movie nights without ever leaving the comfort of your couch.
Take it from us: there are countless perks to having a home theatre room in your house. Let us break down some of them for you below:
-A cosy sanctuary where you can unwind and relax
-Enjoy movies, shows, and games in an enhanced picture quality
-No more competing with crowds or waiting in lines at traditional theaters
-The ability to create immersive experiences with surround sound
-Vast design options that complement the esthetic of any space
With all these advantages, what are you waiting for? Get ready to transform your house into a home movie house haven!
II. DIY Projects for Home Theater Rooms
Creating a home movie house room can be a fun and creative project! We love participating in finding ways to make it your own, so let's talk about some of our top ideas for DIY projects.
First, add some cosy, low-cost ambient lights with a few creative crafts to bring the cinematic experience home—from paint cans and toilet paper rolls to mason jars, they can all be up-cycled into movie-night decorations.
Second, customize seating and storage to fit your lifestyle. Whether carved from pallet wood or embellished with twinkle lights, these creative solutions will surely upgrade any living room. You don't have to spend a lot of money on custom pieces; you can repurpose or up-cycle items you already have or find them at the thrift store for a one-of-a-kind look customized just for you.
Last but not least, don't forget about soundproofing! It might not be part of your typical DIY list, but investing in essential items like door seals and acoustic wall panels isis necessary to ensure every moment of your movie night is more enjoyable.
III. Home Theater Room Decor Inspirations
We have plenty of ideas for creating a movie theatre-style experience right in the comfort of your own home. Whether you're looking to add a few stylish accessories or are starting from scratch, there are plenty of ways to customize your home theatre room.
First, decide if you want to create a cinema-style feel, like being in the theatre, or if you'd prefer a more relaxed vibe—think comfy bean bags and pillows. Next, look for ways to incorporate rich hues and textures into the room. Consider adding shades of leather for seating and plush fabrics for accent chairs and throw pillows that will give guests total comfort.
In addition to bringing comfort and color into the space, it's essential to think about lighting and artwork that will create an inviting atmosphere. You can set the mood with adjustable lighting behind wooden cornices or liven up your walls with wall art featuring blockbuster movie posters. Lastly, don't forget themed elements that can add pizzazz to your space, like movie-themed popcorn buckets or wall sconces shaped like film reels.
These design tips offer inspiring ideas to bring your home movie house room to life. With some imagination and creativity, you can have an at-home cinema experience that is sure to WOW family and friends alike!
IV. Cleaning Tips for Home Theater Rooms
Caring for your home theatre is not just crucial for the longevity of your equipment and surfaces. It is also a key element in creating a clean and inviting space. From keeping dust away from delicate electronics to maintaining a tidy room, here are some solutions for maintaining a clean sweep:
Please muse door mats outside the theatre room to trap dust and dirt and prevent it from being tracked in.
Utilize dust cloths or mop heads with microfibers to gently remove dust particles when cleaning interior surfaces.
Vacuum any floor mats, seating, rugs, or carpets frequently using the brush attachment on the vacuum cleaner. This will help remove any accumulated dirt and debris over time.
Wipe down electronics with antistatic cloths or wipes to prevent static electricity buildup.
Once everything is clean and polished, you can maintain your home movie house haven even more efficiently with regular cleaning and maintenance routines:
Wipe down furniture every week or two, depending on how often the theatre is used.
Dust all surfaces with a soft cloth at least once monthly (or more if necessary).
Inspect all wires and cables periodically for any loose connections that need tightening.
Change air filters regularly depending on their type (HEPA filters should be replaced every 3–6 months).
V. Furniture Choices for Home Theater Rooms
We've all seen those vast, uncomfortable leather home theatre chairs with cup holders in the armrests. That might be your image of a home movie house room, but that's so yesterday! Today's modern home theatre furniture is chic, comfortable, and cosy.
When considering your home theatre room furniture, consider space-saving and comfortable pieces. Look for recliners and sofa beds that won't take up too much space and will let you kick back and relax while you watch your favourite movie. You can also mix seating, storage, and display options to create a functional yet cosy layout. For instance, a sectional couch gives you many seating options while creating extra storage space in the form of end tables or ottomans where you can store items like games or remotes.
Finally, don't forget to add some accent pieces like poufs or throw pillows to make the room inviting and stylish! Whether you pick one oversized chair with an ottoman or choose an entire set of coordinated furniture pieces, finding the right balance for your home movie house room is vital to creating an enjoyable viewing experience for family and friends.
VI. Home Theater Room Appliances
If you want to turn your home theatre room into a complete experience, we must discuss the essential items for audio-visual enjoyment. The range of products you can choose from will fulfil every imaginable need, from cosy seating and sound systems to immersive lighting and home automation that make you feel like you're in a state-of-the-art theatre. Here are some items you'll want to consider:
A. Audio Equipment
From sound-bars and speaker systems to receivers and amplifiers, there are plenty of ways you can make the best out of your theatre experience with fantastic audio. We recommend investing in high-quality equipment with surround sound technology and other features, such as wirelessly connecting external devices or streaming music services.
B. TV Screens & Projectors
Flat screens or curved TVs with various sizes and options are available depending on your budget. At the same time, projectors provide an equally enjoyable cinematic experience that is more affordable and offers more options in size and resolution.
C. Lighting
Lighting plays an integral part in the design of home theaters, offering an excellent way to create an ambiance for movie night without wasting electricity. LED lighting is a great energy-saving option, offering dimmable fixtures that reduce power consumption while providing a rich array of colors for any mood or occasion.
VII. Organizing Your Home Theater Room
Creating a home theatre oasis doesn't mean you must give up on the fine art of organization. In fact, with intelligent storage solutions and utilizing all the available space, it can be easy to keep your home theatre clutter-free.
We know that balancing efficient yet stylish storage solutions can be tricky. That's why we've put together some tips and tricks for ensuring your home movie house is organized.
Maximizing Available Space
If you have other activities in mind for your room that don't include watching movies, there are simple and creative ways to maximize your space for equipment and media items. Opt for shelving options that allow for display and functionality—from shelves that mount flat against walls to built-in bookcases or cabinets—so you can get the most out of your available floor space. You can also incorporate furniture with extra storage, such as benches with drawers or ottomans with built-in compartments.
Building Compartmentalization
Using hidden storage within furniture items, build compartmentalization into other parts of the room by creating cubby spaces in stairs or walls or incorporating drawer dividers into consoles. This allows you to store any number of items like controllers, remotes, gaming consoles, and more while keeping them easily accessible—without compromising the room's aesthetics.
You'll maintain a clutter-free environment without compromising style or design elements by implementing several storage solutions throughout your home theatre room — including features like shelving units, built-in seating, and cabinets.
VIII. Home Theater Room Renovations
As expert home theatre designers and installers, we understand how important it is to create a design that works with your budget and space. We specialize in making significant renovations to existing home theatre rooms, providing our customers with ways to enhance the audio-visual features of their area and make practical improvements that blend style and comfort, all within their budget.
Our home movie house renovations include:
Enhancing audio-visual features
We can assess your existing audio-visual equipment, suggest upgrades, and install whatever you decide to purchase. From installing 4K video projectors and surround sound systems to upgrading the acoustics of small rooms with soundproofing materials, we will provide you with the best solutions according to your budget.
Projects that blend style & practicality
Whether adding a custom bar or replacing outdated theatre seating with luxurious recliners, our experienced team can create a room design tailored to your entertainment needs. We can add innovative lighting solutions like LED strips or mood lighting and smart home technology such as voice-controlled remotes for convenience.
Budget-friendly improvements
Aside from significant installations, we also offer other budget-friendly options for modernizing your home theatre room, such as adding an acoustic diffuser or changing out the popcorn machines with something brand new! Our objective is always to find a way to spruce up any existing space without breaking the bank.
IX. Home Theater Room Design Ideas
Look no further for an inviting and atmospheric home theatre experience. Whether it's a modern, minimalist bond theatre interior design or one with a bit more character, your choices are virtually limitless. Here are a few suggestions to help get the creative juices flowing when it comes to designing your home movie house room:
Inviting and Atmospheric Settings
Create a warm atmosphere with wood panelling, deep tones, and red leather armchairs that create a cosy club vibe.
Darker room colors add to the feeling of immersion as they absorb more light and make the projected image stand out more.
Customizable screen sconces flicker like traditional theatre lighting fixtures on either side of the screen.
Utilize ambient lighting to create just the right glow
Modern and Minimalist Styles
Neutral colors with pops of color for accents will offer an elegant yet modern feel in your media room.
Striking shapes in furniture, like round tables and sleek sofas, create conversation pieces without overloading the room with furnishings.
Stick to window treatments that provide blackout capabilities for optimal viewing experiences in any light situation or time of day.
Bold and Themed Concepts
Art deco wall designs, and classic elements, emphasize sophistication without making your content blend into the background too much.
Primarily black walls and neon accents bring out an edgy and bold personality.
Go further by basing parts of your seating arrangement on themes like sports teams or movies you enjoy.
X. Cost Guide for Home Theater Rooms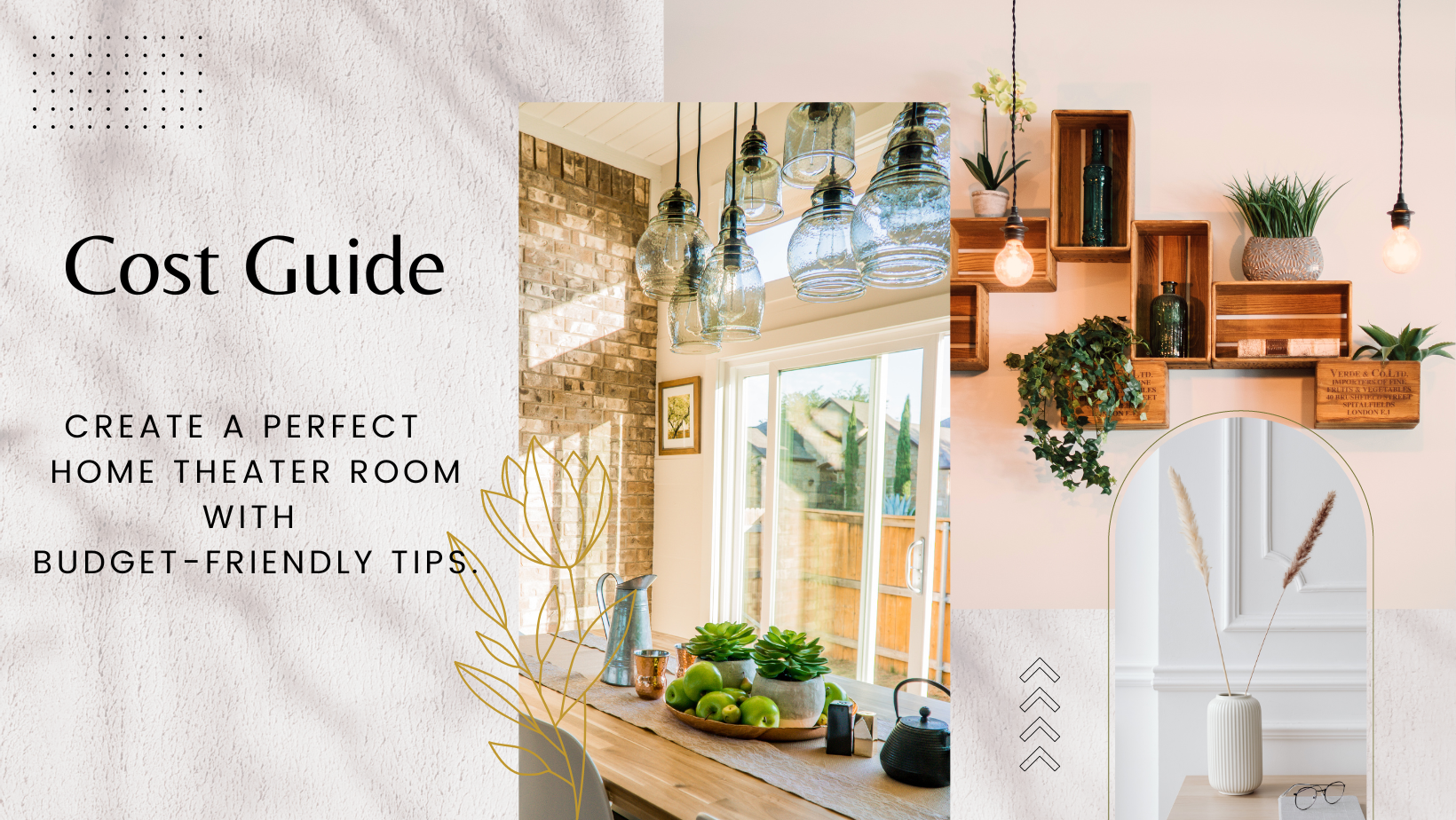 Creating your dream home theatre doesn't have to break the bank. With careful planning, budgeting, and some intelligent shopping, building an ideal home theatre on a budget is easy.
He is possible are our top tips for keeping renovation, remodeling, and furniture costs in check when designing your home theatre:
Estimating renovation and remodeling costs
When remodeling a home theatre, many factors will influence the cost. If you plan to soundproof the walls and ceiling, organize wiring, and add insulation or special lighting features, these features will significantly increase the project's overall cost. So before starting any project, estimate all required costs accurately.
Budgeting for furniture and decor
It's easy to go overboard when shopping for furniture and decor for your home movie house. Before making any purchases, make sure you create a budget that outlines all essential items needed to create your ideal space—like couches and chairs—as well as additional items that would be nice but can be excluded in you need to trim down costs.
Saving on appliances and energy expenses
You can also go green—and save some green as well! Consider energy-efficient appliances that help lower your energy bill over time. That way, you can keep costs low while enjoying all the features of a top-notch home theatre room.
XI. Finding Contractors and Companies
If you don't have any contacts for contractors, online resources like HomeAdvisor and Angie's List can be a great place to start. Many specialty home theatre websites feature an extensive list of professionals.
To find a reliable contractor:
Read customer reviews and scores to get an idea of the type of service the professionals provide.
Verify the contractor's license and insurance to ensure they are qualified to do the job safely and adequately.
Get quotes from multiple contractors to ensure you get the best deal for your money.
Ask family and friends if they have had any experience with a particular contractor or company and what their experience was like working with them on a similar project.
Check out local companies' websites to see how long they have been in business, what services they provide, and how much experience they have with home movie house room designs.
Research other contractors or companies in your area who may be able to provide similar services at more competitive rates than those listed above
Find out what processes and technologies the company uses for its projects. This will give you a better idea of their capabilities and technical know-how when designing home theaters! Now that's something you want if you're looking for the perfect home theatre setup!
XII. Conclusion
It's time to wrap it up and remove the curtain on this home theatre guide. If you embrace the home movie house lifestyle, your world has expanded. You've gained knowledge to help you create a functional and immersive space that can bring untold amounts of movie magic into your home.
We hope this guide has not only flipped on the light switch for you but given you some much-needed illumination and inspiration for your home movie house. From room design to audio-visual setup and streaming services to networking with friends worldwide on movie night, tonight is yours—and every night!
So keep exploring, innovating, and entertaining with the world of home movie house at your fingertips. And remember: nothing beats experiencing a feature film in all its cinematic glory alongside friends and family!