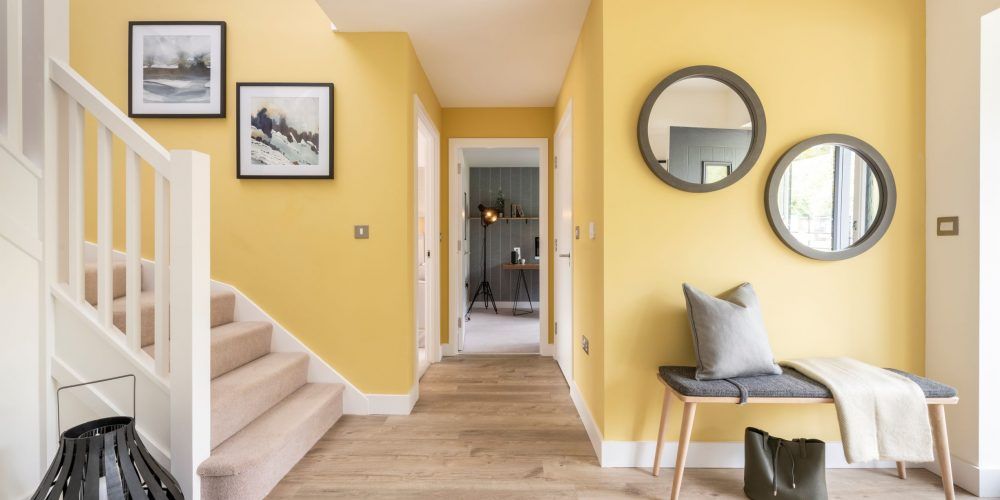 I. Introduction
Hallways may be one of the most overlooked areas of your home, but they have a lot of potentials to be transformed into something special. Whether you have a long, grand hallway or a smaller, narrower area, crafting an inviting and functional space is possible.
In this article, we'll show you how you can make the most of your hallway space by giving design tips for decorating and transforming these areas. We'll also provide expert solutions on making your hallway look more inviting and advice on an effective hallway storage strategy.
II. DIY Projects for Hall Rooms
We all want to make the most of our hallway room, and DIY projects are a great way to make that happen. You can transform the area into art with simple materials and proper instructions.
Here are some suggestions to get you started:
Creative Crafts and Functional Ideas: Creative crafts can be the perfect way to spruce up the room if you have limited space. You can make decorative artwork and functional items such as curtains, rugs, shelves, and tables.
Custom Storage and Handmade Accents: Custom storage solutions for your hall room can help keep it organized in style. You could make an exciting shelf from wood or create unique wall accents with paint or fabric.
Up-cycling and Repurposing Items: Up-cycling is one of our favourite ways to transform an ordinary space into something truly extraordinary. Think outside the box when repurposing items such as old furniture or fabric remnants—you might be surprised by what you can create!
III. Hall Room Decor Inspirations
Regarding hallway spaces, you have endless options for decorating with style. To help you get started, here are some of our favourite decor inspirations for hallways:
A. Stylish accessories
Accessories will help you make a statement in your hallway. Consider adding furniture like benches and console tables, wall-mounted shelves, and sconces, or unique wall art and tapestries. You can find these pieces in various colours and textures, so you can mix and match them to create a truly one-of-a-kind look.
B. Fresh color palettes and textures
Bring the walls alive with color! Choose colors that complement your aesthetic design; consider cool blues and greens, warm neutrals, or a classic black and white palette with bright accents. As for textures, consider adding patterned wallpaper or embossed panelling for an extra touch of luxury.
C. Lighting, artwork & thematic elements
Lighting is critical when it comes to making a grand entrance! Whether it's daylight from windows or fixes like pendant lamps and overhead light bars, the proper lighting will go a long way toward giving your hallway an inspiring makeover. You can add artwork and thematic elements like plants or rugs that reflect your style.
IV. Cleaning Tips for Hall Rooms
Maintaining a clean hallway space is no easy feat. With foot traffic, pets, and kids coming in and out, keeping surfaces looking beautiful can be a challenge. Fortunately, we've got some tidy solutions to help keep your hallway looking its best.
Solutions for Maintaining a Clean Space
Regularly cleaning the floors of your hallways is essential for keeping your hall space neat. When it comes to deep cleaning carpets or area rugs, rent a steam cleaner from the local hardware store, or hire a professional carpet cleaner to take care of the job. Vacuuming regularly (at least once every week) with a good-quality vacuum cleaner is also crucial, as this will help reduce dirt buildup in carpets, area rugs, and other textiles.
Caring for Various Fabrics and Materials
Different types of fabrics require extra care to ensure they remain to look great over time. For instance, natural fibers should be vacuumed gently to avoid damage, while synthetic fibers can be treated with more vigour when vacuuming or scrubbing them down. Regular dusting and spot-cleaning should suffice for dirt-resistant upholstery fabrics in your hallway chairs and benches.
Regular Cleaning & Maintenance Routine
Creating and sticking to a regular cleaning routine is essential for maintaining an orderly hallway space. By dedicating some time each week to dusting surfaces, vacuuming carpets/rugs/upholstery pieces, and wiping down walls & ceilings (if necessary), you can easily keep things looking spiffy without overdoing it!
V. Furniture Choices for Hall Rooms
When creating a functional and welcoming layout for your hallway, you have to choose the right furniture pieces to give the space its distinct look and feel.
Space-saving and versatile pieces
Furniture pieces that can be used in multiple ways are key – consider pieces like ottomans or benches with storage underneath. Accent pieces like console tables with bench seating can create an inviting atmosphere while providing extra seating when needed.
Mixing consoles, seating, and storage options
Don't forget to mix it up by adding consoles along walls or at the end of an entryway for convenience. You can also combine additional seating options, such as chairs and benches with corner shelves for storage. Use colours that compliment your existing decor to avoid an overwhelming look.
Functional and welcoming layout
Ensure you plan a functional layout before purchasing furniture — this will save time and ensure the hallway has enough space for foot traffic and guests during functions or events. By choosing attractive colours, comfortable seating, and pieces that bring functionality to the room, you can create a warm, inviting hallway perfect for your home!
VI. Hall Room Appliances
Most hall rooms are cramped and may lack natural lighting. But there's no need to settle for a dull, uncomfortable hall room when there are energy-saving appliances to brighten up the space and make it cosy.
We know how important it is to balance aesthetics and functionality in a hallway transformation. Here are some essential items you should consider for your hall room:
Decorative lights – Decorative lights, such as floor lamps and wall sconces, can add warmth and light to the hallway. You can find options that fit any style, from traditional to modern, at local lighting stores or online.
Air purifiers – An air purifier can reduce odours in a small space like a hall room and keep the air fresh while still looking stylish.
Smart thermostats – Smart thermostats are energy-efficient and help regulate the temperature throughout the home. They come in sleek designs that add character to your hallway or entryway.
With the right appliances, you can create a comfortable and inviting hall room that will make coming home more enjoyable.
VII. Organizing Your Hall Room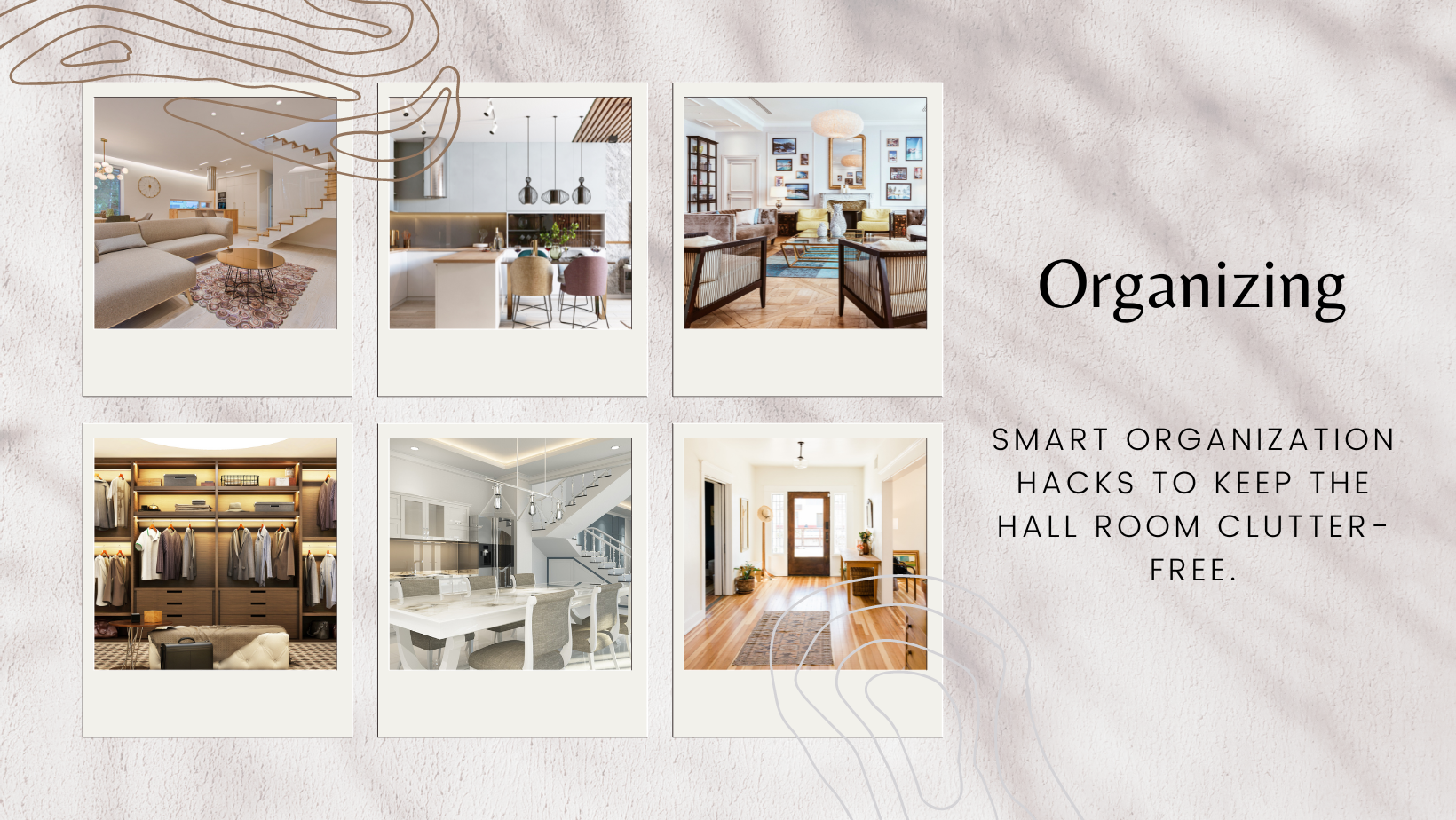 Hallways can be the dampers of on-trend design. But with some innovative storage solutions, you can make the most of your hall space. Here are our top tips for maximizing your hall for display and utility while also keeping it clutter-free:
Smart Storage Solutions
When it comes to hallway storage, think outside the box. Install vertical shelving to use high spaces, choose furniture pieces with multiple compartments to organize items, or opt for an open wardrobe that adds character and practicality. You can even use this opportunity to embrace bold colors, patterns, and textures!
Maximizing Space for Display and Utility
Make creative use of wall space! To create a statement wall, hang a bold accent artwork above a console table or bench. If you're short on floor space, power wall mounting systems are perfect for displaying artwork, stationery, and even technology such as TVs and speakers.
Maintaining a Clutter-Free Environment
If not appropriately organized, hallways can quickly become cluttered with everyday items like shoes, coats and bags. Invest in baskets or boxes that you can store out of sight while still being able to grab those items quickly when needed. Keeping your hallway clutter free will help maintain an inviting atmosphere from the moment you enter your home!
VIII. Hall Room Renovations
When it comes to hallway renovations, there are so many ideas and options you can explore. It all depends on the size of your space, the type of existing materials, and your budget.
Enhancing Existing Features
If you have existing features in the hallway or corridor, you might want to consider enhancing them. Think about adding floor-to-ceiling mirrors to brighten up the space. If you have exposed beams or ceiling panels, add lighting fixtures or feature wallpaper to draw attention to the features. This is a great way to add character and charm to an otherwise dull area.
Projects Blending Style & Practicality
Hallways and corridors can often be overlooked in design projects, but they provide an excellent opportunity for blending style with practicality. Think about installing flooring resistant to moisture (such as vinyl), adding wall shelving for storage, painting an accent wall with a bold color (like deep teal), or using patterned wallpaper for a subtle statement.
Budget-Friendly Improvements
You don't need a massive budget for hallway renovations—plenty of simple changes you can make won't break the bank. Try switching out light fixtures or doors, adding small rugs and runners in relevant colours and textures, mounting artwork at eye level for visual interest, or anchoring furniture like side tables in strategic spots throughout the hall room. With some effort (and not a lot of money), your hallway can be transformed into an inviting space.
IX. Hall Room Design Ideas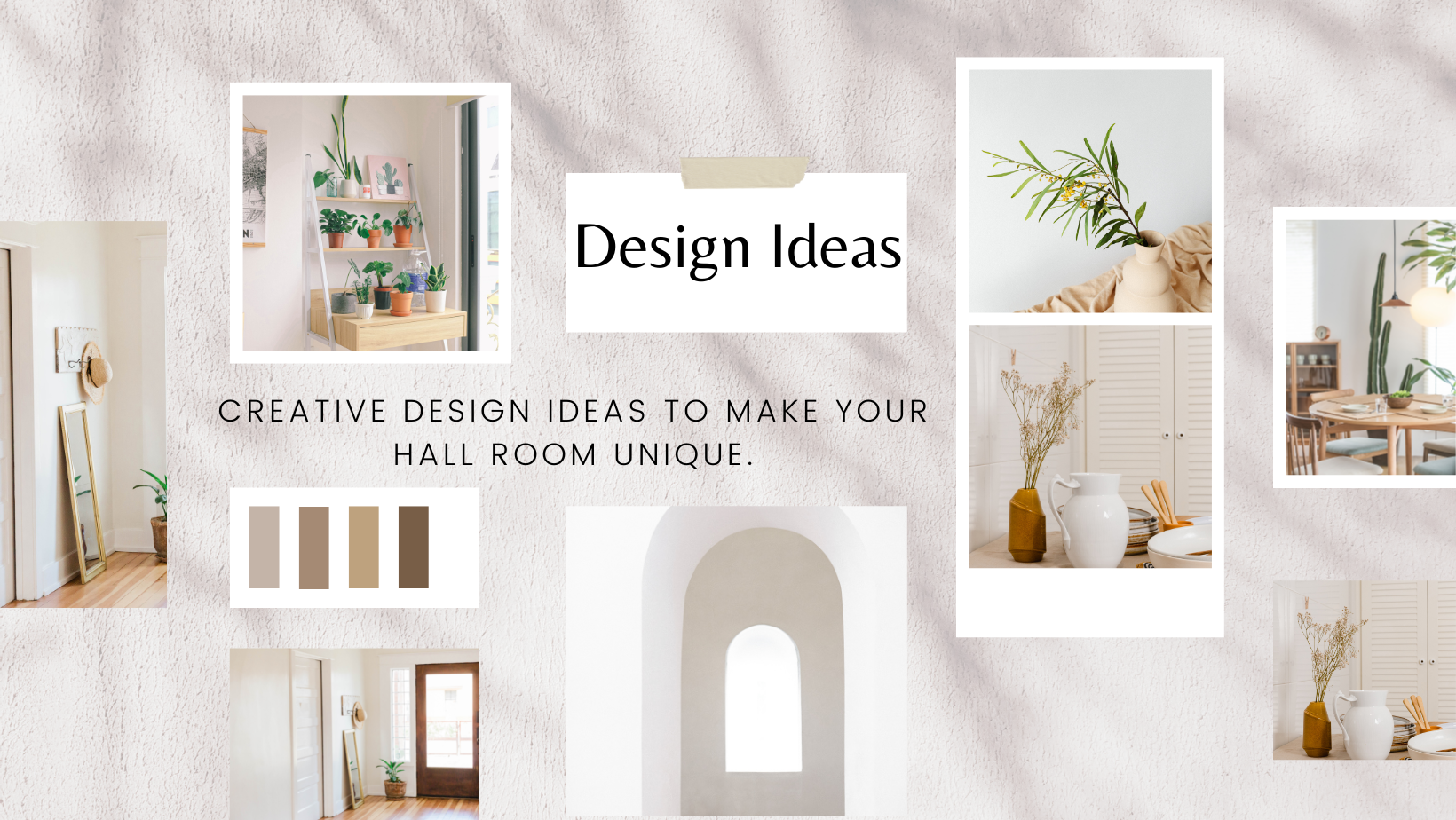 We know that you want your hall room to be beautiful and functional, and we have some ideas to help you make it happen. Whether you like warm and inviting settings, modern and minimalist styles, or bold and eclectic concepts, we've got ideas for all of them.
Warm and inviting settings
Try layering different wood tones for a cosy look that complements your décor. An easy way to achieve this is with a warm patterned rug, wooden furniture pieces with natural textures, and wall sconces or tall lamps to light up the room. You could also try adding accents in dark colors like navy blue or charcoal grey to make the space more inviting.
Modern and minimalist styles
Achieve a clean look with an all-white color palette and streamlined furniture pieces in simple silhouettes. Wall art is essential for making the space look more attractive without adding clutter. To make it feel brighter, hang a few mirrors around the room and add a few potted plants for some greenery.
Bold and eclectic concepts
Consider using vibrant colors and bold patterns throughout the room if you want something more daring. Furniture pieces don't need to match—a mismatched set creates an interesting visual effect. Accessorize with fun items like bright-colored rugs and curtains or vintage pieces like trunks, bookshelves or old doors as an eye-catching focal point.
X. Cost Guide for Hall Rooms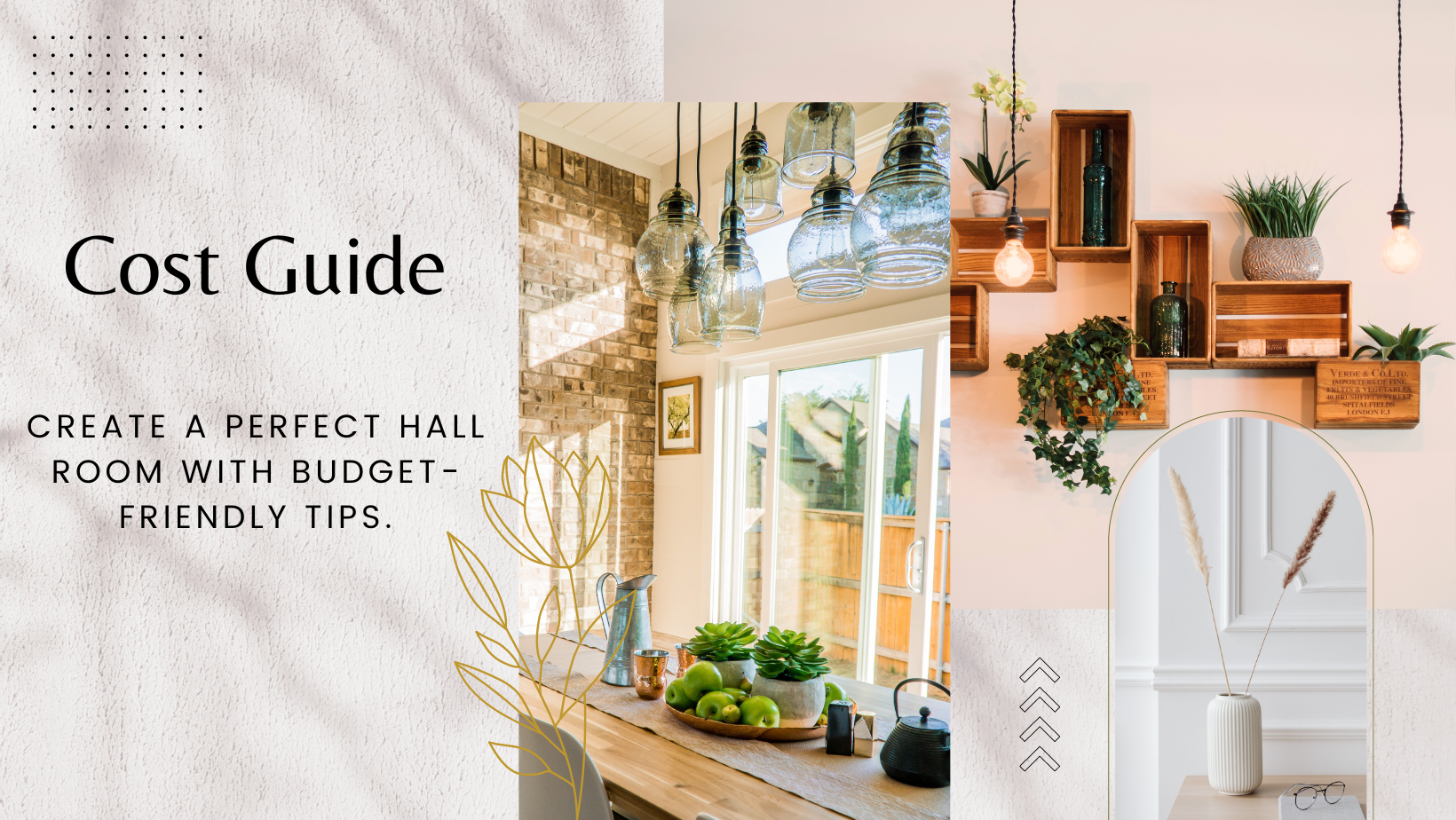 Finding the right balance of style, function, and affordability can be challenging when creating a hallway transformation. To help you get started, here's a cost guide for hall rooms.
Estimating renovation and remodeling costs
Renovating and remodeling your hall room can be expensive, depending on the project's scope. Before you begin, we recommend you set a budget and establish what kind of furnishings, fixtures and appliances you need. After that, you'll better understand how much your will cost. Some things to keep in mind when estimating costs include the following:
materials
labour costs for contractors
demolition expenses
permits (if required)
any other associated fees or taxes.
Budgeting for furniture and decor
Before shopping around for the right furniture pieces and decorations, setting a budget is essential. Consider how many parts are needed to suit your layout and any accents that fit within that budget – like rugs or artwork. Don't forget to factor in delivery fees too!
Saving on appliances and energy expenses
Installing energy-efficient appliances can help save on energy expenses over time. By choosing Energy Star-certified products, which consume less electricity than standard models, you can lower your energy bills while being kinder to the environment!
XI. Finding Contractors and Companies
The internet is an excellent resource for finding contractors and companies to help with hallway transformation. You can find highly-rated specialists specializing in hallway design and research, compare estimates, read reviews, and contact them directly with any questions.
To select the ideal contractor for your project:
Start by researching online—search for contractors specializing in designing hallways. Read customer reviews and scores to get an idea of the quality of their work.
Make sure the contractor you choose is licensed and insured—not only will this protect you legally, but it's also a sign that the company is reputable and reliable.
Ask for estimates and quotes from multiple contractors to compare prices and services offered, and then decide which contractor is right for your project.
Don't skimp on quality—choose a contractor or company that offers excellent customer service and high-quality materials, products, and services at a reasonable price.
XII. Conclusion
As hallway remodelers, we know how important it is to make your hallway a place that works for you and your family. We don't have to share the joy of embracing the hallway design lifestyle! It can satisfy you by creating a functional and welcoming space with minimal cost and effort.
By now, you're probably filled with ideas for maximizing your space and designing a hallway. You can bring warmth, beauty, and personal style to every corner of your home—especially in your hallway!
We hope this article gave you inspiration as well as practical tips to help make the most of this unique space. Thank you for reading our guide on transforming hallways!