I. Introduction
As parents, there are so many little things we need to get right, and the design and creation of a kid's room are one of them. We know it's essential to craft an environment that meets their practical needs while being fun and inspiring. But what does that look like?
At its core, a well-designed kids' room should be functional and imaginative simultaneously—it should be something your child will enjoy spending time in, as well as somewhere they can play, learn and explore. Having some visual references to help you navigate the design process can make this task much less daunting.
That's why we've designed our platform here at Kids Room Creativity to provide you with all the tips and expert help you need to create the perfect kid's room. With easy-to-understand guides on design, tips on maximizing space, and guidance on creating a stimulating environment for learning, you'll have everything you need to craft a beautiful and unique space for your children.
II. DIY Projects for Kids' Rooms
One of the most satisfying aspects of outfitting your child's room is making it unique and personalized to their style. But with some creativity and a few essential materials, you can make this fantasy a reality!
Here are some of our favorite creative crafts for playful personalization:
String Together Wall Art: It's as easy as collecting felt shapes, buttons, and fabrics and using a colored string to attach them to the wall like a garland.
Painting Accent Walls: Let your child helps choose the color and surprise them by letting them help paint it!
Pompom Decorations: Show them how to make pompoms of different sizes using yarn or fabric strips. They can attach these pom poms around the room like you would put up a poster or frame.
Custom Cushions & Accessories: From hand-stitched patterned pillowcases to little trinket boxes – let your children customize their bedroom furniture with colorful details!
These DIY projects will be fun for you and your kid giving their bedroom an added custom touch that makes it truly unique.
III. Kids' Room Decor Inspirations
We always stress the importance of uniquely giving your child's room an identity. That's why we offer a variety of stylish accessories for growing minds, vibrant color palettes and textures, and creative lighting and artwork options that are easy to coordinate. Whether you're into eclectic decor or a more traditional approach, your kid's room can be designed to fit their personality.
We understand that, as parents, you may not have the time to create a space from scratch. That's why we strive to provide our clients with exceptional design assistance and tips from our expert designers. We are proud to offer the following:
Color assistance – Helping you choose the right colors for your kid's room can be daunting, but with the help of our team, it doesn't have to be! Our expert designers will help guide your color palette selection so you can create an inviting space for your little one.
Furniture selection – Finding age-appropriate furniture that is functional, stylish, and safe can be challenging, so let us help! Together with you, our team will develop a design plan that fits your budget while allowing you to select furnishings to meet your family's needs today and in the future.
Educational elements – Learning should always be fun! Our experienced designers understand how important it is to add educational features into kids' spaces to promote exploration and development through play. We will work with you to create creative ways to combine educational components like puzzles, bookshelves, desks, toys, and more into a space where children feel naturally inspired.
IV. Cleaning Tips for Kids' Rooms
When it comes to cleaning a kid's room, many solutions can make maintaining a clean space easier. Here are some tips for keeping those toys, textiles, and surfaces looking and feeling their best:
Solutions for Maintaining a Clean Space
Invest in quality storage solutions like closets and bins that shut from the outside to keep clutter at bay.
Removable wallpaper is a fun design feature that can be taken down for easy cleaning.
Look for furniture with multiple uses, like an ottoman with storage or a bed frame with drawers.
Caring for Toys, Textiles, and Surfaces
Clean toys once per week using warm water and mild detergent; store them in labeled containers or bins in the closet or on shelves out of reach.
To preserve textiles like upholstery, curtains, and carpets, use spot-cleaning treatments when something is spilled to avoid stains.
Wipe down surfaces regularly with an all-purpose spray cleaner, and ensure your walls are vacuumed or dusted every other week to remove any dust buildup.
The secret to keeping your kid's room clean is routine maintenance. By setting up the proper cleaning system—like regular vacuuming—your kids' room will look ready for playtime any time of day!
V. Furniture Choices for Kids' Rooms
When choosing furniture for your kids' bedroom, the possibilities are endless—having space-saving and versatile pieces like a single bunk bed, a twin bed with built-in storage, or an ottoman with secret compartments. This allows you to mix beds, seating, and storage options to create the perfect space.
We also recommend considering each piece's functionality and safety when deciding which furniture to choose. It's essential to ensure that items like cabinets and shelves don't protrude from the wall at a height that might be dangerous for younger kids or obstruct any walkways.
If you're looking for creative solutions for your child's bedroom, our design experts can help you create a layout that suits their needs, style, and age. From chic loft beds to functional storage solutions, we have plenty of kid-friendly furniture pieces to make their room shine!
VI. Kids' Room Appliances
When outfitting a kid's room with appliances, you'll want to choose something that will last and be energy efficient. Fortunately, these days there are plenty of attractive and efficient options. The following should be kept in mind:
Essential Items for Comfort and Learning
When it comes to appliances, a few essential items can go a long way in making the room comfortable and functional. Consider selecting a mini-fridge or microwave for snacks or meals on the go and an electric tea kettle for warm beverages. You'll also want a good source of lighting—a lamp or two, plus natural light from windows or skylights, will help create an inviting space for learning.
Balancing Esthetics and Functionality
When it comes to energy efficiency, look for the Energy Star label on products when possible. LEDs, CFLs (compact fluorescent lights), and low-wattage bulbs all use less electricity than more traditional bulbs, so you can save on your utility bills while still keeping the room bright and colorful.
Energy-Saving & Eco-Friendly Choices
Opt for eco-friendly materials such as sustainably sourced wood (safer than synthetic materials) whenever possible. Look into buying secondhand furniture, too—it makes sense economically and environmentally! Finally, don't forget to invest in reliable surge protectors that'll safeguard electronics against electrical surges—these can help save money on replacements if something gets damaged.
VII. Organizing Your Kids Room
Creating a clutter-free kids' room can be tricky, but having the right tools and strategies is a lot easier than you think. Here are some storage solutions and tips for organizing your kids' bedrooms:
Smart Storage Solutions
When it comes to storage for your kids' bedroom, plenty of options are available to maximize the space and keep it clutter-free. Shelves, drawers, and cabinets are a great way to keep things organized while adding a stylish touch to your child's room. Look for furniture with built-in compartments that allow you to store clothes, toys, and books in one place. If space is tight, consider investing in wall-mounted shelves or under-bed bins with wheels.
Maximizing Space for Toys & Belongings
To maximize the limited space in your children's room, focus on pieces that can double up as storage and decoration. Look for furniture with multiple drawers or shelves that can serve different functions – from storing books to displaying photos – all at once! If you want something more creative, why not hang organizers or mesh baskets on the walls? These make great ways of utilizing vertical space while also displaying books or toys in an eye-catching way.
Maintaining a Clutter-Free Environment
The regular organization is vital to keeping a clutter-free environment in your children's bedroom! Set aside time once a week to go through their toys and possessions – declutter those they no longer use and store away those they do efficiently. This will help ensure their rooms stay neat throughout the year.
VIII. Kids' Room Renovations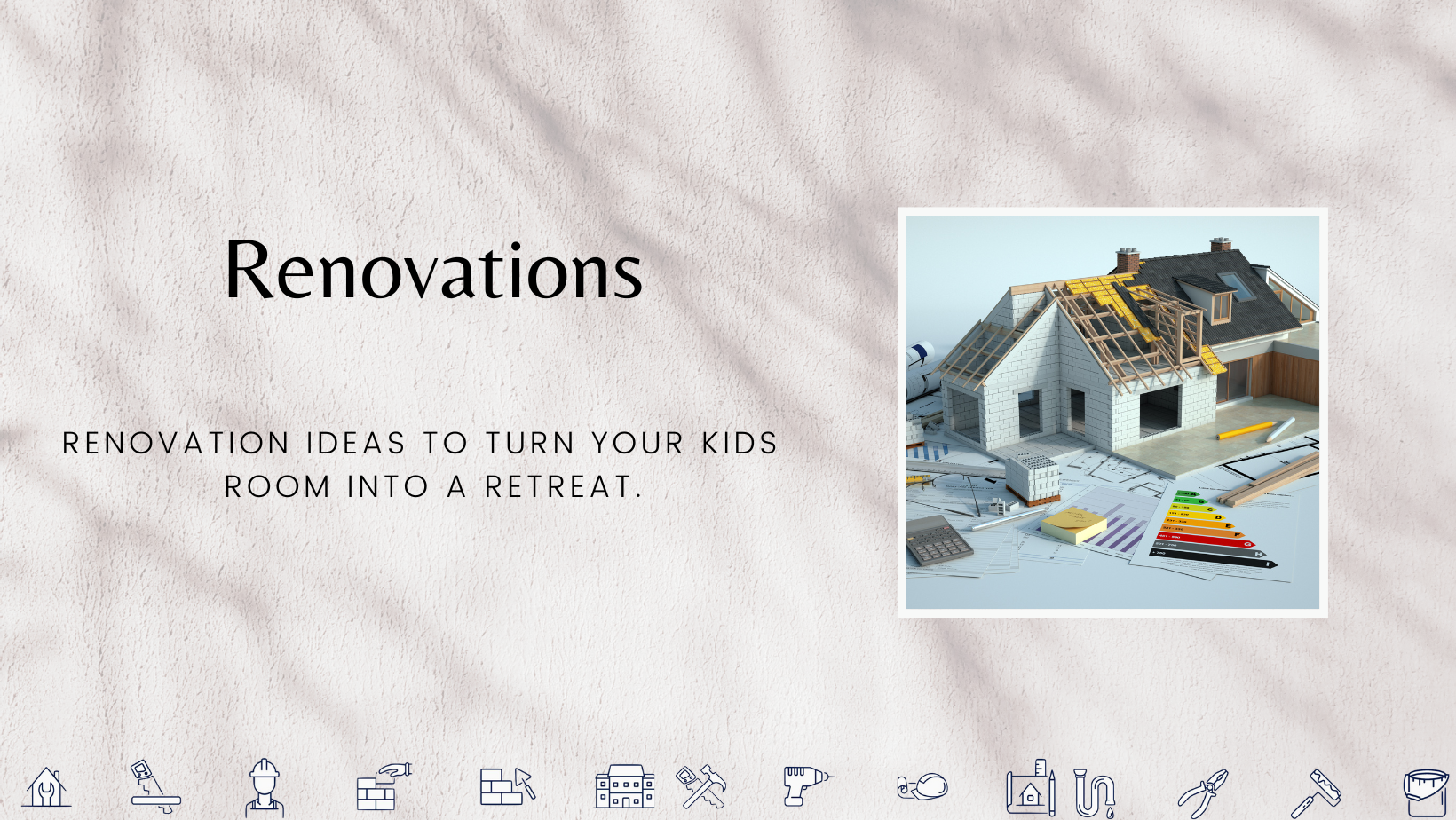 We know the significance of creating a safe, fun, and creative space for your children. You can make a kid-friendly, practical, and esthetically pleasing room with the right design, construction, and etiquette. But how do you get started regarding kids' room renovations?
There are many factors to consider when designing a kid-friendly space. Here are some tips we recommend:
Enhancing learning and play features
Plenty of interactive learning and play features are critical for kids' rooms. Consider installing shelves or cubbyholes with transparent doors for easy access. Create art projects that blend style and practicality, such as wall painting with chalkboard paint, desktop murals, or magnetic paint along the walls. Additionally, create storage areas designed just for them – as they'll love having their own mini-pantry or toy bin with roller drawers underneath their bed.
Budget-friendly improvements
Regarding renovating kids' rooms on a budget, focus on one area at a time rather than tackling the entire project simultaneously. Focus on creating maximum impact with minimal effort by considering tasks such as painting a mural or installing floating shelves that don't require significant construction work.
Finally, if you're ever feeling lost during your renovation journey, don't worry — our team of experts is here to help! With our expert advice, we'll provide helpful feedback and guidance so that your makeover will be completed quickly!
IX. Kids' Room Design Ideas
We've got some ideas for creating the perfect kids' room according to your style and needs. Whether you're looking for something whimsical and adventurous, modern and minimalist, or bold and themed concepts, we can help you make your kid's room a space where they can express themselves.
Whimsical and adventurous settings
If your little one has a big imagination and loves exploring the world around them, a whimsical and adventurous setting is ideal for their bedroom. Bring an iconic storybook character to life with a fun mural or add decals of various animals like cats and dogs as part of their wall motif. Add comfy pillows that match the theme, like stuffed teddy bears or giant dinosaurs.
Modern minimalist styles
Do you want your kid's room to look stylish yet functional? Go for modern minimalist styles using various textures like natural wood or metal finishes combined with neutral colors like white, gray, or brown. For example, you can use bright floating shelves in different shapes or sizes and decorate them with soft toys in subtle colors. This look is sleek yet playful enough for forever-growing kids!
Bold and themed concepts
If you want something more creative and fun for your kid's room, consider a bold yet coordinated theme throughout the walls, furniture pieces, toys, and other decorations. Transform their bedroom into an interstellar spaceship by bringing stars along the borders with glow-in-the-dark stickers, or going for a beachy theme with drawings of sea creatures above their bed. The possibilities are endless!
No matter what kind of look you have in mind for your kids' room, our expert team can
X. Cost Guide for Kids Rooms
Your wallet may scream for help when furnishing a kid's room – but don't fret. The cost of designing and outfitting a kid's room may not be as steep as you think. Here are some excellent renovation and remodeling tips that come in handy when you're on a budget.
A. Estimating renovation and remodeling costs
When considering the cost of designing and outfitting your kid's room, consider the actual cost of renovating, which includes materials, labor, permits, and project management fees. The goal is to develop an efficient, cost-effective plan balancing quality with budget limitations.
B. Budgeting for furniture and decor
When buying furniture for your kid's room, shop for deals online or in-store to find the best value for your money. You can also get creative by repurposing old furniture pieces or trying DIY projects. Keep an eye out for sales and clearance items you can repurpose or upcycle into unique items that fit your kid's needs.
C. Saving on appliances and energy expenses
When purchasing appliances such as a TV, computer, or gaming device, you can save big by looking for deals months in advance during Black Friday sales. You can also look into energy-efficient options such as LED lights which require less electricity than traditional lightbulbs while still providing great lighting. Finally, if space allows it, try installing fans in conjunction with air conditioning systems to control the temperature in the room while keeping utility costs lower.
XI. Finding Contractors and Companies
When it comes to finding the right contractor or company to complete your kid's room design project, you'll want to look for ones that have stellar ratings and are recommended by other parents.
Online Resources
Luckily, you can use several online resources in your searches, such as online directories and forums where parents have shared their experiences with various contractors and companies. Doing your homework before hiring anyone can help ensure that you get the best result with minimal hassles.
Tips for Identifying Highly-Rated Professionals
When looking for a reliable contractor or company, consider these tips:
Read reviews from other homeowners who worked with them in the same city.
Ask friends, family, or neighbors if they have had any experience working with a particular contractor or company.
Contact multiple companies and ask questions such as how long they've been in business and how many similar projects they have completed.
Ensure the company provides a detailed quote, including materials, labor costs, and timeline estimates.
Check if the contractor or company is licensed, bonded, and insured to protect your home from any damages or accidents during their work on your project.
Request references from past clients and contact them directly to ask further questions about their experience working with them on completing their projects.
How To Choose The Best Contractor For Your Project
Once you have identified several potential contractors or companies for your project, it's time to review each one more closely before making your decision:
Schedule an in-person meeting with each one—sessions help build trust between yourself and the contractor/company
XII. Conclusion
Designing a kid's room is all about embracing the importance of creating a space meant just for them. And while it may seem daunting to bring that creative vision to life, we hope that with our tips and expert help, you feel empowered to create the perfect functional and inspiring space for your little ones.
Thanks for joining us on this journey! We know that the right kid's room design can make a world of difference – and we are so excited you are taking this step to give your children an inviting, creative space of their own.