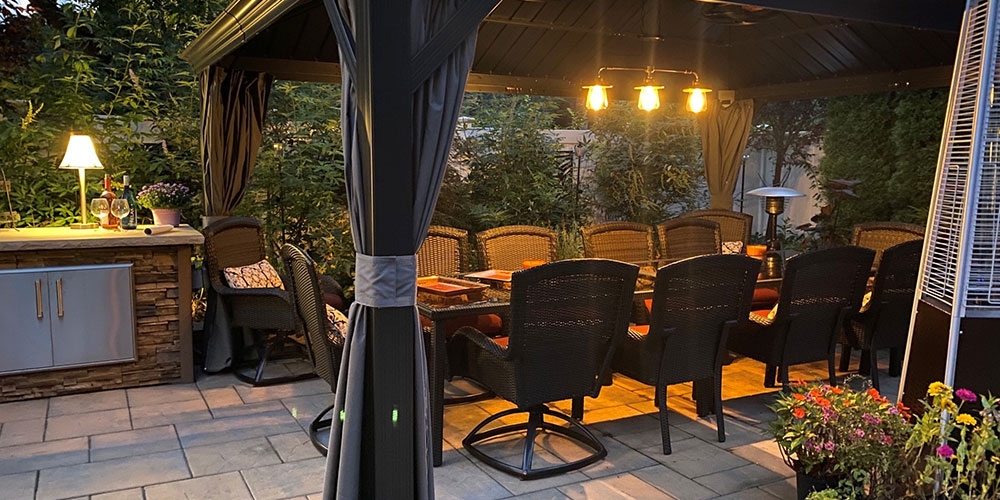 I. Introduction
Patio rooms offer the perfect solution for those who want to enjoy outdoor living with the comforts of being inside. From seamlessly extending your living and entertaining space to creating a private oasis in the serenity of nature, patio rooms truly bring out the best in indoor and outdoor lifestyles.
At Renvations , we understand how important it is to craft a functional, inviting, and esthetically pleasing balcony space that meets all your needs. We can help you create a customized design that reflects your style and caters to your lifestyle preferences. Whether you're looking for a beautiful relaxation spot or a spacious gathering area for friends and family, our team can provide expert assistance to build the perfect patio room just for you.
II. DIY Projects for Patio Rooms
Creating a patio room that's unique and exclusive to you doesn't mean you need to spend big bucks on fancy furniture. Some of the most meaningful touches can come from creative DIY projects that give your patio room a personal touch.
Here are some suggestions for making the most of your DIY spirit and channeling it into personalized touches:
A. Creative crafts: To add interesting visuals to your space, make wall art from materials like paper rolls or twigs, or even try painting an entire mural. You only need a little thinking and creativity to create something beautiful that brings life to your balcony.
B. Custom storage and furniture solutions: Get creative with up-cycling items you might have at home or find at flea markets! For example, Putting an old dresser to new use as a storage solution, or an old table can be used as a side table. This saves money and makes for a unique piece on your balcony.
C. Up-cycling and repurposing items: Utilize what you already have around the house instead of going out and buying something new—this will help reduce waste while being budget-friendly! Look around for items with multiple uses, such as ottomans with storage inside or baskets with lids you can use as tables. With up-cycling, the possibilities are endless!
III. Patio Room Decor Inspirations
When it comes to decorating your patio room, there are endless possibilities. If you're looking for inspiration, here are some ideas to bring your space to life.
Stylish Accessories for Open-air Spaces
You don't have to sacrifice style when embracing your outdoor space. Look for accessories that help create a comfortable and engaging atmosphere, like rustic furniture and decor pieces, and contemporary decor touches, such as outdoor rugs and artwork. Lighting elements can also help create a warm and inviting atmosphere.
Natural Color Palettes and Textures
The colors of nature will connect your patio to the outdoors while providing a calming escape from everyday life. Use colors like teal, blues, or greens in combination with natural textures like wood or rattan to bring the outside in.
Lighting, Artwork, and Outdoor Elements
Lights can set the mood of your balcony by bringing in soft illumination for evening get-togethers or candlelight moments. You can also hang artwork on the walls or use outdoor elements like outdoor sculptures or planters to accentuate specific areas of your balcony.
We understand that designing a space that perfectly fits your taste can be difficult—that's why we offer expert advice and assistance from start to finish!
IV. Cleaning Tips for Patio Rooms
Developing a regular cleaning and maintenance routine is important when cleaning your patio room. To make sure your patio room stays in tip-top shape, here are a few tips from our experts:
A. Solutions for Maintaining a Clean Space
Start using the right cleaning solutions to keep your balcony clean. Choose the right cleaner depending on the type of surface you're working with. For example, use a gentle cleanser specifically designed for textiles if you're dealing with upholstery or rugs. But if you have glass or metal surfaces, use a stronger cleaner that can easily break down grease and grime.
B. Caring for Furniture, Surfaces & Textiles
It's also important to invest in furniture that was made specifically for outdoor use. That way, you won't have to stress over weathering and damage from outdoor elements like sun and rain! And when it comes to upholstery or textiles, choose ones that are designed to repel moisture and mold so you can rest assured your pieces will stay looking good no matter what kind of weather mother nature throws at them.
C. Regular Cleaning & Maintenance Routine
Finally, don't forget about having a regular cleaning and maintenance routine! Ensure to wipe down furniture afterward with appropriate cleaners and protectants, so dirt, dust, and pollen don't collect on surfaces over time. And depending on your furniture material, check for any rust build-up every few weeks or so, then give them a good scrubbing—rust can cause major damage if left unchecked!
V. Furniture Choices for Patio Rooms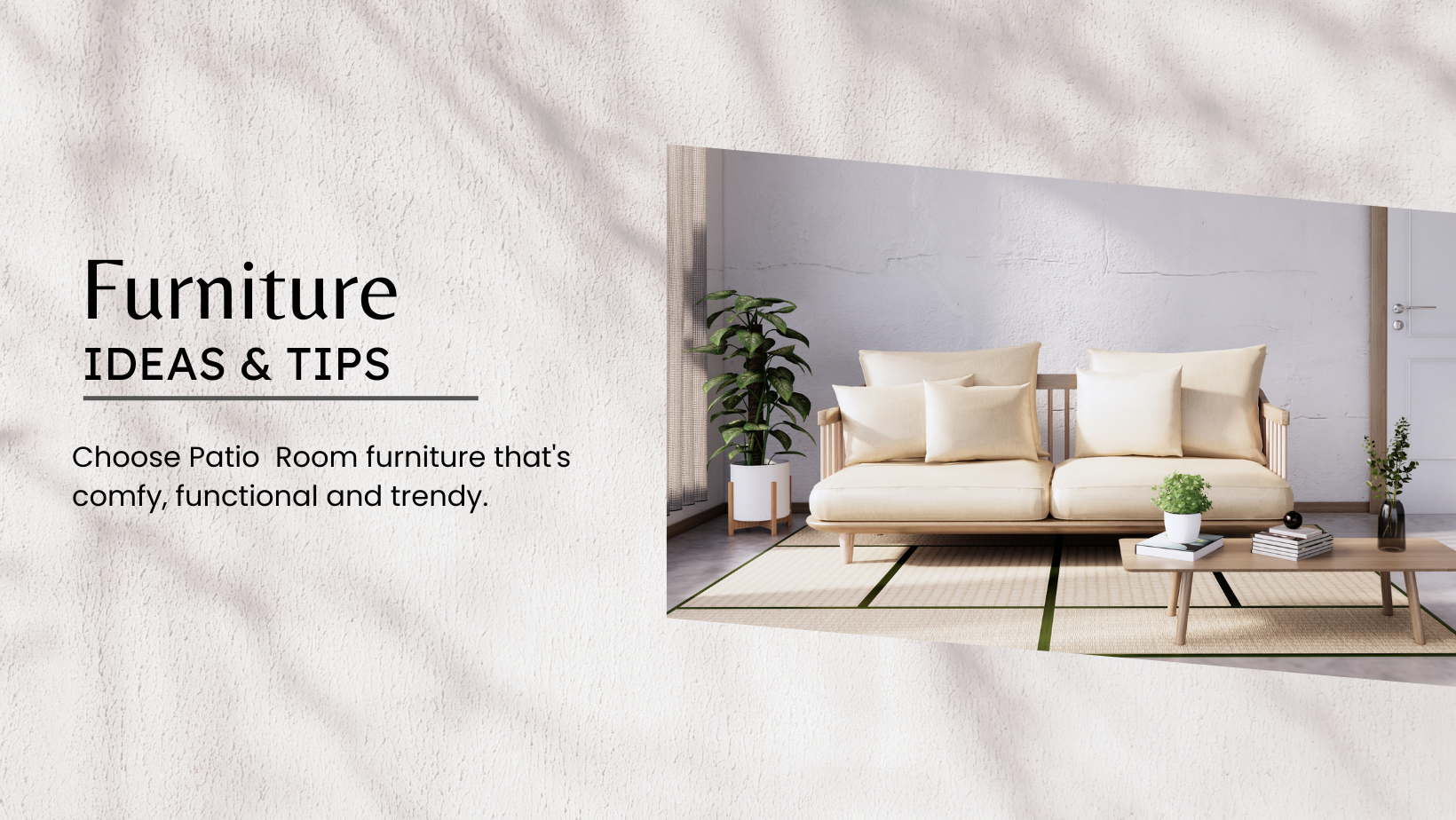 Making the right furniture choices for your patio room will greatly improve its functionality. After all, you want your balcony to be a haven to relax and commune with nature without worrying about the elements.
So what should you consider when furnishing your balcony? Let's break it down into three key considerations:
A. Weather-resistant and versatile pieces
First, choose high-quality pieces that are weather-resistant and versatile enough for different seasons. Look for durable materials like iron, aluminum, or teak — these materials won't rot or fade in UV exposure and won't be replaced in a few years.
B. Mixing seating, storage, and display options
Second, mix seating options with storage solutions and display choices. Ample seating allows you to host friends and family, while storage solutions like benches provide hidden space for storing outdoor cushions, tools, or decorations. And don't forget about display options — consider pieces like bar carts that can be wheeled around or pot racks to hang planters overhead — which will help add visual interest to your patio space.
C. Functional and inviting layout
Finally, create an inviting, functional, and comfortable layout – think "flow" when arranging your furniture so people can move freely in the space without too much clutter around them. With the right selections of tables, thoughtful grouping, and creative design ideas, you can create an inviting outdoor space that draws guests in!
VI. Patio Room Appliances
Patio Room appliances are essential for outdoor comfort. From fire-pits to heaters, refrigerator units, and propane grills, the devices you choose can make all the difference in the enjoyment you get from your patio room.
When selecting appliances, it's important to balance esthetics with functionality. For example, a decorative fire bowl may add beauty to your balcony, but if it doesn't produce enough heat to keep everyone warm, it won't be much use in the cooler months. It's also worth considering energy-saving and eco-friendly choices like solar heaters to make your balcony comfortable and sustainable!
We recommend considering these essential patio room appliances:
Heaters – Choose a product that is both powerful and safe enough for outdoor use.
Fire-pits – Propane or wood-burning, rectangular or round – the possibilities are vast!
Refrigerator units – Bring an indoor convenience outdoors for entertaining guests.
Propane grills – For cooking delicious meals al fresco style!
VII. Organizing Your Patio Room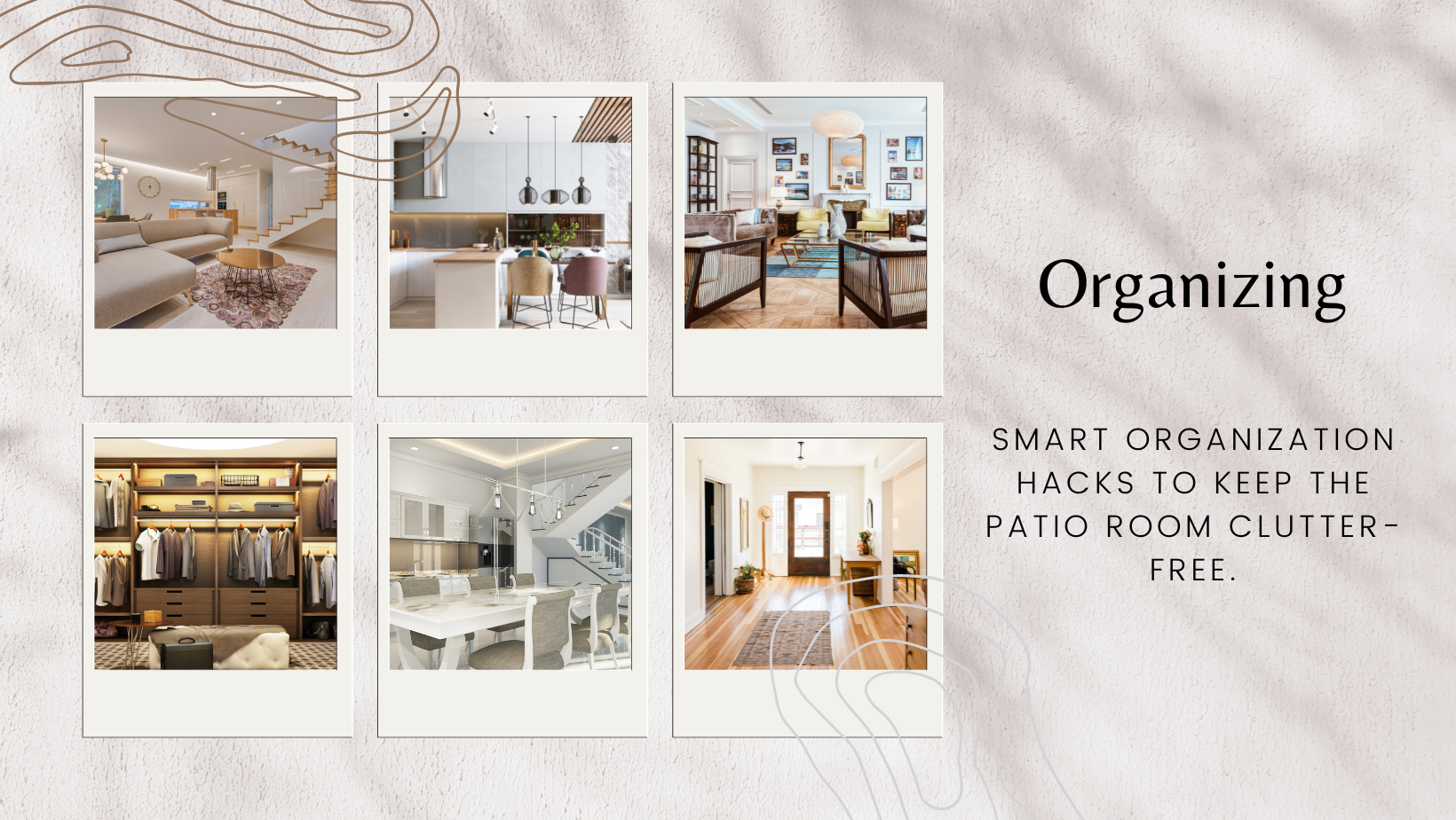 As the owners of patio rooms, it's important to ensure we stay on top of the clutter. If a patio room is well-organized and clean, we'll be able to enjoy it to its fullest potential and make the most of our outdoor space. To help keep our patio rooms tidy and organized, a few smart storage solutions can come in handy.
A. Smart storage solutions
When it comes to organizing our patio rooms, there are a few must-have items that can help keep everything in order:
Cabinets: Cabinets are a great way to keep all your outdoor accessories in one spot while keeping dust away.
Shelves: They provide extra space for those round-the-room items like flowerpots, plants, or books.
Racks: Wall racks give us an alternative way to hang jackets and other pieces of clothing for easy access when needed.
Baskets or bins: A practical way to store smaller items like tools or other odds and ends without a dedicated spot.
B. Maximizing space for outdoor accessories
We have many ideas for making the most use of our balcony furniture—from sectional couches that double as beds to side tables with built-in bar carts, the possibilities are endless! It's also important to consider the layout when positioning furniture; rather than being scattered throughout the room, consider how items like tables and chairs could be arranged in an inviting circle or square formation so everyone has enough space to move around freely without bumping into each other. Comfortable seating options are also key— padded benches and cushioned chairs provide prime.
VIII. Patio Room Renovations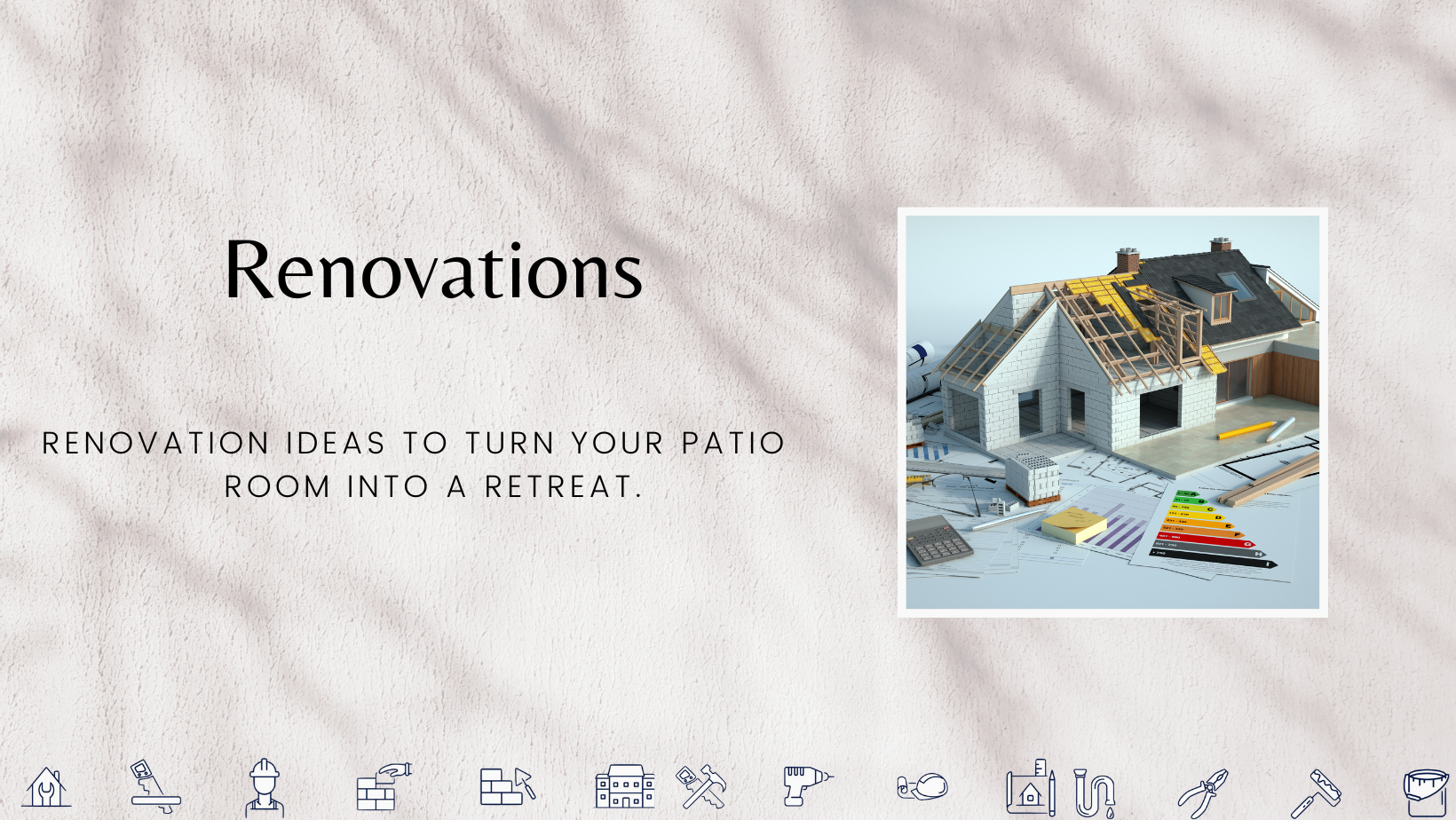 When looking for options for patio room renovations, our clients know they can trust us to help them create the perfect outdoor living space. We know a great balcony needs both style and practicality.
To that end, we focus on projects that enhance comfort and natural features. We love bringing in the outdoors with beautiful walls of windows and skylights while integrating features like outdoor lighting, outdoor sound systems, and outdoor kitchens.
Of course, we also pay attention to budget—we help you achieve your vision without breaking the bank. Our experienced design/build team will help you plan investments upfront and stretch your remodeling budget further. They have the expertise to give you realistic expectations regarding possible costs so that you can make informed decisions from the get-go.
At Renvations, we understand how important it is for our clients to feel comfortable in their outdoor living space. We want to turn your vision into reality by helping you create something uniquely yours — a place where you'll want to spend time with family and friends throughout the year!
IX. Patio Room Design Ideas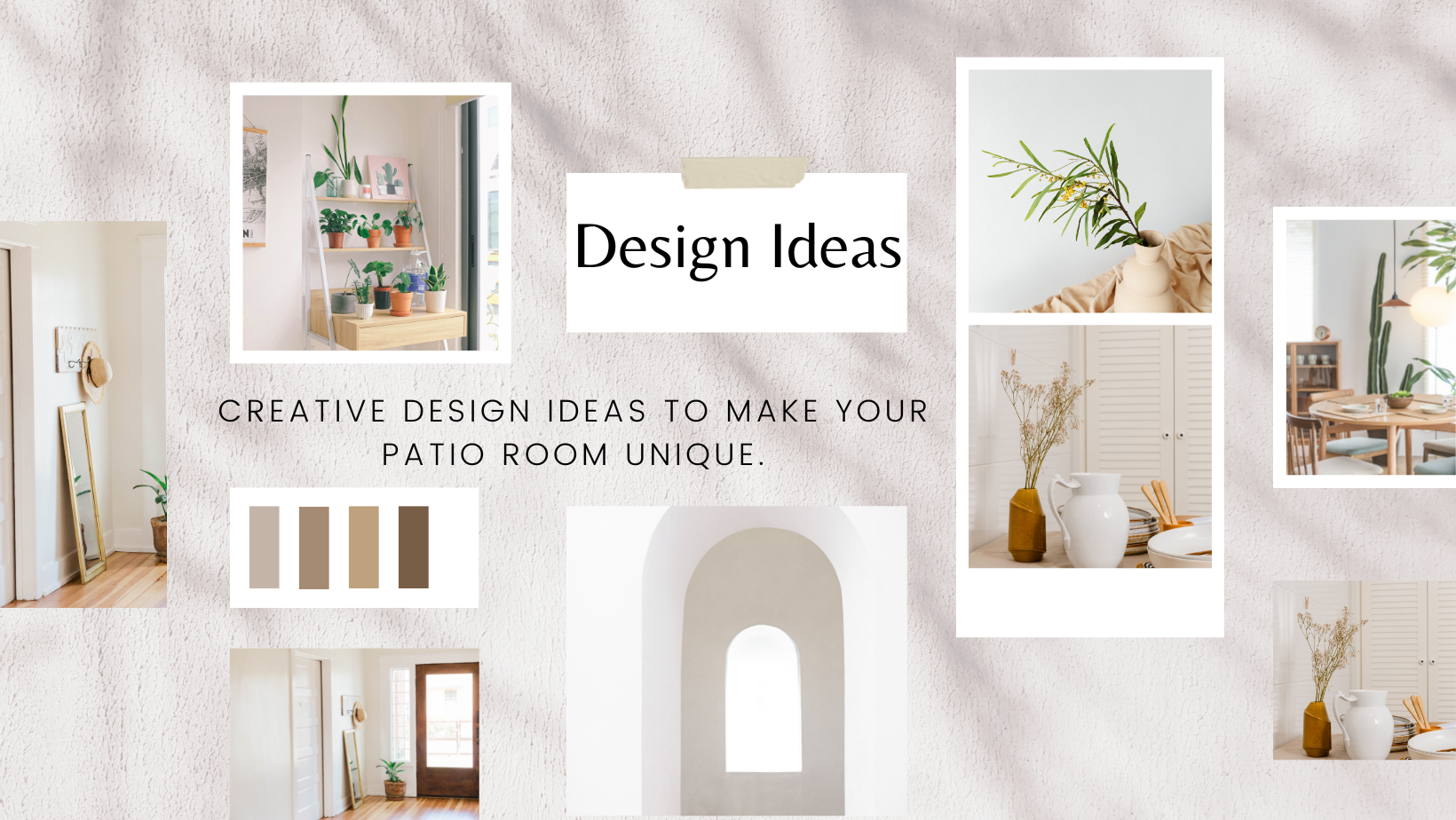 Creating an outdoor living space for your patio room can be exciting and rewarding. The possibilities are endless, from finding your perfect style to selecting the best materials and colors. To help you out, here are our top design ideas for creating a balcony haven of your own:
Relaxing and Vibrant Settings
Bring life to the outdoors with a relaxing and vibrant setting sure to make any guest envious. Choose a calming color scheme with outdoor furniture and accessories in soothing hues. Add touches of spunk with colorful throw pillows, planters, and bright murals or hangings.
Modern and Minimalist Styles
Create an ultra-modern look with an all-white palette, or incorporate black accents for a sophisticated style. Think sleek sofa designs, sleek accent tables, and minimalistic art pieces — if any — that can complement your furniture arrangements in a simple yet powerful way.
Bold and Themed Concepts
Bring a unique touch to your outdoor area by going bold on colors featuring bright colors everywhere, from furniture to textiles. Create a fun theme, such as a beach or tropical vibes, using sea shells in the décor or other similar items.
X. Cost Guide for Patio Rooms
When building a patio room, the cost of renovation and remodeling can be quite hefty. But don't worry—here are some tips to help you budget:
Estimating Renovation and Remodeling Costs
First, know that the amount you spend will depend on the scope of your patio room project. This means estimates can range widely, including demolition, structural modifications, electrical work, plumbing, roofing, insulation, and windows. Having a certain goal in mind from the start will go a long way in helping you create an accurate budget.
Budgeting for Furniture and Decor
Furniture is one way to bring your patio room to life. You don't need to be extravagant here—stick with quality pieces of weather-resistant materials like treated wood or plastic. Plus, you can always add splashes of color with pillows or blankets and wall art to make your space look great!
Saving on Appliances and Energy Expenses
Finally, energy-efficient appliances like air conditioners and heating systems are necessary but don't have to break the bank! Look at purchasing Energy Star-rated appliances for cost savings over time. Additionally, natural light is key to keeping cool during hot days, so installing large windows or skylights can help reduce energy costs while keeping things cool inside!
XI. Finding Contractors and Companies
If you're looking for the perfect contractor for your balcony project, several resources are available online to help you get started. You can find specialists in your area with tools like HomeAdvisor, Angie's List, or even Yelp for home and business services. Each site will provide highly-rated and reviewed local professionals who can assist you in building your balcony dream.
Once you've identified some potential companies or contractors, take some time to do a bit of research on each one. Please read the reviews they have received from other customers to understand better the company's quality of work and customer service level. Make sure the company specializes in outdoor living and balcony projects before deciding. This is especially important if you want a customized, complicated design that requires expertise.
Another great tip is to check out their portfolio, gallery page, or website to get an idea of what their work looks like—including the range of materials they use and any custom features they specialize in—to help ensure you're hiring the right company for your project.
Taking these steps will give you the confidence you need when deciding who will help build your balcony haven.
XII. Conclusion
As you can see, patio rooms offer a great opportunity to create a functional and delightful space outside your home. With the help of an expert, you can customize your patio room to suit your needs and create a haven for yourself and your family.
The key is to create a comfortable, inviting, and secure space to ensure everyone enjoys spending time in it. Ensure to include outdoor lighting, comfortable seating and cushions, privacy screens, awnings, and even fire pits or heaters for the colder months. With modern technology, such as remote control patio doors and automated window treatments, you can make your balcony energy-efficient and convenient.
By embracing the importance of having a functional and beautiful patio room, you can add value to your home while creating an environment that allows you to relax and take in the sights outside without leaving the comfort of your home. So what are you waiting for? Get started on designing your very own balcony Haven today!