I. Introduction
Welcome to our guide on elegant dining rooms! We'll be walking you through the significance of investing in your dining area, what goes into designing a welcoming and functional space and the best contractors to hire.
In today's world, dining spaces are more than just a place to eat; they are also places of togetherness and community. Your dining hall should be inviting and welcoming, leaving your guests with a good impression. It should be an expression of your tastes while also being functional enough to suit your lifestyle needs.
When crafting your ideal dining area, you must consider the room's atmosphere, style, furniture, and even layout. It is also essential to select quality materials for the room for a more luxurious look that will last for years. Lastly, finding a contractor specializing in elegant dining rooms can make all the difference in helping create a space that reflects your vision.
II. DIY Projects for Dining Rooms
As dining room enthusiasts, we know how important it is to make the most of our space. So for those of us who are DIY-inclined and always up for a creative challenge, you can do plenty of projects to make your dream dining hall come to life.
For starters, consider adding some custom storage solutions, like built-in cabinetry or shelving that fit within your existing dining hall design. You could also try repurposing items you already have—think vintage plates and antique teacups converted into wall art or a light fixture made from an old set of decorative chandeliers. To add personality to your space, go wild with handmade textiles like placemats, table runners, and cloth napkins.
Finally, don't forget about up-cycling! You can give new life to second-hand pieces by refinishing them with paint or stain and adding embellishments like tassels or beading. Doing this will help you save money and resources and create unique designs that show off your creative craftsmanship!
III. Dining Room Decor Inspirations
It's time to turn your dining room into a chic and inviting space. When it comes to decor, there's no shortage of elegant ideas to draw inspiration from; here are some of our favourites:
A. Stylish accessories for a refined space
A few carefully-selected accessories can pull a room together. For a sophisticated look, opt for silver, crystal or bronze pieces, like elegant creamers and sugar bowls. You can also add luxurious items like velvet placemats or sleek marble coasters.
B. Fresh color palettes and textures
Colors create an atmosphere; experiment with layered looks with shades and tones, such as mixing pastel green walls with navy accents and cream furniture. Add texture with patterned rugs and wallpapers for attractive visual appeal.
C. Artwork, lighting, and thematic elements
These elements help tie the design together; incorporate tasteful artwork highlighting your favourite style or period to create an inviting atmosphere. Dimmable lighting fixtures add drama and are a part of the surprise too! Finally, don't forget about seasonal accessories—they can be fun decorations that revolve around Thanksgiving, Christmas or other holidays too!
IV. Cleaning Tips for Dining Rooms
Maintaining a clean and fresh dining hall is essential to ensure it looks its best for years. Fortunately, many easy solutions can help keep your spaces tidy and inviting. Here are our top cleaning tips for dining rooms:
A. Solutions for Maintaining a Clean Space
Keeping a clean space requires initiative and consistency. Vacuum and mop regularly, dust items such as lamps, windows, and picture frames, and organize and de-clutter periodically. Occasionally, tackle any hard-to-reach areas of your dining hall with an extendable duster or even use a vacuum with an extendable hose attachment.
B. Caring for Various Fabrics and Materials
Different materials require different cleaning techniques. Use the right products to clean wool carpets, leather chairs, linen curtains, wooden tables and other furnishings throughout your room. Ask an expert if you need advice on the best products for each fabric or material type in your dining hall.
C. Regular Cleaning & Maintenance Routines
A schedule can help ensure regular maintenance, from wiping down surfaces to deep cleaning furniture. Create an itemized list of routine cleaning tasks that need to be done daily, weekly, monthly or yearly to keep a clean space—once completed, make sure you tick off each item on the list so that nothing is missed!
V. Furniture Choices for Dining Rooms
Remember a few things when choosing furniture pieces when designing your dining room. Keep it comfortable but versatile—think sofas, soft chairs, and armchairs—to ensure your guests can stay comfortable without feeling crowded. Variety is also crucial—mix different tables, chairs, and storage options to keep the look fresh.
Most importantly, creating a functional and inviting layout is essential when arranging the furniture in your dining hall. Here are few things you should consider when choosing your pieces:
Tables: What type of table do you need? Will you need an extension table or drop leaves? How many people do you want to accommodate?
Chairs: Do you want upholstered chairs or wooden chairs? What kind of comfort level do you need for each chair?
Storage: Do you need additional storage for dishes or linens? Are shelves a possibility for added display space?
Your furniture choices should reflect your unique personal style and sense of creativity. Remember that your dining room is a place for family and friends to gather and should reflect that unique atmosphere!
VI. Dining Room Appliances
When it comes to Appliances, taking centre stage when fishing your elegant dining hall, appliances from kegerator and ovens to your washing machine and dryer, the devices you choose will define your dining space's functionality, style and energy efficiency.
Essential items for serving and entertaining
When creating a modern, elegant dining room, there are some essential items you should consider adding. From built-in wine coolers to intelligent refrigerators, ensuring you have the right appliances for entertaining can help set your room apart. And don't forget about lighting fixtures -you can find unique fixtures with LED technology to help make the light brighter and more energy efficient.
Balancing esthetics and functionality
It's essential to not just focus on how something looks–you'll also need to ensure that it works well too! When considering appliance options, consider energy-efficient choices like induction cooktops, low-flow faucets, or even insulation for colder climates. Doing so will help reduce your monthly bills while providing you with all the modern appliances necessary for an elegant dining hall experience.
Energy-saving & eco-friendly choices
These days there's no shortage of green products on the market that can help make your home greener and more efficient. Consider investing in "smart" appliances with Wi-Fi connectivity that you can control from a mobile device or opt for appliances with significantly lower emissions or those certified as Energy Star compliant. This way, you get an elegant design along with eco-friendly features!
VII. Organizing Your Dining Room
As you plan for your dining room, remember that good organization is critical. It doesn't matter how stylish your new furniture and décor are; the space won't feel inviting if everything is crowded. So let's consider some of the ways you can organize the dining room:
Smart storage solutions
If your dining space is limited, consider investing in versatile furniture with built-in storage. Whether that's a multi-functional table, sideboard, or perhaps a tall storage unit, having furniture that serves multiple purposes can be great for items like dishes and chinaware, placemats, and kitchen linens.
Maximizing space for dining and socializing
Consider the number of people you want to accommodate in the dining hall. This will determine the size of the table (and its shape) and how many chairs or bench seats you will need. You also want to ensure enough space to move around so people don't have to squeeze past each other while sitting at the table.
Maintaining a clutter-free environment
The key to maintaining an organized dining room is to contain clutter. Please make sure there are plenty of baskets, trays, and hollow containers for items like napkins, silverware, condiments, etc., so everything has a place to go when it's not being used. This will help you keep random bits and pieces from getting scattered around the room.
VIII. Dining Room Renovations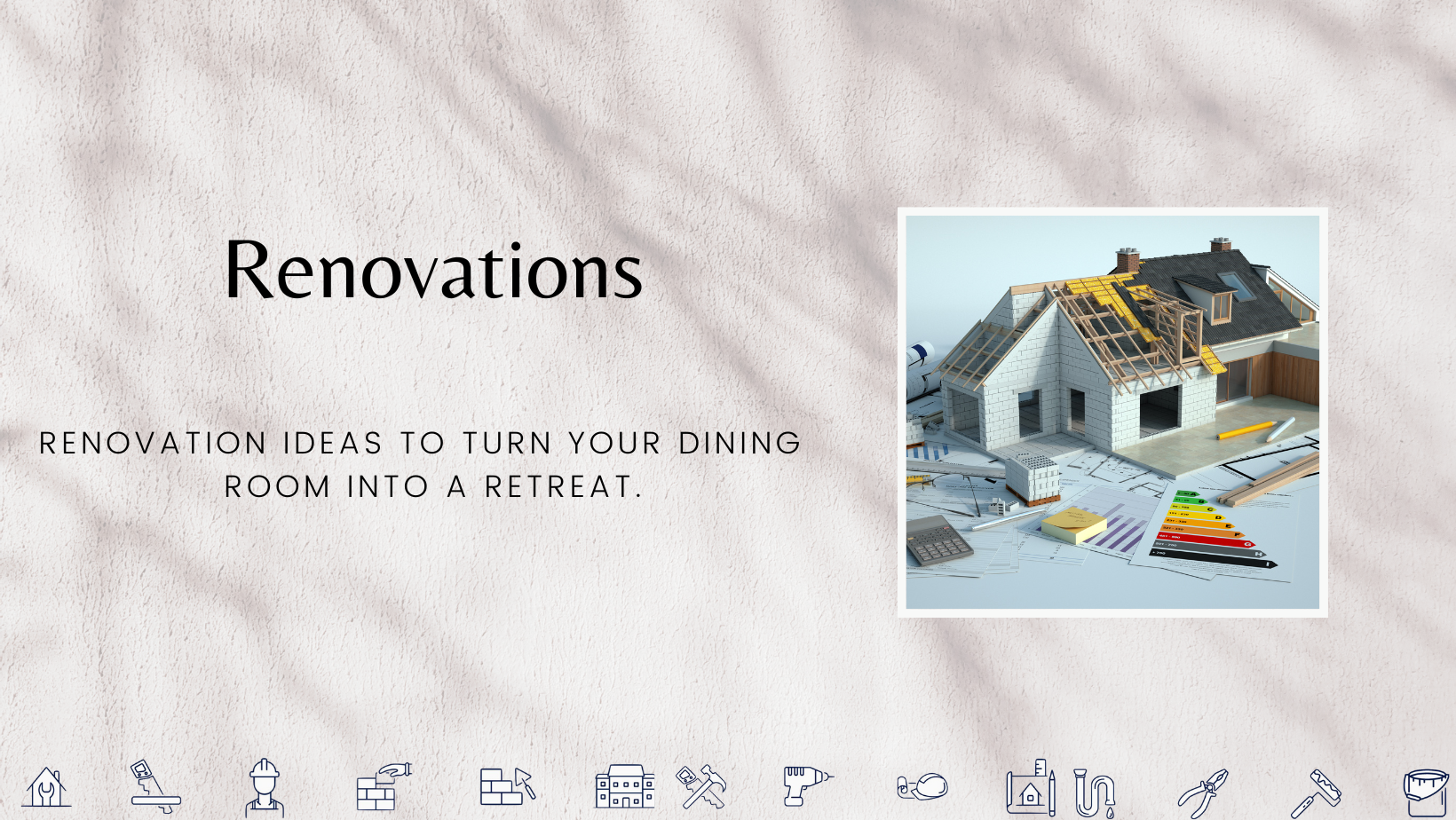 When planning a dining room overhaul, you want to focus on design features and projects that blend elegance and practicality. Fortunately, affordable improvements can still make a tremendous impact. Here's what we suggest setting aside money for:
A. Enhancing dining room features
Add an eye-catching feature wall to bring new life and vibrancy to your dining hall. Add some lighting elements in the ceiling or around the walls for a more subtle approach—warm hues from lamps, pendants, and chandeliers will transform the atmosphere.
B. Projects blending elegance and practicality
Add some custom built-in storage areas into your renovation plan for a modern touch of elegance but with a hint of utility. This could be vertical cabinets or shelves along the walls to display knick-knacks or keep your room neat.
C. Budget-friendly improvements
Look for cheaper items like runners and mats that can cover up existing floorings with an updated look. You can also lift the place by repainting: changing colours completely, or simply going one shade lighter than before. Don't forget to add some fresh plants around the room too!
IX. Dining Room Design Ideas
When it comes to creating an exquisite dining room, there's more than one way to do it. Here are some design ideas you can use to inspire your own stylish space:
Sophisticated settings
If you want an elegant and sophisticated feel, combine classic elements like traditional wainscoting with luxurious upholstered chairs and natural-looking fabrics. Add ornate accents like crystal chandeliers and gold trim to complete the look.
Modern and minimalist styles
Sometimes less is more. Tone down the details in favour of clean lines, untreated wood, and simple shapes for a modern look. Add texture or statement pieces to bring interest to the room without cluttering the space.
Bold and eclectic concepts
Mixing various patterns and materials is excellent for making a memorable impact in your dining hall. Try combining vibrant colors, exciting prints, and eye-catching textures for an eclectic but unified design that will spark conversation at any gathering.
X. Cost Guide for Dining Rooms
When creating your elegant dining hall, there are various expenses you will need to account for before getting started. Here's a quick guide on budgeting for the costs:
Estimating Renovation and Remodeling Costs
A renovation or remodel can cost hundreds to thousands of dollars, depending on the project's scope. To get a better idea of costs, consider consulting with a contractor and getting an estimate for any structural changes that need to be made.
Budgeting for Furniture and Decor
Be sure to count in the cost of furniture and decor when planning a renovation or remodel—research prices online, as some items may be available at significantly reduced prices compared to physical stores.
Saving on Appliances and Energy Expenses
Reduce overall costs by looking into energy-saving appliances such as LED lighting, power-efficient refrigerators or dishwashers, and motion-activated lights. These appliances may be more expensive initially, but they will help you save money on energy bills over time.
XI. Finding Contractors and Companies
Once you've decided on a design concept and plan, it's time to start looking into contractors and companies who can help bring your vision to life. There are plenty of online resources for finding specialists to help make the dining room of your dreams, from wallpaper installers to cabinet makers.
A. Online Resources For Locating Specialists
The wide range of digital services now available for finding contractors makes it easier than ever to find someone who meets all of your criteria for quality and professionalism. For example, you can use online tools to quickly pinpoint businesses in your local area that specialize in the work you need to be done. You can also look up reviews from previous clients and get an in-depth look at how each contractor operates.
B. Tips For Identifying Highly-Rated Professionals
Getting a good contractor is essential if you want the job done right, so it's crucial to look carefully at what others have said about them before you make your decision. Look for positive reviews, customer service ratings and customer satisfaction surveys so you can be sure you're choosing someone with proven experience with successful projects.
C. How To Select The Best Contractor For Your Project
Once you've narrowed the list of potential contractors, ask plenty of questions before making any commitments. It's essential to confirm their credentials (such as licenses, certifications or any other proof that they are qualified for the task) and discuss any potential pricing concerns or timing conflicts. Hence, there are no surprises down the line. Finally, ask for references from previous jobs to understand their real-world experience with similar projects.
XII. Conclusion
The options are endless when creating an elegant dining room for your home. Whether you're looking for a more traditional esthetic or a bit more modern, there's something for everyone. We hope this guide gave you the inspiration and practical advice to make your dream dining hall a reality.
To summarize, when designing an elegant dining room, you should consider the following:
Embracing the dining hall lifestyle and making it your own.
Creating a versatile space that is both functional and elegant.
Incorporating unique textures and colous to give your room depth and character.
Find the right contractor or designer to help bring your vision to life.
With these tips in mind, you're sure to find a beautiful and timeless space where you can entertain guests, dine with friends, or relax with family. if you're looking to update your home further, consider a kitchen remodel. Check out our guide on kitchen renovations to get started.