I. Introduction
Welcome to the world of sunrooms! Whether you're looking to create a cozy den or a multifunctional home addition, a custom-built sunroom is one of the most beautiful features your home could ever have. There's something special about the natural light flooding in through the walls of windows that captivate us—it makes us feel relaxed and free. When designed correctly, this solar space can also become a perfect center for daily gatherings and family activities. But where do you start? Well, let us take you through what we believe is the most important information on how to ensure your sunroom becomes your room of choice.
II. DIY Projects for Sunrooms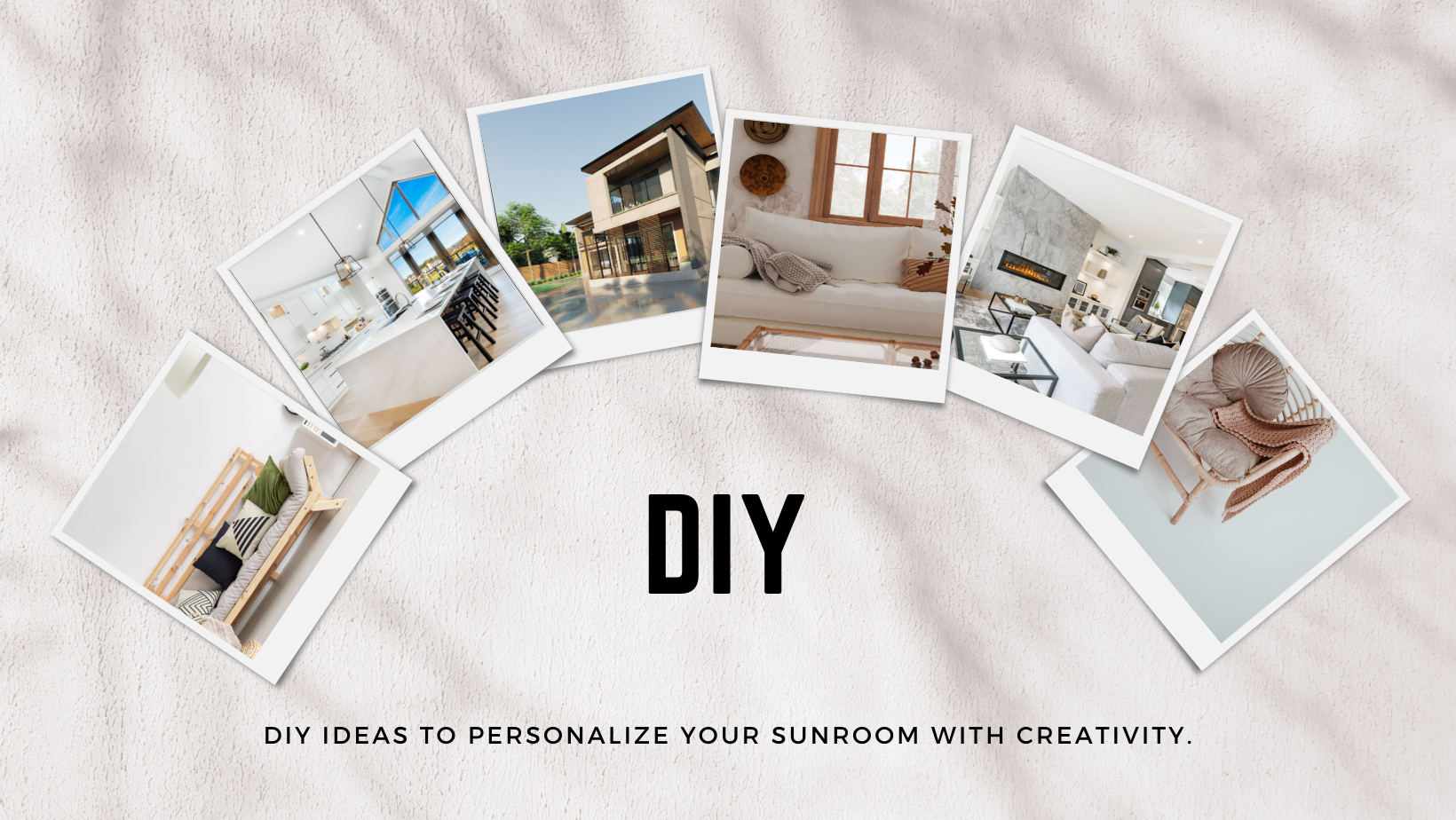 You may wish to inject your personal touches and crafty accents when designing a sunroom. If this is the case, here are some DIY projects that can make your sunroom look like no other:
A. Creative Crafts for Personalized Touches
Paint wooden furniture to create custom, colorful pieces to accentuate the space.
Use leftover fabric scraps to make fun pillows and cushions for the room.
Create vintage-style artwork with framed prints or coordinating wall art that speaks to your taste.
B. Custom Storage and Furniture Solutions
Install floating shelves from floor to ceiling for stylish storage in the sunroom.
Repurpose old pallets into unique seating options and one-of-a-kind displays — perfect for displaying plants, books, or even artwork.
Utilize a ladder as an additional display opportunity for books, magazines, and knick-knacks.
C. Upcycling and Repurposing Items
Utilize an old dresser or chest of drawers as a console table — perfect for extra seating, storage, or display purposes!
Transform old flowerpots into planters by spraying them with vibrant colors like yellow, green, or blue.
Hang mason jars filled with lights along the walls or ceilings of the sunroom — they look great during sunny days and even better when mixed in with twinkly night lights!
III. Sunroom Decor Inspirations
When creating a stylish sunroom that looks like a deliberate design decision and is not just an afterthought, accessories are key! Depending on your preferences, you can go minimal with subtle pops of color or color-block with vibrant furnishings.
We love incorporating lighting, artwork, and nature-inspired elements for a truly special space. The possibilities are endless, from classic candles to eco-friendly decor – the only limit is your imagination!
Here are some of our favorite stylish accessories for light-filled sunroom spaces:
Fresh Colors & Textures – A deep blue rug and vibrant tablecloth can give any room an air of sophistication. Add some interesting textures, such as wicker baskets or macrame curtains–the key is ensuring enough contrast between colors and textures. Hence, no one element dominates the entire sunroom.
Lighting – Strategically placed lamps or sconces around the room will provide extra night light while maintaining its overall warmth during the day. Plus, they'll give a great backdrop for photos!
Artwork – It's easy to forget about visual arts when decorating a sunroom, but artwork adds character and life to any space. We suggest investing in statement pieces such as wall hangings or sculptures to have something special in your sunroom.
Nature-Inspired Elements – Nothing enhances the feel of a sunroom more than adding plants and flowers into the mix with their natural colors and fragrances; we suggest adding potted plants for an even more relaxing environment.
IV. Cleaning Tips for Sunrooms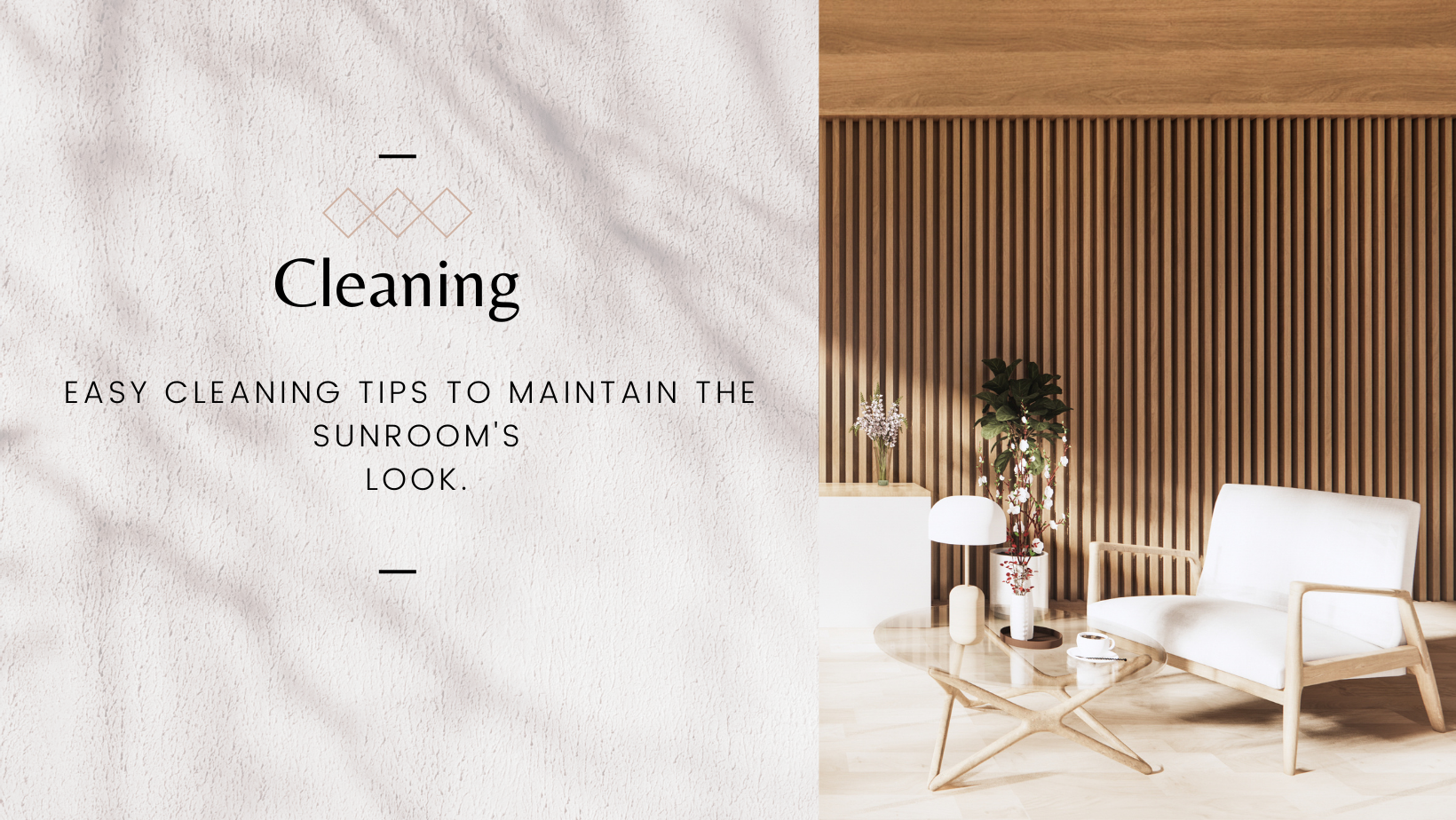 Some simple solutions will help you stay organized and quickly get things back into shape when it comes to keeping your sunroom sparkling and beautiful. Here's what we recommend:
A. Solutions for Maintaining a Clean Space
Start by reducing clutter with designated storage solutions that can keep your items neatly tucked away. It'll help your new space look polished and gives you a sense of calm when you enter the sunroom. Adding decorative baskets or bins can also be great for storing items like blankets and pillows while giving the room a cozy vibe.
B. Caring for Furniture, Surfaces, & Glass
Regularly dusting furniture with a damp cloth and sweeping or vacuuming up dirt helps ensure that your sunroom is free from particles. Treat any wooden surfaces with a protective sealant every 6-12 months to preserve their beauty and prevent wear. Lastly, never forget to clean the  sunroom windows! Use a non-abrasive cleaner designed for windows so you don't damage them.
C. Regular Cleaning & Maintenance Routines
Now that you've got some tips for how to clean up after yourself in the sunroom, it's important to incorporate regular cleaning routines into your everyday schedule or plan periodically throughout the year so it doesn't get too overwhelming at once! You can also hire help if needed—don't hesitate to ask!
V. Furniture Choices for Sunrooms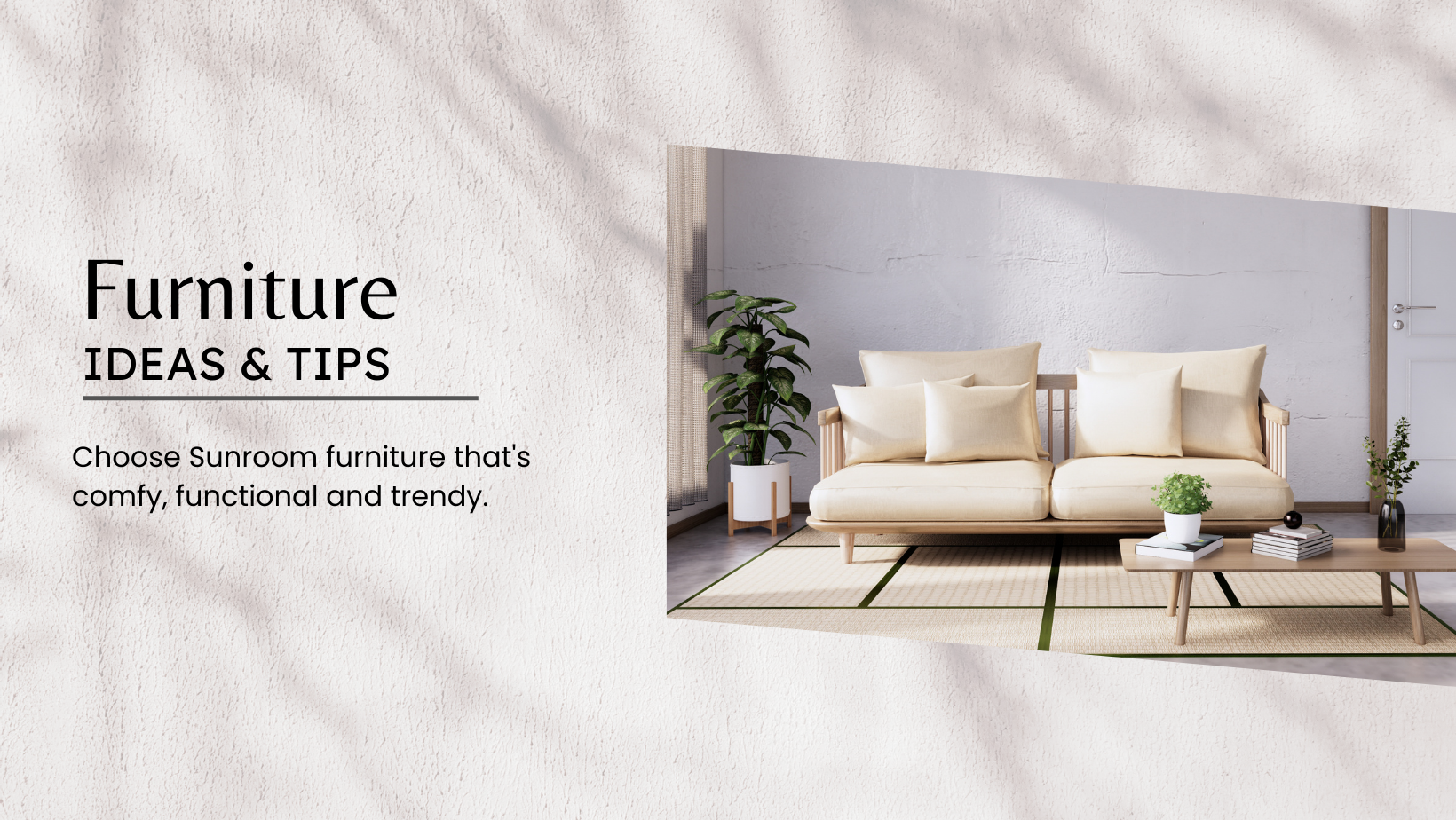 When furnishing your sunroom, there are several things to remember. You want furniture pieces that are both light-friendly and versatile. Rattan and wicker pieces with lighter color palettes provide clean lines that look great but are easy to move.
Additionally, you'll want to mix seating, storage, and display options into the room. The perfect sunroom has functional and inviting seating areas and plenty of storage and display spaces. A futon sofa or chaise lounge will make the space cozy while providing extra sleeping options. A bench in a corner can provide extra storage without removing the room's aesthetic. Consider a vintage armoire with glass doors or a steel bookcase with colorful shelves if you want a statement piece to anchor the space.
Finally, don't forget about lighting! A few strategically-placed lamps will help to create a warm and inviting atmosphere that can be enjoyed day or night.
VI. Sunroom Appliances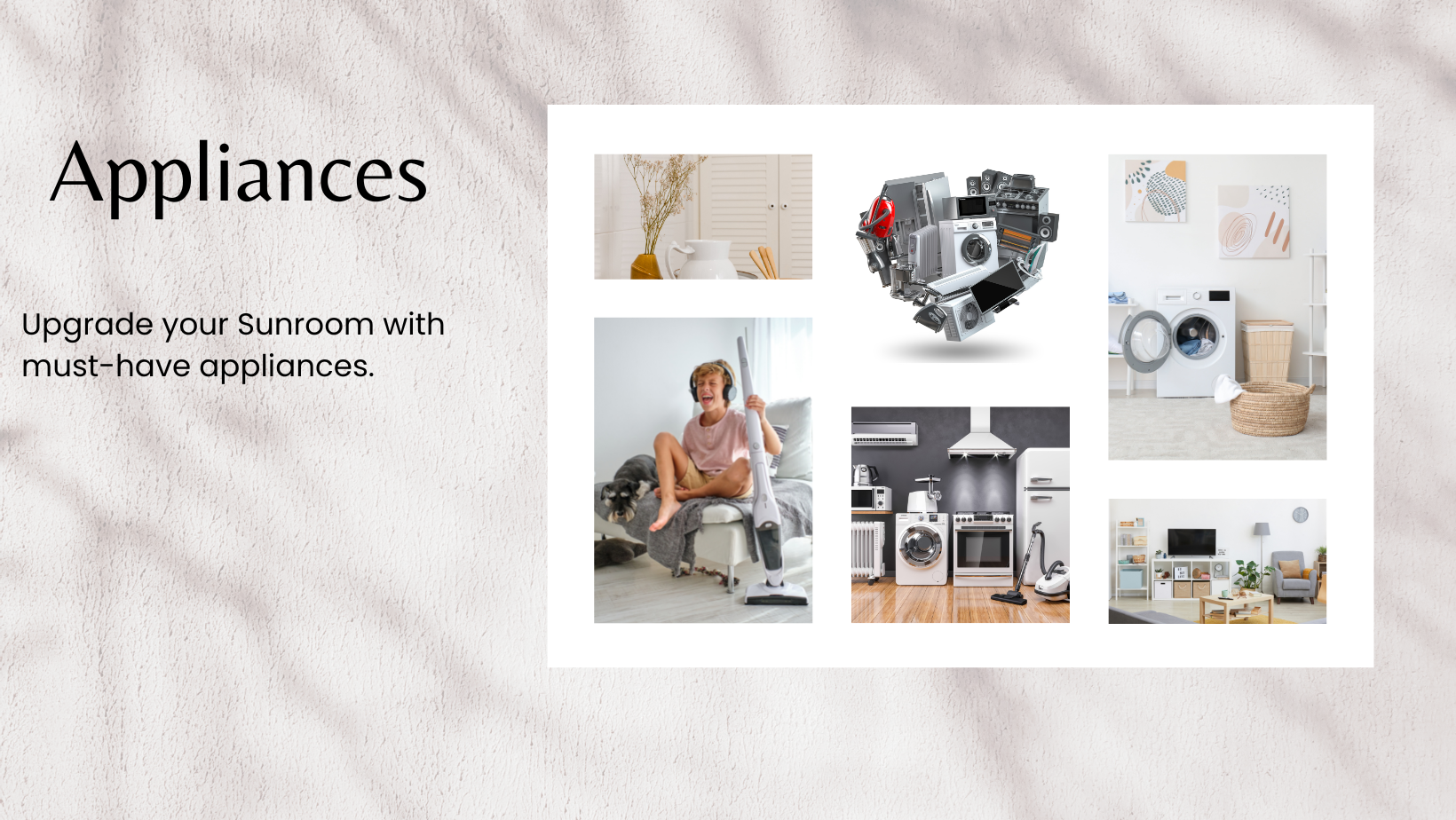 When planning the design of your new sunroom, selecting the appliances is key to making your space both comfortable and efficient. There are many options for climate control, including heating and cooling units and furnishing the sunroom with comfortable seating, lighting, and other amenities.
A. Essential items for climate control and comfort
Regarding climate control, air conditioning is essential to keeping cool during the hot summer. Moreover, supplemental energy-saving heating systems provide extra temperature control during colder months. Fans may be combined with air conditioning systems to enable cooler air to circulate throughout the space.
B. Balancing esthetics and functionality
In addition to providing much-needed comfort in our homes, sunrooms should reflect style through furniture pieces and lighting fixtures that are both esthetically pleasing and functional. When selecting furniture, choose parts that fit well in the room while delivering comfort through proper ergonomics while not creating visual clutter!
C. Energy-saving and eco-friendly choices
Finally, consider energy-saving or renewable options when selecting appliances for your sunroom -be it LED lighting or solar panels – being mindful of the environmental impact can make a huge difference in long-term savings while being environmentally conscious.
VII. Organizing Your Sunroom
When organizing your sunroom, there are a few key elements to consider. First, smart storage solutions can help keep the space bright and airy while being practical. The trick is to be creative with what you use for storage, like incorporating baskets or wall shelves.
Next, take advantage of the ample natural light of a sunroom by utilizing vertical space with racks, shelves, or hanging planters for indoor plants and accessories to create the ultimate oasis.
Finally, maintaining a clutter-free environment is just as important as maximizing the space in your sunroom. Here are a few tips for creating designated areas for items you access regularly and using multipurpose furnishings that also double as storage spaces. With these tips, you're on your way to achieving enviable sunroom bliss!
VIII. Sunroom Renovations
When renovating a sunroom or other space in your home, you want to make sure you're making changes that enhance natural light and energy efficiency. For example, switch out those heavy curtains for lighter, breathable fabrics that will act as a layer between the sunroom and outside elements. Plus, you can use adjustable or motorized window shades to regulate light levels, temperatures, and air circulation.
When done right, these projects blend style and practicality—you can get warmth and comfort from the sunshine without compromising the beauty of your space. And on a practical level, budget-friendly improvements like new windows and insulation can help reduce energy costs in the long run.
We are more than happy to provide you with the expert guidance you need to optimize your sunroom renovations so that your space is aesthetically pleasing while still providing all of the features required to be comfortable and functional.
IX. Sunroom Design Ideas
We know that the style and decor of your sunroom will be key to its success. Here are just a few ideas that we've seen that homeowners love.
A. Serene and soothing settings
The best sunrooms provide a peaceful retreat away from the everyday hustle and bustle. You can think of them as little oases, so creating a serene and soothing atmosphere inside your sunroom is important. We suggest incorporating natural elements like light woods, colorful greenery, and textured fabrics for a tranquil vibe.
B. Modern and minimalist styles
Minimalism is making a big comeback, so why not bring some modern style into your sunroom? You'll need plenty of clean lines, neutral colors, and accent pieces to make it pop without going overboard. If you want to go all-in on this vibe, opt for a minimalist furniture set with low-profile cushions or simple decorative elements like geometric sculptures or abstract art pieces.
C. Bold and themed concepts
On the other hand, if you're feeling adventurous, you might want to go for bolder themes in your sunroom design. Think bright colors combined with unique decor ideas that bring an air of adventure or drama into your space – there are no rules when creating the room of your dreams! Get creative by combining different materials like distressed woods with colorful fabrics or terracotta tiles with ornate rugs – whatever speaks to you!
X. Cost Guide for Sunrooms
We know that budgets are tight and every penny counts when creating the sunroom of your dreams. So, having a general cost guide is essential if you want to stay within your budget.
Approximate Costs:
Estimating renovation and remodeling costs: $10 – $50 per square foot, including the materials and labor
Budgeting for furniture and decor: An average-sized sunroom will cost around $6,500 – $8,500, depending on the brand and product quality
Saving on appliances and energy expenses: A rule of thumb is to multiply the size of the room by 20 for an approximate total of how many BTUs you will need for cooling
Understanding how much to budget for renovation and remodeling costs, furniture and decorating expenses, as well as appliances and energy bills, can add up quickly. With our cost guide, you'll find that you can comfortably create your sunroom dream without breaking the bank.
XI. Finding Contractors and Companies
When finding the right contractors and companies for your sunroom project, you can research online to locate specialists in your area. Look for websites with customer ratings and reviews since that can be a great way to learn about other people's experiences with a contractor. In addition to sharing ratings, reviews are often very detailed, so you can get a feel for what a company or contractor is like.
Tips for Identifying Highly-Rated Professionals
Here are a few tips for identifying highly-rated professionals:
Check their qualifications—make sure they have the proper credentials and certifications.
Completed projects—check out the contractor's portfolio of recent projects to determine how well they finish projects and how they perform on different types of structures (i.e., sunrooms).
Communication methods—ensure they communicate effectively and are available throughout the process, as delays can be costly and upsetting.
Contract agreement—before signing any contracts, ensure you understand all the fine details so there are no misunderstandings during the process or after the job has been completed.
Insurance policies—ensure they have all the necessary insurances to protect themselves should anything happen during construction or after it has been finished.
Choosing The Best Contractor For Your Project
Choosing the best contractor for your project is an important step that takes some time and effort, but it will pay off in the long run when your dream sunroom is complete! Before making any decisions, get quotes from multiple contractors to see who provides the best value for money.
XII. Conclusion
We hope this article has helped provide you with tips and professional guidance to help you create your perfect sunroom. Sunrooms are so much more than just an extra room—they are a way to extend the boundaries of your home and fill it with natural light and warmth.
When designing your sunroom, embrace the importance of having one. They're worth every dollar spent with all the wonderful benefits they bring. A well-crafted and effective sunroom will be a conversation starter, a light source, and a spot for relaxation that you can enjoy for years.
Remember:
A functional yet beautiful design is possible within any budget;
Natural lighting is key;
Take into consideration the color palette – no matter how small or big your space is;
Invest in stylish yet practical furniture designed for outdoor use;
Choose the ideal window option – from single hung to skylights – considering the climate of your area;
And lastly, don't forget about safety by ensuring proper ventilation and protection from outside elements.
Sunrooms are great additions that will transform any home. If done correctly, they can be one of the most inviting spaces in any property!