I. Introduction
When giving your home a facelift, you may overlook one of the most important but underrated places in your dwelling – your garage. As the doorway from your home to the outside world, your garage is undoubtedly an extension of your living area and can benefit from a few upgrades. Whether you're looking for more storage, increased functionality or need a fresh coat of paint, a garage makeover can be just what you need to give this space new life.
Crafting a functional and organized area begins with understanding the importance of garage spaces. It provides security for you and your belongings by creating an updated and modern garage door system and additional locks if needed. Compared to barebones walls or outdated fixtures, this adds an aesthetic appeal. A well-designed and secured garage will add value to your home if you ever plan to sell it.
No matter what upgrade you are looking for, hiring an expert who can walk through all aspects of remodellng your precious space is best. The proper professional can advise on creating a visually pleasing yet practical product that meets all your storage needs while staying within budget. With their help, you can create a garage room that's not only secure but serves as an extension of both form and function inside – or outside – your home.
II. DIY Projects for Garage Rooms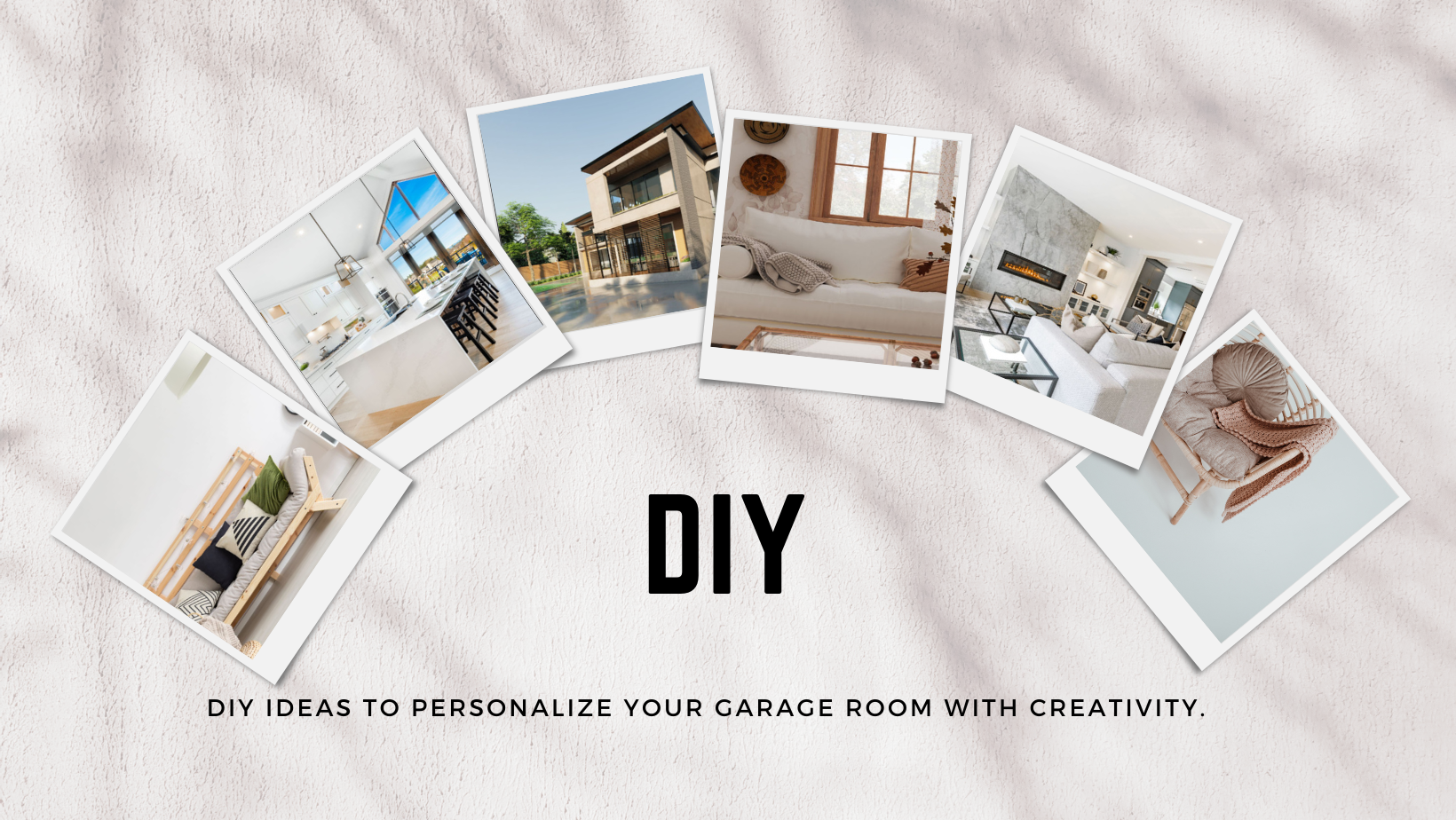 We all know that the garage is a great place to store items, but it can also create a functional space that you can use for about anything. There are plenty of creative crafts and practical ideas you can do yourself!
For example, think about up-cycling and repurposing items you already have. Have old crates lying around? Turn them into makeshift shelves or a creative storage solution. An old ladder makes for an awesome clothing rack. And don't forget about intelligent shelving solutions – try transferring shoes to boxes with individual compartments and hanging them from the walls.
With some creativity, experimentation, and expert help if needed, your garage room can become a great space for storage and leisure activities. So go ahead, get inspired and start planning your garage makeover today!
III. Garage Room Decor Inspirations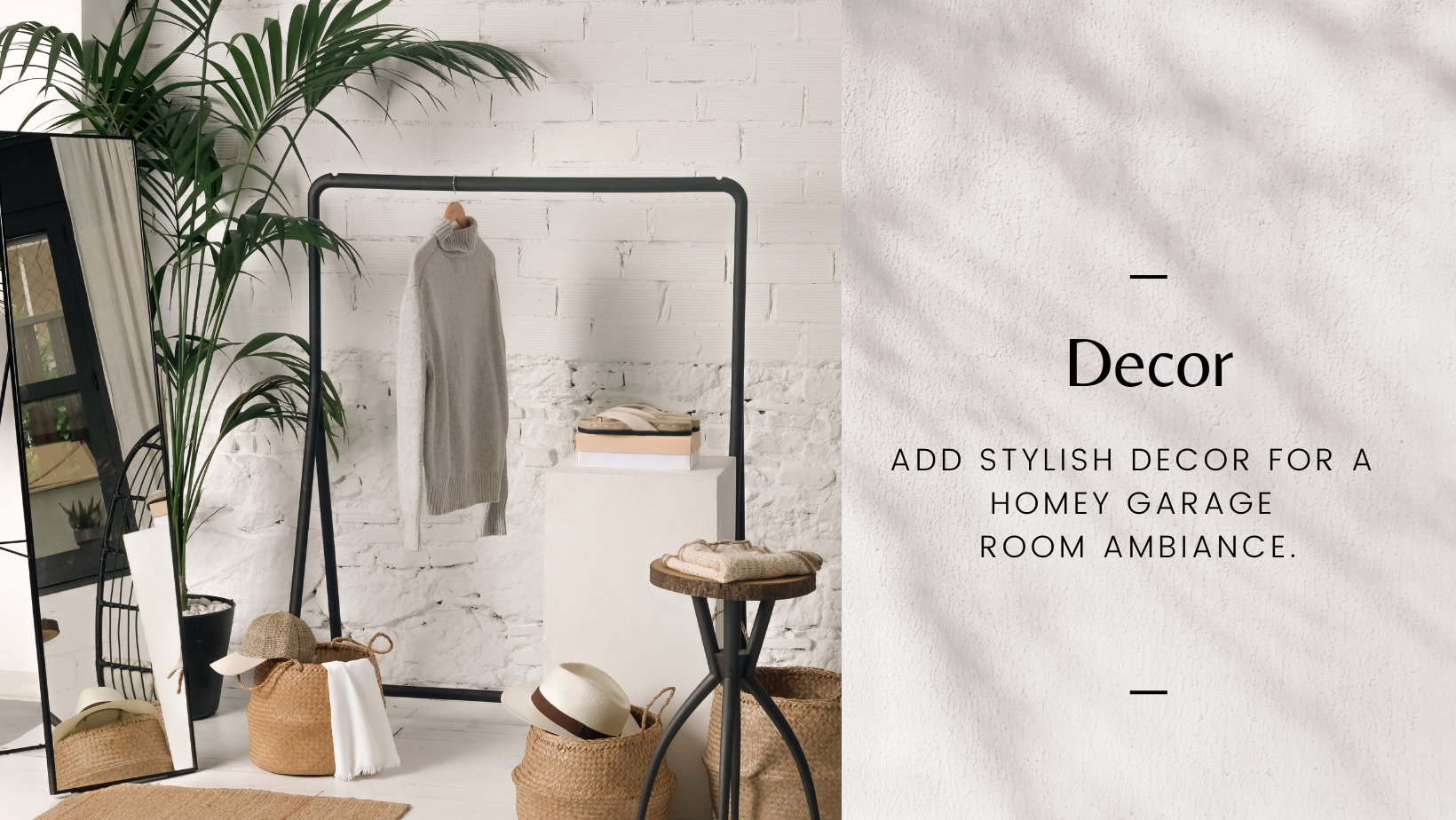 When transforming your garage into a functional, stylish space, getting inspired by decor ideas is critical. You may not think of adding artwork, lighting or theme elements, but when you look for statements that reflect your style, you can create an inviting atmosphere with expert help and the right accessories.
Here are some of our favourite ways to add style and personality to a usable space:
Stylish Accessories: Adding elegant furniture and decor pieces like coffee and console tables, storage systems, and more can make your garage comfortable and warm. Whether it's classic or modern pieces, make sure they blend in with the walls and flooring.
Color Palettes & Textures: If you're going for a modern vibe, choose glossy colors such as black or white — which will make the area appear bigger — along with texture combinations like stone tile flooring or sleek wall panels. Don't forget to mix colours between walls, furniture and flooring!
Lighting & Artwork: Use statement art pieces that fit your garage theme. Find unique artwork from local artists or home decor stores if needed. Lighting is also super important — brighten up the room with task lighting fixtures that are energy efficient, like LED bulbs or spotlights for illuminating darker corners. Finally, don't forget about thematic elements such as plants or rugs!
Your garage can look as stylish as any other room in the house — all it takes is knowing what items to include and where to get them. Now that you have fresh ideas for upgrading your garage room, why not start immediately?
IV. Cleaning Tips for Garage Rooms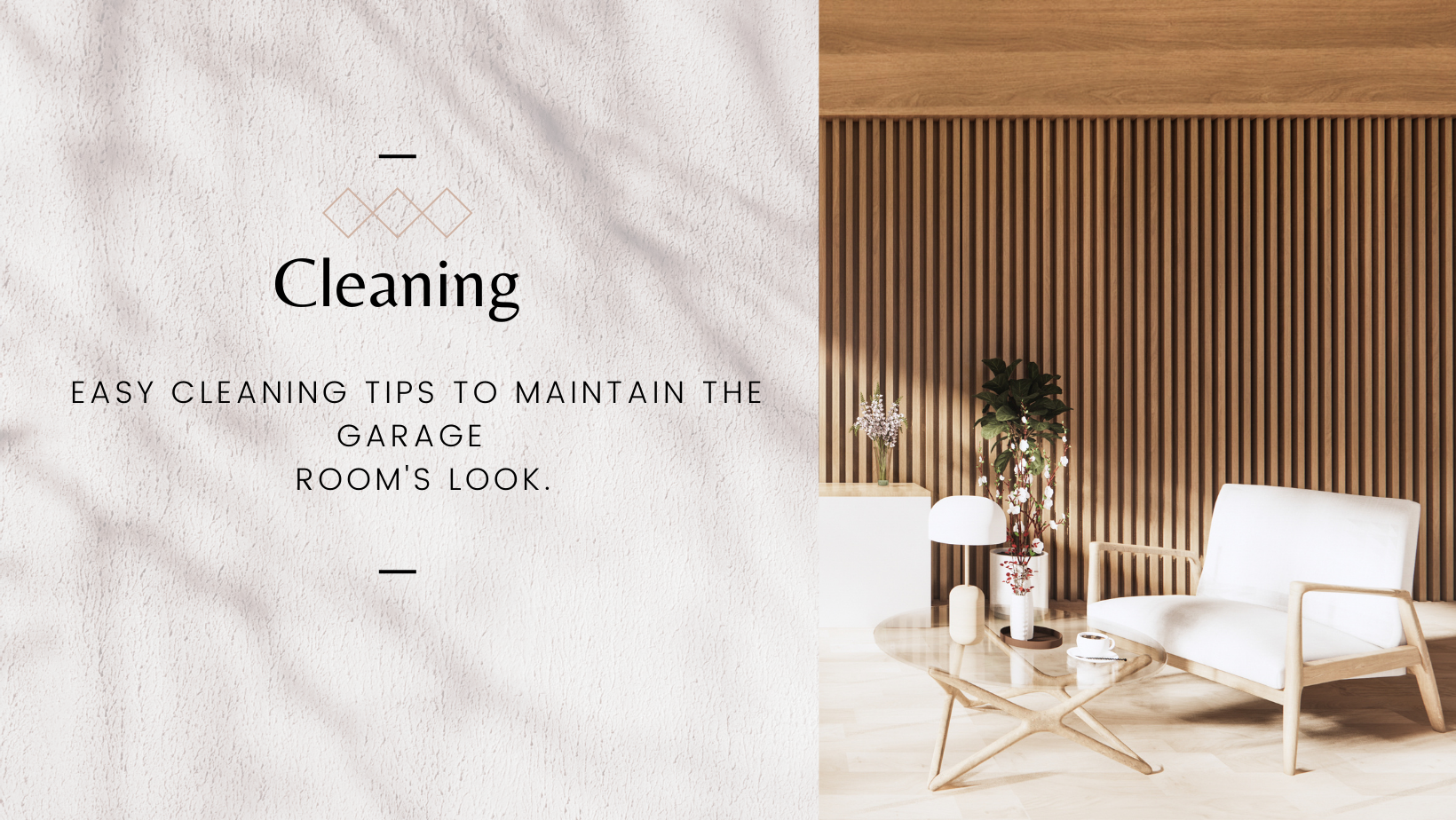 A garage room can quickly get cluttered, dirty, and just plain chaotic—but it doesn't have to stay that way! With some cleaning, organization, and a few DIY tips, your garage room can become a haven of order and calm. Here are our top tips on keeping your garage room clean:
A. Solutions for Maintaining a Clean Space
First, determine what storage solutions work best when considering maintenance. Look into something with adjustable shelves to easily rearrange items as needed. Hooks work great for hanging things like rakes and shovels to free up floor space. This will also make it easier to quickly grab the tool you need without rummaging around piles of stuff.
B. Caring for Various Materials and Surfaces
Your garage floor may need special attention because it's likely to get wet or grimy from regular use. Rubber mats can protect it from dirt and liquids; periodic cleaning is recommended. For walls, use an all-purpose cleaner or detergent solution for routine maintenance; besides that, use mild soapy water on any painted surfaces, as this works best without damaging them.
C. Regular Cleaning & Maintenance Routines
Finally, create a regular maintenance schedule for things like wiping down surfaces or vacuuming the floors each week—this helps ensure your garage room stays clutter-free and in good shape between deep cleanings!
V. Furniture Choices for Garage Rooms
When picking furniture for your garage room, the possibilities are endless. With a wide range of space-saving and versatile pieces, you can explore the best options that fit your style and needs.
To get started, you could consider mixing workbenches, cabinets, and storage options to create an area suitable for storage and work. When choosing a workbench, it's essential to consider its weight capacity and any accessories you may like to use—such as light sources or additional shelves.
You'll also want to consider arranging all these pieces to make for a functional and efficient layout. Don't forget about any walls—adding wall-mounted cabinets can be a great way to store tools and free up floor space. Wall hooks are also great for hanging taller items such as shovels and rakes. Finally, don't forget about seating if you plan on entertaining guests or having colleagues over!
VI. Garage Room Appliances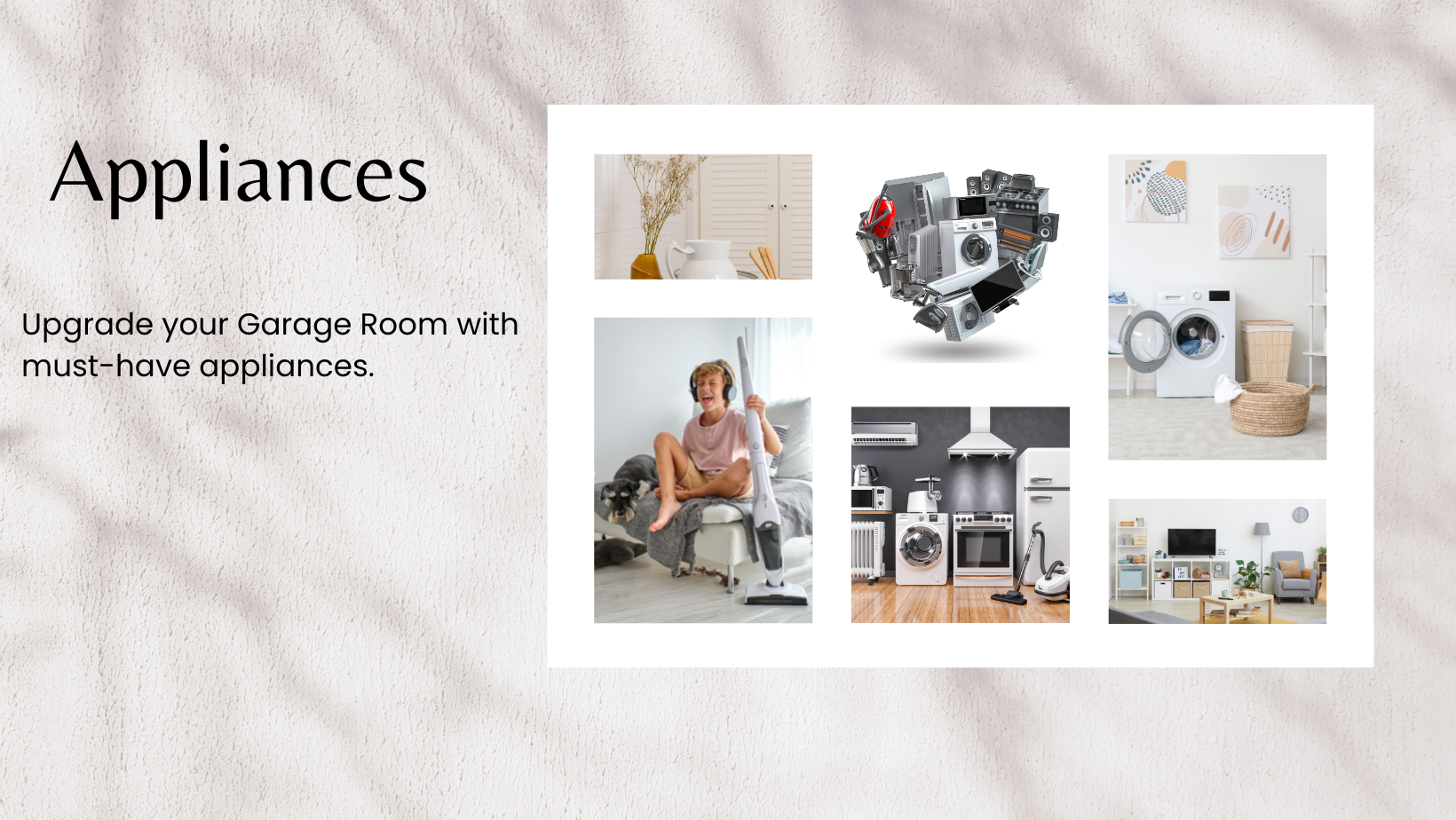 When deciding on the appliances you need for your garage room, it's essential to consider the space's function and esthetic. You'll want products that are energy-efficient, eco-friendly and well-designed. Consider these essential items for automotive and workshop needs:
Refrigerator – Get an energy-efficient model with sufficient capacity for your needs.
Freezer – An excellent option for storing food items that require long-term storage or bulk things like ice cream and frozen fruits.
Washer & Dryer – Look for energy-efficient models with extra features like added efficiency in stain removal or more substantial water pressure for more demanding jobs.
Kitchen Appliances – Choose from cooktops, ovens, microwaves, blenders, coffee machines and more. Investing in good quality kitchen appliances will ensure they last longer and remain efficient.
Balancing esthetics and functionality is essential when choosing appliances for your garage room makeover. And you'll also be making sure you make energy-saving as well as eco-friendly choices when you shop around!
VII. Organizing Your Garage Room
Regarding a garage makeover, the organization is essential for creating a functional space for tools and equipment. We recommend the following intelligent storage solutions to help you maintain a clutter-free environment:
Shelving
Shelving systems are great for organizing items like paint, tools and other things you need to access quickly. Please make sure they are sturdy enough to handle the load, and also consider getting flexible shelving options that can be adjusted easily to fit in awkward areas.
Hooks
Hooks and racks provide an excellent solution to hang ladders, bikes and hoses off the ground. They also free up valuable shelf space and keep your garage room neat and organized.
Bins & Baskets
Bins and baskets are perfect for storing items that don't need easy access all the time – think holiday decorations, extra paint tins and cleaning supplies. They can be mounted on walls or tucked away in nooks and crannies. Labelling them makes it easier to find what you're looking for without rummaging through everything.
Cabinets
Cabinets provide another great way of utilizing wall space in your garage room. Choose cabinets with adjustable shelves so you can use them for all kinds of items: camping gear, gardening supplies or motor oils/liquids that must be stored away safely from children or pets.
We know all these storage solutions sound great in theory, but putting them into practice can be overwhelming if you don't have the time or know-how. That's where expert help comes in handy!
VIII. Garage Room Renovations
A garage room renovation is a great way to make the most available space. Whether you're looking for additional living space for the family, an office with all the comforts of home, or a recreational area where you can relax and entertain, there are ways to make it happen.
Here are a few projects that can bring both style and practicality to your garage:
Enhancing Garage Features
There are countless possibilities to spruce up a dull garage. Consider painting or wallpapering walls, adding a custom storage system or overhead storage racks to de-clutter the room. Installing bright lighting or a ceiling fan with remote control can instantly improve the ambience and give a chic, modern look. You can also choose custom closet systems that provide stylish yet efficient storage options and search for Vinyl garage doors.
Budget-friendly Improvements
With limited funds, thinking of ways to upgrade your garage room can be daunting, but inexpensive options won't break your budget. Try replacing old fixtures with energy-efficient models—you'll save money in the long run; repainting cabinets; refinishing flooring with new tile; installing bright curtains over windows for better insulation; or adding magnetic accents on walls for an exciting touch.
These are just a few ideas that can help transform your garage from drab to fab—and ensure you get expert help from professionals who know what they're doing regarding upgrades and renovations!
IX. Garage Room Design Ideas
As experts in garage makeovers, we can help you create the perfect design for your space. Some popular design ideas to consider include the following:
Clean and organized spaces
This style is all about functionality and order. You won't find too many frills and decorations here, but you will find everything has its place! This look is ideal for people who prioritize practicality and neat organization.
Modern and minimalist styles
You don't have to opt for a monochromatic color palette to bring modern minimalist vibes, although it could work well in a garage room! To keep this look classic and contemporary, focus on straight lines and solid geometric shapes when choosing furniture or other decor items.
Bold and eclectic concepts
Who says garages aren't allowed to be bold? If your main goal is for your garage room to feel creative, unique, and fun – we think you should go all out! Introduce some vibrant colours and fun textures without getting too cluttered. We often suggest creating an accent wall or adding an interesting pattern to the flooring.
X. Cost Guide for Garage Rooms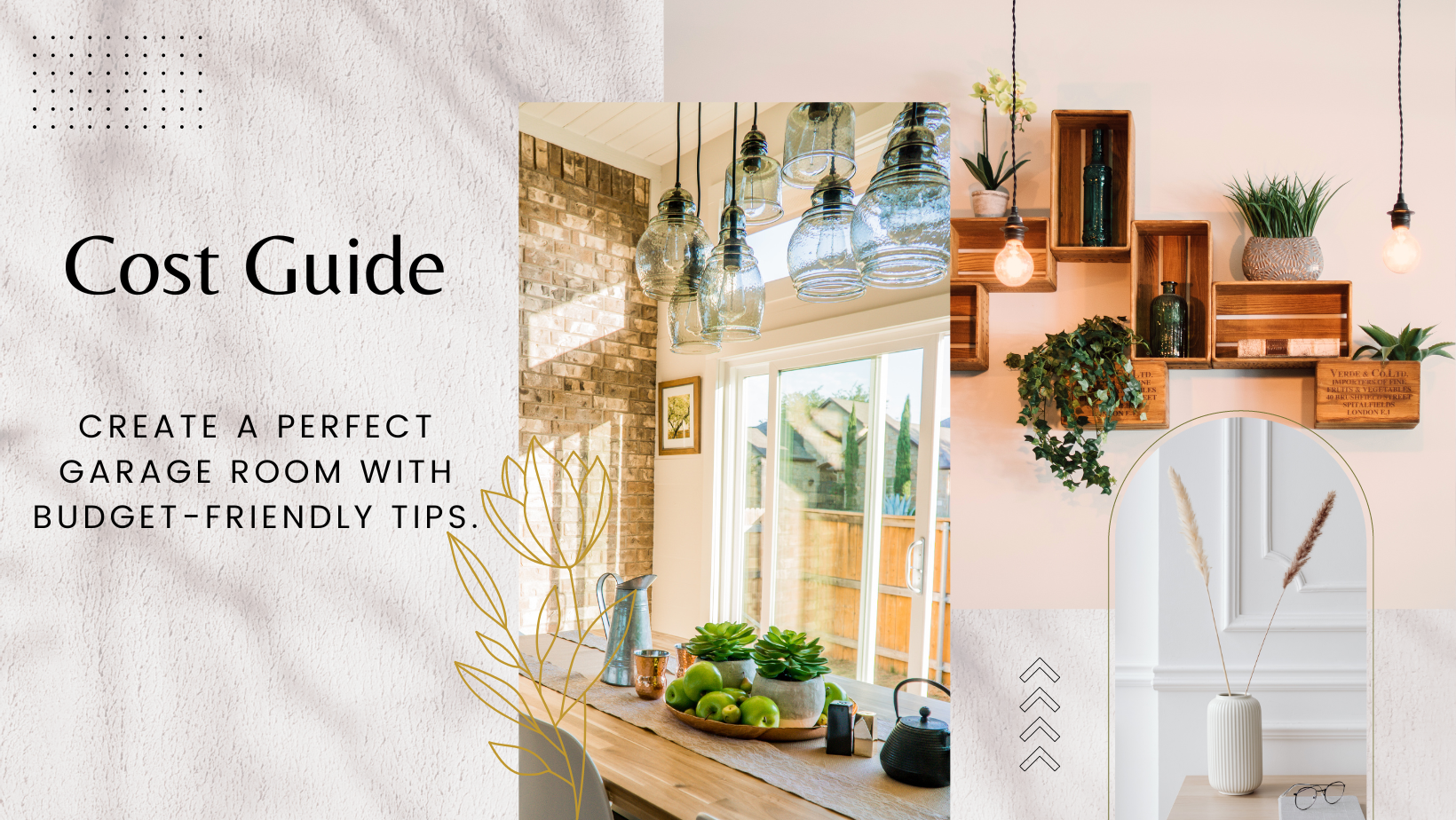 It's time to get down to the nitty-gritty and discuss how much your garage makeover will cost. It's essential to research and budget for your renovation and remodelling needs, as well as furniture, decor, appliances and energy expenses.
Here are several things to keep in mind:
A. Estimating renovation and remodeling costs
The average cost of a garage makeover ranges from $1,200 to $6,000 or more depending on the size of the project, how much needs to be remodelled and whether you hire a professional for the job.
Materials for a typical garage makeover can range from $500 to $2,500, depending on your chosen fabrics.
B. Budgeting for furniture and decor
When it comes to furnishing your new garage room, you have many options! From stylish couches and chairs to workbenches and stools – there's something for everyone. Expect furniture costs $400 – $2500, depending on your selected pieces.
Don't forget about accessories—rugs, pillows, and artwork are fun finishing touches that add life to any space! Prices for these items vary based on the items you select but can range anywhere from $50 – $500.
C. Saving on appliances & energy expenses
Depending on the projects you're completing in your new garage room (e.g., woodworking versus auto repair), consider investing in appliances that'll help keep your workspace clean while minimizing energy costs—such as an efficient pressure washer or vacuum cleaner combo! You may
XI. Finding Contractors and Companies
If you're prepared to take the plunge and bring your garage room into reality, it's time to locate a contractor. The internet is full of resources for finding local companies and specialists who can work on your project. Start by reading reviews from previous customers who have worked with them—they will provide insight into their services, quality of artistry, and customer experience.
Once you've identified a few prospects, check their design experience by looking at their portfolio of past projects. This will give you a sense of their range of skills and the type of work they can deliver.
Lastly, please select the best contractor for your project based on their reputation. Gage how communicative they are before signing a contract – even if they have great reviews, solid design credentials and reasonable prices, you still want to collaborate with someone who makes it easy to ask questions and express your concerns throughout the project. When all these factors mesh with quality service, you know you've found the right contractor for your garage makeover!
XII. Conclusion
In conclusion, creating a functional and inviting garage is not an impossible task. As discussed, it involves embracing the garage design lifestyle and finding expert help. Taking these steps can bring your dreams of the perfect space to life.
When transforming your garage, there are many trends to consider. Researching online can help you find the best furniture, equipment and accessories that fit your budget and boost functionality. You can also learn how to use existing items to save money while staying on trend with your design.
Finally, it's essential to seek out expert help so that your makeover runs smoothly. This could involve locating a contractor who can assist you with projects like repainting or creating custom storage solutions for specific items in your home. With the right contractor by your side, your dream makeover plan will come together without a hitch!