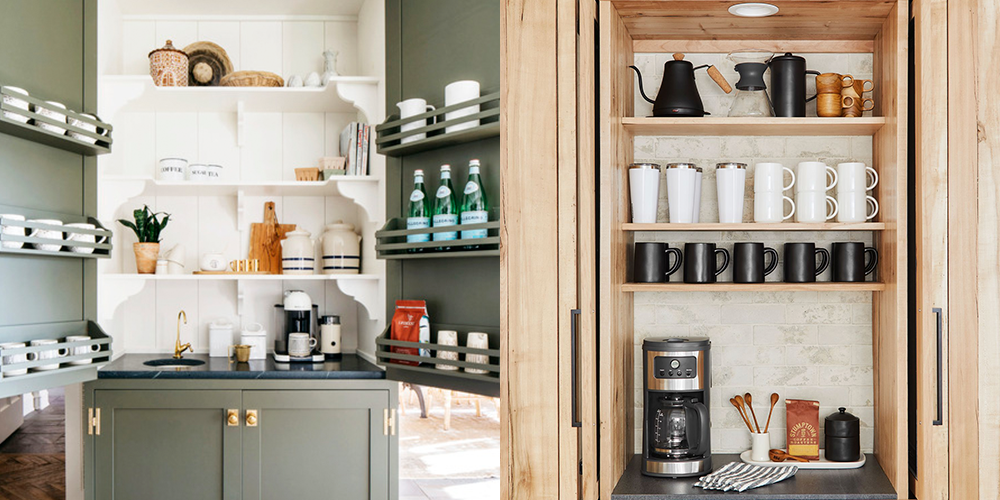 I. Introduction
If you're a fan of cocktails, hosting, and generally having a good time, then you know there's nothing like having a home bar. Whether it's tucked away in the living room corner or the centrepiece of your basement lounge, the allure of having your own space to enjoy drinks with friends and family is undeniable.
But many factors must be considered when crafting a stylish and functional home bar. You'll need plenty of shelf space for glassware, mixers, spirits, and space-saving solutions like wall-mounted bottle openers or hanging racks. And then there's the tricky part—making sure your bar follows local laws and regulations while giving off that great 'speakeasy' vibe.
We comprehend how overwhelming it can be to take on this project alone—which is why we've compiled some ideas, tips, and even professional services so you can build your dream wet bars without worrying about anything going wrong.
II. DIY Projects for Home Bar Rooms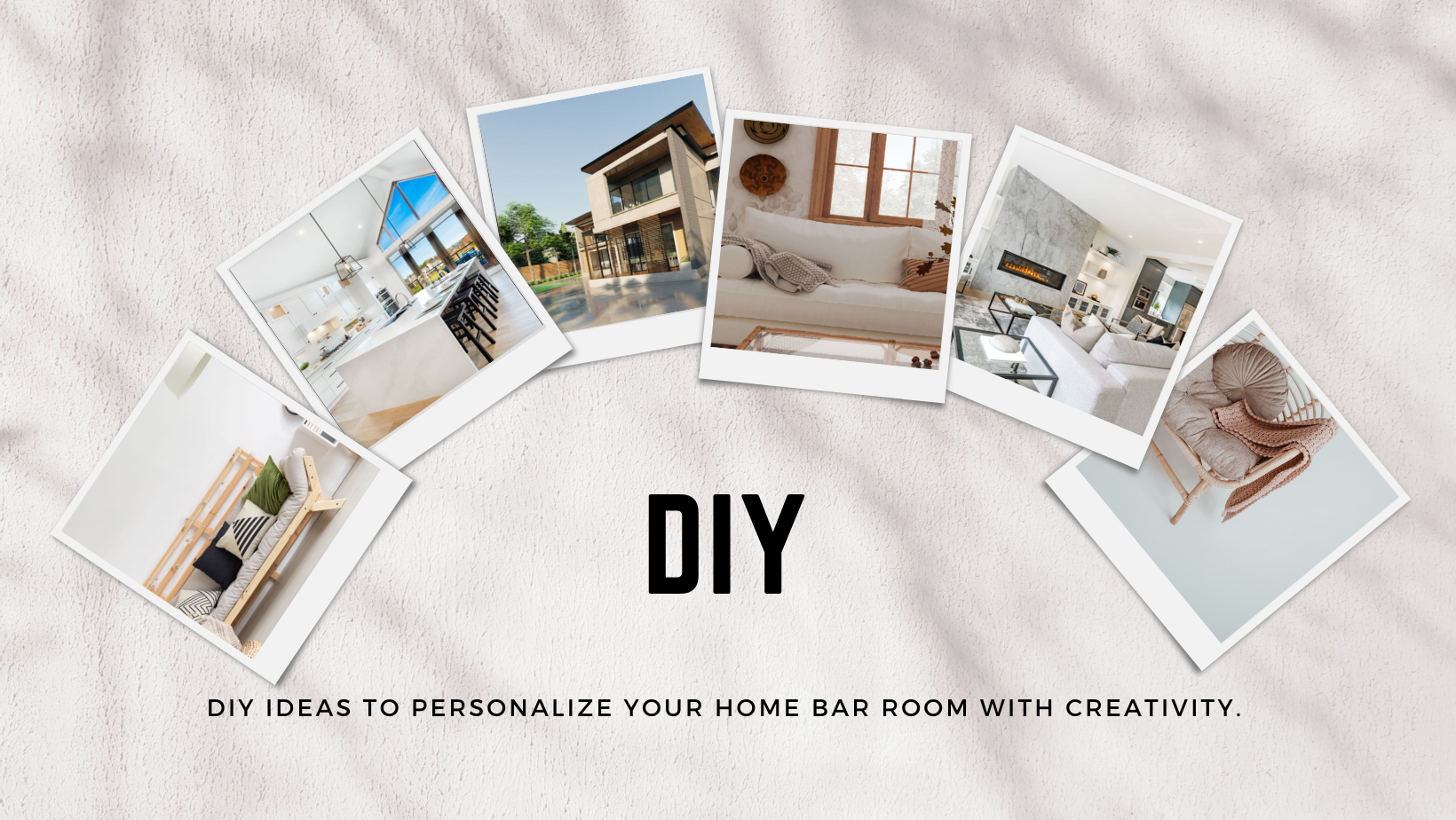 We get it—you're excited to start your Barroom project, but you don't want to break the bank (or your back) doing it. Let's introduce some up-cycling and repurposing DIY projects to add creative crafts and practical ideas to your bar space.
A. Creative Crafts & Functional Ideas
Use vintage furniture like dressers, armoires, and trunks to store liquor, mixers, and glassware.
Turn an old suitcase into a makeshift wet bars cart with vintage finishing touches.
Craft a custom wine rack using salvaged material like old pallets or crates.
Make a shelf for serving trays and linens with a ladder and wood planks.
B. Custom Bar & Shelving Solutions
Install floating shelves over the bar area to save space while organizing bottles and glasses
Paint accent walls or add wallpaper/tiles to create a unique backdrop for the bar area
Construct custom shelving from pipes or recycled wood pieces for storing bottles and mixers in a stylish style
C. Up-cycling & Repurposing Items
Repurpose an old dresser into wine storage for bottles, openers, tools, and decanters
Transform wooden boxes into rustic storage containers for stemware
Revamp an old bookshelf or armoire with new paint colors to create fun displays of spirits
With these ideas, you can easily use inexpensive materials to create something extraordinary. Get creative!
III. Home Bar Room Decor Inspirations
When it comes to decor inspirations for wet bar rooms, there are plenty of options. We recommend exploring stylish accessories for entertaining spaces, fresh color palettes and textures, lighting, artwork, and thematic elements.
Stylish Accessories
First up is stylish accessories: no bar room ever goes amiss with a few decorative accents. Adding items like shelves, stools, and wine racks creates an inviting atmosphere that looks great and provides practical storage solutions.
Color Palettes & Textures
Next up, we have color palettes and textures. Choosing colors that are complementary to one another helps create a coherent design scheme. Try pairing a vibrant accent color with light wood tones or cool grey shades. Incorporating interesting textures also gives a different personality to the space—think velvet or mohair seating paired with glossy marble counters.
Lighting & Artwork
Finally, play around with the lighting to set the tone in your bar room; under-counter lighting or adjustable wall lamps are perfect for creating moody atmospheres, while spotlights work great for areas where you entertain guests. Don't forget the artwork! Placing artwork on walls can give your wet bars a gallery-like feel. You could even theme your artwork around a particular era or location if you wanted to go all out!
IV. Cleaning Tips for Home Bar Rooms
Creating a home bar is fun, but maintaining it can be a bit of a chore. This section will examine solutions for keeping your wet bars space clean and organized.
A. Solutions for maintaining a clean space
The most important thing you can do is maintain your space with regular cleaning and essential organization. Investing in durable storage containers that you can use to store bottles and other items makes it easier to keep the room tidy.
B. Caring for glassware and bar equipment
Your glassware and bar equipment should be regularly cleaned with high-quality products specifically designed for that purpose. Ensure you use hot water to clean them thoroughly and rinse them off with cold water after washing them. Be sure not to use abrasive sponges when cleaning these items, as this could damage them.
C. Regular cleaning and maintenance routines
To get the most out of your home bar, set up a regular cleaning routine with regular dusting, vacuuming, and polishing hard surfaces and glassware pieces. You should also make sure you are properly caring for all of the tools used in making cocktails by sanitizing them regularly with an alcohol solution or sanitizing wipes. This will help ensure they remain bacteria-free while being stored between uses!
V. Furniture Choices for Home Bar Rooms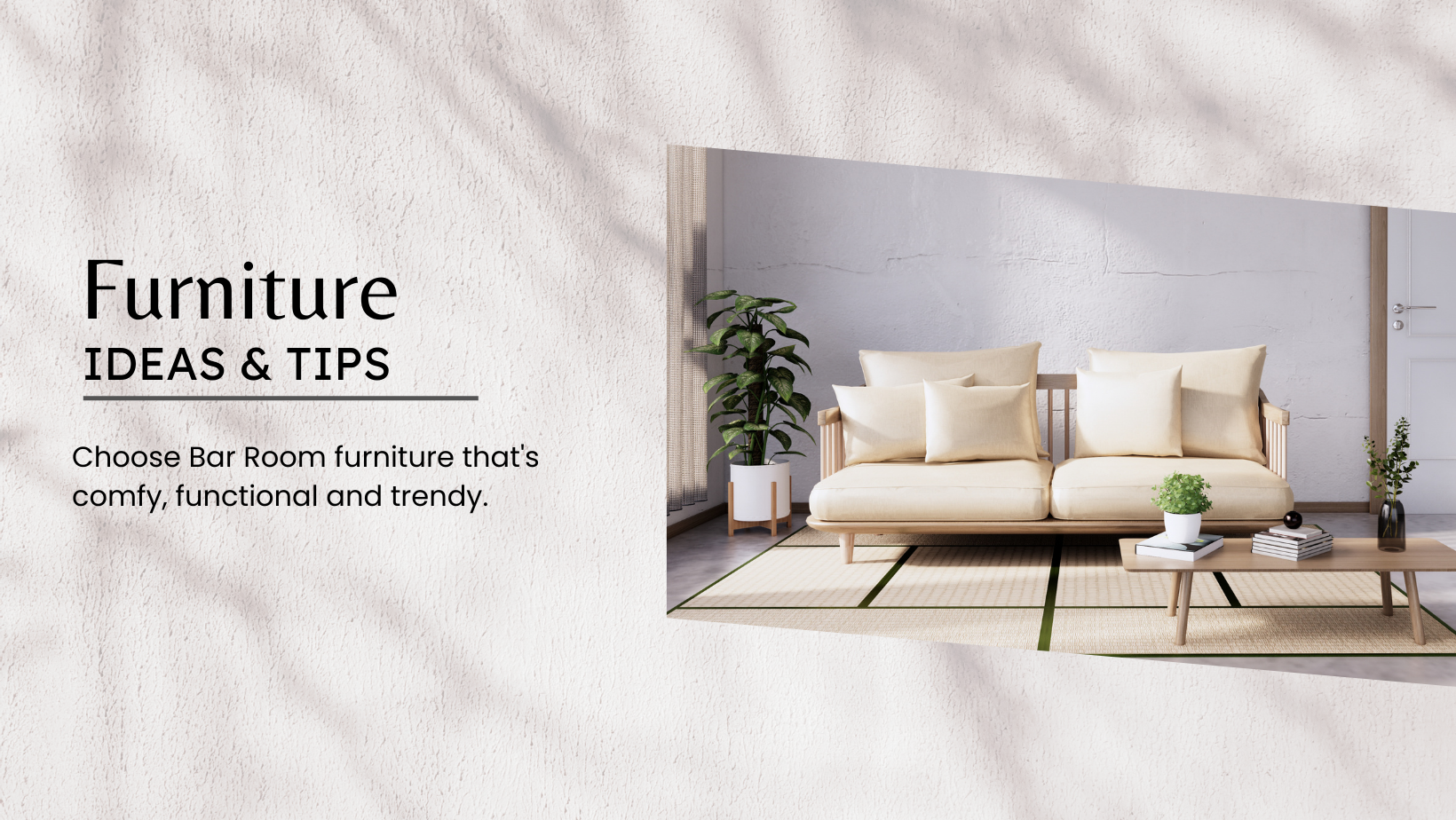 When creating the Barroom of your dreams, one essential element is the furniture pieces and the layout you choose. Your choices should reflect your desired vibe, space, and how many people you plan to entertain.
Here are some ideas and tips for choosing your furniture pieces:
A. Space-saving and versatile pieces
To maximize your space, choose pieces that double as storage, like bar cabinets or bookshelves with storage compartments. These multi-purpose items give you the convenience of a smaller footprint while also allowing plenty of places to store your glasses and other bar tools. You can also use ottomans as mini tables when needed or find convertible chairs that become benches when put together.
B. Mixing barstools, tables, and storage options
Make sure to mix different heights of seating so that people can stand or sit depending on their preference, not to mention this makes it easy for people to manoeuvre throughout the room with ease. Don't forget a coffee table to place drinks down if needed too quickly!
C. Functional and comfortable layout
Finally, make sure your furniture choices create a functional, comfortable layout for everyone in attendance! To ensure this is executed correctly, measure where all your furniture will be placed before buying them, so you're sure it'll fit properly in the room. From there, you can get creative with multiple seating arrangements around the bar stools or conversation area set up against a wall – making sure people can quickly move around.
VI. Home Bar Room Appliances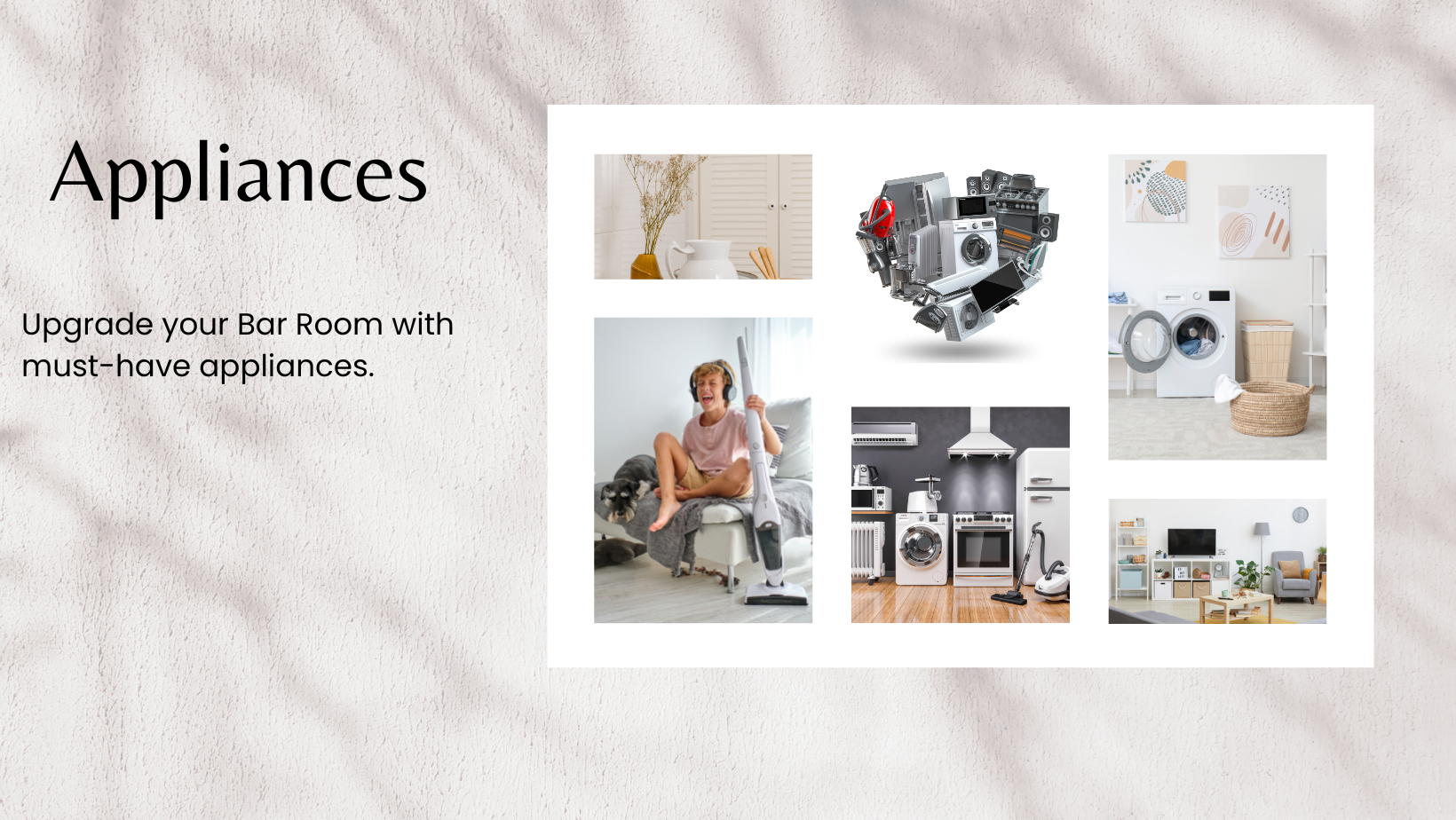 When it comes to creating the perfect wet bars room, appliances are essential. Knowing what to include and where will help you achieve an aesthetically pleasing and highly functional space.
When picking out appliances, it's essential to prioritize energy efficiency and eco-friendly choices. This will help keep your electricity bill down while reducing your carbon footprint. Here are some of the appliances you'll need:
A. Essential Items for Drink Preparation
Refrigerator or mini bar – an unavoidable item if you want to keep drinks chilled
Wine cooler – perfect for maintaining wines stored at just the right temperature
Bar sink – so you can quickly dispose of any mess
Ice maker- so you always have plenty of ice on hand
B. Balancing Esthetics and Functionality
You want your home bar room to be a place for relaxation and enjoyment, so esthetics are crucial but don't forget about functionality! Invest in quality seating, such as high stools or leather couches, comfortable lighting, and decor that blends with the overall theme of your wet bars room.
Now that you know the basics talk to one of our professionals about making your Barroom dreams come true!
VII. Organizing Your Home Bar Room
Creating a home bar room can be great fun, but it also involves a lot of organizing and storage solutions. But don't worry; we're here to help! Here are some tips to keep your bar room functioning at its best:
Smart storage solutions
When it comes to setting up your wet bars, clever storage solutions are essential. Think over-the-counter shelves, racks, and vertically-stacking containers to maximize your space. Utilizing these storage solutions can also help keep a clutter-free environment, so you don't have any messes after guests leave.
Maximizing space for drink-ware and supplies
Don't forget about accessories and supplies! Determine beforehand how much space you'll need for each collection—including everything from bar tools to glasses—and opt for metal shelves that come in sizes of all shapes and sizes. You can store glassware upside down, allowing airflow underneath that will prevent unwanted odors or moisture from collecting inside.
Maintaining a clutter-free environment
Of course, a neat wet bars room is always the goal! To achieve this, you may invest in hideaway cabinets that store extra liquor bottles or other items out of sight when not in use. Wall shelves are also great for quickly organizing things like cocktail shakers or muddlers instead of having them lying around on surfaces taking up valuable counter space.
With these easy steps combined with suitable materials from professional suppliers, you'll have no trouble creating an organized, functional, yet still classy barroom.
VIII. Home Bar Room Renovations
Regarding wet bars room renovations, there are many ways to enhance existing bar features and create stunning, practical projects that blend style and functionality without impacting your budget.
For example, you can:
Update Cabinetry
Cabinetry is one of the essential parts of any bar or home entertainment area. You could give your existing cabinets a facelift with fresh paint, hardware, or glass doors to make them look new.
Install New Light Fixtures
Installing bolder lighting can give your bar room a luxurious style. Consider swapping out an old light fixture for something more daring and brighter for those late-night cocktails.
Invest in Good Bar Stools
Having comfortable seats around your bar area is essential; you want your guests to be happy during their stay! Choose good quality stools with durable upholstery that are adjustable and comfortable. This small investment will go a long way in creating an inviting atmosphere within your bar area.
Finally, don't forget the small details, such as custom drink-ware racks or coasters — they can help take your wet bars room to the next level!
IX. Home Bar Room Design Ideas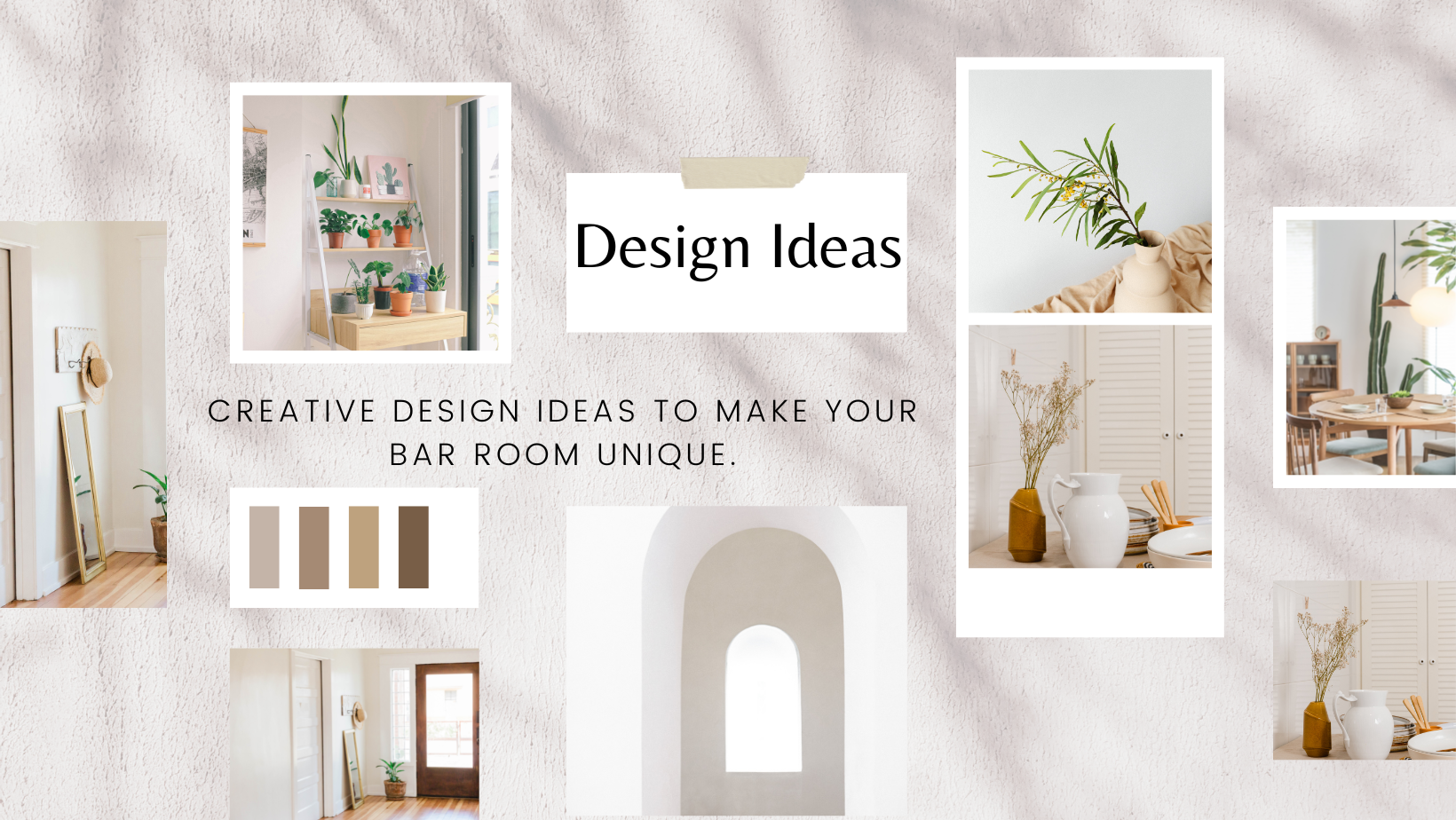 Whether you're looking for a classic, elegant setting or something more modern and minimalist, we have plenty of wet bars room design ideas to help you create the perfect space.
Classic and elegant settings
Think luxurious materials like marble or granite countertops, bar cabinets with intricate details, and upholstered stools. Dark woods like mahogany or walnut will bring a traditional feel to your bar area, and for extra sparkle, hang some dazzling pendant lights over the bar. For a complete look, add plush velvet seating around your bar. Consider adding a cozy fireplace for a warm atmosphere if you're up for it.
Modern and minimalist styles
If modern and minimal is your style, consider opting for sleek lines presented in glass, steel, stone, and wood finishes – use light wood tones to give an airy feel and crisp white marble counters for an ultra-clean look. This design works exceptionally well in contemporary homes with open floor plans; be sure to incorporate clever storage solutions with hidden cupboards or floating shelves to tuck away all those cocktails accessories!
Bold and eclectic concepts
For those feeling bold (or having eclectic tastes), why not try mixing different textures, like reclaimed wood walls, with sleek leather stools? You could also try using bright colors – electric blues or vibrant oranges will help create a unique look. Complete this concept with statement lighting fixtures that will make your space pop. No matter what vision you have in mind, there's no doubt that the right design will make your home the last word in entertaining!
X. Cost Guide for Home Bar Rooms
Creating a Barroom is an exciting task, but it isn't easy or cheap. We know from experience that making the right decisions about cost can be tricky, especially if you don't have any prior knowledge about bar creation. That's why we've outlined some essential tips to help you budget for the ultimate wet bars room.
Estimating renovation and remodeling costs
First and foremost, knowing the costs of any remodeling and renovations, you'll need to carry out to make your wet bars a reality is essential. Expenses related to construction materials, labour costs, fixtures, and furniture should all be considered when planning your budget. A great place to start is by looking online for average estimates in your area—this will give you an estimate of what you're looking at (though always bear in mind that quotes may vary).
Budgeting for furniture and decor
Next on the list is furnishing your home bar with items such as stools, tables, lighting fixtures, wall art, and more. Spending wisely on these design elements will give your space that unique feel that people come back for time and time again. You can even hire a professional interior designer to help you create the exact look you dream of for your barroom.
Saving on appliances and energy expenses
Finally, it's essential not to forget about the appliances you'll need and the potential energy costs of running them. You can save money by opting for more energy-efficient fixtures such as LED lighting or tankless water heaters. Additionally, doing research online ahead of time can help you compare prices across vendors so that you end up with the right pieces.
XI. Finding Contractors and Companies
If you need help from a contractor to build your home bar, several online resources can help you locate specialists in your area. These digital directories, from trade magazines and directories to listings from private and public organizations, can help you quickly identify the most highly-rated professionals for the job.
When it comes to researching contractors, make sure to:
Check certification and licensing—confirm that the contractor has the necessary certificates and licenses to work in your state or county.
Read reviews—pay attention to what previous customers say about their experience with the company or contractor; be sure to read both positive and negative reviews.
Compare prices—get multiple quotes from different contractors to compare their prices and services. Remember, the lowest price isn't necessarily the best value–quality is essential too!
Ask questions before signing anything, questions about safety procedures, insurance policies, payment plans, timelines, warranties, etc., so you know what you're getting into with each potential contractor.
Doing thorough research on every potential contractor will pay off in the end; this way, you can find the best fit for your project while also getting it done on time and within budget!
XII. Conclusion
To close off our exploration of wet bars creations, there are three main takeaways we want to leave you with.
A. Embrace the wet bars lifestyle: The wet bars are the perfect way to host many guests or want to create an intimate and welcoming space for yourself and your family.
B. Create a functional and stylish space: With thoughtful planning, a little DIY expertise, and careful furniture selection, you can quickly turn your at-home bar into a functional and elegant space that looks beautiful and works well for hosting.
C. Get professional assistance: Investing in professional aid doesn't need to be intimidating. From experienced architects who can plan your layout from concept to completion to dedicated interior designers who can help source furnishings that fit your style, genuine help is available for whatever level of investment you're comfortable with.
So have fun exploring different wet bars creations! May your finished product bring you years of enjoyment!