I. Introduction
Welcome to Landscape Haven, your ultimate guide to crafting a functional and picturesque outdoor living space. With the right guidance, you can transform a bland backyard patch into a landscape room that brings together family and friends in a blissful harmony of beauty and rustic comfort.
Whether you're looking for design advice, helpful tips, or expert assistance, this guide will provide the tools necessary to usher your outdoor living space to its fullest potential. We aim to give you the knowledge and confidence to create the perfect outdoor haven tailored to your needs.
Let us take you on a journey through the wonders of outdoor living! Come with us as we explore the splendor of landscape rooms and uncover all it takes to make your vision come alive.
II. DIY Projects for Landscape Rooms
When transforming your backyard into a Landscape Room, the possibilities are endless. Whether bringing potted plants to add some greenery or installing a luxury hammock for lazy afternoons, you can make your space uniquely yours.
For those who love to get creative, plenty of DIY projects are perfect for landscape rooms. Here are just a few of our favorites:
A. Creative crafts for personalized touches
Bring your personality into the mix with fun and unique craft ideas. Whether building a planter out of old juice cans or creating an outdoor wall art mural, these creative projects will add unique and personalized touches to your landscape room.
B. Custom storage and furniture solutions
Make the maximum outdoor space with custom storage and furniture solutions. Install shelves, cubbies, and other organizational accessories to keep all your items organized in style. Have a knack for carpentry? Try building benches, tables, and other pieces yourself!
C. Upcycling and repurposing items
Give old items new life by upcycling them in the landscape design room. Old shutters make great walls between gardens, while vintage lanterns can be hung on trees as decorative lighting accents – endless possibilities!
III. Landscape Room Decor Inspirations
We understand that landscape room design can be daunting for many people. That's why we want to share some of our favorite decor inspirations to make it easier for you.
When it comes to outdoor spaces, one of the best ways to create a complete look is with stylish accessories. These accessories range from outdoor seating, tables, and umbrellas, to fire pits and outdoor kitchens for entertaining. Add some natural color palettes and textures, like wood, stone, and water features. And don't forget about the lighting: choose decorative fixtures that perfectly suit your home's exterior while providing functional illumination after dark, as well as artwork and botanical elements to add warmth and texture to your landscape design room ideas.
By implementing these suggestions, you can create an outdoor oasis perfect for relaxing with friends and family. So, when it comes time to start planning your space and shopping around—don't forget our expert assistance! Our professionals are available 24/7 to answer questions or provide guidance if needed.
IV. Cleaning Tips for Landscape Rooms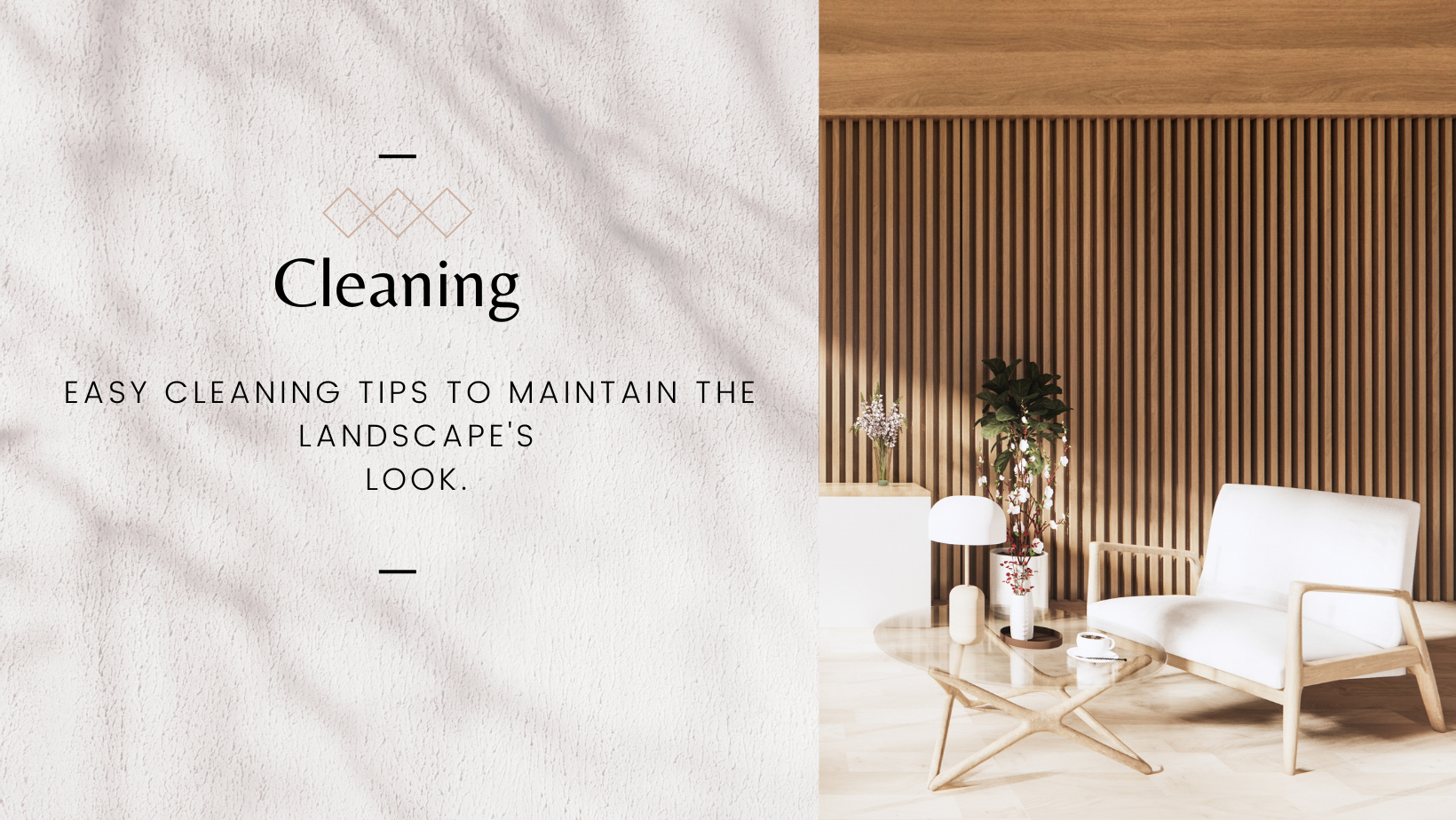 When it comes to landscape rooms, keeping things clean is essential for a healthy and inviting space. Here are some of our top tips for maintaining a clean and organized landscape room:
A. Solutions for maintaining a clean space
Utilize storage solutions to keep clutter out of sight. This could be shelves, drawers, baskets, and other containers that help you store items in an organized manner.
Use dust cloths, vacuum cleaners, and other cleaning tools regularly to avoid dust buildup.
Place frequently used items in easy-to-reach locations for quick access.
Set up regular cleaning routines for yourself and your family members so everyone is on the same page when caring for the landscape design room.
B. Caring for outdoor furniture, surfaces, and plants
Wipe down outdoor furniture with a damp cloth after each use.
Clean outdoor surfaces with a hose or pressure washer, such as patios or fencing.
Remove dead leaves from plants regularly and water as needed – aim to check your plants at least once a week.
C. Regular cleaning and maintenance routines
Sweep the floor daily before vacuuming or mopping once or twice a week or as needed, based on the size of your landscape design room.
Wipe down countertops with an all-purpose cleaner every other day
Make sure windows are closed when not in use and cleaned weekly if they are open more often than not
Dust window sills at least once a month
These cleaning tips will help you keep your landscape room looking its best — plus, you'll be able to enjoy it
V. Furniture Choices for Landscape Rooms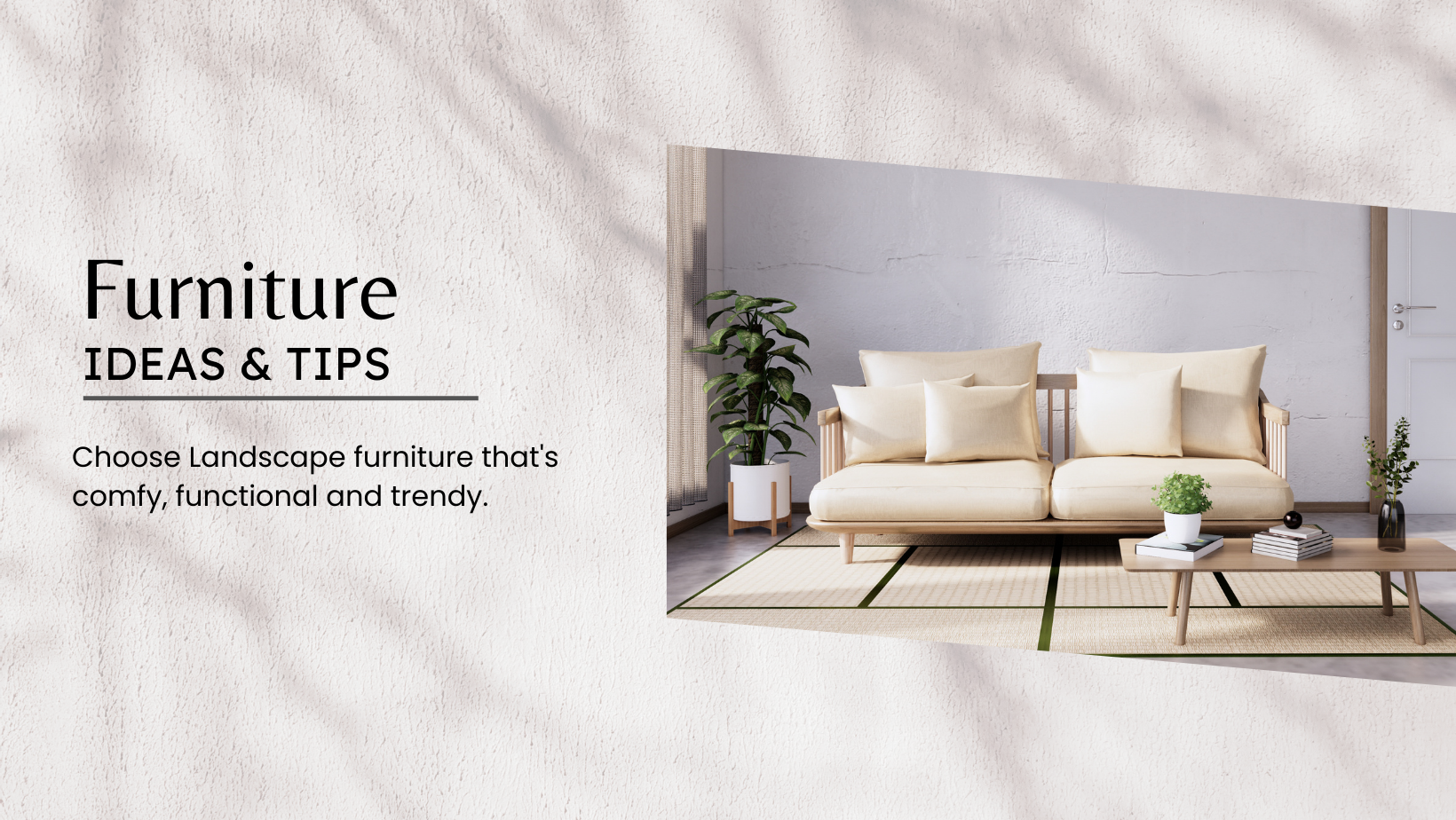 When choosing furniture for your landscape room, you want it to be functional and inviting. We suggest mixing seating, storage, and display options for a unique outdoor living space. You want weather-resistant and versatile furniture—you don't want to trade out the table every season.
Here are a few suggestions when looking for pieces:
Folding chairs: lightweight and easily stored away, these are great for conversation areas, informal dining, and more
Sofas: comfy seating with plenty of cushions and bolsters are perfect if you have the space to accommodate them. They can also be arranged as a couch or as individual seating.
Daybeds: great for lounging or soaking up the sun with their generous size.
Accent tables: choose weather-resistant designs such as teak or metal to give your landscape design room an added touch of sophistication.
Shelving units: use these to store items like cushions, gardening tools, and books while maximizing the space available.
Carts & trolleys are useful for storing items like drinks and snacks, so they're within easy reach during gatherings.
VI. Landscape Room Appliances
When creating a landscape room, you'll need appliances and other items to make it feel like home. To balance esthetics and functionality, consider energy-saving and eco-friendly choices. Here are some essential things for an outdoor living area:
Outdoor Kitchen Appliances
Outdoor kitchen appliances can make preparing meals or entertaining easier and more enjoyable. Options include gas grills, electric grills, smokers, pizza ovens, refrigerators, sinks, and other cooking appliances. Choose energy-efficient models that use recycled materials to reduce your carbon footprint.
Patio Heaters & Fire Pits
Patio heaters and fire pits create the perfect outdoor ambiance for cool evenings or chilly days. There are several options to choose from that are energy-saving and environmentally friendly. Examples include gas patio heaters, propane or wood, and burning pits.
Furniture & Pergolas
Making sure to select furniture that's suitable for outdoor living is important to ensure comfort and style for your landscape room. Choose durable materials like teak wood or stainless steel for long-lasting furniture pieces. Adding a pergola is fantastic for providing shade in the summer months while allowing natural light into your space.
VII. Organizing Your Landscape Room
Finally, an organized room is a clutter-free room. And no matter what size your landscape design room is, it's best to keep it tidy to make the most of your space. This means implementing smart storage solutions, like adding shelves and racks to hold your tools orderly and ensuring everything has its place.
Here are some tips for organizing your landscape room:
Install shelves for small items like potting soil, twine, gloves, trowels, and other tools.
Consider adding cabinets for storing larger items like shovels, rakes, and more.
Invest in a storage rack to hang things like watering cans or hose reels from the wall.
If you're tight on space, you maximize space using stackable containers for outdoor essentials like seed packets or extra potting soil bags.
Finally—and this should go without saying—try to avoid too much clutter in your landscape room. It will help you maintain a clean work environment and save time when looking for something buried beneath other items!
VIII. Landscape Room Renovations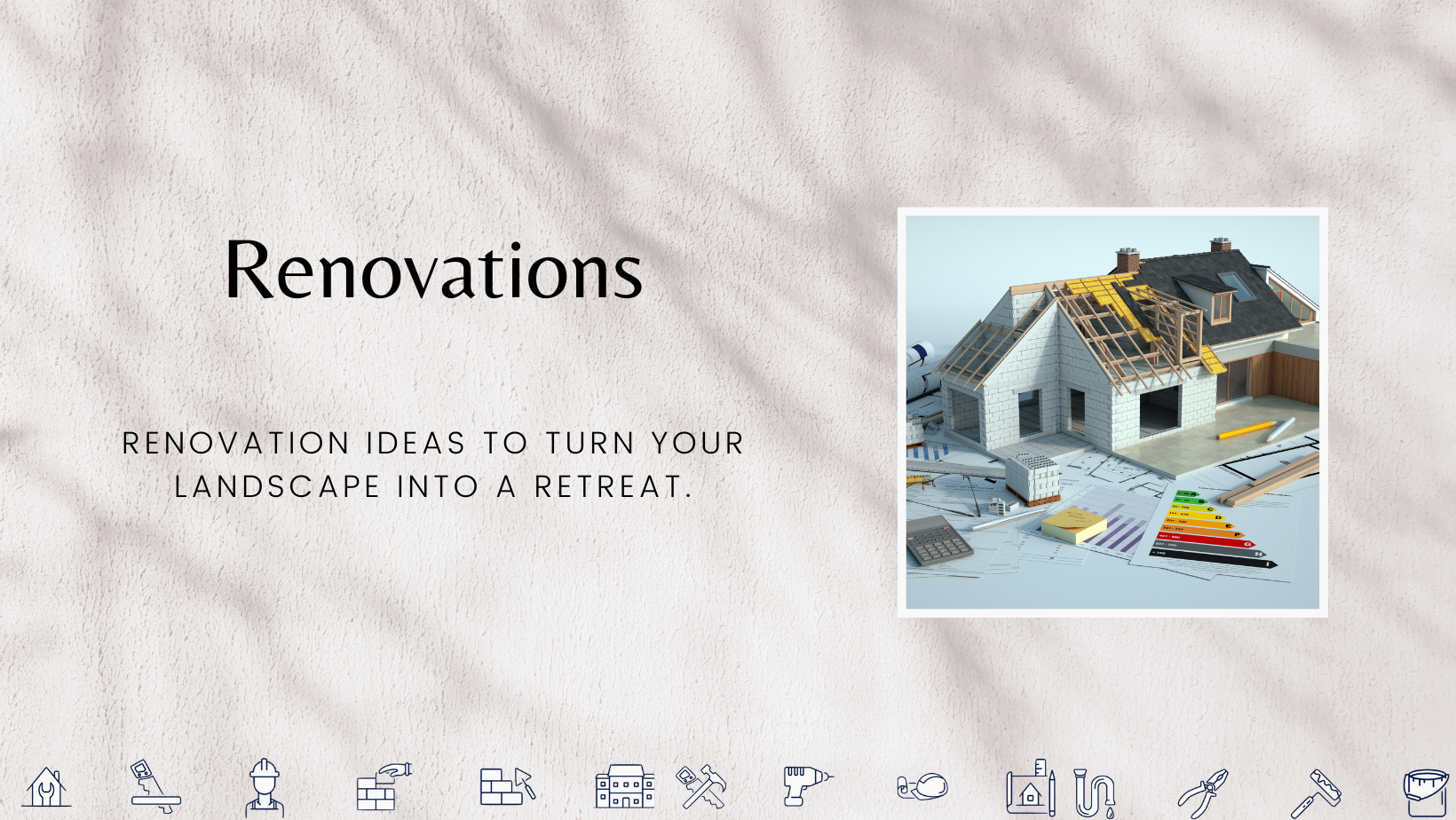 We help you create the perfect outdoor retreat for relaxation, peace, and entertainment. From transforming a simple porch into a warm and inviting living space to create an outdoor dining area with all the amenities, we specialize in landscape room renovations that match any budget.
We have years of experience working with customers to create garden and relaxation areas that blend style and practicality. Our team can help you design custom projects tailored to your home's unique features. We'll help you choose the materials, shapes, and colors to improve your outdoor space while staying within your budget.
Whether it's a new patio or a secret garden, we can help make it happen:
Enhancing garden and relaxation features – Create a cozy seating area by adding furniture, fire pits, decorative lighting, or a pergola.
Projects blending style and practicality – Customize a design solution that fits your lifestyle needs, such as an outdoor kitchen or workspace with eco-friendly appliances.
Budget-friendly improvements – Explore ways to save money on the project by finding the best materials for your budget and maximizing existing landscaping elements like pathways.
By teaming up with us, you can create a landscape design room renovation that is both beautiful and functional—bringing more life to your home in the process!
IX. Landscape Room Design Ideas
When it comes to landscape room design, there are endless possibilities. You can make your outdoor space your own, creating a serene and relaxing setting, a modern and minimalist style, or a bold and themed concept.
Some suggestions to get you thinking:
Serene and Relaxing Settings
Create a peaceful retreat with lounge chairs, outdoor area rugs, potted plants, and outdoor lighting. Add an outdoor fire pit for cozy evenings during cooler months.
Modern and Minimalist Styles
Choose sleek furniture pieces that coordinate with the natural environment around you. Incorporate linear shapes such as triangles and rectangles into your design for added interest.
Bold Themed Concepts
Use bright colors and bold textures to create an adventurous atmosphere in your landscape design room. Feature fun pieces like garden gnomes and wind chimes for an eclectic look.
X. Cost Guide for Landscape Rooms
When creating a beautiful, functional outdoor space for your home, you may wonder about the cost of a landscape room. So let's break it down for you.
Here are the top three things to consider when budgeting for a landscape room:
A. Estimating renovation and remodeling costs
Renovating or remodeling your outdoor space requires additional expenses such as building permits, labor, and materials. Ensure contractors and suppliers get estimates to plan your budget accordingly.
B. Budgeting for furniture and decor
Updating your outdoor space involves selecting pieces that fit your home aesthetic and make it inviting. Consider furniture that can withstand outdoor elements and decor that adds texture and color to your space while meeting your budget.
C. Saving on appliances and energy expenses
If you're looking to add extra comfort and convenience—installing electrical outlets or adding an outdoor kitchen—you should research the best options for keeping energy costs low whenever possible. Invest in energy-efficient appliances that have long lifespans so that you can save money in the long run.
XI. Finding Contractors and Companies
If you're planning a landscape room and don't know where to start, the best thing to do is find a specialist you can trust. But with so many contractors and companies promising great results, it can be overwhelming to determine the one for you. Never fear—we've covered you with these tips for locating highly-rated professionals.
Online resources
Searching online is a great starting point, as it will provide you with a list of potential contractors. Many of these websites allow customers to leave reviews, giving you an idea of how reputable they are and what kind of projects they typically take on. This can help narrow the choices and simplify the selection process.
Tips for identifying top-rated professionals
Once you've identified potential contractors or companies, it's important to do your due diligence and research them further. Our suggestion? Ask friends and family who recently had similar projects completed for recommendations on services they used (and liked!). You might also want to look for customer reviews on websites like Yelp or Angie's List to understand how people rate their services.
How to pick the best contractor for your project
After researching, compare quotes from different contractors to get the best deal for your project. Also, ask about the length of time that their services cover – most qualified professionals should offer at least one year of warranty service on all projects – and be sure that they have experience in landscape design and installation specifically related to your project scope before you hire anyone.
XII. Conclusion
We've explored the importance of landscape rooms and shared some tips on creating a functional and captivating space.
From small, intimate spaces to large, open areas, having one or more landscape rooms will allow you to express your unique vision for your outdoor space. Embracing the importance of landscape rooms will enable you to fully realize your outdoor space's potential. Whatever your needs, we have just with family and friends, entertain guests, or enjoy the outdoors with nature; landscape rooms are the perfect way to make that happen.
At Landscape Haven, we know just how important outdoor spaces are. We have a team of experts who can help you design and build an outdoor area perfect for your needs. Our experts are experienced in bringing your vision to life and creating a space that perfectly fits your wants and needs! Call us today, and let us help turn your eye into reality!