I. Introduction
Outdoor living spaces are a great way to make the most of warm weather and beautiful nature. Whether you have a large garden, a small balcony area, or something in between, designing an exterior room will give you an outdoor space to enjoy with friends and family. With the right design, tips, and expert assistance, you can create a stylish, inviting, and functional area you'll love spending time.
At their core, exterior room spaces add value to your home. They provide an extra living space that can be used for relaxation, hosting events, or simply spending quality time with family. But more than that, creating a functional and inviting outdoor living space will bring comfort, luxury, and enjoyment to your daily life.
On top of that—because it is outdoors—creating an exterior room allows you to enjoy nature's beauty from the comfort of your home.
II. DIY Projects for Exterior Rooms
Creating an outdoor living room, or any outdoor space, can be a fun and creative challenge to tackle as a DIY project. With a little effort and creative thinking, you can transform your outdoor space into an inviting and functional area where you can enjoy the beauty of your surroundings.
Here are some of our favorite DIY projects to make your outdoor room unique:
Creative crafts: personalize your space with colorful wall hangings and unique art pieces that showcase your style.
Functional ideas: think outside the box when it comes to furniture. There are several ways to repurpose existing items or make makeshift seating arrangements with stacked pallets or hay bales.
Custom storage: make custom bins, baskets, or shelving out of wood or upcycled materials such as boxes, old crates, and even suitcases!
Handmade textiles: add extra coziness with handmade throw pillows, blankets, and curtains.
Upcycling & Repurposing items: have some unused items lying around? Get creative and turn them into planters or hanging light fixtures!
III. Exterior Room Decor Inspirations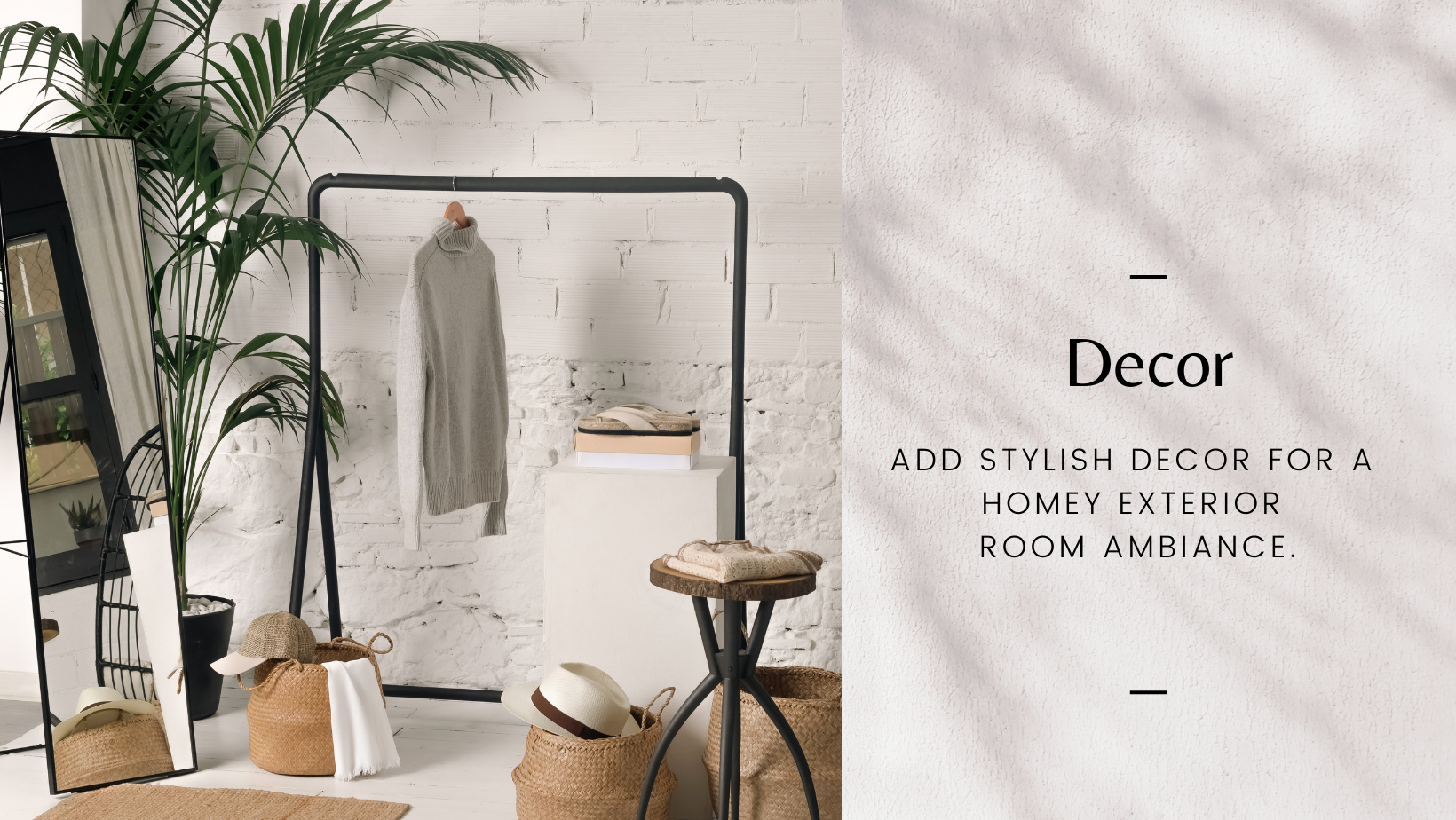 We all love a good outdoor living space, but it's important to remember that the details can make all the difference. From stylish accessories to colorful palettes and textures, there are many ways to spruce up your exterior room.
Stylish accessories
Small touches can make a big impact on any outdoor living space. A few statement pieces like potted plants, hanging lanterns, or a vivid throw rug can instantly transform and upgrade your exterior room. These accents can easily create a cozy and inviting atmosphere for any occasion.
Fresh color palettes and textures
Painting the walls of your exterior room is an easy way to give your space some flavor. Choose eye-catching hues and accentuate them with bold patterns to get some real interest in the design of your room. If you prefer keeping things simple, painting just one wall is an effective way to show off your personality without going overboard.
Lighting, artwork, and thematic elements
These are great ways to give your outdoor living space its unique identity tailored to you. Soft twinkling lights can add an exciting ambiance, while artwork and other decorations help complete the look you're going for. Have fun with these elements but make sure they complement each other—you don't want too many competing esthetics happening in the same place!
IV. Cleaning Tips for Exterior Rooms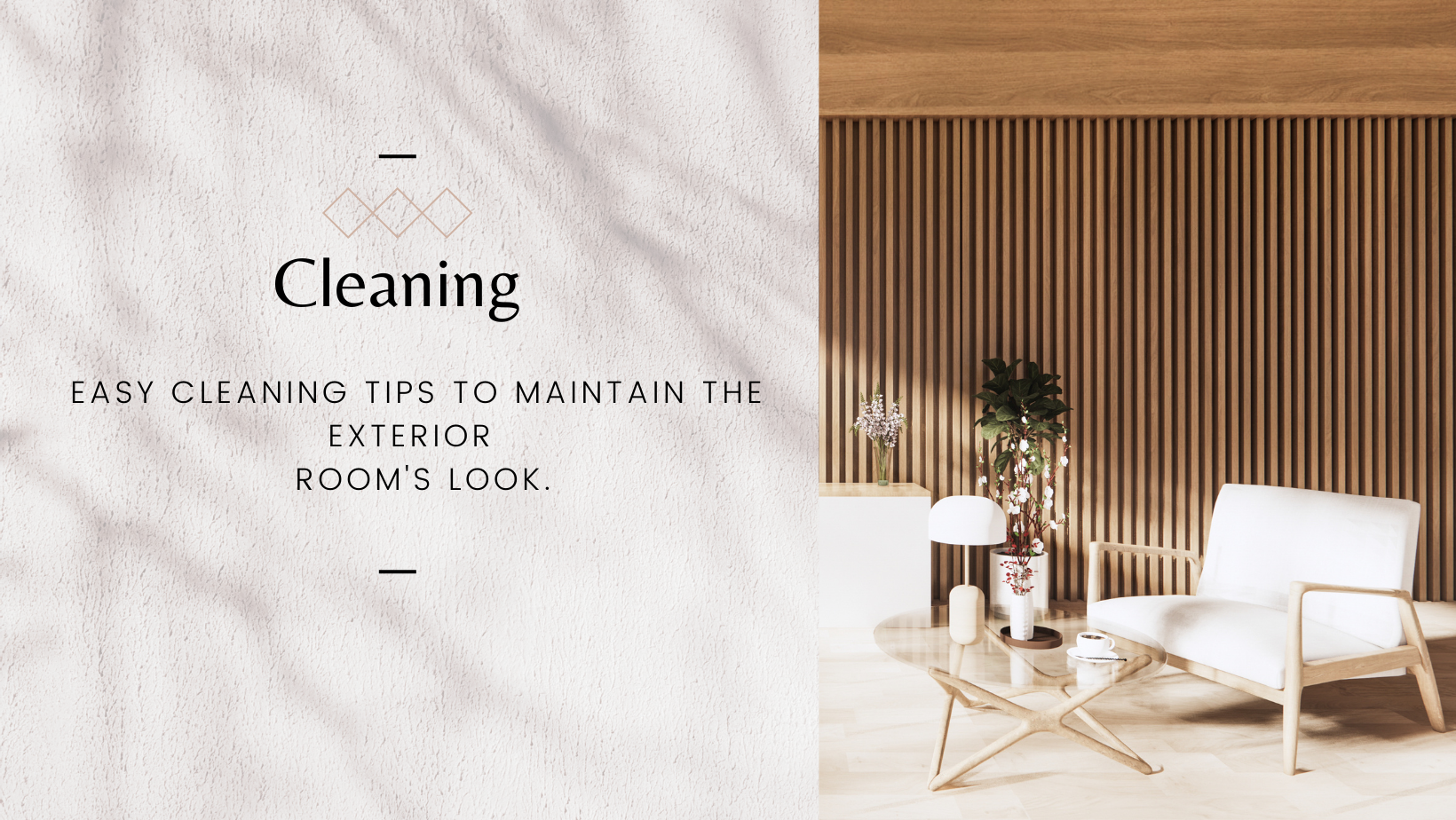 Maintaining outdoor living spaces is a task that requires regular attention and effort, but with the right tips, it doesn't have to be overwhelming or difficult. Here are a few of our favorite suggestions for keeping your exterior room fresh and free from dust and dirt:
A. Solutions for Maintaining a Clean Space
Various solutions are available to ensure your outdoor living space remains clean and tidy. From bringing in an exterior cleaner or pressure washer to regularly dusting surfaces, all these solutions can easily tackle dirt and grime without harsh chemicals or too much labor.
B. Caring for Various Fabrics and Materials
Regular cleaning from furniture fabric to outdoor cushions, rugs, and pillows will help keep these items looking their best. Use warm water with mild detergent, spray fabric protector, and spot clean where appropriate. For harder materials like metal furniture, use soap-free water with a non-abrasive sponge to clean; then dry thoroughly before storing away in winter months when not in use.
C. Regular Cleaning & Maintenance Routine
Set up a weekly schedule for cleaning your outdoor living space to help ensure dirt doesn't pile up over time or get trapped in hard-to-reach places. Once you set up this routine, assign tasks on certain days, like wiping surfaces, mopping floors, or taking out the trash, so it becomes easier to manage over time!
V. Furniture Choices for Exterior Rooms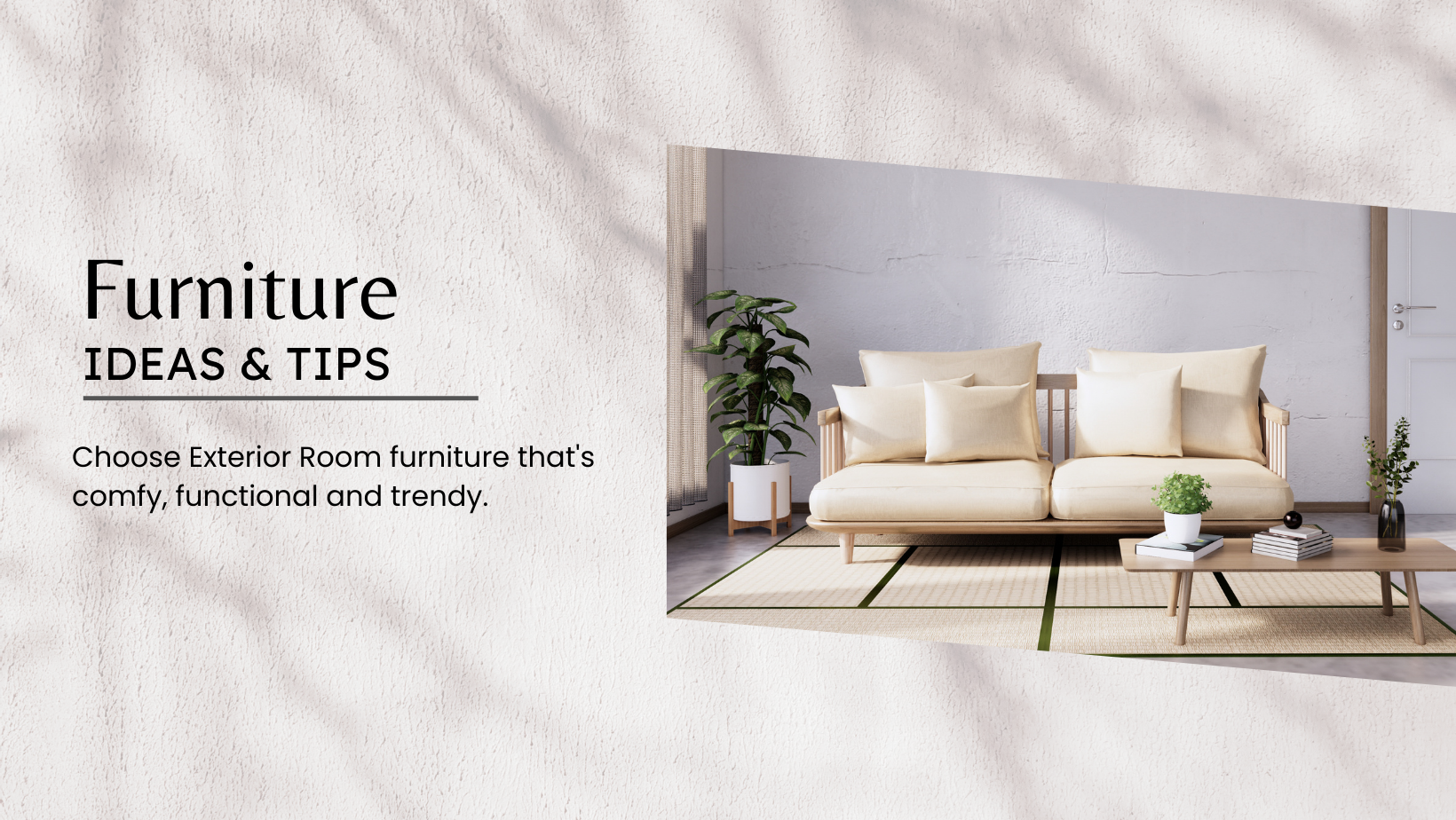 When antiquing furniture for your exterior room, the right pieces will result in a comfortable and inviting area that can be enjoyed all year round. At a minimum, you should consider including weather-resistant components in materials such as wicker, aluminum, or synthetic resin.
It's also important to make sure the furniture pieces coordinate with each other and fit comfortably within the space. Mixing tables, chairs, and storage options are great for achieving flexible combinations that let you best use your exterior room.
Last, choose the right-sized furniture for your needs; under or oversized furniture can weigh down a room or make it feel cramped. A functional and inviting layout will depend on pieces that meet your exterior space's proportions. With careful planning and consideration for form and function, you can create an outdoor living environment that complements any lifestyle!
VI. Exterior Room Appliances
When doing exterior-renovations that allows you to enjoy the great outdoors, the right appliances and equipment make all the difference. There are essential items for cooking and entertaining, as well as energy-saving and eco-friendly choices. We'll help you select the best solutions for your space so that you can focus on spending quality time with friends and family.
A few of our favorite must-haves for outdoor living spaces include:
A high-quality grill or cooktop
An outdoor refrigerator to keep drinks cold and store food
Weather-resistant cabinetry and storage solutions.
These pieces will ensure you have everything necessary for cooking, serving, and storing food safely in your exterior room. Additionally, it's important to consider aesthetics and functionality when selecting appliances for your space. You want items that look good while meeting your needs—that's where we come in! Our experts will help you find the pieces perfect for your exterior room with a beautiful design and reliable operation.
VII. Organizing Your Exterior Room
Getting the right storage solutions can help keep things neat when organizing your exterior room. Smart storage solutions can provide a place to tuck away unsightly items like tools and garden equipment while allowing easy access when needed. For example, you could install open caddies or even benches with built-in storage underneath your outdoor dining area.
We also recommend taking advantage of vertical space when possible. Utilizing wall-mounted storage solutions on your exterior walls can add an extra layer to the organization, allowing you to make the most of a smaller space.
At the same time, it's important to maintain a clutter-free environment in your outdoor living space so that you can truly enjoy it! We suggest investing in stylish baskets or bins for items like cushions, blankets, or other accessories to ensure everything stays neat and orderly. This way, you can keep these items organized and out of sight when unused.
VIII. Exterior Room Renovations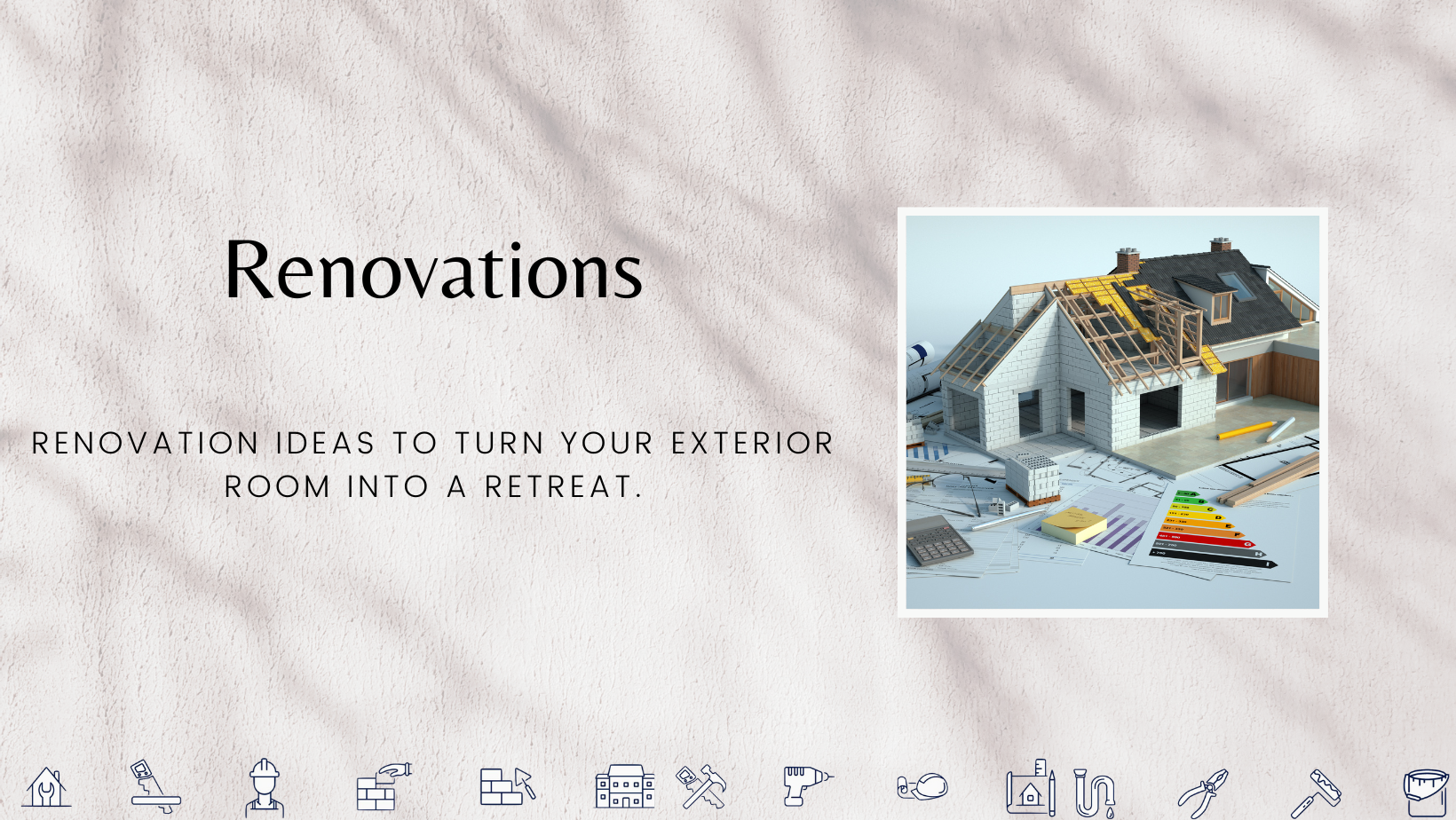 Enhancing outdoor living features can be incredibly advantageous when making exterior room renovations. With the right design, tips, and expert assistance, you get a little extra living space and gain considerable value from your investment.
By blending style and practicality in exterior room projects, you can add comfort and convenience to your outdoor experience. Whether looking for a place to relax or entertain friends and family outdoors, you can create the perfect space with just a few budget-friendly improvements.
From large-scale renovations such as adding patios and decks to smaller upgrades like installing light fixtures or painting furniture, there are plenty of ways to transform outdoor areas into welcoming and functional surroundings. To ensure everything looks good while remaining budget-friendly, it pays to get some expert help to maximize the value of your investment.
Whatever the size of your project may be, we have you covered with our professional design services backed by our top-notch customer service. So if you're looking for friendly advice or even complete renovation packages, contact us today!
IX. Exterior Room Design Ideas
Creating an exterior room can be exciting and overwhelming. We've seen everything from lush, relaxing settings with comfortable seating, to modern and minimalist styles, to bold and eclectic concepts.
No matter what look you're going for, there are a few basics to consider when creating your exterior room design:
Size: Measure the area where you want to create an outdoor living space so you know the range of furniture you can use and how much space there is for different activities.
Layout: Decide if your design will be centered around a gathering area or other focal points like a fireplace or a pool or if it will be more spread out with several seating areas around the perimeter.
Style: Pick a style that speaks to you—traditional, contemporary, or rustic—or combine several types depending on your taste and personality. This will help narrow down your choices when selecting furniture and decor pieces.
Materials: Choose the right materials that are low-maintenance but also have a great look; outdoor-rated synthetic wicker furniture is one example, as it's durable enough for all weather conditions and comes in many colors.
Lighting: Add extra warmth and ambiance with lighting designs such as landscape lighting, overhead fixtures, and overhead string lights; these will also highlight key points of interest in your outdoor room, like trees or pathways, while providing enough light to ensure everything is safe after dark.
Privacy: If privacy is important to you, choose materials that provide that privacy, like tall fences or flowing curtains, hung from poles; you can even add lands
X. Cost Guide for Exterior Rooms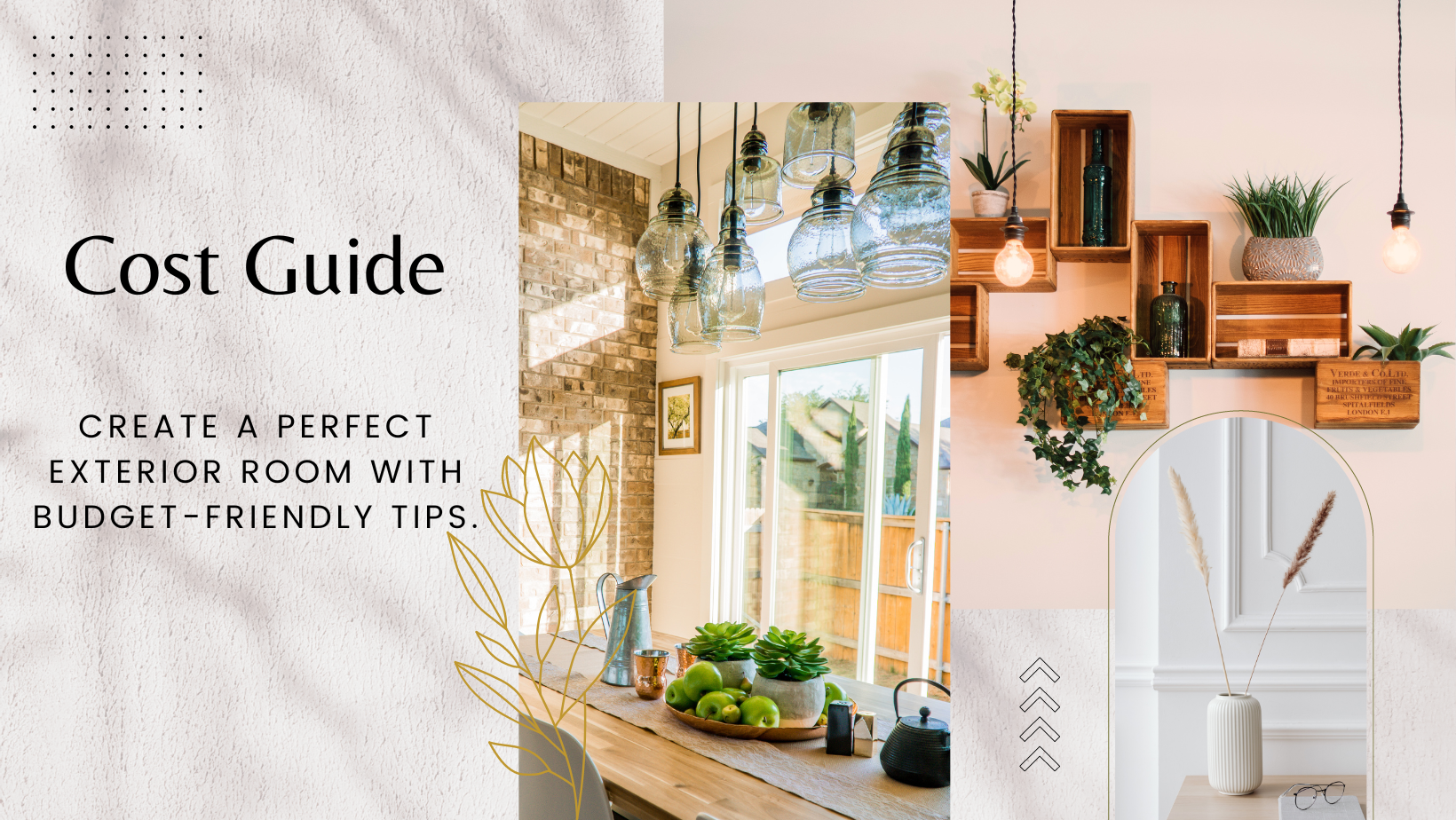 When thinking of furnishing and decorating your outdoor space, budgeting is key. It's important to estimate renovation and remodeling costs, budget for furniture and decor, and save on appliances and energy expenses.
To help you out with cost-savings for your exterior room, we've put together this handy guide:
A. Estimating Renovation and Remodeling Costs
Research the typical costs of materials used in your area.
Get an estimate from a local contractor or trusted handyman to understand the labor costs required to complete the project.
Consider whether renting or purchasing tools might be necessary for the project.
Account for additional costs like permits, garbage removal, and taxes.
B. Budgeting for Furniture and Decor
Shop around for deals on furniture and decor to get the most bang for your buck.
Reuse old pieces you have lying around – there's no need to buy something new!
Repurpose items like using a large planter box as an ottoman or bench seat in your outdoor space.
When shopping, keeps in mind trends come and go – focus less on what's popular now but rather on what will last more than a season or two in terms of style and quality.
C. Saving on Appliances & Energy Expenses
Look beyond purchasing price tags – consider energy costs associated with appliances like grills, heaters, firepits, bug zappers, etc., over their lifetime use before making a purchase decision.
Seek out Energy Star or UL-certified products.
XI. Finding Contractors and Companies
When it comes to finding the best company to help you create your outdoor living space, you want to make sure you're making a wise decision. It all boils down to finding the most reputable and reliable professionals.
Fortunately, several online resources can help with this search. You can find ratings and reviews of local contractors and referrals from family, friends, and acquaintances. You can also use sites like Angie's List or Home Advisor, which specialize in connecting homeowners with qualified contractors in their area.
However, in addition to these online resources, other tips will help you find quality professionals:
Please make sure they are licensed contractors and have insurance coverage.
Check their references—it's always a good idea to inquire about past projects they have completed. Ensure their work is up to code, even just a patio or deck installation.
Ask if they offer warranties on labor and material (This will give you peace of mind that any issues arising during the project will be taken care of).
Also, make sure they have experience creating outdoor living spaces—ask for pictures or illustrations of previously completed projects to get an idea of their style and preference for materials used in the construction process.
Finally, once you've narrowed down your list of potential candidates, make sure you're asking each one for an estimate before making a final decision; this way, you can compare prices and see which contractor is offering the best deal for your specific project need.
XII. Conclusion
We've discussed how an exterior room can be designed to make the most of your outdoor living space. You can create a beautiful but also functional and entertaining space. Before you know it, the warm weather will be here, and you'll enjoy your perfect outdoor oasis.
We hope this article has helped inspire you to embrace the outdoor living lifestyle and take steps to create a versatile, entertaining space for you and your family to enjoy. If you're ready to start building your dream outdoor living space, schedule a call with our team of experts so they can guide you into making smart decisions that result in maximum enjoyment with minimal stress!