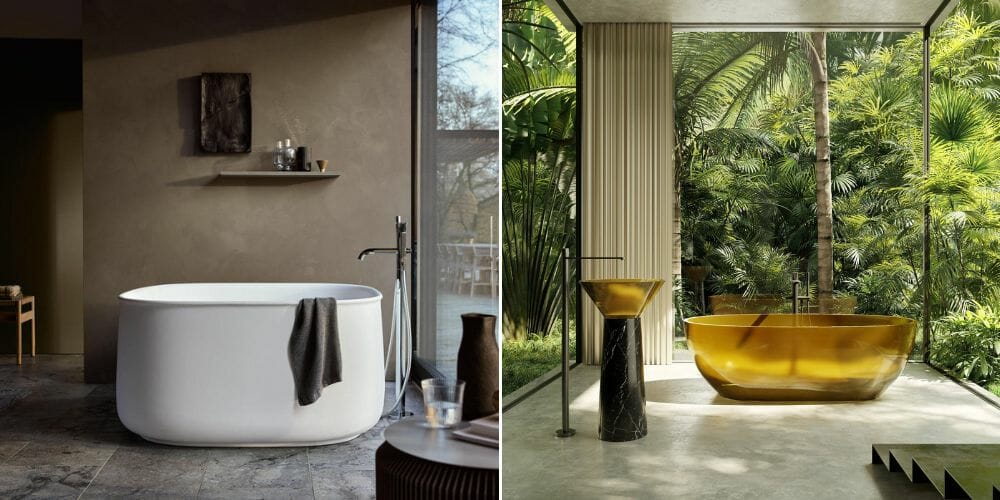 I. Introduction
Welcome to the ultimate bathroom guide! Whether you're planning to create an entirely new oasis in your home, refresh your current space, or need some ideas for a renovation—we've got you covered.
At its heart, the bathroom is more than a functional room; it's an area for relaxation and self-care. It can be a stylish escape from hectic moments or a place to get ready in the morning. With thoughtful design and careful planning, your bathroom can seamlessly become whichever type of retreat you need.
That's why it's important to consider the practical elements of designing your bathroom (lighting, ventilation, layout) and the more esthetic components (finishes, fixtures, and overall style). With that in mind, let's start exploring all that goes into creating your perfect space!
II. DIY Projects for Bathrooms
If you want to make the perfect bathroom, it's not just about how it looks. When building one, we have plenty of creative, functional, and time-saving DIY projects to get your bathroom up and to run.
Creative Crafts: Create a custom shower shelf or add a tile backsplash. Make sure to use materials that are water-resistant and easy to clean.
Custom Storage: Spice up those dingy cabinets with a fresh coat of paint. We also love using handmade textiles such as macrame plant holders or handwoven rugs for colorful accents.
Upcycled Items: Transform your tired bathroom with upcycling projects! From mason jars for storage to old wooden planks for wall decorations, many ways exist to give new life to old items.
Bigger Projects: Ready for an upgrade? There's nothing quite like giving yourself the gift of a complete remodel—even if it's just in one area of your room. Many DIY bathrooms involve repurposing materials such as birch plywood, cedar strips, or stone tiles for a dramatic effect.
Whatever your DIY project may be, plenty of easy and fun ideas are at your fingertips!
III. Bathroom Decor Inspirations
When it comes to bathroom decor inspiration, the possibilities are endless! There are stylish accessories to create a luxurious space, fresh color palettes, textures, artwork, lighting, and thematic elements to complete the look.
70% of bathroom design ideas involve tiles in some way—whether as flooring or part of the wall design. And when it comes to accessories, popular choices include brassware, lamps, houseplants like ivy vines and ferns, wall art, and colorful towels. Themed bathrooms can be fun, too—think ocean wave-like tiles or metallic surfaces for a futuristic vibe.
No matter what type of atmosphere you're looking for in your bathroom space, there will always be something you can find that matches your style—modern and sleek or cozy and homely. Get inspired today!
IV. Cleaning Tips for Bathrooms
When it comes to keeping a bathroom clean and sanitary, there are several solutions you can use. We recommend regularly cleaning and sanitizing high-traffic areas, like the toilet, sink, bathtub, and shower.
Caring for Various Surfaces and Materials
Prevent grime buildup by regularly wiping down surfaces with a soft sponge or cloth. For porcelain fixtures in the bathroom, you can use white vinegar for deep cleaning. Combine baking soda with household ammonia to remove soap scum from tile surfaces. Scrubbing with warm water and gentle dish soap for ceramic tiles will help keep them clean.
Regular Cleaning & Maintenance Routines
Increasing ventilation is also key to keeping a bathroom clean and germ-free. Consider installing an exhaust fan or opening a window to let in fresh air while bathing or showering. Additionally, make sure you mop your bathroom floor at least once a week and clean the toilet bowl twice a week (or more often, depending on how many people use it).
V. Furniture Choices for Bathrooms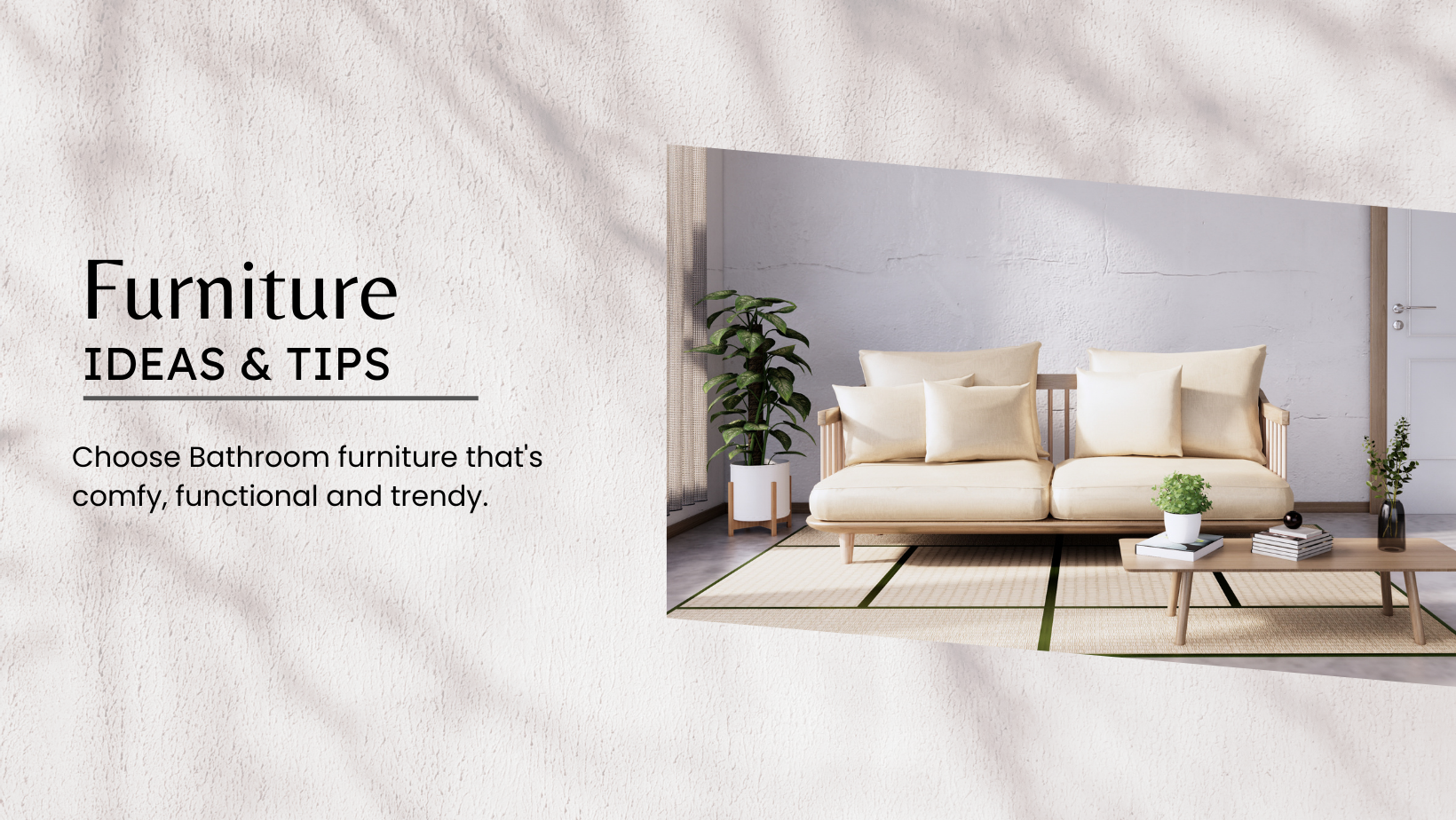 When creating the perfect bathroom, choosing the right furniture is essential. You want pieces that are both space-saving and versatile. That means mixing vanities, shelves, and storage options to use your space wisely.
The key is making sure it's functional as well as inviting. Free standing bathroom furniture includes cupboards and shelving units that provide ample storage for towels, toiletries, and linens. Wall-mounted bathroom furniture offers a great way to keep countertop surfaces clear and provides extra storage with mirrored wall cabinets. With careful planning and an eye for style, you can easily develop a setup that works for you.
VI. Bathroom Appliances
Whether you want to give your bathroom a brand-new look or your current fittings need an update, bathroom appliances can help. From bathroom accessories, faucets, fixtures, and hardware – these products are essential for creating a stunning new look for your bathroom.
When choosing the right bathroom appliances, remember a few key considerations. First and foremost is the range of options available from different providers. Here at Ultimate Bathroom Guide, we only select products from top brands such as Allen + Roth®, Whirlpool®, and KOHLER, which offer the highest quality components at an affordable cost.
In addition to cost-effectiveness and quality of components, there needs to be a balance between aesthetic appeal and functionality. We recommend considering features like temperature regulation, water pressure regulation, noise reduction technology (for more silent operation), and touchless function if you want greater convenience.
Finally, ensure you read all reviews on any product before purchasing it; this will help you make the best decision for your bathroom project – ultimately delivering a stunning result with years of durability!
VII. Organizing Your Bathroom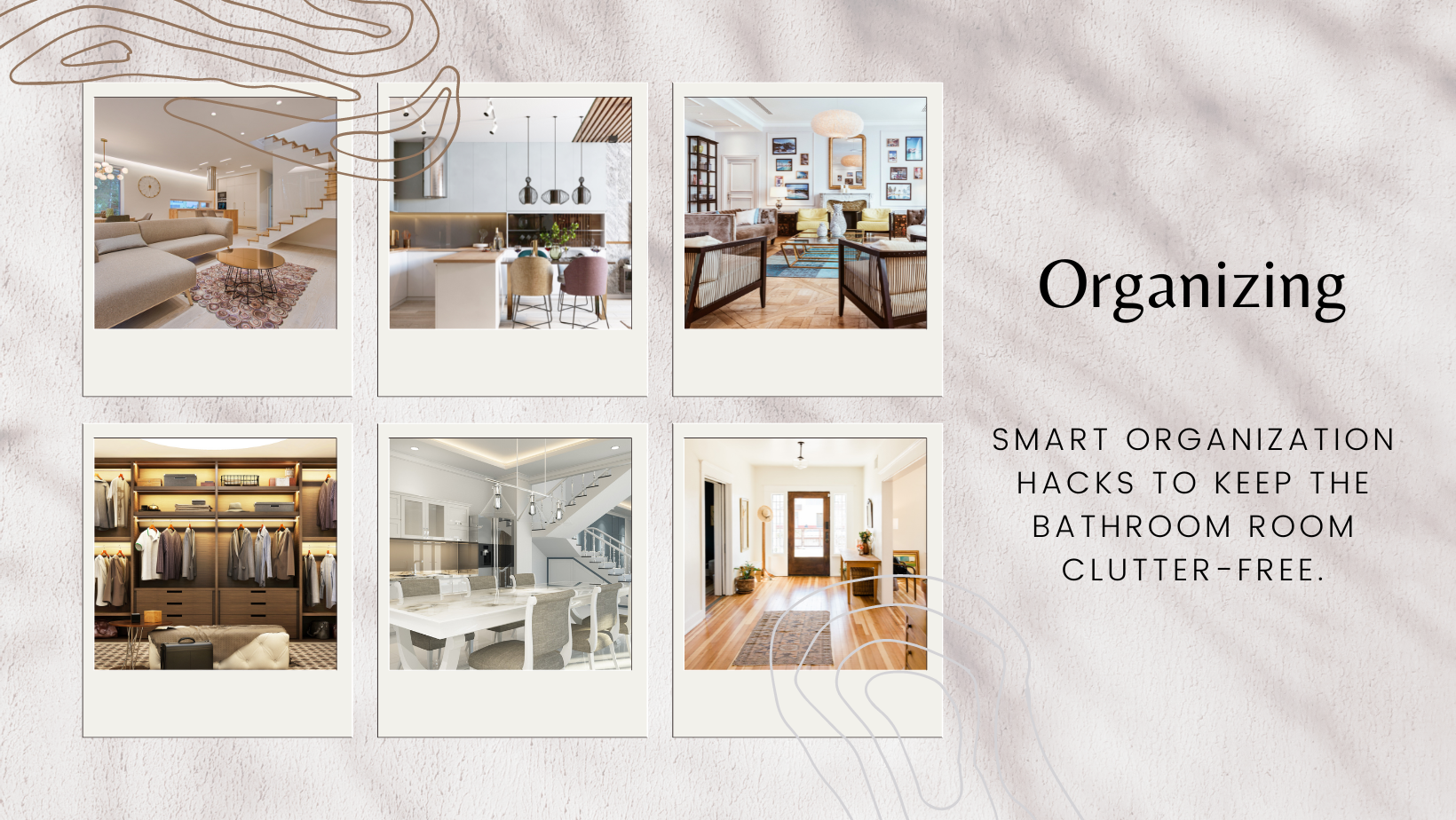 Thinking ahead when organizing your bathroom can save you a lot of time and energy in the future. Storage solutions that are both smart and stylish are essential in any room, but bathrooms can be especially tricky, given all the little items we use every day.
Many aspects should be considered when putting together your bathroom storage plan:
Maximizing space for daily routines – Keep things like towels, toilet paper, and shower essentials close at hand so you can get ready quickly.
Keeping it clutter-free – Choose clever storage solutions like magnetic knife strips and adhesive containers that allow easy access yet keep items hidden when unused.
Use vertical space – Utilize wall storage options like floating shelves, towel rails, and open shelving to store items that would otherwise take up space on countertops or dressers.
Divide and conquer – Plastic dividers or cabinet organizers can be used to separate shelves in bathroom cabinets that would otherwise get cluttered with shampoos and other products over time.
VIII. Bathroom Renovations
We've all heard that bathroom renovations are expensive, but you don't want to sacrifice style for the budget. Thankfully there are several ways to integrate luxury and practicality into a bathroom remodel!
Enhancing Bathroom Features
Think about your current bathroom layout. Is there anything that you can upgrade to get a better look, improved function, or both? Fixtures like showers, toilets, and vanities can be easily replaced with newer models with high-end features designed to maximize space and comfort. For example, a new floating vanity can provide modern storage, eye-catching appeal, and additional countertop space.
Projects Blending Style and Practicality
Regarding bathroom renovations, practicality doesn't have to mean plain or boring designs. You can find products with unique finishes that bring a touch of class without sacrificing functionality or affordability. For instance, installing water-saving showerheads helps conserve water while providing an improved showering experience. And replacing dated light fixtures with LED options is energy efficient and can help create the atmosphere you want in your dream retreat.
Budget-Friendly Improvements
A full bath remodels costs between $6,000 and $15,000, while a small bathroom renovation typically costs around $3,000 to $10,000, depending on the features chosen. In other words: you don't have to break the bank if you don't wish to! There are plenty of budget-friendly improvements available such as installing new tile floors or backsplashes, which can give your bathroom an instant facelift without exceeding your budget limit.
IX. Bathroom Design Ideas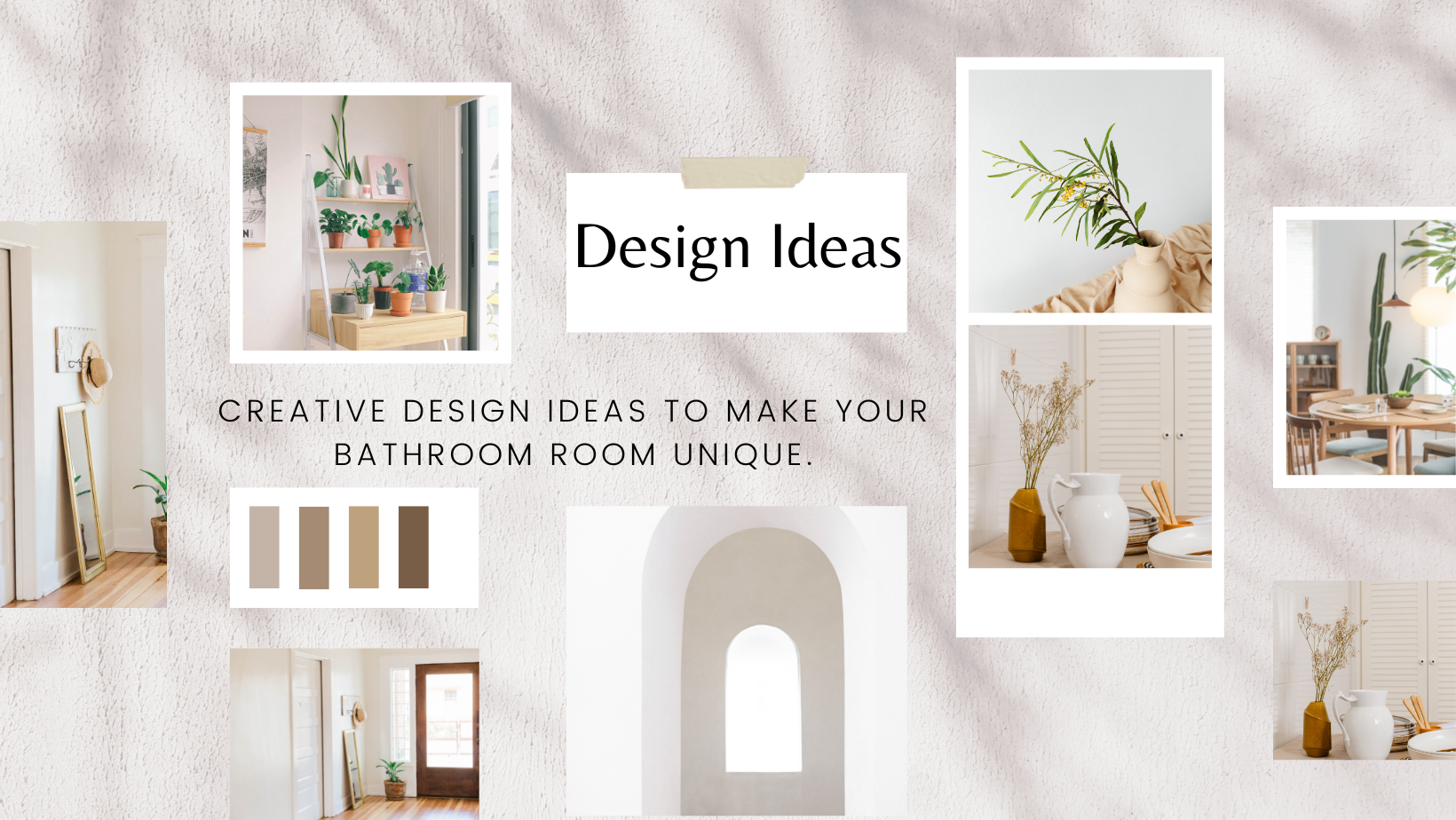 We have gathered more than 900 bathroom design ideas from the internet to spark some inspiration – from spa-like retreats to minimalist and modern styles to bold and eclectic concepts. 75% of these ideas include plans for mirrors, lighting, vanities, showers, and tubs.
Spa-like retreats are a popular choice for bathrooms these days. Picture a warm space with luxurious shower heads and an inviting soaking tub with a calming view. This style often includes soft colors paired with natural wood, stone, and tile materials.
Minimalist and modern styles are also sought after in many bathrooms today. To keep this look clutter-free, designers might opt for floating shelves, or shelving units flush against walls. A large window may also give the illusion of a bigger space while still introducing natural light into the room.
If you want something different, try Bold and Eclectic concepts! Think of unique pieces like patterned tile floors or an interesting sink setup paired with an eye-catching mirror or light fixtures. This style allows you to create an artistic expression representing your taste while maintaining a cohesive look throughout the entire space.
X. Cost Guide for Bathrooms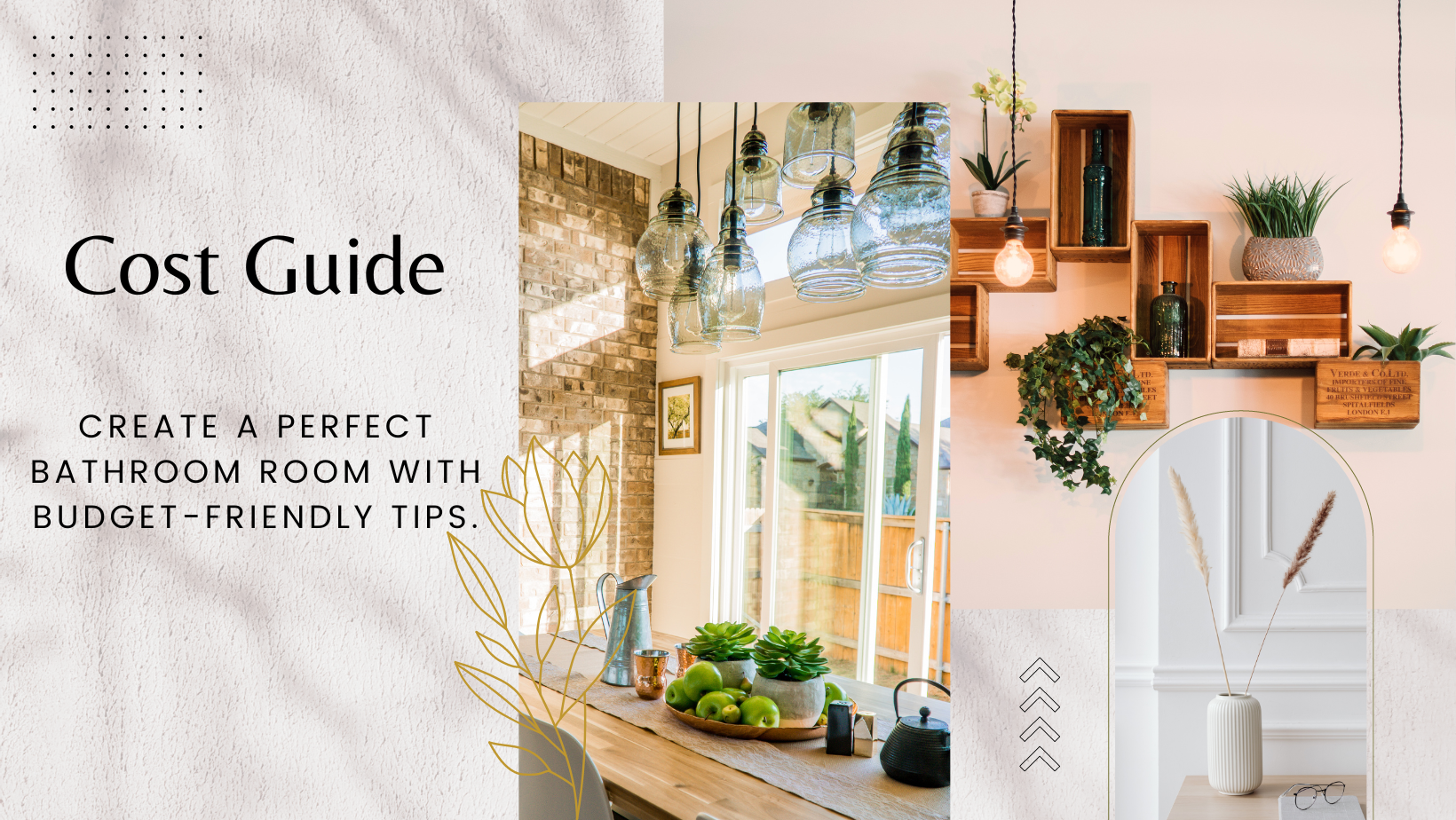 Before you start your bathroom project, knowing how much it will cost is essential. While exact figures vary greatly from one project to the next, there are some estimates you can use as a guideline.
According to HomeAdvisor, a full bathroom remodel costs an average of $10,978 — but that number could be lower or higher depending on the size of the bathroom and its current condition. If you're looking for a half-bath or powder room remodel, those cost an average of $2,000-$5,000, depending on factors like the materials and layout you're working with.
When budgeting for your renovation project, include essential elements like flooring, paint, fixtures, and optional decor and accessories. If you want to save money on appliances and energy expenses, consider Energy Star options or products made with recycled materials. You also may want to shop around for materials or investigate local supply stores — in some cases, they can be more affordable than hiring a contractor or getting all supplies from one store.
Remember: researching beforehand will help you create realistic budgeting expectations and hopefully land somewhere within that range!
XI. Finding Contractors and Companies
Finding the right contractor for your bathroom project is a crucial step that shouldn't be overlooked. To ensure that you hire the best contractor for the job, here are some tips and resources you can use:
Identifying Highly-Rated Professionals
Research and ask around to see who has had good experiences with contractors. Read reviews and testimonials on their websites or social media pages to better understand their work and how they treat their customers. Search services like Angie's List, Home Advisor, Kudzu, HomeStars, ImproveNet, or other consumer rating sites to see how others have rated your contractors.
Choosing the Best Contractor for Your Project
Once you've collected information on different contractors, it's time to make an informed decision. Read real, local reviews from neighbors and neighbors' ratings regarding contractor selection. There may be some negative reviews, so use your best judgment. Ensure you consider years of experience, certifications, and other factors that apply when selecting.
Websites To List Contractor Business For Higher Online Visibility
Your contractor should also have a presence online—listing their business on websites like Yelp! and Remodeling Magazine can help increase exposure and visibility and lead potential customers to them. Websites like Houzz, Thumbtack, or Porch could also be great starting points.
XII. Conclusion
So as we wrap up our ultimate guide on bathroom designs, tips, and contractor info, we want to emphasize the importance of embracing the bathroom room lifestyle. It's a great way to refresh your home with style and versatility!
Creating a comfortable space in your bathroom goes beyond the practical necessities. A well-designed space can significantly impact guest comfort, relaxation, and satisfaction. When done right, it will become an inviting place for family and friends to socialize or a quiet getaway.
Be sure to consider factors like natural lighting, wall color schemes, and layouts that suit your lifestyle – but most importantly – don't forget the details that make it unique! From spa-style fixtures to bright accents and textured wallpapers, it's easy to take your bathroom design from boring to luxurious with a few key elements. We hope this guide empowers you to create a unique space in your home!